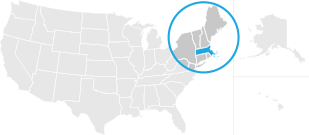 Overview of Massachusetts Mortgages
Massachusetts has a special place in U.S. history. The Bay State was where colonists aboard the Mayflower first landed, and the state later played a decisive role in the Revolutionary War. Massachusetts is home to some very expensive housing markets. Eight Massachusetts counties have conforming loan limits above the baseline $417,000 limit.
Today's Mortgage Rates in Massachusetts

| Product | Today | Last Week | Change |
| --- | --- | --- | --- |
National Mortgage Rates
Source: Freddie Mac Primary Mortgage Market Survey, SmartAsset Research
Details
Purchase or Refinance
Select Purchase or Refinance
Dismiss
Location
Location
Enter your location
Dismiss
Target Home Price
Target Home Value
Enter target home value
Dismiss
Down Payment
Down Payment
Enter down payment
Dismiss
Current Home Value
Current Home Value
Enter current home value
Dismiss
Current Mortgage Balance
Current Mortgage Balance
Enter current mortgage balance
Dismiss
Credit Score
Credit Rating
Select Your Credit Rating
Dismiss
Update your information here.
OK
Get your real, customized rate in minutes

Get started today with Quicken Loans.

$0 Down VA Loan for Veterans

Find out if you qualify for this powerful homebuying benefit. Get a quote today!
Mortgage rate quotes displayed on LendingTree LoanExplorer℠, including loan pricing data, rates and fees, are provided by third party data providers including, but not limited to, Mortech®, a registered trademark of Zillow®, LoanXEngine, a product of Mortgage Builder Software, Inc., and LoanTek, Inc.
Disclosure
Source: Bankrate.com
Data provided by Informa Research Services. Payments do not include amounts for taxes and insurance premiums. The actual payment obligation will be greater if taxes and insurance are included. Click
here
for more information on rates and product details.
​If you could change one thing about ​this page what would it be?​
Thank you for your answer! Your feedback is very important to us.
We are working hard to improve our product and could use your help!
We pay $30 for 30 minutes on the phone to hear your thoughts on what we can do better.
Please enter your email if you'd like to be contacted to help.
| | | | |
| --- | --- | --- | --- |
| | | | |
| Please enter your name | Please enter a valid email | | |
Photo Credit: ©iStock.com/DenisTangneyJr

Massachusetts Mortgage Rates Quick Facts

Median Home Value: $347,500 (Zillow)
Loan Funding Rate: 67.3%
Average Mortgage Rate: 4.03%
Homeownership Rate: 60.5% (St. Louis Fed)
Average Annual Mortgage Payment: $15,984
Historical Mortgage Rates in Massachusetts
Massachusetts mortgage rates are higher than the rates in the rest of the country. 2016 Massachusetts mortgage rates are on average higher than 2015 Massachusetts mortgage rates.
<!—- Chart 1 — Historic Mortgage Rate Chart -—>
Massachusetts Historic Mortgage Rates
| | | |
| --- | --- | --- |
| Year | Massachusetts Rate | U.S. Rate |
| 1982 | 15.75 | 14.73 |
| 1983 | 12.82 | 12.26 |
| 1984 | 12.78 | 11.99 |
| 1985 | 11.82 | 11.17 |
| 1986 | 10.07 | 9.79 |
| 1987 | 9.00 | 8.95 |
| 1988 | 9.18 | 8.98 |
| 1989 | 10.07 | 9.81 |
| 1990 | 9.73 | 9.74 |
| 1991 | 9.10 | 9.07 |
| 1992 | 8.11 | 7.83 |
| 1993 | 7.06 | 6.93 |
| 1994 | 7.47 | 7.31 |
| 1995 | 7.74 | 7.69 |
| 1996 | 7.53 | 7.58 |
| 1997 | 7.56 | 7.52 |
| 1998 | 7.04 | 6.97 |
| 1999 | 7.16 | 7.14 |
| 2000 | 7.88 | 7.86 |
| 2001 | 6.93 | 6.94 |
| 2002 | 6.38 | 6.44 |
| 2003 | 5.55 | 5.67 |
| 2004 | 5.38 | 5.68 |
| 2005 | 5.62 | 5.85 |
| 2006 | 6.32 | 6.54 |
| 2007 | 6.30 | 6.42 |
| 2008 | 5.96 | 6.06 |
| 2009 | 4.86 | 5.05 |
| 2010 | 4.76 | 4.81 |
| 2011 | 4.44 | 4.56 |
| 2012 | 3.63 | 3.65 |
| 2013 | 3.71 | 3.84 |
| 2014 | 3.94 | 4.13 |
| 2015 | 3.71 | 3.88 |
Massachusetts Mortgages Overview
Many people choose to make their home in Massachusetts, drawn by the jobs, the excellent public schools and other Bay State attractions. If you decide to buy a home in one of the more expensive housing markets in the state you'll have a hefty mortgage on your hands.
<!—- Chart 2 Mortgage Rates for Single-Family Homes, Townhouse, Condos -—>
Massachusetts Mortgage Rates
Single-Family Homes
Percentage of Homes
83.50%
Average Property Value
$206,412.78
Condominiums
Percentage of Homes
16.10%
Average Property Value
$182,714.85
PUD Homes
Percentage of Homes
0.20%
Average Property Value
$186,009.62
Townhomes
Percentage of Homes
0.20%
Average Property Value
$240,813.72
Several Massachusetts counties have conforming loan limits above the standard $417,000 cut-off. Those counties are: Bristol, Dukes, Essex, Middlesex, Nantucket, Norfolk, Plymouth and Suffolk. If you buy a home in one of those counties you won't hit the jumbo loan cut-off at the $417,000 loan limit. You'll have more wiggle room to borrow more and still have a normal interest rate (jumbo loans generally have higher interest rates).
<!—- Chart 3 — ConformingFHA Loan Limits -—>
Conforming and FHA Loan Limits by County
| | | |
| --- | --- | --- |
| County | Conforming Limit | FHA Limit |
| Barnstable | $417,000 | $405,950 |
| Berkshire | $417,000 | $271,050 |
| Bristol | $426,650 | $426,650 |
| Dukes | $625,500 | $625,500 |
| Essex | $523,250 | $523,250 |
| Franklin | $417,000 | $271,050 |
| Hampden | $417,000 | $284,050 |
| Hampshire | $417,000 | $284,050 |
| Middlesex | $523,250 | $523,250 |
| Nantucket | $625,500 | $625,500 |
| Norfolk | $523,250 | $523,250 |
| Plymouth | $523,250 | $523,250 |
| Suffolk | $523,250 | $523,250 |
| Worcester | $417,000 | $285,200 |
When it comes to housing, Massachusetts has some pretty consumer-friendly laws in place. The foreclosure process in the Bay State gives homeowners a long time to get current on their mortgage payments and protects borrowers from the kinds of swift foreclosures that can happen in some other states.
For example, a homeowner who falls behind on mortgage payments in Massachusetts has what's called a "right to cure." If your lender sends you a right to cure notice you have 150 days to get current on your mortgage payment. During this time, your lender can't charge you "excessive" fees and penalties, according to state law.
If you miss that 150-day deadline your lender must send you an acceleration notice giving you 21 days to pay the entire loan balance. Only after that 21-day period can the lender hold a foreclosure sale. If the lender plans to sue you for deficiency (the difference between the home's selling price and what you still owe on the mortgage) you must also get 21 days' notice. Lenders are required to send a notice of foreclosure sale 14 days before the sale.
After the foreclosure, any excess proceeds from the sale must be paid to the homeowner. And if your home is foreclosed and sold, you're still not required to move on the sale day. The new owner must bring an eviction action against you in court, where you can make a case for why you need more time before moving. Of course, no one buys a home anticipating foreclosure, but it's nice to know that Massachusetts has homeowner protections in place.
30-Year Fixed Mortgage Rates in Massachusetts
Most homebuyers opt for a 30-year fixed-rate mortgage when they cross over from renting to buying. You have 30 years to pay back the mortgage (unless you refinance or make mortgage prepayments) and your interest rate won't change (again, unless you refinance).
There are fixed-rate mortgages with shorter terms, but they come with higher monthly payments because you're paying back the same loan in fewer months. There are also 40-year mortgages but most people feel that's too long and involves paying too much interest.
The average Massachusetts mortgage rate for fixed-rate 30-year mortgages is 3.94%.
Massachusetts Jumbo Loan Rates
In most U.S. counties, any loan that's $417,000 or less is a "conforming loan." That means the loan can be sold on the secondary mortgage market. Any loan that exceeds the conforming loan limit is considered a jumbo loan and is accompanied by higher interest. As we mentioned, several Massachusetts counties have conforming loan limits that are higher than $417,000, in recognition of the high housing prices in those counties.
The average Massachusetts jumbo loan rate is 3.99%.
Massachusetts ARM Loan Rates
An adjustable-rate mortgage (ARM) is a loan that comes with a low introductory rate that, after a period of between one and 10 years, can adjust upwards or downwards. Generally, mortgage rates on ARMs increase after the introductory period ends, and can keep increasing up to the cap set in the mortgage documents. It's easy to see how a person with an ARM could fall behind on mortgage payments after one or more rate increases.
The average rate for an ARM in Massachusetts is 3.12%.
Massachusetts Mortgage Resources
<!—- Chart 4 — Available Resources —->
Available Resources
| | | | |
| --- | --- | --- | --- |
| Resource | Problem or Issue | Who Qualifies | Website |
| Massachusetts Division of Banks | Foreclosure. | Qualifying Massachusetts residents who are facing foreclosure may get a 30- or 60-day reprieve while the DOB works with the borrower and the lender to avert foreclosure. | http://www.mass.gov/ocabr/government/oca-agencies/dob-lp/ |
| Massachusetts Housing Partnership | Homebuying assistance with a low down payment, low interest rate and no Private Mortgage Insurance (PMI). | First-time Massachusetts homebuyers whose total household income doesn't exceed 100% of area median income (AMI). Households below 80% of AMI may be eligible for a subsidy. | http://www.mhp.net/one-mortgage/why-one |
| MassHousing | Operation Welcome Home mortgages help veterans, active-duty military, members of the Reserves and National Guard, and Gold Star Families achieve homeownership. | An applicant must be an active duty military member, veteran who served honorably, member of the Reserves of National Guard, or be a Gold Star Family member. Applicants must also be first-time homebuyers purchasing a 1- to 3-family property in Massachusetts limits. Income and loan limits apply, but not in certain MA cities. | https://www.masshousing.com/portal/server.pt/community/home_buyer_loans/226/operation_welcome_home |
| MassHousing | Homebuying assistance with up to 100% financing and mortgage payment protection. | Qualifying Massachusetts residents who meet income limits, have good credit and plan to buy in one of several "Buy Cities" in Massachusetts. | https://www.masshousing.com/portal/server.pt/community/home_buyer_loans/226/buy_cities |
| MassHousing | Home purchase and rehabilitation for homes that need work. | Applicants must meet income and purchase price limits and make at least a 3% down payment. They must also have a signed Purchase and Sales Agreement for a 1- to 4-family home, be creditworthy and have housing debt of less than 33% of household income and total debt less than 41% of income. | https://www.masshousing.com/portal/server.pt/community/home_buyer_loans/226/purchase_and_rehab |
| HARP Refinance Program - Massachusetts | Refinancing. | Those with an owner-occupied primary residence that is owned or securitized by Fannie Mae or Freddie Mac. The borrower must owe more than the home is worth but be current on mortgage payments and have sufficient income to make the refinance loan payments. | http://www.mass.gov/ocabr/consumer-rights-and-resources/housing/foreclosure-resources/us-treasury-making-home-affordable-programs/home-affordable-refinance-program.html |
Massachusetts offers resources for people who want to buy or keep a home. If you qualify, you can get a "MassHousing Mortgage with No MI" – a mortgage that has zero mortgage insurance, even if you can't make a 20% down payment. If you meet the income, credit and loan size requirements for your county, you'll be able to put as little as 3-5% down. You'll have a fixed, low interest rate and a 30-year repayment term. You will have to complete a homebuyer education course before you can secure your MassHousing Mortgage with No MI.
There's also a plain old MassHousing Loan. It comes with a fixed, affordable interest rate and a 30-year loan term. There's mortgage payment protection that will help you make your payments if you lose your job. There are low down payment options but you will have to pay mortgage insurance, unlike in the MassHousing Mortgage with No MI program. Income and mortgage size limits vary.
If you're buying a fixer-upper you may qualify for a Purchase & Rehab Loan from MassHousing. If you meet the requirements, are creditworthy and have a signed purchase and sales agreement for a one- to four-family home, you could get a Purchase and Rehab mortgage of up to 97% of the purchase price plus rehabilitation costs of the home (or the estimated valuable of the home after rehabilitation, whichever is less). You must have housing debt of less than 33% of your income and total monthly debt of less than 41% of your income.
If you're a veteran, active-duty military personnel or the spouse of a soldier, sailor or marine killed on active duty you may qualify for the MassHome program "A Home for the Brave." If eligible you would receive up to 97% financing on single-family homes and condos, or up to 95% financing on two-, three- and four-family homes. These loans come with MI Plus, which covers principal and interest for up to six months in case of unemployment or deployment. You may also qualify for a MassHousing grant to help with closing costs. Income limits apply.
If you want to buy a home in Attleboro, Brockton, Fall River, New Bedford, North Quabbin, Quincy, Southbridge, Springfield, Taunton or Worcester you may qualify for a special Buy Cities mortgage through MassHousing. The Buy Cities mortgages are 30-year fixed-rate mortgages that may be used to finance up to 100% of the purchase price for the home. Rates and terms are competitive with regular mortgages but you'll get the bonus of MI Plus, which covers principal and interest payments for up to six months and may be used for any six months during the first 10 years of the loan.
If you're confused about which MassHousing option might be best for you, contact MassHousing at 888-843-6432
There's another program, called ONE Mortgage, that's offered by the Massachusetts Housing Partnership. It's designed for low- and middle-income first-time homebuyers and offers a discounted 30-year loan with a fixed interest rate. You can put as little as 3% down for a single-family home, a condo or a two-family home. If you're buying a three-family property you must put 5% down. No Private Mortgage Insurance is required with the ONE Mortgage. Some buyers may qualify for an interest subsidy to help with payments in the early years of their ONE mortgage.
Of course, you don't have to use a Massachusetts-specific form of mortgage help. You can also apply for a VA loan, a USDA Rural Development Loan or an FHA loan. Talking to a lender who participates in a range of programs aimed at helping first-time buyers, and to a HUD-approved housing counselor, can help you decide which option is best for you.
Massachusetts Mortgage Taxes
Massachusetts has a flat income tax rate of 5.3%. You cannot deduct your mortgage interest on your Massachusetts state income tax return like can on your federal income tax return.
Massachusetts residents who sell their homes will pay a real estate transfer tax of $4.65 per $1,000 of value. In Barnstable County there's a transfer tax of $3.42 per $1,000 of value. There is also a document fee in Massachusetts for real estate transfers. The fee ranges from $10 to $20.
Massachusetts Mortgage Refinance
When it's time to refinance your Massachusetts mortgage there are two things to keep in mind. If you qualify for the federal government's Home Affordable Refinance Program (HARP) you can find participating lenders in Massachusetts. It's also worth remembering that you don't have to refinance with the same lender that gave you your initial home loan. You can shop around for the most favorable interest rate and loan terms.
<!—- Charts HTML Mortgage Rates — Insert Data and copy and paste into proper place —->
See Mortgage Rates in These Other States
Best Places To Get A Mortgage
SmartAsset's interactive mortgage map highlights the best counties in the country (and in each state) for securing a mortgage. Hover over counties and states to see data points for each region, or use the map's tabs to view the top counties for each of the factors driving our analysis.
Methodology For many people buying a house means securing a mortgage. To determine the best places in the country to get a mortgage we looked at four factors: overall borrowing costs, ease of securing a mortgage, cheap property taxes and cheap annual mortgage payments.
To calculate the overall borrowing costs, we looked at the expected costs over the first five years of a $200,000 mortgage with a 20% down payment, including closing costs. We calculated the ease of getting a mortgage as the ratio of mortgage applications to actual mortgage originations (secured mortgages) in each county. We based annual mortgage payments on the annual principal and interest payments for a $200,000 loan in that location, using average mortgage rates in each county.
Finally, we ranked locations based on these four factors, and then averaged those rankings, giving equal weight to each factor. The areas with the lowest average rankings are the best places to get a mortgage.
Sources: Mortgage Bankers Association, US Census Bureau 2015 5-Year American Community Survey, Informa, Bankrate, government websites, SmartAsset