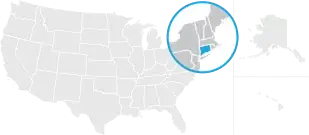 Overview of Connecticut Mortgages
Connecticut's mortgage rates fall in line with the national average, varying above or below only slightly. Connecticut's conforming loan limits are mostly standard, as are most of its FHA loan limits. Your monthly mortgage payments will likely be high, as the cost of real estate in this New England state is generally above the national average.
National Mortgage Rates
Source: Freddie Mac Primary Mortgage Market Survey, SmartAsset Research
Details
Purchase or Refinance
Select Purchase or Refinance
Dismiss
Location
Enter your location
Dismiss
Target Home Value
Enter target home value
Dismiss
Down Payment
Enter down payment
Dismiss
Current Home Value
Enter current home value
Dismiss
Current Mortgage Balance
Current Mortgage Balance
Enter current mortgage balance
Dismiss
Credit Rating
Select Your Credit Rating
Dismiss
Share Your Feedback
How would you rate your experience using SmartAsset's financial advisor matching service so far?
What is the most important reason for that score? (optional)
Please limit your response to 150 characters or less.
Thank you for your answer! Your feedback is very important to us.
Historical Mortgage Rates in Connecticut
Connecticut Mortgage Rates Quick Facts
Median Home Value: $280,700 (U.S. Census Bureau)
Loan Funding Rate: 56.93% (CFPB)
Homeownership Rate: 66.9% (St. Louis Fed)
Median Monthly Homeownership Costs: $2,119 (U.S. Census Bureau)
Connecticut mortgage rates have been coming in slightly lower than the national average for the past several years. Median monthly homeownership costs in the state are about $500 above the nationwide mark.
A financial advisor in Connecticut can help you plan for the homebuying process. Financial advisors can also help with investing and financial plans, including tax, retirement and estate planning, to make sure you are preparing for the future.
Connecticut Historic Mortgage Rates*
| Year | Connecticut Rate | U.S. Rate |
| --- | --- | --- |
| 2000 | 7.84 | 7.86 |
| 2001 | 6.96 | 6.94 |
| 2002 | 6.44 | 6.44 |
| 2003 | 5.68 | 5.67 |
| 2004 | 5.63 | 5.68 |
| 2005 | 5.73 | 5.85 |
| 2006 | 6.40 | 6.54 |
| 2007 | 6.39 | 6.42 |
| 2008 | 6.05 | 6.06 |
| 2009 | 4.93 | 5.05 |
| 2010 | 4.86 | 4.81 |
| 2011 | 4.51 | 4.56 |
| 2012 | 3.61 | 3.65 |
| 2013 | 3.76 | 3.84 |
| 2014 | 4.03 | 4.13 |
| 2015 | 3.77 | 3.88 |
| 2016 | 3.61 | 3.73 |
| 2017 | 3.95 | 4.03 |
| 2018 | 4.47 | 4.56 |
*The FHFA stopped reporting new data in 2018.
Connecticut Mortgages Overview
Connecticut has a rich history, which the housing stock mirrors. From colonial New Haven estates to Litchfield farm houses, there is a wide assortment of homes to choose from. In general, prices in Connecticut are going to be higher than the rest of the country. The median home value is $280,700, which is more expensive than the nation's median of $240,500.
Just about every county in the state has a standard conforming loan limit of $647,200. That is except for Fairfield County, which features a $695,750 limit. When it comes to FHA loan limits, all counties except Fairfield use the new standard, which is $420,680.
Conforming and FHA Loan Limits by County
| County | Conforming Limit | FHA Limit |
| --- | --- | --- |
| Fairfield | $695,750 | $695,750 |
| Hartford | $647,200 | $420,680 |
| Litchfield | $647,200 | $420,680 |
| Middlesex | $647,200 | $420,680 |
| New Haven | $647,200 | $420,680 |
| New London | $647,200 | $420,680 |
| Tolland | $647,200 | $420,680 |
| Windham | $647,200 | $420,680 |
Whether a home was built before your grandma was born or is just a couple years old, your best bet is to get a home inspection. Older homes especially are going to have creaky floors and leaks here and there, but once you close on your home, you are accepting it as-is. There are certain things sellers must disclose, but to preserve the integrity of the sale, buyers should find out everything possible to protect themselves from purchasing a money pit.
30-Year Fixed Mortgage Rates in Connecticut
The most common mortgage loan option is a 30-year fixed-rate. They are a good fit for buyers who plan to stay in their homes for a long time. Fixed-rate mortgages can also have 15-year, 20-year, 25-year or 40-year terms. Buyers will have higher monthly payments with a shorter-term fixed rate loan, but the interest rate will be lower.
The average Connecticut mortgage rate for a fixed 30-year mortgage is 3.47% (Zillow, Jan. 2022).
Connecticut Jumbo Loan Rates
Connecticut homes tend to be more expensive than the average American home, but the "jumbo loan" limit is only above average in one county. Jumbo loans exceed the $548,250 conforming loan limit that exists in every Connecticut county except Fairfield. If you need to take out to jumbo loan in order to purchase your dream home, remember that they come with higher interest rates.
The average 30-year fixed jumbo loan rate in Connecticut is 3.35% (Zillow, Jan. 2022).
Connecticut ARM Loan Rates
An adjustable-rate mortgage, as its name suggests, is one that has an interest rate that will adjust over time. Typically ARMs have a lower interest rate initially as compared to fixed-rate mortgages. That lower rate is offered for an introductory period that lasts for one, three, five, seven or 10 years, depending on the terms set out. Once that period ends, the interest rate can change and will generally go up.
Fortunately, there are safeguards in place to prevent the interest rate from skyrocketing. The loan's terms specify a highest possible level that the rate can reach. That said, the new rate may still be one that you can't afford to pay. Before deciding on an ARM, it is crucial to check that the maximum possible interest rate is something that you can actually pay.
The average rate for a 5/1 ARM in Connecticut is 2.75% (Zillow, Jan. 2022).
Connecticut Mortgage Resources
If you need assistance buying a home in Connecticut, here are some of the options that can help you at any step of the process.
The Connecticut Housing Finance Authority has assistance options for first time and at-risk homebuyers and current homeowners. The CHFA works with lenders throughout the state to help eligible candidates find more affordable mortgages and housing. It also offers classes on the pre-closing and pre-purchasing process. The Connecticut Association for Community Action can also provide assistance to individuals at risk of foreclosure and eviction.
Available Resources
| Resource | Problem or Issue | Who Qualifies |
| --- | --- | --- |
| Connecticut Housing Finance Authority | Homeownership eduction, affording down payment and mortgage. | First-time homebuyers, at-risk homebuyers and current homeowners. |
| Connecticut Association for Community Action | Foreclosure and homelessness. | Qualifying Connecticut residents who are facing foreclosure or eviction. |
| USDA Rural Development - Single family loans | Offers payment assistance to increase an applicant's repayment ability. | Applicants must be without decent, safe and sanitary housing; Be unable to obtain a loan from other resources on terms and conditions that can reasonably be expected to meet; Agree to occupy the property as your primary residence; Have the legal capacity to incur a loan obligation; Meet citizenship or eligible noncitizen requirements; and not be suspended or debarred from participation in federal programs. |
The United States Department of Agriculture Rural Development program also offers loan help and mortgage grants throughout the entire country. The program aims to help develop more rural areas of a state while offering affordable housing for residents. Connecticut has grants and loans available for home repairs as well as loan assistance programs for those who qualify.
Connecticut Mortgage Taxes
Connecticut is one of just a handful states that collects a personal income tax, but does not offer a deduction on mortgage interest. But that doesn't mean you're out of luck if you're buying in Connecticut; check with the Connecticut Housing Finance Authority for other money-saving options on your mortgage.
Connecticut also charges taxes on real estate property title transfers. The tax ranges from 1% to 2.75% depending on the type of property and the municipality it's located in. Discuss this tax with your lawyer or accountant before buying. Also be aware that in Connecticut, the seller typically pays this fee.
Connecticut Mortgage Refinance
If you're refinancing your Connecticut home, there are some options to help you get there. The Home Affordable Refinance Program is no longer available, but Fannie Mae currently offers its own alternative, providing qualifying applicants access to interest and principal payment reductions as well as low closing costs.
If you don't qualify for these programs, you can still work with the lender who issued you your original mortgage and compare those refinance rates with other lenders to find the solution that works best for you.
See Mortgage Rates in These Other States