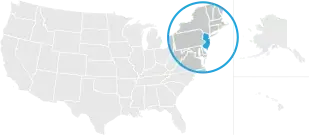 Overview of New Jersey Taxes
New Jersey has a progressive income tax with rates that are among the highest in the nation. Property and sales taxes are also above average.
Enter your financial details to calculate your taxes
Household Income

Dismiss

Location

Dismiss
Advanced

401(k) Contribution

Dismiss

IRA Contribution

Dismiss

Dismiss

Number of State Personal Exemptions

Dismiss
Your Income Taxes Breakdown
Tax

Type

Marginal
Tax Rate
Effective
Tax Rate
2021
Taxes*
Federal

FICA

State
Local
Total Income Taxes
Income After Taxes

Retirement Contributions

Take-Home Pay
* These are the taxes owed for the 2021 - 2022 filing season.
Your 2021 Federal Income Tax Comparison
Your

marginal federal income tax rate

Your

effective federal income tax rate

Your federal income taxes
Total Estimated 2021 Tax Burden

Total Estimated Tax Burden

$

Percent of income to taxes =

%

$
About This Answer

Our income tax calculator calculates your federal, state and local taxes based on several key inputs: your household income, location, filing status and number of personal exemptions. Also, we separately calculate the federal income taxes you will owe in the 2020 - 2021 filing season based on the Trump Tax Plan.

How Income Taxes Are Calculated

First, we calculate your adjusted gross income (AGI) by taking your total household income and reducing it by certain items such as contributions to your 401(k).
Next, from AGI we subtract exemptions and deductions (either itemized or standard) to get your taxable income. Exemptions can be claimed for each taxpayer as well as dependents such as one's spouse or children.
Based on your filing status, your taxable income is then applied to the the tax brackets to calculate your federal income taxes owed for the year.
Your location will determine whether you owe local and / or state taxes.

...read more

Last Updated: January 1, 2021

When Do We Update? - We regularly check for any updates to the latest tax rates and regulations.

Customer Service - If you would like to leave any feedback, feel free to email info@smartasset.com.

...read more

Our Expert
Find a Savings or CD account that works for you
Taxes can really put a dent in your paycheck. But with a Savings or CD account, you can let your money work for you. Check out these deals below:
Share Your Feedback
How would you rate your experience using SmartAsset's financial advisor matching service so far?
What is the most important reason for that score? (optional)
Please limit your response to 150 characters or less.
Thank you for your answer! Your feedback is very important to us.
Taxes in New Jersey
New Jersey State Tax Quick Facts
Income tax: 1.40% - 10.75%
Sales tax: 3.3125% - 6.625%
Property tax: 2.42% average effective rate
Gas tax: 10.50 cents per gallon of regular gasoline, 13.50 cents per gallon of diesel
The Garden State has a lot of things going for it, but low taxes are not among its virtues. Homeowners in New Jersey pay an average of $8,432 in property taxes annually, which equals an effective property tax rate of 2.42%, the highest in the nation. The state's income tax ranges from 1.40% up to 10.75%, one of the highest top rates in the country.
Of course, if you don't own a home or if your income places you in one of New Jersey's lower tax brackets, the picture may not be so bleak. New Jersey's sales tax rate is relatively close to the national average.
A financial advisor in New Jersey can help you understand how taxes fit into your overall financial goals. Financial advisors can also help with investing and financial planning - including retirement, homeownership, insurance and more - to make sure you are preparing for the future.
New Jersey Income Taxes
New Jersey's income tax is structured similarly to the federal income tax. Rates are based on income tax brackets, with income within each bracket being taxed at the corresponding rate. The table below shows brackets and rates for filers in New Jersey.
Income Tax Brackets
Single Filers
New Jersey Taxable Income
Rate
$0 - $20,000
1.400%
$20,000 - $35,000
1.750%
$35,000 - $40,000
3.500%
$40,000 - $75,000
5.525%
$75,000 - $500,000
6.370%
$500,000 - $1,000,000
8.970%
$1,000,000+
10.750%
Married, Filing Jointly
New Jersey Taxable Income
Rate
$0 - $20,000
1.400%
$20,000 - $50,000
1.750%
$50,000 - $70,000
2.450%
$70,000 - $80,000
3.500%
$80,000 - $150,000
5.525%
$150,000 - $500,000
6.370%
$500,000 - $1,000,000
8.970%
$1,000,000+
10.750%
Married, Filing Separately
New Jersey Taxable Income
Rate
$0 - $20,000
1.400%
$20,000 - $35,000
1.750%
$35,000 - $40,000
3.500%
$40,000 - $75,000
5.525%
$75,000 - $500,000
6.370%
$500,000 - $1,000,000
8.970%
$1,000,000+
10.750%
Head of Household
New Jersey Taxable Income
Rate
$0 - $20,000
1.400%
$20,000 - $50,000
1.750%
$50,000 - $70,000
2.450%
$70,000 - $80,000
3.500%
$80,000 - $150,000
5.525%
$150,000 - $500,000
6.370%
$500,000 - $1,000,000
8.970%
$1,000,000+
10.750%
All of the rates above apply to New Jersey taxable income, which is total income (including capital gains) minus certain deductions, as well as the New Jersey personal exemption of $1,000. Some forms of income that are not taxable include unemployment compensation, Social Security benefits, workers' compensation and lottery winnings of $10,000 or less. Expenses that may be deducted in New Jersey include certain unreimbursed medical expenses, New Jersey property taxes, Archer MSA contributions and, if you're self-employed, health insurance payments.
New Jersey Sales Tax
New Jersey has a single, statewide sales tax rate. On Jan. 1, 2018, that rate decreased from 6.875% to 6.625%. The flat sales tax rate means you will pay the same rate wherever you are in the state, with two exceptions. First, there are New Jersey's "Urban Enterprise Zones," where purchases made at qualified businesses (typically retailers) face a reduced sales tax rate of 3.3125%. As of May 30, 2018, there are nearly 40 Urban Enterprise Zones in New Jersey, including parts of Newark, Trenton, Camden and more.
The other exception to New Jersey's state sales tax is Salem County. In Salem County, nearly all purchases are also subject to a reduced sales tax rate of 3.3125%. The only items that do not get that reduced rate are alcoholic beverages, cigarettes, motor vehicles, services and any transactions made from outside the county.
Outside of those exceptions, the statewide sales tax rate applies to most products and services, including electronics, furniture, fitness club memberships, parking, landscaping services and digital property (e.g. electronically downloaded music, videos, software, etc.). Some items, however, are exempt. Groceries, prescription and over-the-counter drugs and most types of clothing and footwear are all exempt.
New Jersey Property Tax
New Jersey has the highest property taxes in the country. The average effective property tax rate is 2.42%, which means that, on average, homeowners in New Jersey pay almost 2.50% of their home value in property taxes each year.
In nearly half of New Jersey's counties, real estate taxes for the average homeowner are more than $8,000 annually. In Bergen and Essex Counties, west of New York City, the average annual property tax bill is over $10,000. As mentioned above, property taxes are usually tax deductible on your New Jersey income tax return. Starting with tax year 2018, you can now deduct up to $15,000 of property taxes. Prior to 2018, the maximum property tax deduction was $10,000.
If you are looking to purchase a property in the Garden State or refinance one, take a look at our New Jersey mortgage guide for details about getting a mortgage in the state. You can also calculate your property taxes with our New Jersey property tax calculator.
New Jersey Inheritance and Estate Tax
New Jersey has an inheritance tax. The inheritance tax rate ranges from 11% to 16% and applies only to beneficiaries who are not one of the following in relation to the decedent: mother, father, grandparent, spouse, civil union partner, child, grandchild, great-grandchild, stepchild or domestic partner. Meanwhile, siblings, close friends or step-parents would all be required to pay the inheritance tax, although the first $25,000 of the inheritance is exempt. Anyone outside of these categories will not receive an exemption.
New Jersey has recently phased out its estate tax. As of Jan. 1, 2018, the New Jersey Estate Tax will no longer be imposed on anyone dying on or after that date.
New Jersey Capital Gains Tax
Capital gains are taxable in the state of New Jersey. They are treated as regular income and, in combination with other income, they are taxed at the rates in the tables above.
New Jersey Cigarette Tax
New Jersey collects taxes of $2.70 per pack of 20 cigarettes.
During the Revolutionary War, nearly 300 engagements took place in New Jersey, more than in any other state.
New Jersey was the first state to sign the Bill of Rights.
Calculate Your Income Taxes in These Other States