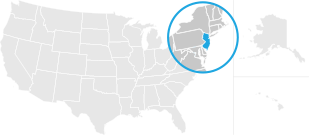 Overview of New Jersey Taxes
New Jersey has a progressive income tax with rates that are among the highest in the nation. Property and sales taxes are also above average. Retired? Use our Retirement Income Tax Calculator.
Enter your financial details to calculate your taxes
Household Income

Dismiss

Location

Dismiss
Advanced

401(k) Contribution

Dismiss

IRA Contribution

Dismiss

Dismiss

Number of Personal Exemptions

Dismiss
Your Income Taxes Breakdown
Tax

Type

Marginal
Tax Rate
Effective
Tax Rate
2017
Taxes
2018 Trump Taxes*
Federal

FICA

State
Local
Total Income Taxes
Income After Taxes
* These will be the taxes owed for the 2018 - 2019 filing season.
Under the Trump Tax Plan (2018-2019 filing season), your Federal Income Tax will be and your FICA will be .
Changes to Your Federal Income
Taxes Under the Trump Tax Plan
Your

marginal federal income tax rate

will
Your

effective federal income tax rate

will
Your federal income taxes will
Total Estimated Tax Burden

Total Estimated Tax Burden

$

Percent of income to taxes =

%

$
Our Tax Expert

Jennifer Mansfield, CPA Tax

Jennifer Mansfield, CPA, JD/LLM-Tax, is a Certified Public Accountant with more than 30 years of experience providing tax advice. SmartAsset's tax expert has a degree in Accounting and Business/Management from the University of Wyoming, as well as both a Masters in Tax Laws and a Juris Doctorate from Georgetown University Law Center. Jennifer has mostly worked in public accounting firms, including Ernst & Young and Deloitte. She is passionate about helping provide people and businesses with valuable accounting and tax advice to allow them to prosper financially. Jennifer lives in Arizona and was recently named to the Greater Tucson Leadership Program.

...read more
Save more with these rates that beat the National Average
​If you could change one thing about ​this page what would it be?​
Thank you for your answer! Your feedback is very important to us.
We are working hard to improve our product and could use your help!
We pay $30 for 30 minutes on the phone to hear your thoughts on what we can do better.
Please enter your email if you'd like to be contacted to help.
| | | | |
| --- | --- | --- | --- |
| | | | |
| Please enter your name | Please enter a valid email | | |
New Jersey state tax quick facts

Income tax: 1.4% - 8.97%
Sales tax: 6.625%
Property tax: 2.40% average effective rate
Gas tax: 14.50 cents per gallon
The Garden State has a lot of things going for it - but low taxes are not among them. Homeowners in New Jersey pay an average of $7,601 in annual property taxes, which equals an effective property tax rate of 2.40%, highest in the nation. The state's income tax ranges from 1.4% up to 8.97%, the sixth-highest top rate in the country.
Of course, if you don't own a home or if your income places you in one of New Jersey's lower tax brackets, the picture may not be so bleak. New Jersey's sales tax rate is close to the national average and its gas tax is among the lowest in the country. Read on to learn the details of New Jersey's tax system and how it might affect you.
New Jersey Income Tax
New Jersey's income tax is structured similarly to the federal income tax. Rates are based on income tax brackets, with income within each bracket being taxed at the corresponding rate. The table below shows brackets and rates for filers in New Jersey.
Income Tax Brackets
Single Filers
New Jersey Taxable Income
Rate
$0 - $20,000
1.400%
$20,000 - $35,000
1.750%
$35,000 - $40,000
3.500%
$40,000 - $75,000
5.525%
$75,000 - $500,000
6.370%
$500,000+
8.970%
Married, Filing Jointly
New Jersey Taxable Income
Rate
$0 - $20,000
1.400%
$20,000 - $50,000
1.750%
$50,000 - $70,000
2.450%
$70,000 - $80,000
3.500%
$80,000 - $150,000
5.525%
$150,000 - $500,000
6.370%
$500,000+
8.970%
Married, Filing Separately
New Jersey Taxable Income
Rate
$0 - $20,000
1.400%
$20,000 - $35,000
1.750%
$35,000 - $40,000
3.500%
$40,000 - $75,000
5.525%
$75,000 - $500,000
6.370%
$500,000+
8.970%
Head of Household
New Jersey Taxable Income
Rate
$0 - $20,000
1.400%
$20,000 - $50,000
1.750%
$50,000 - $70,000
2.450%
$70,000 - $80,000
3.500%
$80,000 - $150,000
5.525%
$150,000 - $500,000
6.370%
$500,000+
8.970%
All of those rates apply to New Jersey taxable income, which is total income (including capital gains) minus certain deductions, as well as the New Jersey personal exemption of $1,000. Some forms of income that are not taxable include unemployment compensation, Social Security benefits, workers' compensation and lottery winnings of $10,000 or less. Expenses that may be deducted in New Jersey include certain unreimbursed medical expenses, New Jersey property taxes, Archer MSA contributions and if you are self-employed, health-insurance payments. If you need help filing taxes, you can look into tax preparation software like TurboTax and H&R Block or hire a professional accountant.
New Jersey Sales Tax
New Jersey has a single, statewide sales tax rate. On January 1, 2018 that rate decreased from 6.875% to 6.625%. The flat sales tax rate means you will pay the same rate wherever you are in the state - with two exceptions. First, there are New Jersey's "Urban Enterprise Zones," where purchases made at qualified business (typically retailers) face a reduced sales tax rate of 3.4375%. There are 27 Urban Enterprise Zones in New Jersey, including parts of Newark, Jersey City and New Brunswick.
The other exception to New Jersey's state sales tax is Salem County. In Salem County, nearly all purchases are subject to a sales tax rate of 3.5%. The only items that do not get that reduced rate are alcoholic beverages, cigarettes, motor vehicles, services and any transactions made from outside the county.
Outside of those exceptions, the statewide sales tax rate applies to most products and services, including electronics, furniture, fitness club memberships, parking, landscaping services and digital property (i.e. electronically downloaded music, videos, software, etc.). Some items, however, are exempt. Groceries, prescription and over-the-counter drugs and most types of clothing and footwear are all exempt.
New Jersey Property Tax
New Jersey has the highest property taxes in the country. The average effective property tax rate is 2.40%. This means that on average, homeowners in New Jersey pay 2.40% of their home value in property taxes. That is highest in the nation. In one third of New Jersey's counties, real estate taxes for the average homeowner are higher than $8,000 annually. In Bergen and Essex Counties, west of New York City, the average annual property tax bill is nearly $10,000. As mentioned above, property taxes are usually tax deductible on your New Jersey income tax return, up to a maximum of $10,000.
If you are looking to purchase a property in the Garden State or refinance one, take a look at our New Jersey mortgage guide for details about getting a mortgage in the state.
Calculate Your Property Taxes: New Jersey Property Tax Calculator
New Jersey Inheritance and Estate Tax
New Jersey has an inheritance tax. The inheritance tax rate ranges from 11% to 16% and applies only to beneficiaries who are not one of the following in relation to the decedent: mother, father, grandparent, spouse, civil union, child, grandchild, great-grandchild, stepchild or domestic partner. So, for example, siblings, close friends or step-parents would all be required to pay the inheritance tax, although the first $25,000 of the inheritance is exempt.
New Jersey has just phased out the estate tax. As of January 1, 2018, the New Jersey Estate Tax will no longer be imposed on anyone dying on or after that date.
New Jersey Capital Gains Tax
Capital gains are taxable in the state of New Jersey. They are treated as regular income and, in combination with other income, taxed at the rates in the tables above.
New Jersey Cigarette Tax
New Jersey collects taxes of $2.70 per pack of 20 cigarettes. That's 10th-highest in the country.
During the Revolutionary War, nearly 300 engagements took place in New Jersey, more than in any other state.
New Jersey was the first state to sign the Bill of Rights.
There are over 40,900 active attorneys in New Jersey. That's about 46 lawyers per 10,000 residents.
Calculate Your Income Taxes in These Other States
Places with the Lowest Tax Burden

Are you curious how your tax burden stacks up against others in your state? SmartAsset's interactive map highlights the counties with the lowest tax burden. Scroll over any county in the state to learn about taxes in that specific area.

Methodology

Where you live can have a big impact on both which types of taxes you have to pay each year and how much money you spend on them. SmartAsset calculated the amount of money a specific person would pay in income, sales, property and fuel taxes in each county in the country and ranked the lowest to highest tax burden.

To better compare income tax burdens across counties, we used the national median household income. We then applied relevant deductions and exemptions before calculating federal, state and local income taxes.

In order to determine sales tax burden we estimated that 35% of take-home (after-tax) pay is spent on taxable goods. We multiplied the average sales tax rate for a county by the household income less income tax. This product is then multiplied by 35% to estimate the sales tax paid.

For property taxes, we compared the median property taxes paid in each county.

For fuel taxes, we first distributed statewide vehicle miles traveled down to the county level using the number of vehicles in each county. We then calculated the total number of licensed drivers within each county. The countywide miles were then distributed amongst the licensed drivers in the county, which gave us the miles driven per licensed driver. Using the nationwide average fuel economy, we calculated the average gallons of gas used per driver in each county and multiplied that by the fuel tax.

We then added the dollar amount for income, sales, property and fuel taxes to rank the counties to calculate a total tax burden.

Sources: US Census Bureau 2016 American Community Survey, Government Sources, Avalara, American Petroleum Institute, GasBuddy, UMTRI, Federal Highway Administration, SmartAsset