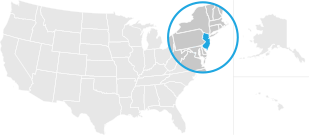 Overview of New Jersey Taxes
Homeowners in New Jersey pay the highest property taxes of any state in the country. In fact, rates in some areas are more than double the national average. The average effective property tax rate in New Jersey is 2.44%, compared to the national average of 1.08%.
Enter your financial details to calculate your taxes
Enter Your Location

Dismiss

Assessed Home Value

Dismiss
Average County Tax Rate




0.0%




Property Taxes




$0




(Annual)
How Your Property Taxes Compare
Based on an Assessed Home Value of
| | |
| --- | --- |
| | |
| | |
| National | |
About This Answer

To calculate the exact amount of property tax you will owe requires your property's assessed value and the property tax rates based on your property's address. Please note that we can only estimate your property tax based on median property taxes in your area. There are typically multiple rates in a given area, because your state, county, local schools and emergency responders each receive funding partly through these taxes. In our calculator, we take your home value and multiply that by your county's effective property tax rate. This is equal to the median property tax paid as a percentage of the median home value in your county.

...read more

Our Tax Expert

Jennifer Mansfield Tax

Jennifer Mansfield, CPA, JD/LLM-Tax, is a Certified Public Accountant with more than 30 years of experience providing tax advice. SmartAsset's tax expert has a degree in Accounting and Business/Management from the University of Wyoming, as well as both a Masters in Tax Laws and a Juris Doctorate from Georgetown University Law Center. Jennifer has mostly worked in public accounting firms, including Ernst & Young and Deloitte. She is passionate about helping provide people and businesses with valuable accounting and tax advice to allow them to prosper financially. Jennifer lives in Arizona and was recently named to the Greater Tucson Leadership Program.

...read more
​If you could change one thing about ​this page what would it be?​
Thank you for your answer! Your feedback is very important to us.
We are working hard to improve our product and could use your help!
We pay $30 for 30 minutes on the phone to hear your thoughts on what we can do better.
Please enter your email if you'd like to be contacted to help.
| | | | |
| --- | --- | --- | --- |
| | | | |
| Please enter your name | Please enter a valid email | | |
New Jersey Property Taxes
Thinking about a move to New Jersey? Keep in mind that homeowners in the Garden State pay some of the highest property taxes in the country. Rates in some areas are more than double the national average.
The average effective property tax rate in New Jersey is 2.44%, compared with a national average of 1.08%. When combined with relatively high statewide property values, the average property tax payment in New Jersey is over $7,800.
Don't let the high property taxes scare you away from buying a home in New Jersey. If you are looking to purchase a property in the Garden State, or if you want to refinance your current mortgage, check out our mortgage guide for information about New Jersey mortgage rates and other details.
A financial advisor in New Jersey can help you understand how homeownership fits into your overall financial goals. Financial advisors can also help with investing and financial plans, including taxes, homeownership, retirement and more, to make sure you are preparing for the future.
How New Jersey Property Taxes Work
Property taxes in New Jersey go entirely to local governments. Bills are paid annually across four installments, which are due on the first of February, May, August and November. The amount a homeowner in New Jersey pays depends primarily on the value of his or her home and the total tax rates among all local tax authorities.
Home value is determined by assessors in New Jersey's 565 municipalities. Since these assessors may use different techniques, it's possible that they undervalue or overvalue homes in their district. The New Jersey Division of Taxation offsets this annually by determining an equalization ratio that ensures everyone in a tax district pays their fair share.
So, for example, the City of New Brunswick had a 2017 ratio of 99.65. That means assessed values were 99.65% of true market values. To calculate true value in New Brunswick (which is the value used for county taxes), a homeowner would multiply his or her assessed value by 1/0.9965.
New Jersey Property Tax Rates
Property tax rates in New Jersey vary significantly by city and county. Municipalities, counties and school districts all determine their own rates. There may also be additional tax rates that apply for specific purposes such as parks or libraries.
Since assessed values in one city are not necessarily equivalent to assessed values in another, it is useful to look at effective tax rates. The effective tax rate is the amount paid annually as a percentage of home value.
An average effective tax rate presents an indication of the overall level of taxes in an area, but it's not used to actually calculate individual tax bills. The table below shows the average effective tax rate for every county in New Jersey.
| County | Median Home Value | Median Annual Property Tax Payment | Average Effective Property Tax Rate |
| --- | --- | --- | --- |
| Atlantic | $219,000 | $5,840 | 2.67% |
| Bergen | $451,200 | $10,000 | 2.30% |
| Burlington | $245,300 | $6,546 | 2.67% |
| Camden | $193,500 | $6,570 | 3.40% |
| Cape May | $295,500 | $4,369 | 1.48% |
| Cumberland | $160,500 | $4,237 | 2.64% |
| Essex | $362,300 | $10,000 | 2.76% |
| Gloucester | $213,800 | $6,560 | 3.07% |
| Hudson | $349,500 | $8,182 | 2.34% |
| Hunterdon | $393,800 | $9,162 | 2.33% |
| Mercer | $281,900 | $7,363 | 2.61% |
| Middlesex | $329,000 | $7,759 | 2.36% |
| Monmouth | $396,200 | $8,175 | 2.06% |
| Morris | $438,100 | $9,370 | 2.14% |
| Ocean | $267,900 | $5,385 | 2.01% |
| Passaic | $333,200 | $9,496 | 2.85% |
| Salem | $185,800 | $5,405 | 2.91% |
| Somerset | $412,800 | $9,025 | 2.19% |
| Sussex | $264,100 | $7,086 | 2.68% |
| Union | $351,800 | $9,486 | 2.70% |
| Warren | $256,700 | $6,859 | 2.67% |
Looking to calculate your potential monthly mortgage payment? Check out our mortgage calculator.
Bergen County
A combination of high property tax rates and high home values in northeast New Jersey's Bergen County means that the median property tax bill is more than $10,000. That's tied for the highest figure of any county in the state, and it's almost five times the national average.
The average effective property tax rate in Bergen County is 2.30%, which actually ranks among the lowest in the state. However, in the county's largest municipalities, the rate is higher. In Hackensack, for example, the effective rate is 3.31%.
Middlesex County
Middlesex County is part of the New York City metropolitan area. The county's average effective property tax rate of 2.36% is slightly less than the state average. In Edison, which is the county's largest city, the rate is even a bit lower. The city's effective rate is 2.27%.
Essex County
Located in northern New Jersey, between Middlesex and Bergen counties, Essex County has one of the highest property tax rates in the state. The average effective rate in Essex County is 2.76%. Rates within Essex County vary by municipality. In Newark, the effective rate is 2.85%.
Hudson County
With around 670,000 residents, Hudson County is the fifth most populous county in New Jersey. Property tax rates in Hudson County are close to state averages. The countywide average effective rate is 2.34%. At that rate, the taxes on a home worth $300,000 would be $7,020 per year.
Monmouth County
Situated along the Atlantic Coast in central New Jersey, Monmouth County has the third lowest average effective property tax rate of New Jersey's 21 counties. That rate is just 2.06%. Again, municipalities within the county will have different rates. In Middletown, the most populous city in the county, the effective tax rate is 2.16%. In Shrewsbury township, the rate is 2.81%.
Ocean County
If you want to buy beach front property with relatively low property taxes in New Jersey, Ocean County may be the place. The average effective tax rate in the county is 2.01%, second lowest in the state. Likewise, the median annual property tax payment in the county is $5,385, more than $2,000 below the state average.
Union County
Union County is located northwest of Staten Island, in the New York City metropolitan area. It is the seventh most populous county in New Jersey. The average effective property tax rate in Union County is 2.70%, sixth highest in the state. A homeowner paying that rate on a home worth $350,000 (about the median home value for the state) would pay $9,450 annually.
Camden County
Buying a home in Camden County? The bad news is that the county's property tax rates are the highest in the state and the third highest in the U.S. The county's average effective property tax rate is 3.40%.
If you have questions about how property taxes can affect your overall financial plans, a financial advisor in Cherry Hill can help you out.
Passaic County
This northern New Jersey county has effective property tax rates that are more than double the national average. The average rate in the county is 2.85%. That ranks fourth in the state and 20th in the country (out of 3,142 counties and county equivalents).
In the city of Passaic, the effective rate is 3.01%. If you own a home in Passaic, don't be surprised to see a much higher rate than that listed on your property tax bill. The city has an assessment ratio of 86.07% for 2018. That means assessed values are only about 86% of actual values.
Morris County
The median annual property taxes paid by homeowners in Morris County is $9,370, more than four times the national median. By New Jersey standards, however, property tax rates are not especially high in Morris County. The average effective property tax rate is 2.14%, well below the state average.
Calculate Your Property Taxes in These Other States
Places Receiving the Most Value for Their Property Taxes

SmartAsset's interactive map highlights the places across the country where property tax dollars are being spent most effectively. Zoom between states and the national map to see the counties getting the biggest bang for their property tax buck.

Methodology

Our study aims to find the places in the United States where people are getting the most value for their property tax dollars. To do this, we looked at property taxes paid, school rankings and the change in property values over a five-year period.

First, we used the number of households, median home value and average property tax rate to calculate a per capita property tax collected for each county.

As a way to measure the quality of schools, we analyzed the math and reading/language arts proficiencies for every school district in the country. We created an average score for each district by looking at the scores for every school in that district, weighting it to account for the number of students in each school. Within each state, we assigned every county a score between 1 and 10 (with 10 being the best) based on the average scores of the districts in each county.

Then, we calculated the change in property tax value in each county over a five-year period. Places where property values rose by the greatest amount indicated where consumers were motivated to buy homes, and a positive return on investment for homeowners in the community.

Finally, we calculated a property tax index, based on the criteria above. Counties with the highest scores were those where property tax dollars are going the furthest.

Sources: US Census Bureau 2018 American Community Survey, Department of Education