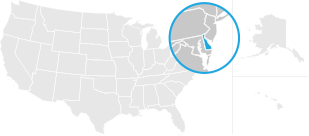 Overview of Delaware Taxes
Delaware boasts the fourth lowest property tax rate of any U.S. state. The average effective property tax rate is just 0.55%. That means that, on average, a home in the state of Delaware with a market value of $200,000 would have taxes of about $1,100 annually.
Enter your financial details to calculate your taxes
Enter Your Location

Dismiss

Assessed Home Value

Dismiss
Average County Tax Rate




0.0%




Property Taxes




$0




(Annual)
How Your Property Taxes Compare
Based on an Assessed Home Value of
| | |
| --- | --- |
| | |
| | |
| National | |
About This Answer

To calculate the exact amount of property tax you will owe requires your property's assessed value and the property tax rates based on your property's address. Please note that we can only estimate your property tax based on median property taxes in your area. There are typically multiple rates in a given area, because your state, county, local schools and emergency responders each receive funding partly through these taxes. In our calculator, we take your home value and multiply that by your county's effective property tax rate. This is equal to the median property tax paid as a percentage of the median home value in your county.

...read more

Our Tax Expert

Jennifer Mansfield Tax

Jennifer Mansfield, CPA, JD/LLM-Tax, is a Certified Public Accountant with more than 30 years of experience providing tax advice. SmartAsset's tax expert has a degree in Accounting and Business/Management from the University of Wyoming, as well as both a Masters in Tax Laws and a Juris Doctorate from Georgetown University Law Center. Jennifer has mostly worked in public accounting firms, including Ernst & Young and Deloitte. She is passionate about helping provide people and businesses with valuable accounting and tax advice to allow them to prosper financially. Jennifer lives in Arizona and was recently named to the Greater Tucson Leadership Program.

...read more
​If you could change one thing about ​this page what would it be?​
Thank you for your answer! Your feedback is very important to us.
We are working hard to improve our product and could use your help!
We pay $30 for 30 minutes on the phone to hear your thoughts on what we can do better.
Please enter your email if you'd like to be contacted to help.
| | | | |
| --- | --- | --- | --- |
| | | | |
| Please enter your name | Please enter a valid email | | |
Calculate Your Property Taxes in These Other States
Delaware Property Taxes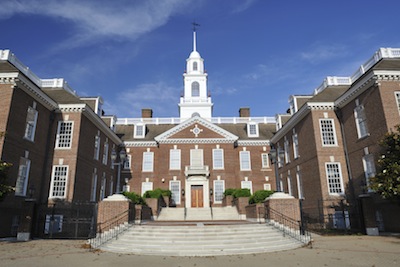 Photo credit: ©iStock.com/aimintang
Delaware's three counties are responsible for administering and collecting property taxes in the state. Rates vary between and within those counties. Below, we will take a closer look at rates and rules in Sussex, New Castle and Kent counties. If you're considering buying property in Delaware, you'll want to use SmartAsset's Delaware mortgage guide as a reference for information on rates and getting a mortgage in the First State.
Looking to calculate your potential monthly mortgage payment? Check out our mortgage calculator.
How Delaware Property Taxes Work
Unlike most other states, local governments in Delaware do not reassess property values on a regular basis. Instead, all counties and cities base their property taxes on the values calculated the last time all property was reassessed.
This is called the reassessment year. For example, the Kent County reassessment year is 1987. In New Castle County the reassessment year is 1983. In Sussex County the reassessment year is 1974. Municipalities also have their own assessments, although some simply use the county assessment.
Assessed values are based on the market value as of that reassessment year. In Kent County, for example, assessed values are equal to 60% of the 1987 market value.
If a homeowner makes additions to a property or builds a new structure on the lot, the value is reassessed. Even in those cases, however, the assessor does not try to determine current value, rather what the value would have been in the reassessment year.
As you can imagine, home prices in the reassessment years for each county were significantly lower than they are now. That means assessed values are a fraction of current market values.
Delaware Property Tax Rates
Property tax rates in Delaware are largely affected by the state's reassessment system. Areas like Sussex County, which has not had a reassessment in 30 years, may have higher rates because assessed values are so low.
It is helpful, therefore, to look at effective tax rates. Effective tax rates are annual taxes paid as a percentage of current market value. The table below shows the effective tax rates, median home values and median annual property tax payments for all three Delaware counties.
| | | | |
| --- | --- | --- | --- |
| County | Median Home Value | Median Annual Property Tax Payment | Average Effective Property Tax Rate |
| Kent | $199,800 | $974 | 0.49% |
| New Castle | $244,300 | $1,712 | 0.70% |
| Sussex | $231,600 | $766 | 0.33% |
New Castle County
While New Castle County has the highest property tax rate of Delaware's three counties, property taxes are still quite low. The average effective property tax rate in New Castle County is 0.70%. That is more than double the rate in Sussex County. Even so, it means that property taxes on a $200,000 home would be just $1,400 annually.
In Wilmington, the largest city in the county as well as the state, the property tax rate is 1.995% of assessed value. However, assessed value is just a fraction of current market value, so the effective tax rate in the city is much lower.
The city of Wilmington also offers a property tax exemption for senior citizens. Seniors can claim an exemption of up to $565 annually and may also receive a discount on their sewer and water bills. Qualifying seniors have a maximum income of $19,000 for married couples or $15,000 for singles, excluding Social Security income.
Sussex County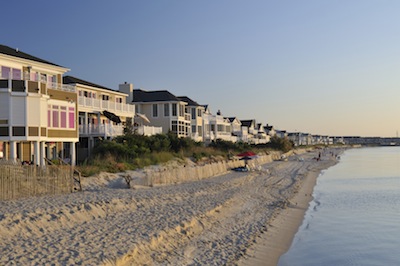 Photo credit: ©iStock.com/
Sussex County has some of the lowest property tax rates not just in the state of Delaware, but in the entire country. A typical Sussex County homeowner pays just $766 annually in property taxes, about one-third the U.S. average. The median home value in Sussex County is more than $231,000 so that makes the average effective property tax rate in Sussex County is 0.33%.
Rates vary within Sussex County by school district. The low rate is 3.8124 per $100 of assessed value in the Indian River School District. The high rate is 5.6995 per $100 of assessed value in the Milford School District.
Kent County
The average effective property tax rate in Kent County is 0.49%. That means someone owning a home with a value of $150,000 could expect to pay $735 annually in property taxes.
It is important to note, however, that actual taxes will vary from that expected amount. That's because assessed values in Kent County are equal to 60% of the market value in 1987. Since prices have fluctuated significantly since then, taxes could vary even between two homes with the same current value and within the same tax district.
Property Tax: Which Counties are Getting the Best Bang for Their Buck

SmartAsset's interactive map highlights the places across the country where property tax dollars are being spent most effectively. Zoom between states and the national map to see the counties getting the biggest bang for their property tax buck.

Methodology

Our study aims to find the places in the United States where people are getting the most for their property tax dollars. To do this we looked at school rankings, crime rates and property taxes for every county.

As a way to measure the quality of schools, we analyzed the math and reading/language arts proficiencies for every school district in the country. We created an average score for each district by looking at the scores for every school in that district, weighting it to account for the number of students in each school. Within each state, we assigned every county a score between 1 and 10 (with 10 being the best) based on the average scores of the districts in each county.

For each county, we calculated the violent and property crimes per 100,000 residents.

Using the school and crime numbers, we calculated a community score. This is the ratio of the school rank to the combined crime rate per 100,000 residents.

We used the number of households, median home value and average property tax rate to calculate a per capita property tax collected for each county.

Finally, we calculated a tax value by creating a ratio of the community score to the per capita property tax paid. This shows us the counties in the country where people are getting the most bang for their buck, or where their property tax dollars are going the furthest.

Sources: US Census Bureau 2017 American Community Survey, Department of Education, Federal Bureau of Investigation, State Police or Justice Department websites