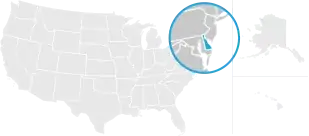 Overview of Delaware Retirement Tax Friendliness
Delaware does not tax Social Security retirement benefits. It is one of just four states with no sales tax at the state or local level. Delaware has some of the lowest property tax rates of any state. It also does not have an estate or inheritance tax.
To find a financial advisor who serves your area, try our free online matching tool.
Enter your financial details to calculate your taxes
Annual Social Security Income

Dismiss

Annual Retirement Account Income

Dismiss

Annual Wages

Dismiss

Dismiss

Year of Birth

Dismiss

Filing Status
Add Pension

Annual Income from Private Pension

Dismiss

Annual Income from Public Pension

Dismiss
You will pay

of Delaware state taxes on your pre-tax income of
Quick Guide to Retirement Income Taxes
is toward retirees.
Social Security income is taxed.
Withdrawals from retirement accounts are taxed.
Wages are taxed at normal rates, and your marginal state tax rate is %.
Save more with these rates that beat the National Average
Share Your Feedback
How would you rate your experience using this SmartAsset tool?
What is the most important reason for that score? (optional)
Please limit your response to 150 characters or less.
Thank you for your answer! Your feedback is very important to us.
Delaware Retirement Taxes
Many retirees in the Northeast and Mid-Atlantic States move to places like Florida and Texas upon retirement, seeking warmer weather and lower taxes. While there's no cure for the Northeast's colder weather, seniors who want to reduce their tax burden may not need to look quite so far south.
Instead, they might consider Delaware. The First State has no sales tax and property tax rates that are among the lowest in the country. It also does not tax Social Security income and grants significant deductions for other types of retirement income.
A financial advisor can help you plan for retirement and other financial goals. SmartAsset's free tool matches you with up to three vetted financial advisors who serve your area, and you can interview your advisor matches at no cost to decide which one is right for you. If you're ready to find an advisor who can help you achieve your financial goals, get started now.
Is Delaware tax-friendly for retirees?
Delaware is one of just four states with no sales tax at the state or local level. Further, it has the seventh-lowest property tax rates of any state, and it doesn't tax Social Security income. If that wasn't enough, Delaware doesn't have an estate or inheritance tax, and it provides a deduction of up to $12,500 on income from pensions or retirement savings accounts.
Is Social Security taxable in Delaware?
Delaware fully exempts all Social Security income from its state income tax.
Are other forms of retirement income taxable in Delaware?
Yes, but they are also eligible for a deduction. The deduction varies depending on the age of the taxpayer. For taxpayers less than 60 years old, the deduction is $2,000 per person. For taxpayers age 60 or older, the deduction is $12,500.
The deduction applies to the combined total of all retirement income from pensions and retirement accounts like a 401(k) or IRA. If you are 65 or older and have $12,500 or less in income from these sources, you will not pay income tax on them.
Any retirement income in excess of the deduction will be included with other sources of income as part of your taxable income, to which Delaware's state tax rates apply. The table below shows income tax rates in Delaware.
Income Tax Brackets
All Filers
Delaware Taxable Income
Rate
$0 - $2,000
0.00%
$2,000 - $5,000
2.20%
$5,000 - $10,000
3.90%
$10,000 - $20,000
4.80%
$20,000 - $25,000
5.20%
$25,000 - $60,000
5.55%
$60,000+
6.60%
How high are property taxes in Delaware?
Delaware's average effective property tax rate is a mere 0.56%. That means a homeowner could expect to pay $560 in taxes for every $100,000 in home value.
The median home value in Delaware is $261,700, which is about $20,000 higher than the national median. Despite being high on a countrywide level, home values in Delaware are low relative to elsewhere in the Mid-Atlantic, like Maryland, Virginia and the District of Columbia.
What is the Delaware senior school property tax credit?
The senior school property tax credit is a form of property tax relief for seniors in Delaware. To qualify, you must be age 65 or older and own a home in the state as your primary residence. The credit is equal to 50% of school property taxes, up to a maximum of $400 per year.
How high are sales taxes in Delaware?
There is no sales tax in Delaware. That's right, all Delaware purchases are tax-free. For many seniors, that could mean savings of hundreds of dollars per year on things like clothing, food, entertainment and medicine.
What other Delaware taxes should I be concerned about?
As of Jan. 1, 2018, Delaware has repealed its estate tax. So as long as your estate is under the 2022 federal threshold of $12.06 million ($12.92 million for 2023), you're in the clear.
Capital gains in Delaware are also subject to tax. Long-term and short-term capital gains are taxed as regular personal income, at the rates shown in the income tax bracket table above. This is important to keep in mind for seniors who are planning on income from real estate sales or other types of investment income outside of retirement accounts.
Calculate Your Retirement Taxes in These Other States