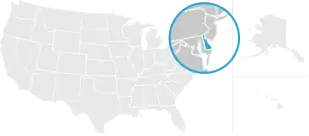 Overview of Delaware Mortgages
It may be the second-smallest state in the nation, but there's big potential for homeowners in Delaware. From historic Georgetown to Wilmington, this tiny state packs in plenty of charm, character and seaside beauty. In recent years, Delaware mortgage rates have been above, but still close, to the national average. Delaware is made up of only three counties, and each of them have uniform conforming limits, but not FHA limits.
National Mortgage Rates
Source: Freddie Mac Primary Mortgage Market Survey, SmartAsset Research
Details
Purchase or Refinance
Select Purchase or Refinance
Dismiss
Location
Enter your location
Dismiss
Target Home Value
Enter target home value
Dismiss
Down Payment
Enter down payment
Dismiss
Current Home Value
Enter current home value
Dismiss
Current Mortgage Balance
Current Mortgage Balance
Enter current mortgage balance
Dismiss
Credit Rating
Select Your Credit Rating
Dismiss
Share Your Feedback
How would you rate your experience using SmartAsset's financial advisor matching service so far?
What is the most important reason for that score? (optional)
Please limit your response to 150 characters or less.
Thank you for your answer! Your feedback is very important to us.
Historical Mortgage Rates in Delaware
Delaware Mortgage Rates Quick Facts
Median Home Value: $300,500 (U.S. Census Bureau)
Loan Funding Rate: 55.61% (CFPB)
Homeownership Rate: 73.5% (St. Louis Fed)
Median Monthly Homeownership Costs: $1,644 (U.S. Census Bureau)
In general, mortgage rates in Delaware follow suit with national average rates. Homeownership costs are also in line with the U.S. median.
A financial advisor in Delaware can help you plan for the homebuying process. Financial advisors can also help with investing and financial plans, including tax, retirement and estate planning, to make sure you are preparing for the future.
Delaware Historic Mortgage Rates*
| Year | Delaware Rate | U.S. Rate |
| --- | --- | --- |
| 2000 | 8.01 | 7.86 |
| 2001 | 6.92 | 6.94 |
| 2002 | 6.53 | 6.44 |
| 2003 | 5.87 | 5.67 |
| 2004 | 5.78 | 5.68 |
| 2005 | 6.13 | 5.85 |
| 2006 | 6.59 | 6.54 |
| 2007 | 6.33 | 6.42 |
| 2008 | 5.97 | 6.06 |
| 2009 | 4.97 | 5.05 |
| 2010 | 4.74 | 4.81 |
| 2011 | 4.57 | 4.56 |
| 2012 | 3.64 | 3.65 |
| 2013 | 3.92 | 3.84 |
| 2014 | 4.16 | 4.13 |
| 2015 | 3.99 | 3.88 |
| 2016 | 3.77 | 3.73 |
| 2017 | 4.07 | 4.03 |
| 2018 | 4.60 | 4.56 |
*The FHFA stopped reporting new data in 2018.
Delaware Mortgages Overview
Delaware home prices are relatively close to the U.S. average. The national median home value is $281,400, while Delaware's is $300,500.
The conforming loan limit for each of Delaware's three counties comes in at the lowest mark, which is $726,200. FHA loan limits vary, however.
Conforming and FHA Loan Limits by County
| County | Conforming Limit | FHA Limit |
| --- | --- | --- |
| Kent | $726,200 | $472,030 |
| New Castle | $726,200 | $529,000 |
| Sussex | $726,200 | $472,030 |
When you're going through the buying process, transparency about the property is key. Delaware has a form specifically for the seller to list structural, termite, plumbing, roofing, heating, environmental and air conditioning problems. While that step can help inform the buyer of any major issues, it's still best to add on a home inspection to verify the home's problems before the property becomes yours.
30-Year Fixed Mortgage Rates in Delaware
If you plan to stay in your new home for the long haul, a fixed-rate mortgage might be the best choice for you. The most common type of home loan is a 30-year fixed-rate mortgage, in which the interest rate remains the same for the duration of the loan. Another option is a 15-year fixed-rate mortgage, which has lower interest rates but has higher monthly payments.
The average Delaware mortgage rate for a 30-year fixed mortgage is 5.89% (Zillow, Jan. 2023).
Delaware Jumbo Loan Rates
If you're buying a home in Delaware, conforming loan limits are at the standard $726,200 limit in every county. If a loan exceeds that limit, it becomes a jumbo loan. If you are considering a jumbo loan for your mortgage, be aware that they come with higher interest rates to cover the increased risk on the part of the lender.
The average 30-year fixed jumbo loan rate in Delaware is 5.99% (Zillow, Jan. 2023).
Delaware ARM Loan Rates
There is less certainty with an adjustable-rate mortgage (ARM) as compared to a fixed-rate mortgage. An ARM offers an introductory period that may last anywhere from one to 10 years, depending on the mortgage terms. A lower interest rate is available during that time. Once the initial period ends, the rate may change and typically that means it will rise.
The interest rate is capped at a certain level, however, which is laid out in the loan's terms. Before choosing an ARM, it is key to make sure that the highest possible interest rate is one that you can afford to pay.
The average rate for a 5/1 ARM in Delaware is 5.52 (Zillow, Jan. 2023).
Delaware Mortgage Resources
Need financing help in Delaware? There are programs available for homebuyers and homeowners looking for assistance. If you're just getting started, the Interfaith Community Housing of Delaware hosts courses via the NeighborWorks® HomeOwnership Center. In addition to classes focusing on finances and avoiding foreclosure, there is also an extensive 11-week homebuying course to prepare you for homeownership.
Similarly, the Delaware First Time Homebuyer Seminars cover all the basics of buying your first home in Delaware, plus other assistance options out there. These seminars are free and are located in Newark and Dover every couple weeks.
The Delaware State Housing Authority has programs for people looking to buy a home, repair their current home or get mortgage counseling. Depending on your situation, there are a variety of programs that could benefit you. It offers homeownership loan programs, first-time homebuyer tax credits and emergency mortgage assistance. There is also the Neighborhood Stabilization Program, which purchases foreclosed or abandoned homes and sells them to low or moderate-income homebuyers throughout the state.
Available Resources
| Resource | Problem or Issue | Who Qualifies |
| --- | --- | --- |
| Interfaith Community Housing of Delaware | Provides education for homebuyers - Hosts courses via the NeighborWorks® HomeOwnership Center on finances, avoiding foreclosure, and homeownership. | Lower income families looking to buy a home or learn about managing their home finances. |
| Delaware First Time Homebuyer Seminars | Provides education for first-time homebuyers. | Anyone who is buying a house for the first time in Delaware. |
| Delaware State Housing Authority | Provides programs for people looking to buy a home, repair their current home, or looking for mortgage counseling. | Anyone seeking mortgage or homebuying assistance who qualifies at their income levels. |
| USDA Rural Development - Single family loans | Offers payment assistance to increase an applicant's repayment ability. | Applicants must be without decent, safe and sanitary housing; Be unable to obtain a loan from other resources on terms and conditions that can reasonably be expected to meet; Agree to occupy the property as your primary residence; Have the legal capacity to incur a loan obligation; Meet citizenship or eligible noncitizen requirements; and not be suspended or debarred from participation in federal programs. |
In Delaware, you may also qualify for assistance from the United States Department of Agriculture Rural Development. The program helps rural communities by offering aid in obtaining affordable housing. Loans in Delaware are available to qualified applicants looking to purchase a new home or repair their current one.
Delaware Mortgage Taxes
Homeowners are allowed to deduct the mortgage interest they pay when filing their federal income taxes. This applies for Delaware state income taxes as well. You can double your deductions for the qualifying mortgage interest payments you have made in the tax year by including it on both state and federal filings.
Another item to keep in mind: In Delaware, there is a 3% real estate transfer tax on the value of property unless there is also a local transfer tax, in which case the maximum rate becomes 2.5%. There is also a 2% transfer fee rate for construction projects that are over $10,000. These fees are generally split between the buyer and seller.
Delaware Mortgage Refinance
Refinancing in the First State? The Home Affordable Refinance Program is no longer available, but Fannie Mae currently offers its own alternatives, providing qualifying applicants access to interest and principal payment reductions as well as low closing costs.
If you don't qualify for either of these, you can work with the lender who issued you your original mortgage or with other lenders to find the best rate for you.
See Mortgage Rates in These Other States