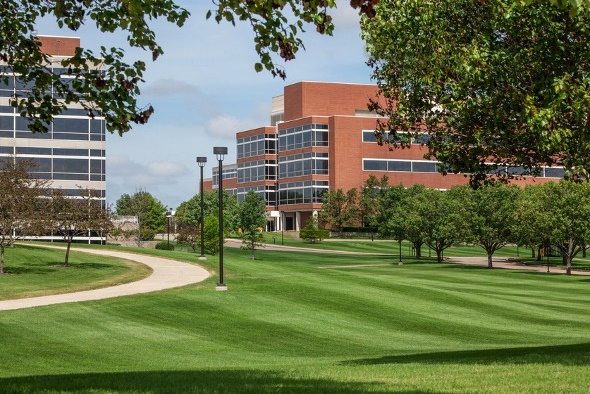 On average, in-state students who attended public four-year institutions spent $9,410 during the 2015-2016 school year on tuition and fees, according to the College Board. After accounting for room and board, that total rose to $19,548. For many students, attending a community college for two years and then transferring to a university is a much more affordable option.
This is SmartAsset's third annual study of the nation's best community colleges. See the 2015 version here.
By attending a local community college, the average student can save a little more than $8,000 a year when looking at the total cost of attendance. Of course, not all community colleges are created equal. It's important to do your research if you only want to apply to the best schools.
Study Specifics
SmartAsset wanted to find the best community colleges of 2016. To create our ranking, we used the same metrics from last year's analysis. We took 565 two-year public colleges and ranked them by looking at four factors: the student-faculty ratio, the graduation and transfer rate, the cost of in-state tuition and fees and the ratio of graduates' median starting salaries to the full cost of attendance.
We concluded that the top community colleges would have high success rates. These schools would provide their students with an inexpensive, world-class education and a good return on investment. (Read more about our full methodology below.)
Try SmartAsset's super-smart student loan calculator.
Key Findings
Graduation and transfer rates are down. Compared to what we found in our 2015 study, many community colleges saw these rates fall. This means fewer people are graduating from a community college or transferring from a community college to a 4-year institution.
Washington and Kansas have some good options. These states each have two community colleges in our top ten.
1. Rend Lake College
Ina, Illinois

Rend Lake College has moved up in the rankings since we conducted our 2015 study. Its student-teacher ratio remains low (15:1). And while its graduation and transfer rate fell slightly, at 67%, it's still relatively high compared to the national average of 40%.
The two-year school is located about 266.5 miles from Chicago. It offers more than 100 certificate and degree programs and a number of academic awards that recipients can use as tuition waivers.
2. Mitchell Technical Institute
Mitchell, South Dakota
This year, Mitchell Technical Institute takes the No. 2 spot on our list. Out of our top 25 best community colleges, both MTI and our 10th best community college have the highest graduation and transfer rates in our study (72%). The school reports that 95% of its students get access to some form of financial aid and nearly all of its graduates (99%) find jobs after earning their degrees.

3. Northern Oklahoma College
Tonkawa, Oklahoma

Northern Oklahoma College has three campuses and is Oklahoma's oldest community college. In the past year, the rate of students who have earned degrees or transferred to four-year schools has increased by 11.6%. The starting salary for the average graduate is 1.9 times the school's total cost of attendance.
4. Scottsdale Community College
Scottsdale, Arizona

Out of our top 10 best community colleges, Scottsdale Community College is the most affordable. Tuition and fees for in-state students completing two semesters of coursework during the 2014-2015 academic year cost just $2,046. Besides their low cost of attendance, many students attending the institution get the chance to form close relationships with their professors since the student-faculty ratio is 17:1.
5. Fort Scott Community College
Fort Scott, Kansas

For the third year in a row, Fort Scott Community College ranks as one of the best two-year public institutions in the country. The school has been around since 1919 and it currently offers more than 30 degree and certificate programs, including a cosmetology program and a certificate program for students interested in becoming home health aides.
Students who graduate from the community college earn entry-level salaries that are 1.05 times the full cost of taking classes at the school. That's not a bad return on investment for the full-time, in-state students who only paid $2,760 for tuition and fees in the 2014-2015 school year.
Related Article: The Best Cities for New College Grads
6. Western Texas College
Snyder, Texas

The student-faculty ratio at Western Texas College has improved since last year's study. Last year, there were 27 students for every faculty member. Now, the student-teacher ratio is 17:1. In total, Western Texas College has a little more than 2,000 students.
7. Whatcom Community College
Bellingham, Washington

After graduation, the average Whatcom Community College alumnus can begin his or her career with a salary that's 1.23 times the cost of earning a degree. That means that getting rid of their student loan debt shouldn't be too difficult, particularly for full-time students from Washington state. During the 2014-2015 academic year, these students paid about $4,500 for their tuition and fees.
8. East Mississippi Community College
Scooba, Mississippi

East Mississippi Community College has one of the smallest student-faculty ratios (12:1) in our study. It's also relatively cheap. Tuition and fees cost full-time, in-state students only $2,600, which is about 39.5% lower than the national average.
Students attending the college come from almost every county in the state of Mississippi. The school has multiple campuses and branch extensions. Students who have busy schedules can also take classes at night or online.
9. Neosho County Community College
Chanute, Kansas

Neosho County Community College was founded in 1936. For nearly 30 years, it was under the jurisdiction of a local board of education. Aside from attending classes, students can join one of the 11 sports teams and choose from a variety of clubs and organizations.
The rate of students graduating or transferring out of NCCC has increased from 56% to 61% from last year's study. Overall, the community college has risen in the ranks and managed to crack the top 10. Last year, it ranked 45th in our study.
10. Renton Technical College
Renton, Washington

Our 10th best community college is located about 10 miles (11.7 miles by car) from Seattle. Renton Technical College not only has a high graduation and transfer-out rate (72%) but it also has a low ratio of students to faculty members (14:1, according to 2014-2015 school year data from the Integrated Postsecondary Education Data System).
Related Article: 23 Things to Know Before Moving to Seattle
RTC could be a great school for anyone looking to gain additional job training or switch to a different technical field. According to its website, a large percentage of its students (36.6%) attend the college in order to get access to apprenticeship programs.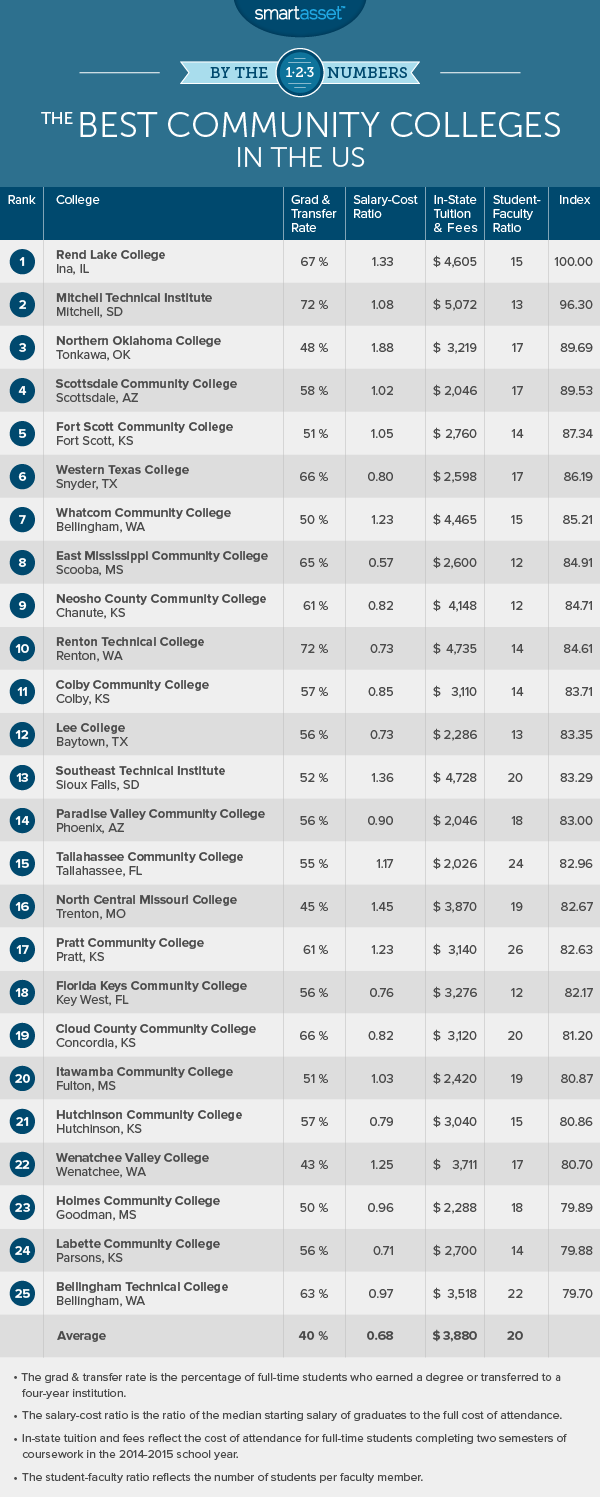 Methodology & Sources
To complete our analysis of the country's best community colleges, we used four metrics: each school's student-teacher ratio, the cost of tuition and fees for in-state students completing two semesters of coursework, the graduation and transfer rate and the ratio of graduates' median starting salaries to the overall cost of attendance.
We gave each factor full weight. Then, we gave each school a score based on the number of standard deviations above or below the mean it was in every category. We used those scores to rank the top community colleges, with the best school receiving a score of 100 and the lowest ranking school receiving a 0.
All of the factors in our study are based on data from the 2014-2015 school year (with the exception of the salary-cost ratio, which is based on 2012 data.). Data for three of our factors comes from the Integrated Postsecondary Education Data System (IPEDS). Data for the salary-cost ratio comes from collegemeasures.org.
The data analysis for this study was completed by Nick Wallace.
This is the 2016 version of our study of the best community colleges. Read the 2015 version.
Questions about our study? Contact us at blog@smartasset.com.
Photo credit: ©iStock.com/ghornephoto