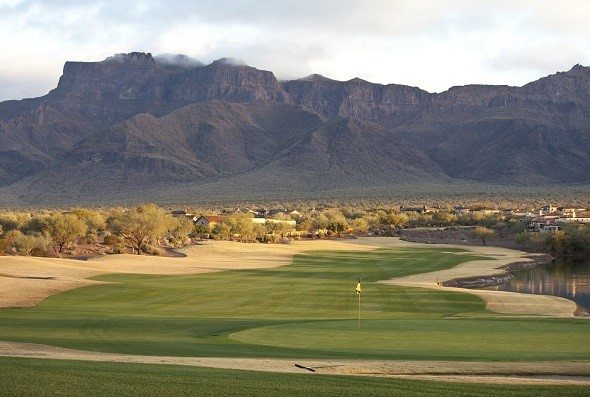 As the baby boomer generation ages into their 60s and 70s, the number of retirees in the United States is going to increase. So too will their economic sway. Many retirees, no longer anchored to a city or region by their job, choose to pack up and leave. Some seek a lower cost of living. Others want beautiful scenery, warm weather or both. Some are looking for lower taxes on their retirement income.
Planning for retirement? Try our retirement calculator to see how much you should be saving.
Regardless of their reason for relocating, those retirees who do move will have a direct impact on two places: the one they are leaving and the one to which they are moving. They will bring with them an average of $15,528 annually in Social Security income, along with their income from other sources like a 401(k) or pension. As a result, their new home will see added demand for goods and services, while the place they leave will see the opposite impact.
Methodology
To find the cities and states to which (and from which) retirees are moving, SmartAsset analyzed U.S. Census Bureau on the migration patterns of people over the age of 60. We calculated the number of people leaving each state and each of America's 200 largest cities during 2014 (the most recent year for which data is available).
For each state and city we also calculate the number of people over the age of 60 moving in during 2014. The difference between these two numbers is each city and state's net migration rate.
Find out now: What is the average retirement age in the U.S.?
The States Where Retirees Are Moving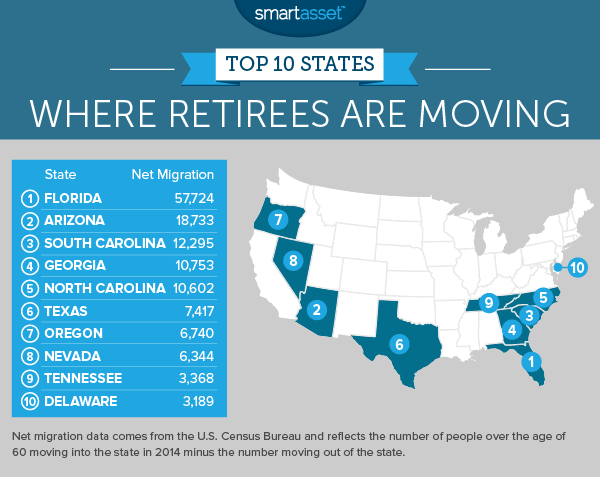 The list of states that saw the largest influx of retirees contains few surprises at the very top. Florida is first, with net migration of 57,724. The Sunshine State's mix of beaches, weather, and low taxes make it an obvious destination for retirement relocation. The same logic applies to the second state on the list, Arizona, which had a net inflow of 18,733 seniors.
The third, fourth and fifth states are all clustered along the Atlantic Coast in the south. South Carolina, which is just the 23rd largest state by population, had the third largest net migration rate, at 12,295. Its beaches and low cost of living were likely draws for seniors. The same is true of Georgia, which provides one of the nation's most generous tax deductions for retirement income ($65,000).
Warm weather appears to be key, but taxes also seem to be an important draw for seniors. Along with Florida, three of the other top 10 states with the highest net migration have no state income taxes (Texas, Nevada and Tennessee). Delaware has no sales tax and some of the lowest property taxes in the nation.
The one true outlier among those top 10 states is Oregon. It has one of the highest personal income tax rates in the country and is not known for warm weather. Indeed, there's no clear reason Portland is drawing retirees even as other west coast states, including Washington and California, are losing them. Perhaps it's the Beaver State's beautiful scenery and laid-back lifestyle. Or maybe it's the great wine.
The Cities Where Retirees Are Moving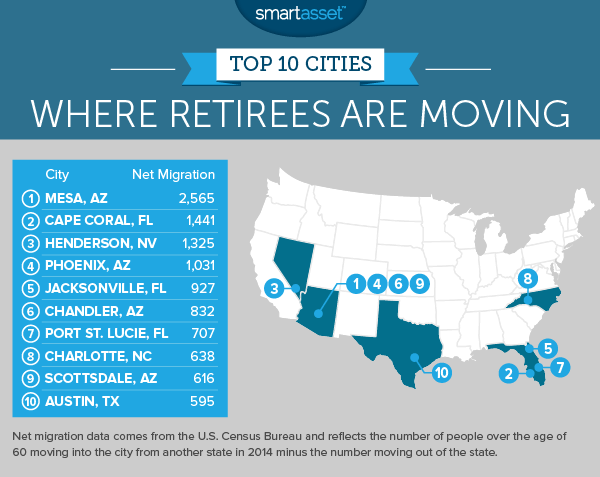 1. Mesa, Arizona
Located east of Phoenix, Mesa saw a net influx of 2,565 seniors from outside of Arizona in 2014. That is the highest in the nation by a wide margin. In addition to the warm, dry climate, Mesa could be a popular destination because of its relatively low cost of living – median monthly housing costs total $910, according to the U.S. Census Bureau. That leaves retirees with more income to devote to the things that are important to them.
2. Cape Coral, Florida
Cape Coral has been booming in recent years and seniors are a big part of the reason why. The city, which has a population of about 170,000, added 1,964 seniors from outside the state of Florida in 2014, while 523 left for another state. That adds up to a net migration rate of 1,441. Assuming those retirees earn the average Social Security retirement income of $15,528, that's $22.4 million in income entering the city.
3. Henderson, Nevada
Like the rest of Nevada, there are no state or local income taxes in Henderson. That means retirees in the city keep a larger chunk of their retirement income than in states such as California or New York. Golfers may also be drawn to Henderson. Despite the dry Nevada climate there are at least 10 golf courses in the city and many more in the greater Las Vegas area.
4. Phoenix, Arizona
Most big cities are losing retirees. The total net migration rate across the 50 largest cities in the U.S. was nearly -20,000 in 2014 (although New York City alone accounts for half of that total). Of those 50 cities, 32 had more seniors leave for other states than move to the city from out-of-state. The rising cost of living in these metropolises is likely one of the reasons for that exodus.
Phoenix, however, bucks the trend. It added 3,899 seniors from other states in 2014, while 2,868 Phoenix seniors left for other states. Median monthly housing costs are $941 per month in Phoenix. Compare that to a city like San Diego, where median monthly housing costs are more than $1,500, and it's easy to see why Phoenix is an attractive choice for seniors who want to live in a big city. (San Diego had negative net migration of 1,223.)
5. Jacksonville, Florida
With a population of more than 820,000, Jacksonville is the nation's 12th-largest city. Among major cities, it has some of the lowest taxes in the country. There's no state income tax in Florida and the average effective property tax rate in the Jacksonville area is about 1%, lower than the national average. In sum, these low taxes may be one reason the net migration of seniors to Jacksonville from other states was nearly 1,000 in 2014.
6. Chandler, Arizona
Chandler is the third city in the Phoenix area to rank among the top 10, an indication of that area's overall draw for seniors. Chandler is home to several large retirement communities, each with their own fitness centers, swimming pools and 18-hole golf courses (believe it or not). The largest Chandler retirement community, Sunbird, has over 1,600 single family homes, with prices ranging from $100,000 to more than $200,000.
7. Port St. Lucie, Florida
The population of Port St. Lucie has doubled over the past 15 years. Many of those new residents are seniors seeking their ideal retirement lifestyle. Despite that rapid growth, Port St. Lucie remains relatively affordable, with a median home value of about $170,000 as of April 2016 (according to Zillow).
8. Charlotte, North Carolina
North Carolina's largest city is attracting seniors at a steady clip, as is the entire state. It has mild weather, though its tax system is not particularly geared toward retirees. The flat income tax rate of 5.75% applies to all retirement income aside from Social Security.
9. Scottsdale, Arizona
For seniors who love golf, Scottsdale may be the place to settle. On a per capita basis, it has one of the highest concentrations of golf courses of any U.S. city. Given the dry, warm climate, there are few days when the weather is not amenable to playing 9 or 18 holes.
(Although, in the summer, seniors would be wise to avoid the links at midday. Average high temperatures often exceed 100 degrees in Scottsdale from May through September. Low temperatures are in the 60s or 70s.)
10. Austin, Texas
Austin has emerged in recent years as a destination for young people and college grads, but it seems it is also popular with seniors. The city attracted 1,689 seniors from other states in 2014 alone, while losing 1,094 who moved to other states. In addition to the high quality of life in Austin, one reason retirees may find the city attractive is the tax system in Texas. The Lone Star State has no state income tax, although property taxes are quite high.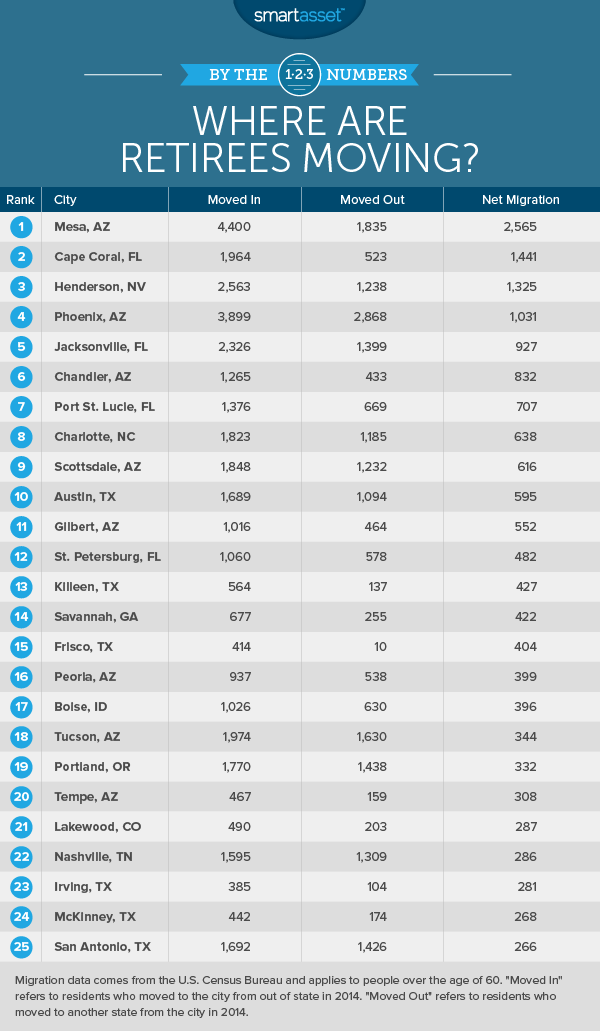 Tips for Finding a Financial Advisor
Questions about our study? Contact us at blog@smartasset.com.
Photo credit: ©iStock.com/Andrew Penner