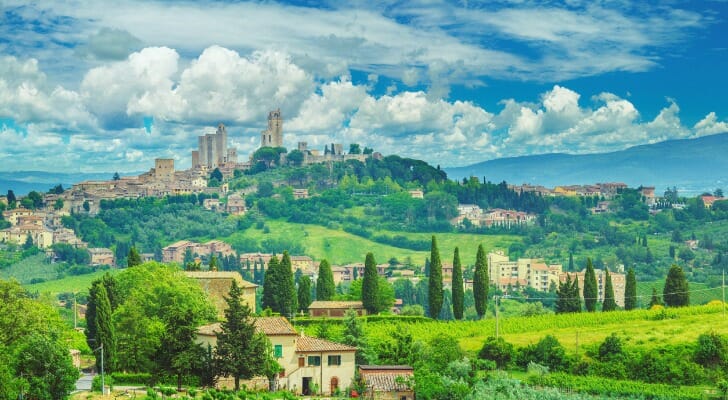 Italy is one of the most popular vacation spots in Europe. It's also a great option if you're thinking about retiring abroad. The country is known for its delicious food, beautiful towns and mild weather, making it about as ideal a retirement destination as you'll find. In addition to this, the cost of living and rent in Italy are far lower than in the U.S.
If retiring in Italy is your dream, talk to a financial advisor about building a financial plan that can cover your living expenses.
Getting an Italian Visa
While a visa is unnecessary if you're merely visiting Italy from the U.S., you'll need to apply for one in order to gain permanent residency. You will also have to provide proof of sufficient retirement funds with which you can support yourself.
The most popular Italian visa for retirees is the Italian Elective Residence visa. Applications are examined on a case-by-case basis, so there are no minimums you need to meet. With that being said, this visa won't afford you the right to hold a job in Italy. That's where the need to provide evidence of significant income or assets comes in.
You should be prepared to offer proof that you either rent or own a home in Italy. The visa process also calls for proof of your American health insurance. Once you obtain all the required documentation, you can get an entry permit so that you can go to Italy and apply for the permit of stay and, ultimately, the residency visa.
The final stipulation of this Italian visa is that you take a number of classes once you're actually living there. These classes are designed to help you exhibit adequate understanding of the Italian language and Italian civil structures.
Housing Costs in Italy
Italy is far less expensive than the U.S. when it comes to housing. According to July 2019 data from Numbeo.com, average rents in Italy are 46.58% lower than they are in the U.S. For a one bedroom city center apartment, you can expect to pay about $683.82 per month in rent. That same apartment located outside of the city center would run you about $517.35.
You can expect to live comfortably in Italy on around $2,300 a month. Since rents are so much less expensive than in the U.S., you'll likely have plenty of money to cover all other day-to-day expenses. However, food, utilities, entertainment and other consumer goods are similarly priced to what you'd find in America.
Taxes in Italy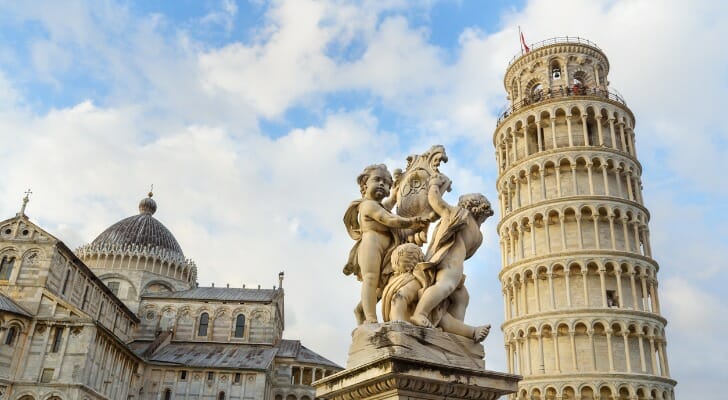 Even though you won't be able to work in Italy with a residency visa, you still need to file taxes as an Italian resident. Foreign income tax rates in Italy are generally quite low, and the country recently implemented a 7% flat tax policy on foreign pensions. To take advantage of this, you'll have to live in certain towns in central or southern Italy.
As is the case with any American citizen living abroad, you need to file your taxes in the U.S. too. It can be difficult to navigate both the U.S. and Italian tax codes at once, so consider working with a financial advisor or tax professional in the U.S. who can help you out.
Healthcare in Italy
The World Health Organization ranks Italy's healthcare system second-best on its list of the top countries with quality health services. While you'll need proof of current overseas health insurance to obtain an Italian visa, you can apply for Italian nationalized healthcare once you're a resident. You unfortunately won't be able to take advantage of Medicare in Italy, though.
You can maintain private insurance in Italy if you'd like. But in rural areas you may only have access to public doctors and hospitals. Therefore private insurance only really makes sense if you plan on living in a metropolitan area like Rome or Milan. English-speaking doctors also tend to reside in larger cities.
Safety in Italy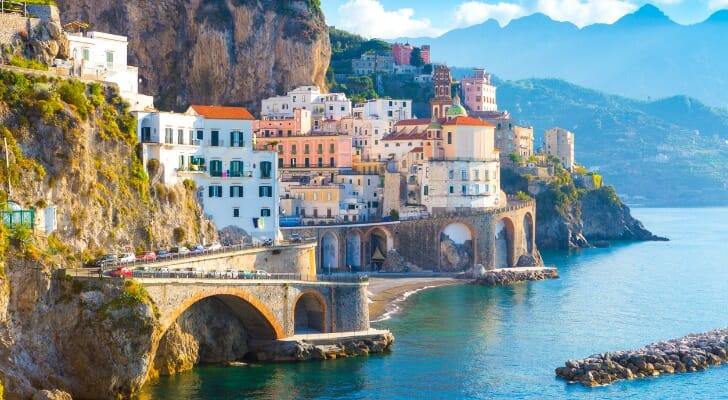 According to a recent study from SafeAround, Italy comes in as the 34th safest country on a list of 160 nations around the world. In other words, safety should not be a major concern if you're considering retiring in Italy.
Some of the more popular tourist destinations can be hotspots for pickpockets, but serious crime is far from common. SafeAround data also shows female travelers experience a low risk of danger, and public transit is safe as well.
Bottom Line
An abundance of visually captivating landscapes, rich history and unique food makes Italy a top retirement destination worldwide. As a result, it can be a little difficult to obtain a visa, as you'll likely need to report more assets and income than you would elsewhere. All that said, the tax incentives and allure of an Italian lifestyle can be irresistible.
Tips for Achieving Your Retirement Goals
Finding the right financial advisor that fits your needs doesn't have to be hard. SmartAsset's free tool matches you with financial advisors in your area in 5 minutes. If you're ready to be matched with local advisors that will help you achieve your financial goals, get started now.
It's tough to plan for your retirement if you aren't sure what kind of costs you'll have when you actually retire. To get an idea of what to expect, stop by our retirement calculator. To use this, you'll need a few details about where you want to retire, when you want to retire and how much you have in savings.
Photo credit: ©iStock.com/mammuth, ©iStock.com/Elena Odareeva, ©iStock.com/Aleh Varanishcha