Medicare is one of the most popular health care programs in America. Part of what sells the program is its simplicity: You turn 65, you get healthcare. But in reality, Medicare is a patchwork of several different programs, and figuring out what is and isn't covered at any given time can be a challenge. For current and future enrollees looking to understand their health insurance, we go over what the various sections of Medicare cover.
Medicare Part A: What It Covers
Medicare Part A is the program which covers in-facility care. This generally includes hospital stays, nursing facilities and, when necessary, hospice care. Here's an overview of Part A services:
Inpatient Hospital Care
Medicare Part A will cover your care in a hospital, including prescription medication, if you meet all of the following conditions:
You are admitted as inpatient due to a doctor's order
The hospital accepts Medicare
Your stay is approved by a Utilization Review Committee (only applies sometimes)
The program will only pay for your stay in the hospital up to a certain point. Each Medicare enrollee has up to 90 inpatient days per year, during which their care is covered by a combination of Medicare payments, an annual deductible and copayments.
After this 90 days, the enrollee begins to use up their 60 lifetime reserve days. While using lifetime reserve days, they receive coverage with a copayment. After all lifetime reserve days have been exhausted, Medicare does not cover more than 90 days of inpatient care per year.
Nursing Facility Care
Medicare Part A covers short-term stays in a nursing facility. This care must be related to an illness or injury that you developed during a hospital stay. Medicare does not cover costs pasts 100 days in the facility.
Nursing facility care is for services that involve a temporary stay under caregiver's supervision. Medicare covers treatment including, but not limited to: physical therapy, occupational therapy and doctor's care. General nursing and residential needs are not a basis for nursing facility coverage.
Medicare also covers the cost of medications while in a nursing facility and any associated transportation.
Home Health Services
Along with Part B, Medicare Part A covers in-home nursing caregiver services on a short-term basis. To qualify, you must:
Be receiving care from a doctor for the related issue
Have your doctor certify that you need care
Be home-bound with a doctor's certification
Medicare does not cover in-home care if you need more than part-time or intermittent services. Home health services that Medicare covers include, but are not limited to, physical therapy, nursing care, speech-language pathology and occupational therapy.
Hospice Care
Hospice care refers to end of life palliative care. This is typically a stay in a residential facility, but could also be at home.
Medicare Part A covers hospice care under the following conditions:
A doctor has certified that you have a life expectancy of six months or less
You have elected to discontinue treatment for any illness and instead are seeking palliative care
You sign a statement acknowledging that you have sought end-of-life coverage through Medicare instead of treatment
Your stay in a hospice facility is fully covered by Medicare. There may be some nominal copayments for prescription drugs.
Medicare Part B: What It Covers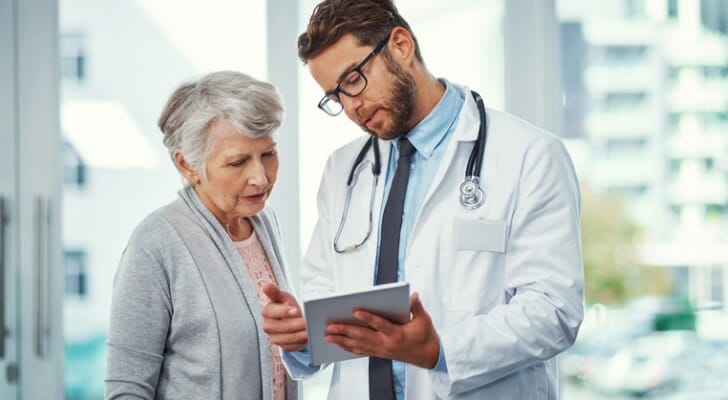 Medicare Part B covers out-of-facility care. Typically, this refers to visits to your doctor's office and associated costs, like ambulance transport. The most significant parts of Medicare Part B coverage include:
Medically Necessary Services
The Medicare program defines this as "services or supplies that are needed to diagnose or treat your medical condition and that meet accepted standards of medical practice." Most notably, it includes visits to your doctor for existing conditions outside of a hospital facility.
Preventative Services
Medicare Part B covers a wide range of tests and screening procedures intended to detect or prevent illness. This could be annual flu shots, cancer screenings, diabetes tests and more. In addition, preventative services include nutrition and wellness programs to help enrollees maintain a better overall level of health and fitness.
Medical Devices
Known as "durable medical equipment," or DME, Medicare Part B covers in-home products necessary for treatment of existing illnesses or symptoms. This includes a wide range of products including canes, lifts and oxygen equipment. You will require a doctor's prescription for coverage and typically will pay a 20% copayment.
Outpatient Prescription Drugs
Medicare Part B covers some limited prescription drugs on an outpatient basis. For reference, drugs prescribed and given on an inpatient basis are covered under Medicare Part A.
As a general rule, this typically is limited to drugs that are not administered at home. Rather this part of Medicare covers drugs administered at a doctor's office or in an outpatient hospital setting. This includes most vaccines, most injected drugs and most drugs administered through the use of a medical device (such as through an infusion pump).
Original Medicare: What it Doesn't Cover
Medicare Part A and Part B are often paired together. This makes sense being that one covers inpatient care and the other outpatient care. You may sometimes hear them referred to as "Original Medicare." But while they do cover quite a bit, you won't have everything paid for.
Long-term care: Enrollees who need to stay in a nursing facility on a permanent or residential basis must have private insurance or other means of payment.
Dental and hearing services: Medicare does not cover dental care, dentures or eye exams. Hearing aids do not fall under the coverage guidelines either.
International coverage: Finally, for seniors looking to travel during their golden years, Medicare does not offer any coverage overseas. You have to be in the United States to use its services.
Medicare Part D: What it Covers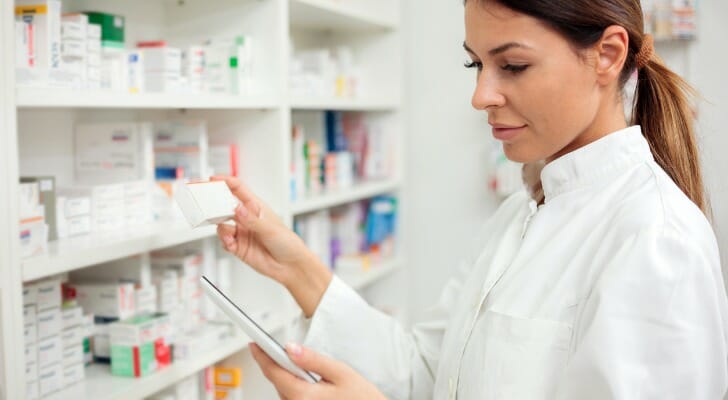 Despite Medicare's obvious ambition, it leaves out significant sections of care. Most importantly, self-administered prescription drugs are not covered under Original Medicare. In order to receive coverage for this category of medical spending, you must enroll in Medicare Part D.
This section of Medicare chiefly covers prescription drugs taken in the home and administered individually. In other words, you don't take them via a healthcare provider or a medical device. This would include products like pills, liquids and self-administered injections.
Medicare Part D plans can vary in the specific drugs that they cover. This program is offered through private insurance carriers, and as a result each plan under Medicare Part D is different. Each must meet specific standards established by the Medicare program. But how an individual plan chooses to do so will differ widely.
The Bottom Line
Medicare isn't a single program — it's a collection of programs that, when put together, can help cover medical expenses for older Americans. It is important to know exactly what it does and does not covers so that when you reach the age of qualifying for Medicare, you know exactly what you'll need to do to make sure you can stay healthy.
Next Steps for Your Healthcare Plans
Don't forget to look into Medicare Part C. This special section of Medicare isn't directly available through the program. Instead, Part C is a collection of plans from private insurance companies that have approval from Medicare. Costs and covered services within these plans vary wildly, so do your research.
Figuring out how to cover healthcare costs in retirement can be stressful and confusing. It might be worth consulting with a financial advisor who can help you build a financial plan for these and other retirement expenses. Finding the right financial advisor that fits your needs doesn't have to be hard. SmartAsset's free tool matches you with financial advisors in your area in 5 minutes. If you're ready to be matched with local advisors that will help you achieve your financial goals, get started now.
Photo credit: ©iStock.com/LumiNola, ©iStock.com/Tinpixels, ©iStock.com/Gligatron