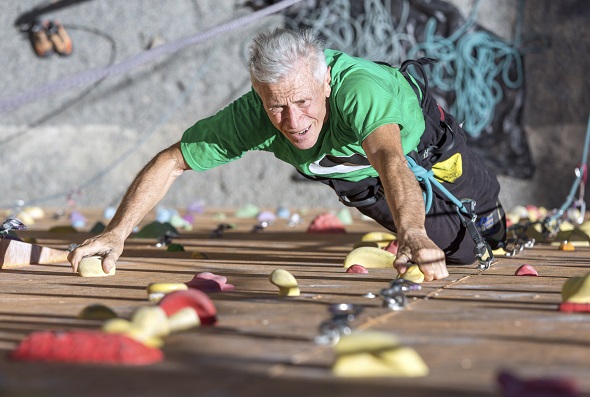 What's your ideal retirement? For the couch potatoes among us, it probably involves lots of big books, television shows and classic movies. Beach bums might envision a spot in the sand with a cool drink and a bit of shade. Others prefer the purpose (and income) provided by entrepreneurship or a part-time job.
For many, however, the perfect retirement isn't about relaxation or economic productivity. It's about staying active, staying fit and getting some fresh air in the process.
Read the 2017 version of this annual analysis.
The benefits of an active retirement are manifold. There are obvious health advantages, for example. Regular exercise can help stave off heart disease, one of the most common medical problems facing many seniors. (Though it should be noted that moderate or intense exercise is not always advisable for seniors with certain heart conditions.) An active retirement may also allow retirees to pursue a passion like sailing, alpine skiing or golf.
To find the best cities for an active retirement, SmartAsset looked at data on the 575 largest cities in the U.S. Using data from our analysis of the best places to retire, we considered metrics reflective of the overall retirement-friendliness of each city, such as the effective retirement tax rate and the number of doctor's offices per 1,000 residents.
We combined that with data on how amenable each city is toward an active lifestyle. The metrics we included to capture this were the concentration of fitness businesses such as gyms and tennis centers, the number of golf courses per 100,000 residents and the Walk Score of each city. (Read our full methodology below.)
Key Findings
Active cities in the Mid-Atlantic. The top three cities for an active retirement are all located in the Mid-Atlantic region.
California surprises. The Golden State is often considered a poor retirement destination because of relatively high taxes. For an active retirement, however, cities like Santa Barbara and Santa Monica may be worth the price.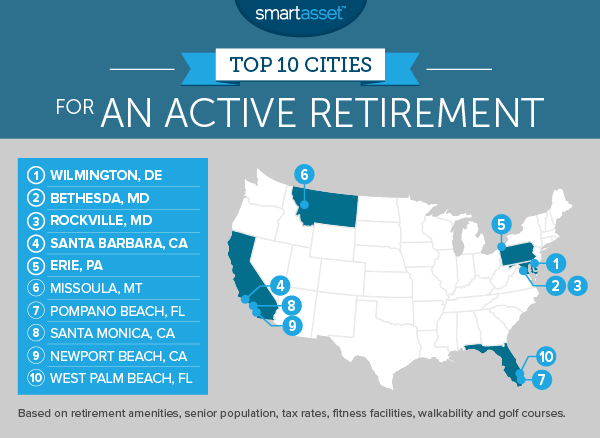 1. Wilmington, Delaware
There are several specific reasons Wilmington ranks as the best city for an active retirement. First is the state's tax system. There is no sales tax in Delaware. Furthermore, the state fully exempts from taxation all income from Social Security. It also provides a deduction of up to $15,000 for seniors with income from a 401(k) or an IRA. That means seniors will have more money to spend on the activities they love, like tennis, kayaking or jiu jitsu.
Whatever it is they like to do, retirees should be able to walk to most activities. Wilmington is very walkable, especially in the downtown area. The city's Walk Score of 72 rates 23rd among America's major cities.
2. Bethesda, Maryland
Located northwest of the U.S. capital, Bethesda is a well-educated and prosperous community of about 60,000 residents. According to U.S. Census Bureau data, the city has the 18th-highest concentration of golf courses of any city in the U.S. The city's most famous course is the Congressional Country Club, a favorite of presidents and a frequent host of PGA tournaments. It's a private course, however, so you'll need to know somebody to get a tee time.
3. Rockville, Maryland
Rockville doesn't have quite as many golf courses as Bethesda, its neighbor to the south, but it does have a number of other amenities that can be important to seniors. In fact, the concentration of doctor's offices – nearly six for every 1,000 residents – is the country's ninth-highest.
For retirees who like to hike, jog, fish or paddle, there are a number of parks, rivers and lakes in the Rockville area. Rock Creek Regional Park is the largest at 1,800 acres. It encompasses two lakes (fishing, canoeing and kayaking are allowed on both) and 13 miles of trails.
4. Santa Barbara, California
Ample sunshine, warm weather, beautiful mountains on one side and beaches on the other – it's pretty easy to see why a person might enjoy retiring to Santa Barbara. It rates as better-than-average for all seven of the metrics we considered. In fact, it ranks in the top 100 U.S cities (out of 575) for five of the seven metrics in our analysis. It's also a great city for people who love cycling. Neighborhoods like Lower State and Downtown are rated as a "biker's paradise" by WalkScore.com.
5. Erie, Pennsylvania
Situated along the shores of Lake Erie in western Pennsylvania, Erie is located next to (and across the bay from) Presque Isle State Park. The 3,112 acre park juts into Lake Erie and contains beaches, ponds, dunes and forest. It is great for hiking, trail running, kayaking, birding and fishing. For those who don't mind the cold, cross country skiing, ice skating and ice fishing are all possibilities.
The park is not the only reason Erie is a top 10 city for an active retirement, however. It rates among the top 100 U.S. cities for its walkability and concentration of golf courses. There are just over 4.2 golf courses for every 100,000 residents in Erie, according to U.S. Census Bureau data.
6. Missoula, Montana
For retirees who love any of the following activities, Missoula can be a great place to live: fly fishing, mountain climbing, white-water kayaking, mountain biking, camping – the list goes on. It is located at the confluence of three lovely rivers, less than an hour from the southern end of Glacier National Park and about six hours from Yellowstone.
Aside from the surroundings, there are a number of other reasons retirees may find Missoula to their liking. The state of Montana rates as one of the top 10 best states for an early retirement. It has no sales tax and fairly low property taxes. It also provides senior homeowners whose income is less than $45,000 with a tax credit of up to $1,000 to offset property tax bills.
7. Pompano Beach, Florida
For many, a Florida retirement means warm weather, sandy beaches and low taxes. Pompano Beach certainly has all of those things, but for retirees who want to lead an active lifestyle, the city has much more to offer.
There are lots of opportunities for fishing in Pompano Beach, whether from the Pompano Beach fishing pier or on a deep sea fishing boat. The city is also located just 15 miles from the Everglades, which has some of the best wildlife watching and birding in the world.
8. Santa Monica, California
Do you like sunshine and taking long walks (on the beach or otherwise)? If so, then Santa Monica may be for you. Among major cities, it ranks as the 11th-most walkable according to walkscore.com, with a Walk Score of 78. For bikers it's even better, rating as very bikeable with a Bike Score of 83.
9. Newport Beach, California
Nearly 20% of the population of Newport Beach is age 65 or older. That's the 18th-highest concentration of any U.S. city, which means more amenities that cater to retirees. For instance, Newport Beach has the nation's seventh-highest concentration of doctor's offices, with more than 6.5 for every 1,000 residents. As you may have guessed, it also has a wonderful beach.
10. West Palm Beach, Florida
Rounding out the top ten, West Palm Beach rates in the top 50 (out of 575) for five of the seven metrics SmartAsset considered. It has the nation's 11th-highest concentration of doctor's offices, with more than 5.5 for every 1,000 residents. It also has a bounty of golf courses. According to the U.S. Census Bureau, there are 25 different golf courses in West Palm Beach.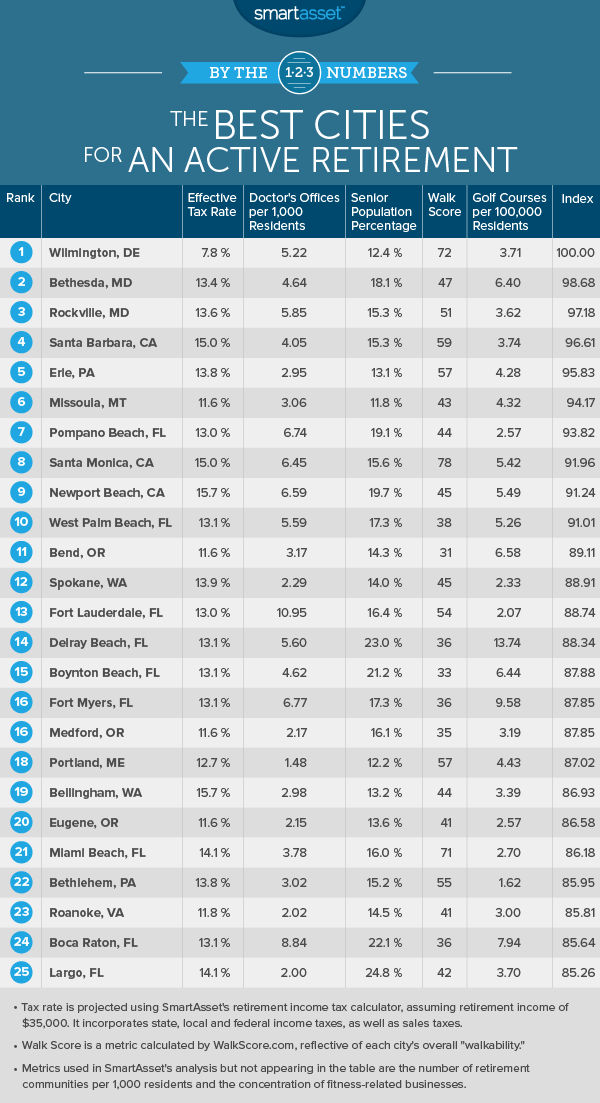 Data and Methodology
What are the best U.S. cities for an active retirement? SmartAsset sought to answer this question by analyzing data on two principal features of U.S. cities: overall retirement friendliness and compatibility with an active lifestyle.
To measure overall retirement friendliness we used data from our study of the best places to retire. We considered four metrics from that study: the average effective tax rate,1 the number of doctor's offices per 1,000 residents, the number of retirement centers per 1,000 residents and the senior citizens population percentage.
To capture each city's compatibility with an active lifestyle, we considered three separate metrics. We looked at each city's Walk Score, which reflects how navigable, safe and convenient each city is for pedestrians. Next we looked at the number of golf courses per 100,000 residents.
The last metric we considered is the number of fitness-related businesses in each city as a percentage of total businesses. This includes places like gyms, tennis centers, recreation centers and sporting goods stores.
To calculate an overall index based on those seven metrics, we ranked each of the 575 largest U.S. cities on each metric. We then averaged those rankings, giving double weight to each city's Walk Score and single weight to all other metrics. Finally, we indexed those averages to 100. The best average ranking scored a perfect 100, with lower rankings corresponding to lower scores.
Data on the number of doctor's offices, retirement centers, fitness-related businesses and golf courses comes from the U.S. Census Bureau's Zip Code Business Patterns survey. Population data comes from the U.S. Census Bureau's American Communities Survey. Walk Score data comes from walkscore.com.
Questions about our study? Contact us at press@smartasset.com.
Photo credit: ©iStock.com/AlexBrylov
---
1. The average effective tax rate is calculated using our retirement tax calculator and assumes retirement income of $35,000. It takes into account state and local sales taxes and incomes, as well as all applicable rules and deductions.