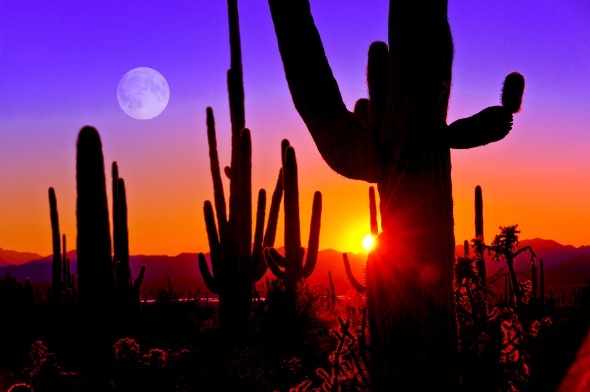 If you love hot, sunny weather and natural beauty, you'll love Arizona. The Grand Canyon State has a diverse population and plenty of natural attractions. When it comes to taxes, the state's sales tax is high, but property and income taxes are below average. The overall cost of living in Arizona is relatively low compared to the rest of the United States. However, whenever you make a big move you should make sure your finances are prepared. You can work with a financial advisor to help you budget out the right savings to make the move happen.
Housing Costs in Arizona
Deciding whether to renting or buy when moving to Arizona is an inherently difficult decision. In Arizona's most populous cities, though, the majority of residents are homeowners. NeighborhoodScout data shows that Scottsdale, Mesa and Chandler all have homeownership rates around 60% and higher. This statewide trend is further visible in Sedona, where 73.3% of residents are homeowners.
Despite the seemingly strong demand for homes in Arizona, median home values aren't overly exorbitant. In Phoenix, the state's largest city, the median home value is $430,000. In Flagstaff and Scottsdale, though, these values jump to $650,000 and $850,000 or more. In fact, home prices have increased in Arizona by more than 14.5% in just the past year.
The good news is that Arizona rent is affordable. For example, 53% of Tucson residents are renters, and the median rent for a two-bedroom apartment there is just $1,249, according to Rent Cafe. That places the city $46 below the median national rent for two bedrooms, which is $1,295.
Cost of Utilities
Arizona residents pay higher-than-average electricity bills. According to the U.S. Energy Information Administration (EIA), the average monthly electricity bill in Arizona is $128.40. That places Arizona sixth in the nation, and its substantially higher than the national average of $111.67.
The constant heat in Arizona is a major culprit for these inflated electricity bills. Statistics from USClimateData.com shows that Arizona has an average annual high temperature of 86.7 degrees, making air conditioning a necessity.
Food Costs
According to the Bureau of Labor Statistics (BLS), Phoenix area residents spend an average of 11% of their annual income on food, compared to the U.S. average of 12.6%. Furthermore, the BLS found that "Phoenix area households spent $3,938, or 57.4%, of their food dollars on food at home and $2,918 (42.6 percent) on food away from home." As a comparison, the national averages for these statistics are 56.3% for food at home and 43.7% for food away from home.
When it comes to specific food items, Arizona's prices are generally cheaper than the U.S. average. Based on May 2019 data from Numbeo.com, a gallon of milk in Phoenix goes for $2.06 compared to the $3.10 national average. The same applies to a dozen eggs in Chandler, which costs $2.10, whereas the national average is $2.26.
Transportation Costs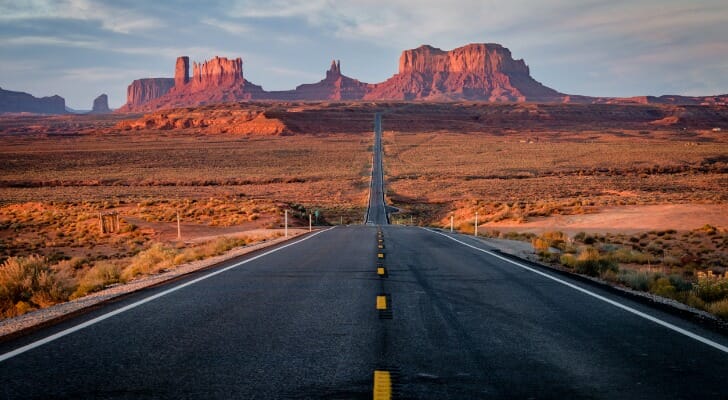 May 2019 Data from GasBuddy places Arizona as the seventh-worst state in terms of gas prices. Its $4.05 average is well above the national mark of $3.68. This can be very hard for many to swallow if they are moving from more affordable states for gas, like many southern states.
If you're not big on driving, there are public transportation options in Arizona. A 31-day pass on Phoenix's Valley Metro will cost you $64. A 30-day pass on Tucson's SunGO costs $48, and a 31-day pass on Glendale's Beeline bus goes for $36. Of course, you'll need to make sure that you can get between home and work on public transportation if you decide to go car-free.
Taxes in Arizona
Income tax rates in Arizona range from 2.59% to 4.50%, depending on your bracket. Basically, the more money you make, the more you pay in taxes. Note that these rates are on the low side for state income taxes in the U.S.
Sales tax in the Grand Canyon State is high, though. At a city level, rates range from 7.6% to 11.2%. The base state sales tax rate is 5.6%, but counties and cities add their own rates on top of that. Altogether, Arizona's sales taxes average 8.33%, which is good for the 11th highest in the nation.
On a positive note, Arizona has an average effective property tax rate of just 0.62%, lower than the national average of 1.07%. It also has the fifth-lowest gas taxes in the nation, at 19 cents per gallon of regular gasoline and 27 cents per gallon of diesel.
Healthcare Costs
According to data from the Health Care Cost Institute, healthcare prices in the Phoenix metro area are 3% below the national median, while the Tucson metro area is much lower at a 14% difference. Additionally, Tucson and Phoenix metro area healthcare prices have risen 20% and 15%, respectively, since 2012.
This trend shifts if you look into total employee contributions for single healthcare coverage. In fact, a report from the Agency for Healthcare Research and Quality shows Arizonans pay $1,523 per enrolled employee at private companies. This is $108 higher than the national average.
Miscellaneous Cost of Living Facts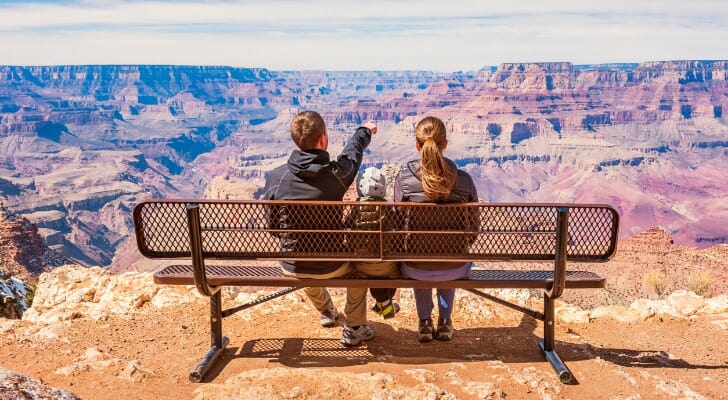 Want to visit the Grand Canyon while you're in the Grand Canyon State? A Grand Canyon National Park vehicle permit will cost you $35. Don't want to bring your car? An individual permit is $20 if you're "entering by foot, bicycle, park shuttle bus, Grand Canyon Railway and private rafting trip." If you're with someone 15 or younger that person can get in free. Admission is free to all visitors on certain national holidays, like Veterans Day (11/11) and the National Park Service Anniversary (8/25).
Is the Grand Canyon not your thing? Check out some spring training baseball games in Arizona's Cactus League. Half of the country's Major League Baseball teams train in Arizona, across 10 stadiums.
The Bottom Line
Arizona can be a rewarding place to live. From the mountains to the Grand Canyon, there is plenty of outdoor activities. The state also boasts several professional sports teams and is a popular vacation spot for avid golfers. The cost of living in Arizona has its ups and downs. While the gas is expensive, the property taxes, for example, are much lower than in other states. You have to weigh what might be more beneficial to you before moving.
Next Steps If You're Making the Move to Arizona
If you're moving to Arizona, it might help to revamp your budget. If you want help with how this move will impact your finances, a financial advisor could be a useful partner. Finding the right financial advisor that fits your needs doesn't have to be hard. SmartAsset's free tool matches you with up to three financial advisors who serve your area, and you can interview your advisor matches at no cost to decide which one is right for you. If you're ready to find an advisor who can help you achieve your financial goals, get started now.
If you would prefer to work with the highest-rated firms, you can check out some of the top financial advisor firms in Arizona through our lists for Phoenix, Scottsdale and Tucson.
Picking up and moving to another state is a big financial decision. If you want your money to have a new home as well, here are a few banking options: Western Alliance Bank, First Internet Bank of Indiana, Bankers Trust Company, KS StateBank and First Savings Bank.
Photo credit: © iStock.com/pilgrims49, © iStock.com/Jaroslav Sugarek, © iStock.com/benedek