Vacation home prices have skyrocketed in recent years, causing home sales to fall. According to a report from the National Association of Realtors, vacation home sales declined by 18.5% between 2014 and 2015. Buying a second home by the beach has become impossible for many Americans, including millennials and others who can barely afford to buy their first homes.
This is the second annual analysis of the most affordable beach towns. Read the 2016 study here.
But not all beach towns are expensive. In some places, the median home value falls below $120,000. For anyone interested in owning a first or second home by the beach, we took a look at the country's most affordable beach towns.
Study Specifics
To find the most affordable beach towns in America, SmartAsset collected Census Bureau data on 221 different coastal cities. We used the same four factors that we considered in the 2016 edition of our study: the median home value, the median amount of annual property taxes paid, the median annual amount of housing costs paid and the median number of rooms per house. For more information about how we conducted our study, you can refer to the data and methodology section below.
Moving to the beach? Find out how much house you can afford.
Key Findings
It's a tie. Both Florida and Mississippi have four cities that rank among the top 10 most affordable beach towns in America.
Avoid the West Coast. Based on our analysis, only three of the top 25 most affordable beach towns lie off the coast of the Pacific Ocean: Coos Bay, Oregon; Port Angeles, Washington and Bremerton, Washington.
1. Gulfport, Mississippi
Gulfport ranks as the No.1 most affordable beach town in America for the second consecutive year. The median home value is just $117,300 and residents spend only $926 on property taxes annually.
Buying a beach house in Gulfport could be worth considering, especially if you're ready to leave the workplace. The city has golf courses, casinos and a number of bars and restaurants. Plus, Mississippi ranks as one of the best states for an early retirement.
2. Pensacola, Florida
Pensacola takes the No. 2 spot on our list in the 2016 and 2017 editions of our study. The average homeowner in Pensacola can expect to spend around $1,081 on property taxes. Total housing costs for the typical resident add up to $10,164.
Aside from being a beach town, Pensacola is home to the National Naval Aviation Museum, a couple of amusement parks and several different parks. Local residents also get to enjoy free shows put on by the Navy's Blue Angels twice a year.
3. (tie) Biloxi, Mississippi
Biloxi is known for its casinos. Some of the most popular ones include the Beau Rivage and the IP Casino. If you find yourself traveling to Biloxi often, why not buy a beach house in the area? A typical resident may spend about $9,444 on housing costs, including mortgage payments, utilities and homeowners insurance. Compared to housing costs in other beach towns, that's relatively low.
3. (tie) Port Arthur, Texas
Owning a beach house in Port Arthur is incredibly affordable. The median home value in the area is only $64,600, making Port Arthur the most inexpensive place to buy a house in our study (on average).
Annual property taxes for the average Port Arthur resident cost a little more than $1,000. In addition to homeowners insurance, you may want to purchase flood insurance. That way, you're prepared for hurricane season.
5. Freeport, Texas
The only other Texas city to rank in the top 10 has about 12,118 residents. The good thing about buying a house by the beach in Freeport is that you can potentially get a lot of bang for your buck. The city's median home value is just $71,000 and the average house has more than five rooms.
Related Article: 15 Things to Know Before Moving to Texas
6. Fort Pierce, Florida
Last year, Fort Pierce ranked as the eighth-most affordable beach town. Since 2016, the median home value has only risen by 0.56% and the cost of property taxes for a typical resident has fallen by about 1.7%. For homebuyers looking for beach homes in Fort Pierce, that's good news.
The average resident in Fort Pierce spends roughly $9,252 annually on housing costs, according to data from the Census Bureau. If you decide to stay in town year round, there are a number of activities that you can take up, from surfing and deep sea fishing to riding horses along the beach.
7. (tie) Fort Walton Beach, Florida
The median home value in Fort Walton Beach is $159,600. So buying a house in the coastal city is much cheaper than buying a house in one of the more well-known beach towns in Florida. In Miami Beach and Key West, for example, median home values are well over $300,000.
7. (tie) Ocean Springs, Mississippi
Property taxes in Ocean Springs aren't exactly low. The average effective property tax rate in Jackson County is 0.849%. But the median amount of property taxes paid in Ocean Springs – $1,294 – is much lower than the national average. The median home value in the city is $146,800 and homes in the city are quite big. The average home in the beach town has more than six rooms.
9. Bay St. Louis, Mississippi
Rising home values give homeowners the chance to build equity. Since we conducted the 2016 edition of our study, the median home value in Bay St. Louis has risen by about 3.5%. Meanwhile, the median amount of housing costs paid by residents has fallen by 3.2%, making the city an affordable beach town to live in.
10. Daytona Beach, Florida
Daytona Beach is a popular destination for travelers during spring break and racecar fans eager to watch the Daytona 500, which takes place every year in February. Buying a home in the area may not be a bad idea, especially if you need a place to escape to during the cold winter months. And if you plan to fly frequently, you may want to consider a travel credit card that rewards you for your airline purchases.
The median home value in Daytona Beach is $112,000, making it one of the cheapest beach towns in the nation for homebuyers. A typical resident can get away with spending less than $9,000 on housing costs and less than $1,200 on property taxes.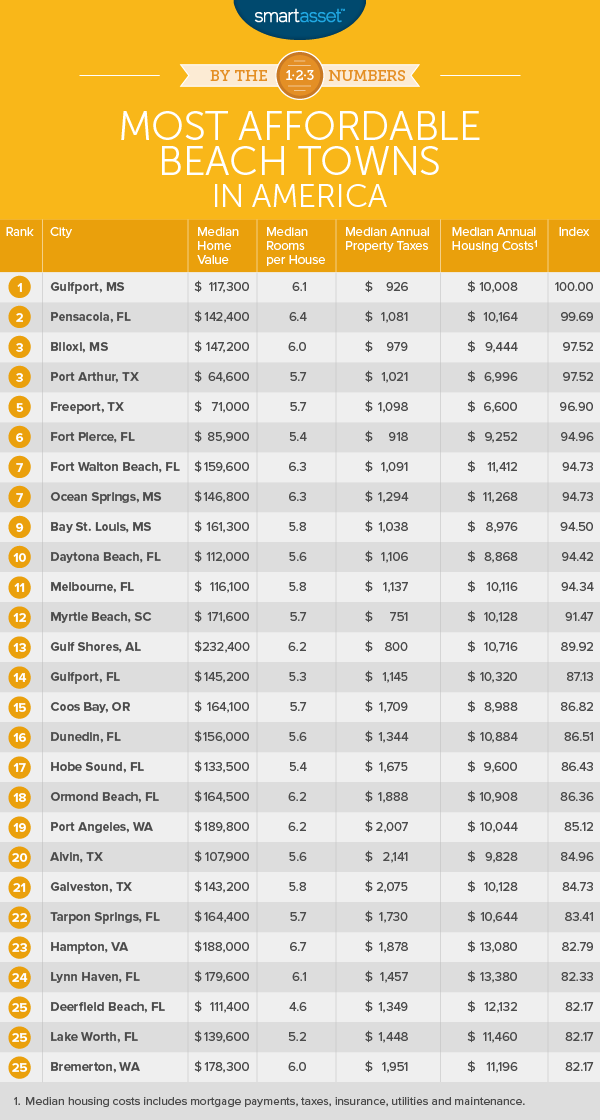 Data & Methodology
To complete our analysis, we used five-year estimates from the U.S. Census Bureau's 2015 American Community Survey. Specifically, we looked at the following factors for 221 beach towns in our study:
Median home value. We used this factor to look at the cost of buying a home in each beach town.
Median annual property taxes. We used this factor to look at the cost of homeownership.
Median annual housing costs. This is another metric that we considered to show the yearly cost of owning a home in a beach town. It includes the cost of things like utilities, insurance, mortgage payments and maintenance.
Median number of rooms per house. We used this factor to control for the differences in home sizes in different housing markets.
We gathered data on all cities that have between 10,000 and 150,000 residents. We then excluded from our analysis any town that was not located directly on an ocean, bay or sound, or that did not have a beach.
We ranked each beach town across each of our metrics. Then we averaged our rankings, giving full weight to three of our factors and half-weight to the factor reflecting the number of rooms per house. Finally, we gave each beach town a score. The most affordable beach town received a 100 and the least affordable beach town received a 0.
The data analysis for this study was completed by Nick Wallace.
Questions about our study? Contact us at press@smartasset.com.
Photo credit: ©iStock.com/mauinow1