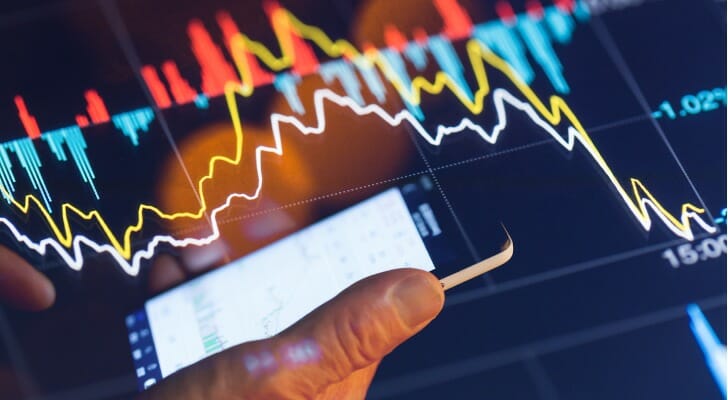 TD Ameritrade and E*TRADE are two popular investment brokerages. The companies help consumers trade and invest online. If you are deciding which online company to use to help you invest your funds, then you're probably wondering what the differences are between the two. This article compares their fees, services, online experiences, mobile features and more.
TD Ameritrade vs. E*TRADE: Overview
One of the nation's top-rated brokerages, TD Ameritrade, which has been bought by Charles Schwab, offers several mobile apps designed for investors, including the thinkorswim app. This app allows users to trade a variety of investments, including stocks, options, foreign currencies and futures.
Features are extremely customizable, in that you can generate charts, monitor trends and simulate more complex trading options, based on your risk tolerance, goals and overall investing strategy. TD Ameritrade also offers a vast base of educational tools and resources to help you expand and improve your investing know-how.
E*TRADE is another brokerage powerhouse and its day trading app is streamlined and easy to use. Investors can trade stocks and exchange-traded funds, as well as futures and options. Pricing is very low and the app comes with a built-in risk assessment tool to help you gauge the potential risk factor associated with specific trade strategies.
TD Ameritrade vs. E*TRADE: Fees
The fee structure of the two products are quite similar. Both TD Ameritrade and E*TRADE offer a $0 account minimum and have several free services. TD Ameritrade boasts $0 commissions on all online stock, ETF and options trades. Each options contract costs $0.65.
E*TRADE also offers $0 commission for stock and ETF trades, and options cost $0.50-$0.65 per contract depending on the volume an investor decides to trade.
HOW THE COSTS COMPARE
TD Ameritrade
E*TRADE
Minimum Balance
$0
$0
Stock Trade Fee
$0/Trade
$0/Trade
ETF Trade Fee
$0/Trade
$0/Trade
Option Trade Fee
$0.65
$0.50-$0.65
Both services offer self-directed investment brokerage services and managed portfolio options, including robo advisors. Additionally, they each provide investor access online and via iOS and Android mobile apps. The companies are known for their low barriers to entry in investing, and both offer cryptocurrency trading.
As investors put more money into their accounts with TD Ameritrade and E*TRADE, they can move into each company's other tiered offerings. E*TRADE has the E*TRADE PRO platform as part of its three-tier system for people who have a balance of at least $250,000. On the other hand, TD Ameritrade offers access to its highest-quality platform to beginners. Ultimately, both have myriad possibilities for free trading, but personalized guidance from a professional comes at an extra cost.
If users choose the advisory services with either company, they will incur fees. E*TRADE's annual advisory fees begin at 0.35% for managed portfolios. TD Ameritrade's fees begin at 0.30% per year for managed portfolios.
E*TRADE sets itself apart by offering access to the E*TRADE Savings Bank, which offers free checking, a high-interest savings account and even a line of credit. The line of credit allows users to borrow against their eligible accounts with $50,000 or more.
TD Ameritrade offers a tie-in with TD Bank. TD Bank offers full-service banking, including commercial banking. Additionally, TD Ameritrade has hundreds of physical locations, primarily on the East Coast. The robust network of banks is advantageous for people who want to bank and invest with the same company. Additionally, TD Ameritrade offers forex trading on its platform.
E*TRADE vs. TD Ameritrade: Online & Mobile Experience
Both companies offer user-friendly web and mobile interfaces, including proprietary apps. Users can invest and trade on either the mobile or online options. Additionally, both have robust online resources available to teach beginners about using the platforms, research stocks and more.
E*TRADE offers two mobile apps. The first, E*TRADE Mobile App, is designed for all E*TRADE customers to help simplify investing and trading via a mobile device. Power E*TRADE is accessible on mobile and desktop devices and provides more detailed information about trading and investing.
TD Ameritrade also has two mobile apps. TD Ameritrade Mobile App has all the essentials that customers need to manage their accounts from their mobile devices. The app also interfaces with Apple Watches. The second app, thinkorswim, is available on mobile and desktop devices and contains more trading tools that clients can use to make investment decisions.
Who Should Use TD Ameritrade?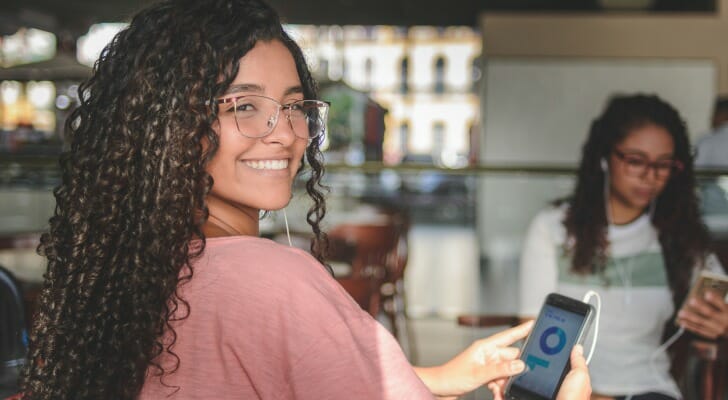 TD Ameritrade is a turnkey financial product. It is a user-friendly program and free to use when purchasing stocks and ETFs. Additionally, there are no account minimums or base commissions to get started. Additionally, the company has intuitive platforms to help investors, whether novice or not, research stocks, place trades and manage their portfolios. Perhaps TD Ameritrade's best feature is the option to bank with them as well.
Who Should Use E*TRADE?
E*TRADE is ideal for beginner investors, provided they are willing to take a little time to learn how to use the app. They can benefit from a vast array of educational resources. Also, E*TRADE's most prominent feature is the ease of use on their desktop and app.
It's also a solid choice for options traders looking for some of the lowest commissions on the market. As an added bonus, support from E*TRADE Options Specialists is always on tap if you need help executing a trade. The brokerage's service – particularly the mobile app and the OptionsHouse trading platform – are primarily targeted toward active traders.
Bottom Line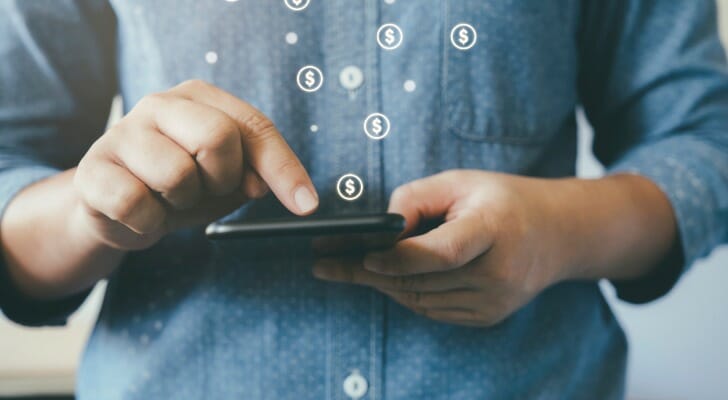 TD Ameritrade and E*TRADE are reputable, easy-to-use platforms for both new and seasoned investors. The companies both offer $0 commission trades and superior customer experiences. TD Ameritrade sets itself apart by having a bank that customers can use to do their banking and investing in the same place. E*TRADE sets itself apart by having a robust, user-friendly app and over 200 futures products available.
Tips for Investing
If you want to learn more about investing, a financial advisor is helpful. SmartAsset's free financial advisor matching tool can match you with up to three advisors in your area in just five minutes. If you're ready, get started now.
Before diving into the world of day trading, be clear about your risk tolerance and objectives. Decide what type of securities you're most comfortable investing in and evaluate your financial position to determine how much money you have to invest on a regular basis. Also, consider how day trading fits within your broader asset allocation strategy.
Photo credit: ©iStock.com/jxfzsy, ©iStock.com/wagnerokasaki, ©iStock.com/ijeab