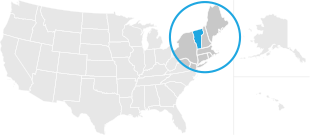 Overview of Vermont Taxes
Vermont has a progressive state income tax with a top marginal rate that ranks as the eighth highest in the country. The state charges a 6% sales tax with some cities charging an additional 1%. Vermont's property tax rates rank among the highest in the U.S. Retired? Use our Retirement Income Tax Calculator.
Enter your financial details to calculate your taxes
Household Income

Dismiss

Location

Dismiss
Advanced

401(k) Contribution

Dismiss

IRA Contribution

Dismiss

Dismiss

Number of Personal Exemptions

Dismiss
Your Income Taxes Breakdown
Tax

Type

Marginal
Tax Rate
Effective
Tax Rate
2018
Taxes*
Federal

FICA

State
Local
Total Income Taxes
Income After Taxes

Retirement Contributions

Take-Home Pay
* These are the taxes owed for the 2018 - 2019 filing season.
Changes to Your Federal Income
Taxes Under the 2018 Tax Reform
Your

marginal federal income tax rate

Your

effective federal income tax rate

Your federal income taxes
Total Estimated 2018 Tax Burden

Total Estimated Tax Burden

$

Percent of income to taxes =

%

$
Our Tax Expert

Jennifer Mansfield, CPA Tax

Jennifer Mansfield, CPA, JD/LLM-Tax, is a Certified Public Accountant with more than 30 years of experience providing tax advice. SmartAsset's tax expert has a degree in Accounting and Business/Management from the University of Wyoming, as well as both a Masters in Tax Laws and a Juris Doctorate from Georgetown University Law Center. Jennifer has mostly worked in public accounting firms, including Ernst & Young and Deloitte. She is passionate about helping provide people and businesses with valuable accounting and tax advice to allow them to prosper financially. Jennifer lives in Arizona and was recently named to the Greater Tucson Leadership Program.

...read more
Save more with these rates that beat the National Average
​If you could change one thing about ​this page what would it be?​
Thank you for your answer! Your feedback is very important to us.
We are working hard to improve our product and could use your help!
We pay $30 for 30 minutes on the phone to hear your thoughts on what we can do better.
Please enter your email if you'd like to be contacted to help.
| | | | |
| --- | --- | --- | --- |
| | | | |
| Please enter your name | Please enter a valid email | | |
Taxes in Vermont
Vermont State Tax Quick Facts
Income tax: 3.35% - 8.75%
Sales tax: 6% - 7%
Property tax: 1.83% average effective rate
Gas tax: 31.79 cents per gallon of regular gasoline, 32 cents per gallon of diesel
Vermont's tax system consists of state personal income tax, an estate tax, state sales tax, local property tax, local sales taxes and a number of additional excise taxes on products like gasoline and cigarettes. For the 2018 tax year, the income tax has a top rate of 8.75%. This ranks as the eighth highest in the U.S. Meanwhile, total state and local sales taxes range from 6% to 7%.
A financial advisor in Vermont can help you understand how taxes fit into your overall financial goals. Financial advisors can also help with investing and financial plans, including retirement, homeownership, insurance and more, to make sure you are preparing for the future.
Vermont Income Taxes
Vermont has four tax brackets for the 2018 tax year. This is a change from previous years when there were five brackets. Rates range from 3.35% to 8.75%. That top rate is the eighth highest in the country. The table below shows rates and brackets for the four main filing statuses in Vermont.
Income Tax Brackets
Single Filers
Vermont Taxable Income
Rate
$0 - $38,700
3.35%
$38,700 - $93,700
6.60%
$93,700 - $195,450
7.60%
$195,450+
8.75%
Married, Filing Jointly
Vermont Taxable Income
Rate
$0 - $64,600
3.35%
$64,600 - $156,150
6.60%
$156,150 - $237,950
7.60%
$237,950+
8.75%
Married, Filing Separately
Vermont Taxable Income
Rate
$0 - $32,300
3.35%
$32,300 - $78,075
6.60%
$78,075 - $118,975
7.60%
$118,975+
8.75%
Head of Household
Vermont Taxable Income
Rate
$0 - $51,850
3.35%
$51,850 - $133,850
6.60%
$133,850 - $216,700
7.60%
$216,700+
8.75%
Those rates to not apply to your total income, rather to taxable income. Taxable income incorporates adjustments, deductions and exemptions so it is almost always lower (and sometimes much lower) than total income.
To calculate taxable income in Vermont, begin with federal taxable income, which can be located on your Federal Form 1040. From there, you should add any income from interest on non-Vermont state and local debt obligations (e.g. New York City municipal bonds) and add back state and local income taxes (which can be deducted federally). Then, you can subtract any income from United States debt obligations (e.g. U.S. savings notes) and subtract the capital gains exclusion (see more in the capital gains section below).
Vermont Tax Credits
After calculating your income tax liability, you may be able to claim some credits to reduce your tax bill or increase your refund. Credits available to individuals in Vermont include the Credit for Child & Dependent Care Expenses, the Credit for the Elderly and Disabled and the Earned Income Tax Credit (EITC). These are all based on federal credits. The first two are equal to 24% of the federal credit and the EITC is equal to 36% of the federal credit.
Vermont Capital Gains Tax
Most capital gains in Vermont are subject to the personal income tax rates of 3.35% - 8.75% (described in further detail above). This includes all short-term gains, but long term-gains may be eligible for an exclusion. Specifically, taxpayers can claim an exclusion of up to $5,000 on their federal net adjusted capital gains.
Certain types of long-term gains may be eligible for an alternate exclusion equal to 40% of the net adjusted capital gain on assets held at least three years. This exclusion cannot be claimed on residential real estate used as a taxpayer's primary or non-primary home, depreciable personal property (except farm property or standing timber) or any publicly traded financial instruments (including stocks and bonds). Income from capital gains on other types of property (like commercial real estate) is eligible for this 40% exclusion after three years.
Vermont Sales Tax
The base general sales tax in Vermont is 6%. The sales tax applies to goods and some services in Vermont. Certain types of items are specifically exempted, as described below. In addition to that 6% state rate, a number of cities in Vermont collect their own 1% local option sales tax. The table below shows the state, local option and total sales tax rates for the Vermont cities that collect the additional tax. Any cities not shown do not collect the additional 1% tax, which means that taxable goods bought there will only be subject to the 6% state rate.
Sales Tax Rates
(Updated January 2018)
| City | State Rate | City Rate | Total Rate |
| --- | --- | --- | --- |
| Brandon | 6.00% | 1.00% | 7.00% |
| Burlington | 6.00% | 1.00% | 7.00% |
| Colchester | 6.00% | 1.00% | 7.00% |
| Dover | 6.00% | 1.00% | 7.00% |
| Manchester | 6.00% | 1.00% | 7.00% |
| Middlebury | 6.00% | 1.00% | 7.00% |
| Rutland Town | 6.00% | 1.00% | 7.00% |
| St. Albans Town | 6.00% | 1.00% | 7.00% |
| South Burlington | 6.00% | 1.00% | 7.00% |
| Stratton | 6.00% | 1.00% | 7.00% |
| Williston | 6.00% | 1.00% | 7.00% |
| Wilmington | 6.00% | 1.00% | 7.00% |
| Winhall | 6.00% | 1.00% | 7.00% |
The most important exemptions to these rates are for food (as long as it is intended for off-site consumption), prescription and some over-the-counter drugs, medical equipment (such as wheelchairs or oxygen equipment) and newspapers. Purchases of clothing are also untaxed, as Vermont is one of a handful of states to exempt clothing items from sales tax. Motor vehicles are subject to a 6% tax levied by the Vermont Department of Motor Vehicles and are therefore exempt from the local option rates above.
Some products are subject to rates higher than those listed above. The state tax on hotels, motels and restaurant meals (the "Meals and Rooms Tax") is 9%, plus an additional 1% local option meals and rooms tax collected by some cities. Alcohol is also subject to a higher sales tax, as described in the alcohol tax section below.
Vermont Property Tax
Vermont's property tax rates rank among the highest in the U.S. On average, Vermont homeowners pay more than $4,000 per year in property taxes. This is equal to 1.83% of their home value. That is the seventh-highest average effective property tax rate in the country. Note that property is assessed and tax rates are set at the municipal level in Vermont, so rates can vary from one city or town to the next.
Considering buying a house in the Green Mountain state, or looking to refinance a property you already own? Take a look at our Vermont mortgage guide for details on rates and information about getting a mortgage in the state.
Vermont Gas Tax
While gasoline purchases in Vermont are not subject to sales tax, there is an excise tax on fuel in Vermont. The state tax on regular gasoline totals 31.79 cents per gallon, which is the 21st highest gas tax in the country. The state tax on diesel fuel is 32 cents per gallon, also the 21st highest in the nation.
Vermont Alcohol Tax
Taxes on alcoholic beverages in Vermont vary depending on the type of beverage. Vermont is a control state, which means that it controls the wholesale of liquor, which is sold through agency stores. The state therefore captures revenue by selling liquor, which functions as a de facto tax. It also taxes the agency stores based on their total revenue, with rates ranging from 5% to 25%. The Tax Foundation has estimated that these taxes, along with the revenue earned through the state liquor control system, are equivalent to an excise tax of $7.72 per gallon, which is the 18 highest rate in the nation.
Beer and wine (which are not part of the control system) face two types of taxes in Vermont. The first is an alcohol sales tax of 10% (plus a 1% local option tax in some cities). The second is an excise tax. The excise tax on beer is 27 cents per gallon, slightly higher than the U.S. median. The excise tax on wine is 55 cents per gallon, lower than the U.S. median.
Vermont Estate Tax
The Vermont estate tax applies to gross estates with a value of $2.75 million or more. If the total value of the decedent's in-state and out-of-state assets exceeds that amount, an estate tax return is required. Tax may not be required, however; for instance, property left to a surviving spouse is exempt. Marginal tax rates for estates above the $2.75 million cut-off range from 0.8% up to a top rate of 16% for estates over $10.04 million.
Unlike many other state estate taxes, Vermont taxes the full value of estates, not just the value that exceeds the $2.75 million cutoff. So, for example, a taxable estate of $2,749,999 does not have to pay any tax at all, while a taxable estate of $2,500,001 has to pay taxes on the full value of the estate, over $150,000 total.
Marginal tax rates for estates above that cut off increase by 0.8% for every additional $1 million in taxable value, up to a top rate of 16% for estates over $10.04 million.
Multiple polls by Gallup, Inc. have rated Vermont as the least religious state in the U.S.
The capital of Vermont is Montpelier, while the largest city is Burlington, with a population of about 42,000.
Vermont's state animal is the Morgan horse.
Calculate Your Income Taxes in These Other States
Places with the Lowest Tax Burden

Are you curious how your tax burden stacks up against others in your state? SmartAsset's interactive map highlights the counties with the lowest tax burden. Scroll over any county in the state to learn about taxes in that specific area.

Methodology

Where you live can have a big impact on both which types of taxes you have to pay each year and how much money you spend on them. SmartAsset calculated the amount of money a specific person would pay in income, sales, property and fuel taxes in each county in the country and ranked the lowest to highest tax burden.

To better compare income tax burdens across counties, we used the national median household income. We then applied relevant deductions and exemptions before calculating federal, state and local income taxes.

In order to determine sales tax burden we estimated that 35% of take-home (after-tax) pay is spent on taxable goods. We multiplied the average sales tax rate for a county by the household income less income tax. This product is then multiplied by 35% to estimate the sales tax paid.

For property taxes, we compared the median property taxes paid in each county.

For fuel taxes, we first distributed statewide vehicle miles traveled down to the county level using the number of vehicles in each county. We then calculated the total number of licensed drivers within each county. The countywide miles were then distributed amongst the licensed drivers in the county, which gave us the miles driven per licensed driver. Using the nationwide average fuel economy, we calculated the average gallons of gas used per driver in each county and multiplied that by the fuel tax.

We then added the dollar amount for income, sales, property and fuel taxes to calculate a total tax burden. Finally, we created the Tax Burden Index in order to show how each county in the country compares to the county with the lowest tax burden (that is the county with a Tax Burden Index of 100).

Sources: US Census Bureau 2017 American Community Survey, Government Sources, Avalara, American Petroleum Institute, GasBuddy, UMTRI, Federal Highway Administration, SmartAsset