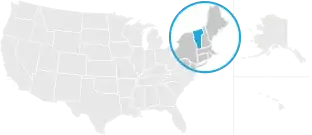 Overview of Vermont Taxes
Vermont has a progressive state income tax system with four brackets. The state's top income tax rate of 8.75% is one of the highest in the nation. No Vermont cities have local income taxes.
Work Info
Marital Status
Enter your marital status
Dismiss
Job
Location
Enter your location
Dismiss
Deduction
Name
Calculation
Method
Deduction
Amount
Long Term Disability Insurance
Dismiss
Deduction
Name
Calculation
Method
Deduction
Amount
Dismiss
Are you exempt from any taxes?
Salary (per year)
Dismiss
Hours (per pay period)
Dismiss
Overtime Hourly Wage
Dismiss
Overtime Hours (per pay period)
Dismiss
Your estimated
--
take home pay:
---
Where is your money going?
Gross Paycheck
$

--

Taxes

--

%
$

--

Details
Federal Income

--

%
$

--

State Income

--

%
$

--

Local Income

--

%
$

--

FICA and State Insurance Taxes

--

%
$

--

Details
Social Security

--

%
$

--

Medicare

--

%
$

--

State Disability Insurance Tax

--

%
$

--

State Unemployment Insurance Tax

--

%
$

--

State Family Leave Insurance Tax

--

%
$

--

State Workers Compensation Insurance Tax

--

%
$

--

Pre-Tax Deductions

--

%
$

--

Details
Post-Tax Deductions

--

%
$

--

Details
Take Home Salary

--

%
$

--
Save more with these rates that beat the National Average
---
Share Your Feedback
How would you rate your experience using SmartAsset's financial advisor matching service so far?
What is the most important reason for that score? (optional)
Please limit your response to 150 characters or less.
Thank you for your answer! Your feedback is very important to us.
Vermont Paycheck Calculator
Vermont Paycheck Quick Facts
Vermont income tax rate: 3.35% - 8.75%
Median household income: $67,428 (U.S. Census Bureau)
Number of cities with local income taxes: 0
How Your Vermont Paycheck Works
It can be a challenge to predict the size of your paycheck because money is deducted for FICA, federal and state income taxes, as well as other withholdings. But when you start a new job, you'll have to fill out a W-4 form. Your Vermont employer uses the information you provide on this form - with regard to your marital status and any additional dollar withholdings you take - to determine how much to deduct from your paychecks for federal and state taxes. You'll need to submit a new form during the year if you want to make changes regarding your status or dependents.
The IRS made notable changes to the Form W-4 in recent years. The new version completely removes allowances, using a five-step process asking filers to fill out personal information, list dependents and indicate any additional income instead.
A portion of your income will also go toward paying Social Security and Medicare taxes. Collectively these are known as FICA taxes, and may be referred to as such on your pay stub. For each of these taxes, a percentage of your income is withheld for the sake of sustaining these programs. Your employer will match these percentages, meaning that in the end you will have only been responsible for half of your FICA taxes.
In the case of Social Security, you and your employer will each contribute 6.2% of your income for a total of 12.4%. Medicare comprises a smaller percentage, at just 1.45% each, for a total of 2.9%. Any income you have above $200,000 (single filers), $250,000 (joint filers) or $125,000 (married people filing separately) is also subject to a 0.9% Medicare surtax. Your employer doesn't match this extra rate.
Paying 50% of your FICA taxes is standard, but self-employed workers have to pay these taxes in their entirety since they do not have a separate employer to match their contributions. The good news is that they're able to deduct the employer portion of their contribution.
Other deductions that could dip into your take-home pay include contributions to retirement accounts and health savings plans sponsored by your employer. The good news is that although you'll be dipping into your paycheck now to build up your 401(k) and save for retirement, the money is taken out of your paycheck before taxes are applied. So by contributing to one of these tax-advantaged accounts, you are actually reducing your taxable income. That will help lower the amount you have to pay now in taxes.
Vermont Median Household Income
| Year | Median Household Income |
| --- | --- |
| 2020 | $67,428 |
| 2019 | $63,001 |
| 2018 | $60,782 |
| 2017 | $57,513 |
| 2016 | $57,677 |
| 2015 | $56,990 |
| 2014 | $54,166 |
| 2013 | $52,578 |
| 2012 | $52,977 |
| 2011 | $52,776 |
| 2010 | $49,406 |
Vermont's tax rates are among the highest in the country. There are four tax brackets that vary based on income level and filing status. The state's top tax rate is 8.75%, but it only applies to single filers making more than $206,950 and joint filers making more than $251,950 in taxable income. If you're a single filer with $40,950 or below in annual taxable income, you'll pay the lowest state income tax rate in Vermont, at 3.35%.
Vermont has no cities that levy a local income tax. This means that whether you live in Burlington, Rutland or anywhere in between, you won't have an additional local withholding.
If you're planning on relocating to Vermont or thinking about a move within the state and you're looking to purchase a home, our Vermont mortgage guide is a great place to start learning.
Income Tax Brackets
Single Filers
Vermont Taxable Income
Rate
$0 - $40,950
3.35%
$40,950 - $99,200
6.60%
$99,200 - $206,950
7.60%
$206,950+
8.75%
Married, Filing Jointly
Vermont Taxable Income
Rate
$0 - $68,400
3.35%
$68,400 - $165,350
6.60%
$165,350 - $251,950
7.60%
$251,950+
8.75%
Married, Filing Separately
Vermont Taxable Income
Rate
$0 - $34,200
3.35%
$34,200 - $82,675
6.60%
$82,675 - $125,975
7.60%
$125,975+
8.75%
Head of Household
Vermont Taxable Income
Rate
$0 - $54,850
3.35%
$54,850 - $141,700
6.60%
$141,700 - $229,450
7.60%
$229,450+
8.75%
A financial advisor in Vermont can help you understand how taxes fit into your overall financial goals. Financial advisors can also help with investing and financial plans, including retirement, homeownership, insurance and more, to make sure you are preparing for the future.
How You Can Affect Your Vermont Paycheck
You can't escape your income taxes, but you can take steps to change how much of your income taxes you pay each paycheck. One of the simplest ways to do this is by adjusting your withholdings when you file your W-4. If you want even more control over your tax withholding, you can also specify a dollar amount for your employer to withhold. For example, if you want your employer to withhold an additional $20 from each paycheck, you can write $20 on the appropriate line of your W-4. While that might mean smaller paychecks now, this practice could save you money come tax time.
Besides manually switching up your withholdings, you can also impact your paycheck by lowering your overall taxable income. You can do this by contributing to pre-tax retirement accounts, like a 401(k), or to a Health Savings Account (HSA) or Flexible Spending Account (FSA). This means smaller paychecks, but because the contributions go in pre-tax, you wind up keeping more of your money.
Vermont Top Income Tax Rate
| Year | Top Income Tax Rate |
| --- | --- |
| 2021 | 8.75% |
| 2020 | 8.75% |
| 2019 | 8.75% |
| 2018 | 8.75% |
| 2017 | 8.95% |
| 2016 | 8.95% |
| 2015 | 8.95% |
| 2014 | 8.95% |
| 2013 | 8.95% |
| 2012 | 8.95% |
| 2011 | 9.95% |
| 2010 | 8.95% |
Calculate Your Paycheck in These Other States