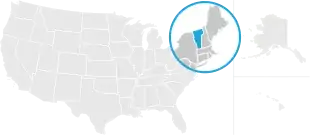 Overview of Vermont Mortgages
Vermont is dotted with quaint towns, covered bridges and gorgeous natural lookouts. These features make it a popular place to own a home. Vermont's mortgage rates don't have a clear historical trend, tending to slightly vary both above and below the national average. Vermont counties' conforming limits are uniform, but FHA limits see more variation.
National Mortgage Rates
Source: Freddie Mac Primary Mortgage Market Survey, SmartAsset Research
Details
Purchase or Refinance
Select Purchase or Refinance
Dismiss
Location
Enter your location
Dismiss
Target Home Value
Enter target home value
Dismiss
Down Payment
Enter down payment
Dismiss
Current Home Value
Enter current home value
Dismiss
Current Mortgage Balance
Current Mortgage Balance
Enter current mortgage balance
Dismiss
Credit Rating
Select Your Credit Rating
Dismiss
Share Your Feedback
How would you rate your experience using SmartAsset's financial advisor matching service so far?
What is the most important reason for that score? (optional)
Please limit your response to 150 characters or less.
Thank you for your answer! Your feedback is very important to us.
Historical Mortgage Rates in Vermont
Vermont Mortgage Rates Quick Facts
Median Home Value: $233,200 (U.S. Census Bureau)
Loan Funding Rate: 64.25% (CFPB)
Homeownership Rate: 73.1% (St. Louis Fed)
Median Monthly Homeownership Costs: $1,621 (U.S. Census Bureau)
If you've always dreamed of living in New England, Vermont is a quintessential example of northeastern culture. The state is also the second-least populated in the U.S. Vermont mortgage rates historically run slightly above or below national averages.
A financial advisor in Vermont can help you plan for the homebuying process. Financial advisors can also help with investing and financial planning - including tax, retirement and estate planning - to make sure you are preparing for the future.
Vermont Historic Mortgage Rates*
| Year | Vermont Rate | U.S. Rate |
| --- | --- | --- |
| 2000 | 8.03 | 7.86 |
| 2001 | 7.07 | 6.94 |
| 2002 | 6.54 | 6.44 |
| 2003 | 5.66 | 5.67 |
| 2004 | 5.66 | 5.68 |
| 2005 | 5.84 | 5.85 |
| 2006 | 6.44 | 6.54 |
| 2007 | 6.38 | 6.42 |
| 2008 | 6.15 | 6.06 |
| 2009 | 5.13 | 5.05 |
| 2010 | 4.67 | 4.81 |
| 2011 | 4.57 | 4.56 |
| 2012 | 3.63 | 3.65 |
| 2013 | 3.65 | 3.84 |
| 2014 | 3.97 | 4.13 |
| 2015 | 3.72 | 3.88 |
| 2016 | 3.65 | 3.73 |
| 2017 | 4.14 | 4.03 |
| 2018 | 4.69 | 4.56 |
*The FHFA stopped reporting new data in 2018.
Vermont Mortgages Overview
Vermont home values fall close to the national average. The conforming loan limits for Vermont hold steady at $647,200, but the FHA limits range from the standard of $420,680 up to $434,700. Three Vermont counties have above-average FHA limits: Chittenden, Franklin and Grand Isle.
Conforming and FHA Loan Limits by County
| County | Conforming Limit | FHA Limit |
| --- | --- | --- |
| Addison | $647,200 | $420,680 |
| Bennington | $647,200 | $420,680 |
| Caledonia | $647,200 | $420,680 |
| Chittenden | $647,200 | $434,700 |
| Essex | $647,200 | $420,680 |
| Franklin | $647,200 | $434,700 |
| Grand Isle | $647,200 | $434,700 |
| Lamoille | $647,200 | $420,680 |
| Orange | $647,200 | $420,680 |
| Orleans | $647,200 | $420,680 |
| Rutland | $647,200 | $420,680 |
| Washington | $647,200 | $420,680 |
| Windham | $647,200 | $420,680 |
| Windsor | $647,200 | $420,680 |
Selling your place in Vermont? You're not going to come across a required, formal disclosure statement, but you do need to be upfront about certain issues. Vermont is pretty tough on lead-based paint disclosure, per the Vermont Lead Law. Additionally, if you plan on working with a licensed real estate agent, you will be required to disclose property hazards as well as any defects with the wiring, plumbing, roof, heating system or water system.
As a buyer, it's imperative that you schedule a home inspection to ensure the property you're buying doesn't have any nasty surprises.
30-Year Fixed Mortgage Rates in Vermont
If you want to settle down in the Green Mountain State for the long haul, a 30-year fixed-rate mortgage is likely going to be your best option. It is also the most common home mortgage among buyers, which makes sense considering it offers lower payments and a fixed interest rate. You can also choose a fixed-rate mortgage with a 15-year term and pay a lower interest rate, which costs less over the life of the loan but it more expensive in monthly payments.
The average Vermont rate for a fixed 30-year mortgage is 3.33% (Zillow, Jan. 2022).
Vermont Jumbo Loan Rates
There are conforming loan limits in each state to help set a limit for lenders to determine risk. Home loans that exceed those limits are known as "jumbo loans." Every Vermont county has a conforming loan limit at the standard $647,200. This means that if you take out a home loan anywhere in the state that exceeds $647,200, you will be taking out a jumbo loan. Be aware that jumbo loans have higher interest rates to offset the added risk on the part of the lender.
The average 30-year fixed jumbo loan rate in Vermont is 3.21% (Zillow, Jan. 2022).
Vermont ARM Loan Rates
An adjustable-rate mortgage (ARM) is one that offers a lower interest rate for an introductory period of somewhere between one and 10 years. Once that period is up, the interest rate can change and it will usually increase. That doesn't mean that the interest rate is going to suddenly rise to an obscenely high level though. The rate is capped at a certain level specified in the terms of the loan, so you are aware from the beginning how high the interest rate could possibly reach. However, the rate may still adjust to a level that you can't afford. Before deciding on an ARM, it's best to assess the potential maximum interest rate listed in the terms to see if it's something you would be comfortable paying.
The average rate for a 5/1 ARM in Vermont is 2.50% (Zillow, Jan. 2022).
Vermont Mortgage Resources
Green Mountain State buyers have options when it comes to securing a mortgage or financing their home purchases.
The Vermont Housing & Conservation Board specializes in keeping Vermont a safe, desirable place to live. Its offerings include the HOMELAND Program which provides eligible buyers extra funding toward the cost of their home.
Available Resources
| Resource | Problem or Issue | Who Qualifies |
| --- | --- | --- |
| Vermont Housing & Conservation Board | Home funding assistance. | Eligible Vermont homebuyers who complete a homebuyer education course. |
| USDA Rural Development - Single family loans | Offers payment assistance to increase an applicant's repayment ability. | Applicants must be without decent, safe and sanitary housing; Be unable to obtain a loan from other resources on terms and conditions that can reasonably be expected to meet; Agree to occupy the property as your primary residence; Have the legal capacity to incur a loan obligation; Meet citizenship or eligible noncitizen requirements; Not be suspended or debarred from participation in federal programs. |
Vermont is also eligible for the United States Department of Agriculture Rural Development program. The USDA offers programs in rural communities across the nation, which help residents obtain housing. Check at the start of your home search to see if you qualify for the USDA rural development offers. Qualifying applicants can access loans and grants to put toward the purchase of a home.
Vermont Mortgage Taxes
Vermont charges transfer taxes on real estate. If the property is owner-occupied, the tax is 0.5% on the first $100,000 of the home's value, with a 1.25% fee rate applying to the rest. In Vermont, the buyer often pays these fees.
One key benefit of homeownership is that owners are allowed to deduct the mortgage interest they pay through the year from their taxable income when they file their federal income taxes. Vermont follows federal guidelines for itemized deductions, which means owners can deduct mortgage interest when paying their state income taxes, as well.
Vermont Mortgage Refinance
The best federal option for refinancing your home loan is the High Loan-to-Value Refinance Option from Fannie Mae. These have basically taken over for the Home Affordable Refinance Program (HARP), which was cancelled in December 2018.
See Mortgage Rates in These Other States