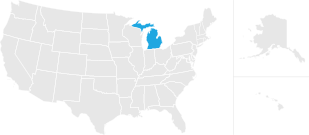 Overview of Michigan Taxes
Michigan has a flat income tax rate across the state, but some cities do charge an additional rate. Sales tax is relatively low for the region, and there are no additional local sales taxes. Michigan has the eighth highest average effective property taxes in the nation. Retired? Use our Retirement Income Tax Calculator.
Enter your financial details to calculate your taxes
Household Income

Dismiss

Location

Dismiss
Advanced

401(k) Contribution

Dismiss

IRA Contribution

Dismiss

Dismiss

Number of Personal Exemptions

Dismiss
Your Income Taxes Breakdown
Tax

Type

Marginal
Tax Rate
Effective
Tax Rate
2018
Taxes*
Federal

FICA

State
Local
Total Income Taxes
Income After Taxes

Retirement Contributions

Take-Home Pay
* These are the taxes owed for the 2018 - 2019 filing season.
Changes to Your Federal Income
Taxes Under the 2018 Tax Reform
Your

marginal federal income tax rate

Your

effective federal income tax rate

Your federal income taxes
Total Estimated 2018 Tax Burden

Total Estimated Tax Burden

$

Percent of income to taxes =

%

$
Our Tax Expert

Jennifer Mansfield, CPA Tax

Jennifer Mansfield, CPA, JD/LLM-Tax, is a Certified Public Accountant with more than 30 years of experience providing tax advice. SmartAsset's tax expert has a degree in Accounting and Business/Management from the University of Wyoming, as well as both a Masters in Tax Laws and a Juris Doctorate from Georgetown University Law Center. Jennifer has mostly worked in public accounting firms, including Ernst & Young and Deloitte. She is passionate about helping provide people and businesses with valuable accounting and tax advice to allow them to prosper financially. Jennifer lives in Arizona and was recently named to the Greater Tucson Leadership Program.

...read more
Save more with these rates that beat the National Average
​If you could change one thing about ​this page what would it be?​
Thank you for your answer! Your feedback is very important to us.
We are working hard to improve our product and could use your help!
We pay $30 for 30 minutes on the phone to hear your thoughts on what we can do better.
Please enter your email if you'd like to be contacted to help.
| | | | |
| --- | --- | --- | --- |
| | | | |
| Please enter your name | Please enter a valid email | | |
Taxes in Michigan
Michigan State Tax Quick Facts
Income tax: 4.25% flat rate
Local income tax: 0%-2.4%
Sales tax: 6%
Property tax: 1.64% average effective rate
Gas tax: 44.12 cents per gallon of regular gasoline and 45.49 cents per gallon of diesel
The Great Lakes State has made a number of changes to its tax code in recent years. In 2012 Michigan's statewide flat tax rate fell from 4.35% to 4.25%, although the city income taxes levied by 22 Michigan cities, including Detroit, were untouched. At the same time, Michigan increased its personal exemption.
Michigan has a single sales tax rate of 6%. Elected officials have proposed raising the sales tax to help fund transportation infrastructure spending, but all proposals have been rejected in recent years. However, Michigan has raised its gas tax to one of the highest rates in the country.
A financial advisor in Michigan can help you understand how taxes fit into your overall financial goals. Financial advisors can also help with investing and financial plans, including retirement, homeownership, insurance and more, to make sure you are preparing for the future.
Michigan Income Taxes
Michigan has a flat income tax system, which means that income earners of all levels pay the same rate: 4.25% of taxable income. That is the second-lowest rate for states with a flat tax. In Michigan, adjusted gross income (which is gross income minus certain deductions) is based on federal adjusted gross income. However, taxpayers in Michigan can also claim Michigan's personal exemption, which is $4,050 for the 2018 tax year.
Some cities in Michigan also collect their own income taxes. These range from 1% up to 2.4% for residents, with non-residents who work in those cities paying half the resident rate (meaning the local income taxes for these non-resident workers range from 0.5% to 1.2%). The table below shows the local and total income tax rates for every city in Michigan that has its own income tax. Cities that are not listed do not have a local tax and so residents of those cities only pay the state income tax of 4.25%.
Michigan City Income Tax Rates
| City | State Rate | City Rate | Total City and State Rate |
| --- | --- | --- | --- |
| Albion | 4.25% | 1.00% | 5.25% |
| Battle Creek | 4.25% | 1.00% | 5.25% |
| Big Rapids | 4.25% | 1.00% | 5.25% |
| Detroit | 4.25% | 2.40% | 6.65% |
| Flint | 4.25% | 1.00% | 5.25% |
| Grand Rapids | 4.25% | 1.50% | 5.75% |
| Grayling | 4.25% | 1.00% | 5.25% |
| Hamtramck | 4.25% | 1.00% | 5.25% |
| Highland Park | 4.25% | 2.00% | 6.25% |
| Hudson | 4.25% | 1.00% | 5.25% |
| Ionia | 4.25% | 1.00% | 5.25% |
| Jackson | 4.25% | 1.00% | 5.25% |
| Lansing | 4.25% | 1.00% | 5.25% |
| Lapeer | 4.25% | 1.00% | 5.25% |
| Muskegon | 4.25% | 1.00% | 5.25% |
| Muskegon Heights | 4.25% | 1.00% | 5.25% |
| Pontiac | 4.25% | 1.00% | 5.25% |
| Port Huron | 4.25% | 1.00% | 5.25% |
| Portland | 4.25% | 1.00% | 5.25% |
| Saginaw | 4.25% | 1.50% | 5.75% |
| Springfield | 4.25% | 1.00% | 5.25% |
| Walker | 4.25% | 1.00% | 5.25% |
Michigan Sales Tax
Unlike most other states, there are no city or county sales taxes in Michigan. This means that wherever you go in the state, you will pay the same 6% sales tax. That rate is lower than most states in the region. While food served in restaurants is taxed at the normal tax rate, most other kinds of food (including groceries) are not taxed. Prescription medications and newspapers are also exempt from this sales tax. Sales of electricity, natural gas and home heating fuels are taxed at a 4% rate.
Michigan Property Tax
Michigan has the 11th highest property taxes in the nation, as measured by average effective property taxes (that's total taxes paid as a percentage of the home's market value). On average, residents of the Great Lakes State pay 1.64% of their home values in property taxes every year. Since properties are valued and taxes are collected by local tax authorities, the amount of taxes paid varies significantly from one area to the next. For example, Leelanau County has an effective property tax rate of 0.90% while Wayne County (which includes Detroit) has an effective property tax rate of 2.55%, highest in the state.
If you're looking to buy a home in Michigan, first head to our Michigan mortgage rates guide, where you will find mortgage rates and other details about getting a mortgage in the state.
Michigan Capital Gains Tax
Capital gains in Michigan are taxed as regular income, at the state income tax rate of 4.25%.
Michigan Estate Tax
Michigan does not have an estate or inheritance tax.
Michigan Gas Tax
Michiganders currently pay a gas tax of 44.12 cents per gallon, which is sixth-highest in the nation. When you add federal taxes and fees, Michigan's gas tax is over 60 cents per gallon of gasoline. The tax for diesel fuel, 45.49 cents per gallon, is seventh-highest in the U.S.
Michigan Alcohol Tax
Beer, wine and liquor are taxed at different rates in Michigan. Beer is taxed at a rate of $6.30 per barrel, or about 1.9 cents per 12-ounce beer. This is below average for U.S. states. Wine is taxed at 13.5 cents per liter if it contains less than 16% alcohol and 20 cents per liter above that limit. Liquor is taxed at 12% of the sale price.
Michigan's Mackinac Bridge connects the upper and lower peninsulas. It is the 19th longest suspension bridge in the world.
Parts of Michigan near Lake Superior receive more than 200 inches of snow a year.
Detroit, Michigan is known as the "Motor City" because several of the nation's largest automobile manufacturers, including General Motors Co. and Ford Motor Co., are based in the region.
Calculate Your Income Taxes in These Other States
Places with the Lowest Tax Burden

Are you curious how your tax burden stacks up against others in your state? SmartAsset's interactive map highlights the counties with the lowest tax burden. Scroll over any county in the state to learn about taxes in that specific area.

Methodology

Where you live can have a big impact on both which types of taxes you have to pay each year and how much money you spend on them. SmartAsset calculated the amount of money a specific person would pay in income, sales, property and fuel taxes in each county in the country and ranked the lowest to highest tax burden.

To better compare income tax burdens across counties, we used the national median household income. We then applied relevant deductions and exemptions before calculating federal, state and local income taxes.

In order to determine sales tax burden we estimated that 35% of take-home (after-tax) pay is spent on taxable goods. We multiplied the average sales tax rate for a county by the household income less income tax. This product is then multiplied by 35% to estimate the sales tax paid.

For property taxes, we compared the median property taxes paid in each county.

For fuel taxes, we first distributed statewide vehicle miles traveled down to the county level using the number of vehicles in each county. We then calculated the total number of licensed drivers within each county. The countywide miles were then distributed amongst the licensed drivers in the county, which gave us the miles driven per licensed driver. Using the nationwide average fuel economy, we calculated the average gallons of gas used per driver in each county and multiplied that by the fuel tax.

We then added the dollar amount for income, sales, property and fuel taxes to calculate a total tax burden. Finally, we created the Tax Burden Index in order to show how each county in the country compares to the county with the lowest tax burden (that is the county with a Tax Burden Index of 100).

Sources: US Census Bureau 2017 American Community Survey, Government Sources, Avalara, American Petroleum Institute, GasBuddy, UMTRI, Federal Highway Administration, SmartAsset