Update your information here.
OK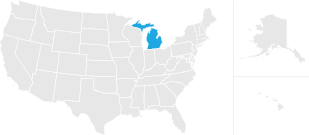 Overview of Michigan Retirement Tax Friendliness
Michigan taxes Social Security retirement benefits and provides a relatively large deduction on all other types of retirement income. Homeowners pay relatively high property tax rates, but sales taxes are moderate.
Enter your financial details to calculate your taxes
Annual Social Security Income

Dismiss

Annual Retirement Account Income

Dismiss

Annual Wages

Dismiss

Dismiss

Year of Birth

Dismiss

Filing Status
Add Pension

Annual Income from Private Pension

Dismiss

Annual Income from Public Pension

Dismiss
You will pay

of Michigan state taxes on your pre-tax income of
Quick Guide to Retirement Income Taxes
is toward retirees.
Social security income is taxed.
Withdrawals from retirement accounts are taxed.
Wages are taxed at normal rates, your marginal state tax rate is %.
Public pension income is taxed, private pension income is taxed.
Increase your savings today with these rates that beat the National Average
More from SmartAsset
​If you could change one thing about ​this page what would it be?​
Thank you for your answer! Your feedback is very important to us.
We are working hard to improve our product and could use your help!
We pay $30 for 30 minutes on the phone to hear your thoughts on what we can do better.
Please enter your email if you'd like to be contacted to help.
| | | | |
| --- | --- | --- | --- |
| | | | |
| Please enter your name | Please enter a valid email | | |
Michigan Retirement Taxes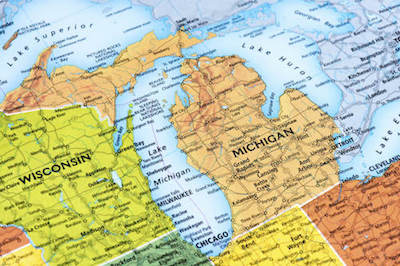 Photo credit: ©iStock.com/omersukrugoksu
There are many reasons to retire in Michigan. It has the most freshwater coastline of any state besides Alaska, it has beautiful and mild summers, it has the highest number of public golf course of any state (over 800) and it has the rustic wild of the U.P. There are also reasons you may not want to retire in the Great Lakes State, particularly the long, cold winters.
And what about Michigan's tax system? In general, that's a plus. Michigan does tax Social Security retirement income and provides a relatively large deduction on all other types of retirement income. Homeowners pay relatively high property tax rates, but sales taxes are moderate. Read on to learn more about these and other key retirement taxes in Michigan.
Is Michigan tax-friendly for retirees?
Yes. It does not tax Social Security and provides a sizable deduction to seniors on other types of retirement income (more about that deduction below). Sales taxes are somewhat below average, while property taxes are above average. Michigan does not have an estate tax or an inheritance tax.
Is Social Security taxable in Michigan?
No, it isn't. Any Social Security retirement income that is considered taxable on your federal income tax return can be subtracted from your Adjusted Gross Income (AGI) when filing your state taxes in Michigan.
Are other forms of retirement income taxable in Michigan?
Yes – but seniors can deduct most or all of this income. The deduction applies to income from retirement savings accounts and pensions. It varies depending on the age of the filer.
Taxpayers older than 68 are eligible for a deduction of $49,027 per person. Taxpayers between the ages 63 and 68 can claim a deduction of $20,000. Anyone younger than 63 is not eligible for the deduction.
The deduction can be claimed against the total of all retirement income (not including Social Security, which is fully exempt). If you are 80 years old and have $25,000 in annual income from a 401(k) and $10,000 from a pension, you could claim the deduction against all $35,000 of that income.
If, on the other hand, you had $60,000 in 401(k) income, the portion of it in excess of the deduction would be taxed at the Michigan flat income tax rate of 4.25%.
How high are property taxes in Michigan?
Very high. The average effective property tax rate in the Great Lakes State is 1.83%. That adds up to about $1,830 for every $100,000 in home value. Of course, property taxes are higher in some areas than in others. In Wayne County the average effective rate is 2.76%. In Mackinac County it is less than half that at 1.08%.
What is the Michigan homestead property tax credit?
The homestead property tax credit is available to homeowners in Michigan who meet certain eligibility requirements for income and property value. Homeowners who are eligible can claim a credit on all property taxes owed.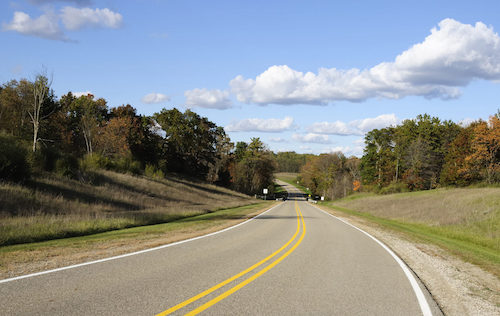 Photo credit: ©iStock.com/RiverNorthPhotography
The credit application is filed with your annual income tax return. To be eligible, you must have household income of $50,000 or less and your home's taxable value must be no more than $135,000. It's important to note that taxable value can be no more than half of market value, so that limit is effectively $270,000 in home value.
Another form of property tax relief available to homeowners in Michigan is the principal residence exemption. This allows homeowners to exempt their primary residence from up to 18 mills of local school district operating taxes. (A mill is one tenth of a percent, so 18 mills is 1.8%, which applies to taxable value.)
How high are sales taxes in Michigan?
Below average. The state sales tax rate is 6% and Michigan has no local sales taxes.
What other Michigan taxes should I be concerned about?
If you plan on working during retirement, keep in mind that many Michigan cities collect their own income taxes in addition to the state income tax rate of 4.25%. In general, these city income taxes are 1% to 1.5%, but the Detroit city income tax is 2.4%. Those taxes do not apply to any form of retirement income, however.
Michigan does not have an estate tax or inheritance tax.
Calculate Your Retirement Taxes in These Other States
Most Tax Friendly Places for Retirees
SmartAsset's interactive map highlights the places in the country with tax policies that are most favorable to retirees. Zoom between states and the national map to see the most tax-friendly places in each area of the country.
Methodology Our study aims to find the areas with the most tax-friendly policies for retirees. To do that we looked at how the tax policies of each city would impact a retiree with a $50,000 income. Our hypothetical retiree is getting $15,000 from Social Security benefits, $10,000 from a private pension, $15,000 from retirement savings like a 401(k) or IRA and $10,000 in wages.
To calculate the expected income tax this person would pay in each location we applied deductions and exemptions. This included the standard deduction, personal exemption and deductions for each specific type of retirement income. We then calculated how much this person would pay in income tax at the federal, state, county and local levels.
We calculated the effective property tax rate by dividing median property tax paid by median home value for each city.
In order to determine sales tax burden we estimated that 35% of take-home (after-tax) pay is spent on taxable goods. We multiplied the average sales tax rate for a city by the household income less income tax. This product is then multiplied by 35% to estimate the sales tax paid.
For fuel taxes, we first distributed statewide vehicle miles traveled down to the city level using the number of vehicles in each county. We then calculated miles driven per capita in each city. Using the nationwide average fuel economy, we calculated the average gallons of gas used per capita in each city and multiplied that by the fuel tax.
For each city we determined whether or not Social Security income was taxable.
Finally, we created an overall index weighted to best capture the taxes that most affect retirees. We gave a 4x weighting to income tax, 3x weighting to property tax rate, a 2x weighting to sales tax and 1x weighting to fuel tax.
Sources: Internal Revenue Service, Social Security Administration, state websites, local government websites, US Census Bureau 2015 American Community Survey, Avalara, American Petroleum Institute, GasBuddy, UMTRI, Federal Highway Administration