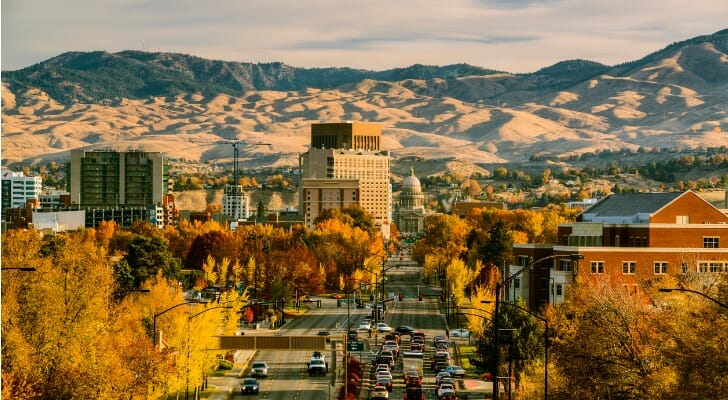 Retiring in Idaho is a great option for those seeking an active retirement. Because many of the cities given below lie along the Snake River or rest near a National Park, they offer plenty of opportunities for outdoor activities. There's still lots to do in Idaho even if the active lifestyle isn't for you. Plus, the best places to retire aren't just about fun activities. We also took into account taxes and the presence of medical centers to find the best places to retire in Idaho.
How We Determined the Best Places to Retire
To determine the best places to retire in Idaho, we weighed a number of different factors crucial to retirement. For starters, we found the tax burden in retirement for each city. All the cities listed below have a tax burden of 16.9%. This is not the most ideal number out there, with many cities in other states posing tax burdens of a few percentage points lower. However, there are many other cities out there with much higher tax burdens.
We also looked at the number of certain facilities per 1,000 residents including medical centers, recreation centers and retirement communities. Finally, we checked the percentage of seniors living in each city.
1. Sandpoint
For a relaxing lakeside retirement, head to Sandpoint. This north Idaho city offers great access to Lake Pend Oreille and the Pend Oreille River. Active retirees will find many opportunities for biking, boating and even skiing. There's a ton more to do in the small city, too, including the Kinnikinnick Native Plant Society's arboretum, the Bonner County History Museum and regular farmers' markets. The city also has the highest number of recreation centers in this study with 1.98 available per 1,000 residents.
Sandpoint also tops the list in medical centers per 1,000 residents (6.34) and retirement communities per 1,000 (0.66). Having enough access to medical facilities is crucial, especially in retirement. You'll also be comforted to know you won't be the only retiree in Sandpoint, with its retirement communities and a senior population making up 19.8% of the city's population.
2. Emmett
At 21.7%, Emmett's senior population is the second-largest on this list, so you won't be short of company. Otherwise, the city puts up pretty low numbers when looking at medical centers, recreation centers and retirement communities. The city provides 1.99 medical centers per 1,000 residents which can make it a little tight in getting care. Luckily, Boise and Nampa are close by, offering bigger-city resources.
3. Idaho Falls
Our No. 3 city is another one well-suited for active retirees. Stretching across the Snake River, Idaho Falls also maintains close proximity to Yellowstone and Grand Teton National Parks, a number of National Forests and Jackson Hole. The city is also home to the Idaho Falls Chukars minor league baseball team, the Willard Arts Center, The Colonial Theatre, the Museum of Idaho and the Civic Auditorium.
Despite these attractions and its status as the state's largest city outside the Boise metropolitan area, Idaho Falls puts up the lowest numbers in recreation centers and retirement communities. There are only 0.51 recreation centers per 1,000 residents. With a mere 13.1% of the population of retirement age, there's only 0.21 retirement communities per 1,000 residents. The city does offer the second-highest concentration of medical centers on this list, though.
4. Hayden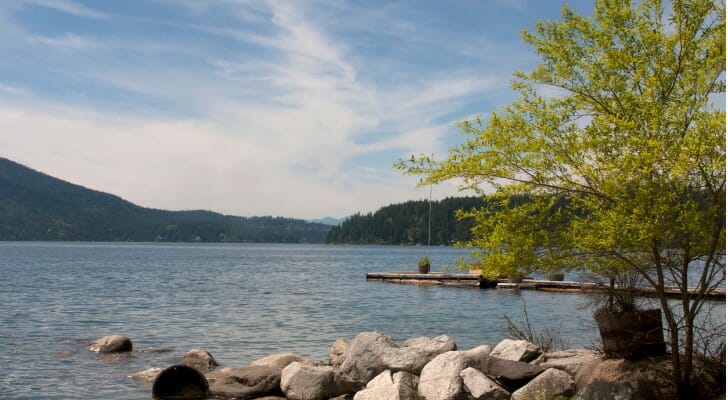 Located next to a lake of the same name, Hayden not only has great lake views but also views of the expansive Coeur d'Alene National Forest just across the lake. The city of Hayden has a decently sized senior population, with seniors making up 19.6% of the city's population. There is a low number of retirement communities, however, with 0.36 per 1,000 residents. The numbers look a little better for medical centers at 1.75 centers per 1,000 residents, though this is still pretty low when compared to other states.
5. Garden City
Idyllic looking, with homes and trees lining the Boise River, Garden City is nestled on the northern edge of Boise, just along the Boise River. The city itself has the lowest number of medical centers in this list, the only one to post a number below one. However, considering its proximity to big city Boise, residents here will still have access to healthcare locations. Garden City even has the highest percentage of seniors at 21.8%. Should you retire here, you'll have company when you frequent the city's many recreation centers and riverside walks.
6. Twin Falls
Twin Falls lies just along Snake River and the Snake River Canyon in south-central Idaho, offering spectacular canyon views. This location provides residents with the opportunity to go boating, camping, fishing, golfing, hiking and more. There are also many beautiful waterfalls in the area to check out including Perrine Coulee Falls, Shoshone Falls, Pillar Falls and the town's namesake, Twin Falls. For the less outdoorsy folks, there are still a number of recreation centers in the city. Twin Falls does have a relatively low senior population, making up 14.1% of the total city population.
The city is rather limited in its medical centers offering, with only 3.54 locations per 1,000 residents.
7. Eagle
Just outside of Boise, Eagle has a decent number of retirees, with seniors making up 16.7% of the city's population. Retirees will have easy access to recreational spaces like Arboretum Park, Eagle Island State Park, BanBury Golf Course Eagle and more. Residents can also take advantage of the city's few recreation centers, of which there are 0.87 per 1,000 residents. If you want to live among other retirees, you'll find about 0.37 retirement communities in the city per 1,000 residents. As for healthcare options, Eagle has a pretty average offering of medical centers in this list with 2.33 centers per 1,000 residents.
8. Lewiston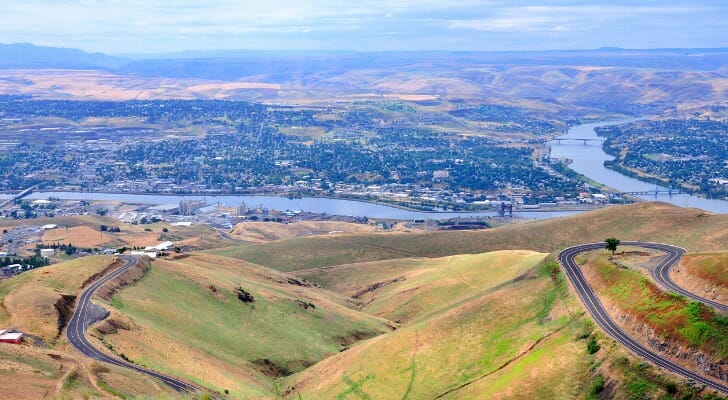 Located right at the merging point of the Snake and Clearwater Rivers, Lewiston has a ton to offer its retired residents. With seniors making up 19.2% of the population, you and your fellow retirees can enjoy the city's many festivals and events together. For example, head to the Dogwood Festival in the springtime or enjoy concerts of the classics from the 1950s to the 1980s during "Hot August Nights" in the summers. For more indoor activities, there are about 0.65 recreation centers per 1,000 residents available for use in the city.
Although hailed as a hub for transportation, healthcare and more in northern Idaho, Lewiston has a relatively low concentration of medical centers, with only 2.01 centers per 1,000 residents.
9. Blackfoot
If you haven't had enough of potatoes by the time you hit retirement, consider settling down in Blackfoot, the "Potato Capital of the World." There, you can visit the Idaho Potato Museum to see the world's largest baked potato and potato chip. Otherwise, you could also take advantage of the city's location along the Snake River.
When compared to the rest of our top 10, Blackfoot puts up some low numbers. It has the smallest showing of recreation centers per 1,000 residents and the smallest senior population, at 12%.
10. Rupert
Closing out this list is Rupert, the largest city of Minidoka County, Idaho with 5,554 residents as of the 2010 census. Also known as "Christmas City, USA," Rupert has a senior population of 14% of the total population. There are about 0.36 retirement communities and 0.89 recreation centers, each per 1,000 residents. The city provides its residents with 1.96 medical centers per 1,000 residents.
Retirement Tips
Having trouble deciding where you want to settle down? If none of these Idaho cities called to you, there are still a ton of other options out there. Outside of the Gem State, perhaps consider retiring to other low-key places like New Mexico or Wyoming.
You should start saving for retirement as soon as you can. But it's not always easy, with other priorities and emergency expenses getting in the way. To help maximize your savings, you could enlist the help of a financial advisor. Finding an advisor is as easy as taking our short quiz that can match you with up to three qualified advisors in your area. This advisor matching tool can help you get started on streamlining your finances right away. An advisor can help you plan for things like the estate tax.
Photo credit: ©iStock.com/vkbhat, ©iStock.com/JoanBudai, ©iStock.com/4nadia