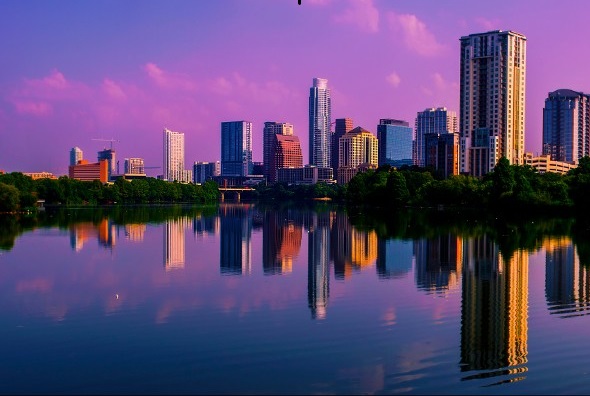 Texas is the second-largest state in the U.S. by area. It offers a varied landscape, both in terms of terrain and cost of living. To get a sense of the overall cost of living in The Lone Star State, you need to delve into not only state-wide metrics, but also those of individual municipalities. While Texas has plenty of large cities, there are also places where prices and wages are rather low.
Housing Costs in Texas
What's your mental image of the quintessential Texas home? Is it a farmhouse in the country? A big Dallas mansion? A modern ranch home outside Austin? Whatever you think of when you think Texas houses, you should also be thinking of low prices. As a matter of fact, NeighborhoodScout data shows that 70.2% of the homes in Texas have a price of $247,000 or less.
As a state, Texas has a $166,374 median home value, according to NeighborhoodScout. It's higher in the big cities, though. In Dallas, the median home value jumps to $186,829, but the big outlier here is Austin, where the median home value sits at $322,291.
Like much of the nation, Texas home prices are steadily increasing. NeighborhoodScout found that, from 2013 to 2018, Texas homes have experienced 7.36% appreciation annually. It's slowed a bit of late, as data from 2017 to 2018 shows the annual appreciation rate has dropped to 6.29%.
Overall, Texas is a favorable state for renters. More specifically, the median rate for studios, one bedrooms and two bedrooms is $731, $844 and $1,049, respectively, according to Apartment List data from 2019. When compared to the national averages of $827, $947 and $1,175 for the same apartment types, things look pretty good here.
Some of the larger cities in Texas have higher rates, though. Arlington has a $1,232 median two bedroom rent, which is $57 above the national mark. Similarly, Frisco sits at $1,585 for a two bedroom.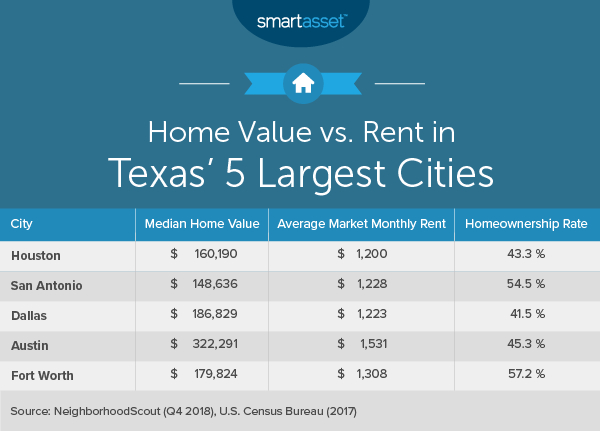 Utilities
When it comes to utilities, Texas is a mixed bag. That's because some parts of the state have a deregulated market for utilities, while cities including El Paso and San Antonio have utility monopolies. According to the Texas Tribune, customers in deregulated markets pay more for utilities than those in monopoly cities. Still, the deregulated market is getting more affordable and savvy customers can find deals.
According to 2017 data from the U.S. Energy Information Administration (EIA), the average monthly energy bill in Texas in 2017 was $122.47. That's almost 10% higher than the U.S. average of $111.67.
Food
Texas is famous for its cuisine, which ranges from Tex-Mex to barbecue to chili to Texas toast. According to the MIT Living Wage Calculator, a single adult with no children living in Texas should expect to spend $2,994 on food in a year. On the other hand, a family of two working adults with two children will spend $8,822 on food per year.
Food prices vary somewhat by city, though. According to 2019 data from Numbeo.com, a gallon of milk and a pound of apples costs $3.09 and $2.01, respectively, in Austin. In Dallas, these prices shift to $2.48 and $1.71. Numbeo also recommends a $289.14 monthly food budget for residents of Dallas, as well as a $320.04 for anyone living in Austin. These statistics assume bare minimums, though.
Taxes
Here's the good news: Texas has no state income tax or estate taxes. This makes it an especially solid place for retirees to move to. If you're curious about how your finances could differ in Texas, try speaking with a financial advisor.
Sales tax in the Lone Star State ranges from 6.25% to 8.25%, with a gas tax of 20 cents per gallon. Like many states that have no income tax, the property taxes in Texas are on the higher side. The average effective property tax rate is 1.86%. Property tax rates in some counties even surpass 2.00%.
Healthcare
Of the eight Texas metro areas in a 2016 report from the Health Care Cost Institute, seven of them boast median healthcare prices at or above the national mark. The highest healthcare prices in The Lone Star State are in Dallas (16%) and Houston (10%). The lone exception is the Corpus Christi area, which is 4% below the national median.
Miscellaneous Cost of Living Facts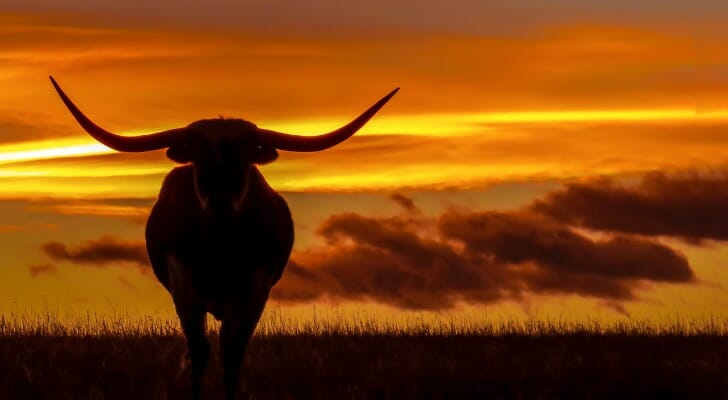 The minimum wage in Texas is $7.25, the same as the federal minimum wage. According to the MIT Living Wage Calculator, though, this rate is far off the actual living wage for a single adult with no children in Texas. By MIT's calculations, the living wage in Texas for such an individual is actually $11.48. For two adults with two children, the MIT living wage jumps to $14.78.
Next Steps for Your Move to Texas
Photo credit: iStock/RoschetzkyIstockPhoto, iStock/DawnKey