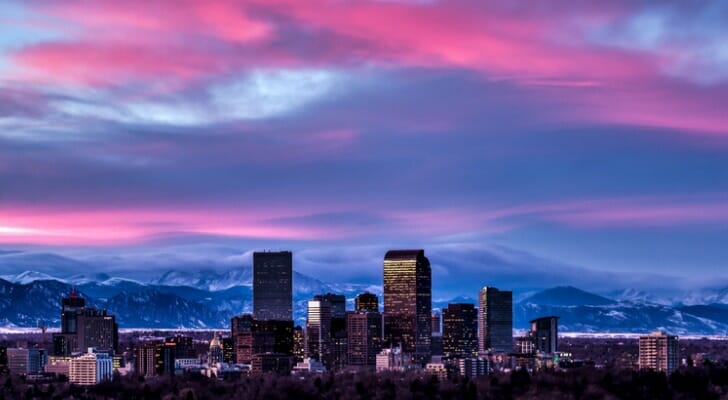 Nestled in the Rocky mountains in the American Southwest, Denver has a lot to offer. For skiers and other outdoor enthusiasts, Denver is a dream destination. And if you enjoy physical training and sports, working out at Denver's mile-high elevation will give you an edge. Rent prices in Denver are also lower than most other major cities in the U.S. But is living in this wintry paradise an affordable venture?
Home Prices
Between 2000 and 2018, Denver homes appreciated by 127.67%, according to NeighborhoodScout. That makes it one of the most positive-trending housing markets in the country.
Because of this stark growth, the values of homes in Denver have become somewhat out of reach of the typical homebuyer. As of the end of 2018, National Association of Realtors data shows the median sales price of a single-family home in the Denver metro areaa is $438,300. As a reference, this is surprisingly higher than even New York City ($403,900) and Washington, D.C. ($417,400).
If you have your sights set on buying a home in Denver, you may want to look into what kind of house you can afford. Once you do this, try evaluating what your mortgage payments could look like via our Colorado mortgage calculator. If you still have questions, consider working with a financial advisor that can help you.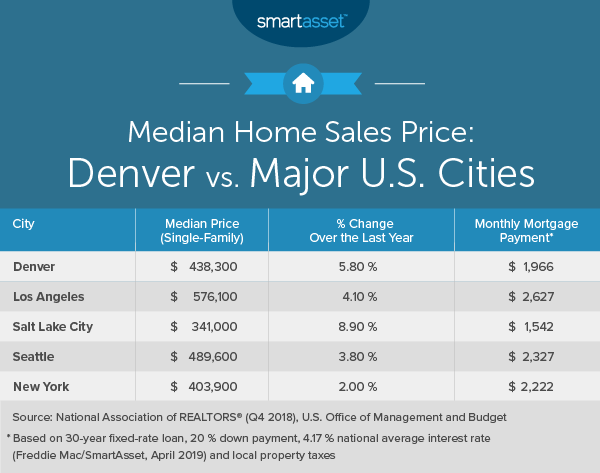 Rent
Despite NeighborhoodScout reports indicating that 51% of Denver residents are renters, rental prices in the city are a bit high. A March 2019 report from Apartment List estimates the median rent for a standard two bedroom apartment in Denver to be $1,347. That alone is $172 above the $1,175 national median.
If you're okay with downsizing to a one bedroom apartment, or even a studio, the prices get cheaper, but the comparison to the national median doesn't change much. For example, the studio and one bedroom median rents in Denver are $871 and $1,064, respectively. That's $44 and $117 off the U.S. medians.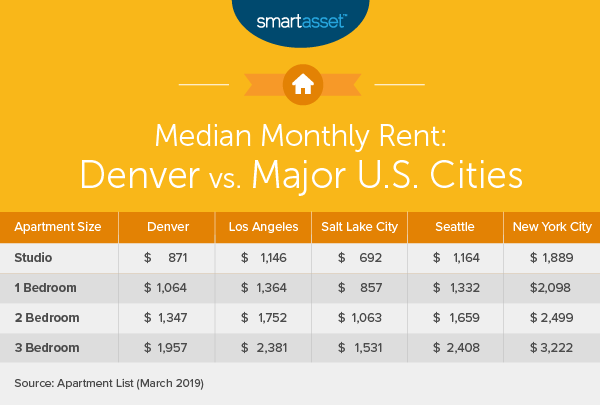 Utilities
Utility costs in Denver are well below the national average, according to Numbeo.com (May 2019). The data shows that a basic utilities package of electricity, heating, water and garbage for a 915-square foot apartment costs an average of $124.01 in Denver. That's almost $30 cheaper than the national average of $152.06. Denver's internet prices are also slightly below the national average. At $57.35 they're just under the $62.51 U.S. average.
Food
Now that you've got an idea of how much housing and utilities will run you in Denver, let's talk food. A three-course meal for you and a date at a mid-range restaurant in Denver will cost you about $60, according to Numbeo.com. That's $10 higher than the U.S. average of $50. Want to grab a domestic beer after dinner? That will cost you $4.99 in Denver, which is a full dollar pricier than the national mark.
Transportation
Denver residents famously love to run, hike and bike their way around the city. But even the most active among us have other transportation needs.
Denver's monthly public transit passes are priced at different levels depending on whether you want local, regional or airport service. For local service only, you'll pay $114 for a monthly pass. Upgrade to regional service and it will cost you $200. If you find yourself traveling to the airport often, your rides are included with a regional pass.
For some Americans, driving everywhere is a way of life. According to GasBuddy, Denver residents who drive will pay a per gallon gas price of of $2.77, slightly less than the national average of $2.86. The good news is that Denver gas prices are below the average for Colorado ($2.82).
Healthcare
Residents of Denver are known for being health-conscious exercise-lovers, but everyone needs a doctor sometimes. According to a 2016 study by the Health Care Cost Institute, a resident of the Denver metro area pays 13% more for healthcare than the U.S. median. As a consolation, the entire state of Colorado appears to experience high healthcare costs.
What You Need to Earn
If you're moving to Denver, you want to be sure that your salary will enable you to maintain a decent standard of living. According to MIT's living wage calculator, a living hourly wage for one adult with no children in Denver County is $13.87. Unfortunately, the minimum wage in Colorado is just $10.20.
As you might expect, living wages rise as your family gets larger. Data from MIT shows that one adult with one child will require $29.02, while one adult with two children calls for $33.54. Two adults who are both working need only earn $10.94. That rises to $15.74 if they have one child and $18.19 if they have two children.
Miscellaneous Cost of Living Facts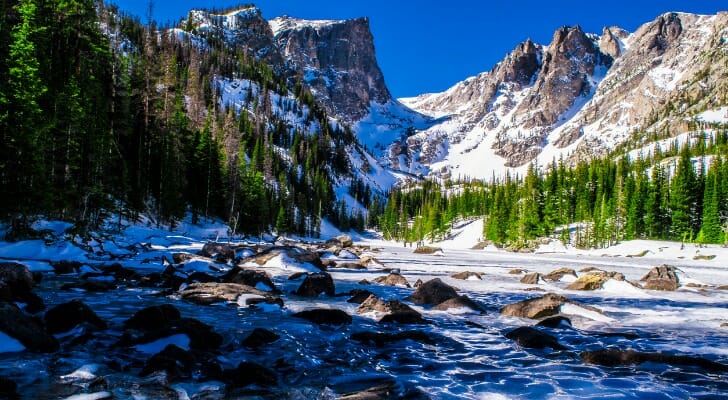 Denver residents recently approved an increase in sales and use taxes to fund city preschools. The city sales tax now stands at 4.75%. That may sound low, but it's not the only component of the sales tax you'll pay on purchases in Denver. Add in the state sales tax of 2.9%, a Regional Transportation District (RTD) tax of 1% to fund transit and a 0.1% Cultural Facilities District tax and you've got a sales tax rate of 7.65% in Denver.
And if you're wondering about one of Colorado's more famous products, the sales tax on recreational marijuana is 15%. There's also a 15% excise tax on top of the state rate. When all is said and done, the marijuana tax in Denver is 32.9%.
What to Do Next for Your Move to Denver
Moving to a new city means big changes to your finances, especially if you're buying a home. A financial advisor can be extremely helpful during this process. Finding the right financial advisor that fits your needs doesn't have to be hard. SmartAsset's free tool matches you with financial advisors in your area in 5 minutes. If you're ready to be matched with local advisors that will help you achieve your financial goals, get started now. SmartAsset also has an in-depth review of the top 10 financial advisor firms in Denver.
The bank you choose to deposit your money with can have a significant bearing on the future of your finances. If you're unfamiliar with banks in the Colorado area, here area a few to pick from: BOK Financial, Glacier Bank, Crescent Bank & Trust, Liberty Savings Bank and Grand Valley Bank.
Photo credit: © iStock/Planet Unicorn, © iStock/Jeremy Janus