Ask Our Retirement Expert
Have a question? Ask our Retirement expert.
More From SmartAsset
Ask Our Retirement Expert
Have a question? Ask our Retirement expert.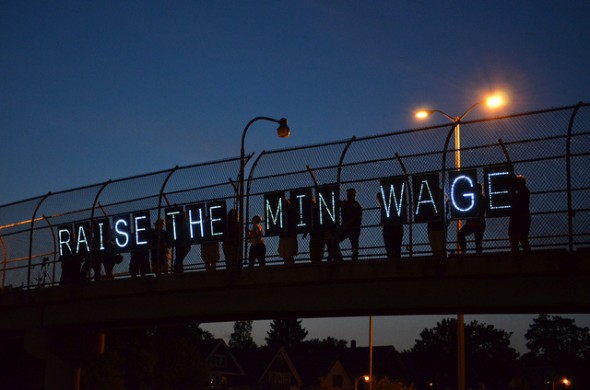 For some time now, national debate has centered around whether or not to raise the federal minimum wage. The current minimum wage is $7.25. Former President Obama advocated for gradually raising the minimum wage to about $10 an hour. Recently, the Congressional Budget Office reported, that both sides of the debate held some merit, as there are benefits and some drawbacks to raising the minimum wage.

The Upside
The main upside or benefit from raising the minimum wage, the CBO found was that raising the wage to about $10.10 per hour, could lift as many as 900,000 people out of poverty. These numbers come from looking at the current poverty rates of low wage workers, in particular. By increasing the minimum wage by almost three dollars more an hour, these workers would better be able to support themselves and their families.
A second benefit, to raising the minimum wage, is not only will it raise many low wage workers out of poverty, but will help the overall economy. Naturally, the more money workers earn through wages, the more they have to spend as consumers. Thus, those higher wages will be passed on through greater levels of spending power. These are major benefits, especially when we consider the economy that is still struggling to recover.
The Downside
The CBO's report was not all positive, however. While raising the minimum wage has some upside, there are also potential downfalls. The main potential negative impact of raising the minimum wage is the loss of close to 500,000 jobs, which comes out to around 0.3% decrease in employment. The job losses could occur as a result of higher wages placing a greater strain on companies, which could lead to cutting jobs, reducing employee hours, and other methods to save the company money. The CBO reported that this number is not a definite, and that 500,000 may be an overestimate or could be a low ball and job losses could get as high as 1 million.
Economists from the White House say that job losses may actually be closer to zero given the other benefits of increasing the minimum wage. For example, higher wages tend to reduce turnover, so employers will save on hiring and training new employees. Furthermore, the more low wage workers make, the more they will spend, which can help to offset the cost of higher wages for many companies.
The debate over raising the federal minimum wage has been ongoing for some time now. What appears to be the main sticking point is just how will higher wages impact businesses, individuals, and the overall economy and what should the wage be raised to? The report from the CBO suggests that raising the minimum wage will help individual low wage earners, while having somewhat of a negative impact on businesses.
Update: So many people reached out to us looking for tax and long-term financial planning help, we started our own matching service to help you find a financial advisor. A matching tool like SmartAsset's SmartAdvisor can help you find a person to work with to meet your needs. First you answer a series of questions about your situation and your goals. Then the program narrows down thousands of advisors to three fiduciaries who meet your needs. You can read their profiles to learn more about them, interview them on the phone or in person and choose who to work with in the future. This allows you to find a good fit while we do most of the hard work for you.
Photo Credit: flickr