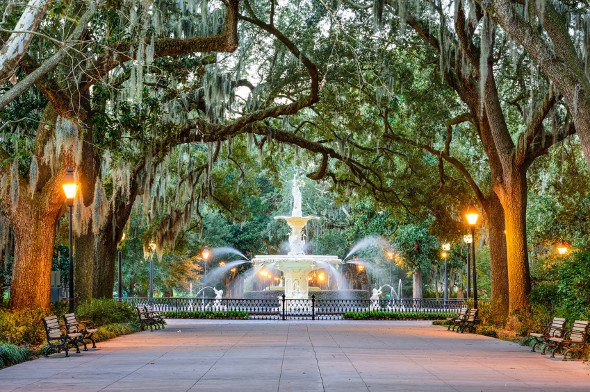 Georgia has quite a lot to offer its residents. For example, the state has reasonable home prices, as well as rents that come in below the national median. On the other hand, utility bills in Georgia fall within the top 10 most expensive in the U.S. Of course, your cost of living will depend in part on the city you choose to live in, but there are some significant statewide trends, too. When moving to a new area you should get your finances in order first because it can be a costly endeavor. Working with a financial advisor can provide you with the professional guidance you need to align your finances with your desired goals.
Housing Costs in Georgia
The statewide median home value is $306,113. In Atlanta, the state's largest city, the median home value is nearly $410,000, though. Home appreciation rates have shown sizable growth in Georgia over the last several years especially. NeighborhoodScout data indicates that from 2013 to 2018, homes increased in value by 7% annually. If you look at just 2017 to 2018, the rate slides up to 8.23%, and that's before the housing boom of the past couple of years.
On a state level, Georgia's median rents are quite a bit cheaper than much of the rest of America. But if you were to rent a two-bedroom apartment in Atlanta, you'll pay a median rent of $1,861. This is much higher than the median for the rest of the state which sits at $1,450.
Cost of Utilities
According to a report from the U.S. Energy Information Administration (EIA), the average monthly energy bill in Georgia is $126.38. That's $14.71 above the national average of $111.67.
Georgia's average monthly utility costs put the Peach State in the middle of the pack relative to its neighbors. The Georgia average is higher than Tennessee ($123.30), but lower than South Carolina ($140.80) and Alabama ($142.55). Aside from Hawaii ($149.33), South Carolina and Alabama have the highest energy bills in the country.
Food Costs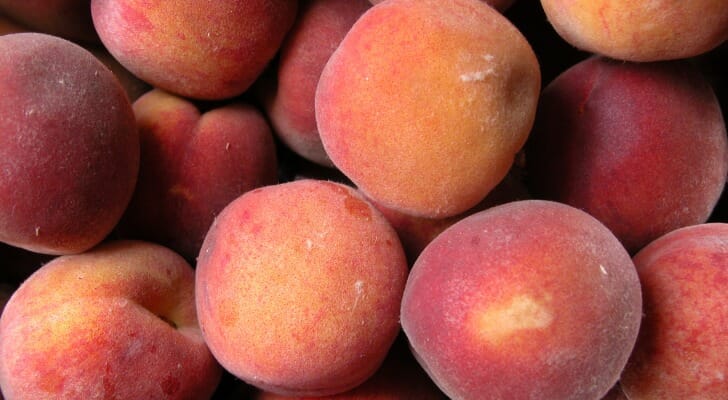 Prices for groceries in Georgia are slightly below the national average. The Missouri Economic Research and Information Center's 2018 cost of living analysis gives the cost of groceries in Georgia a score of 97.7, compared to the national average of 100. Index scores on grocery prices in the 50 states range from 91.4 in Mississippi to 124.2 in Hawaii.
According to Numbeo.com, a person could spend $312.65 a month on food in Atlanta. In Macon, that number shrinks to $288.46. Either way, each of these estimates comes in beneath the $323.72 U.S. average.
Transportation Costs
Georgia is a state where driving is common. Traffic in the Atlanta metro area is notoriously bad. A 2018 study by EducatedDriver.org shows that Atlanta residents commute for an average of 62 minutes per round trip. It goes on to show that if you began working at 18 years old, you'd lose 484 total days commuting in the city.
According to GasBuddy, the average price of a gallon of gas in Georgia is just $2.72. That places it as the 15th lowest price in the U.S. Insure.com's data from 2019 indicates that the state has the 11th highest average annual car insurance premium in the nation at $1,777. That works out to $148 a month.
Taxes in Georgia
Georgia has a progressive income tax system. Rates range from 1% to 6%, with six tax brackets in total. Any single filer with income over $7,000 will pay that 6% rate.
As for property taxes, they're on the low side in Georgia. The median annual real estate tax payment in Georgia is around $800 less than the national average, at $1,413. Property tax rates vary by county, with a range from 0.45% to 1.66%.
College Education Expenses
There are plenty of great places to get a college education in Georgia and the in-state tuition is reasonable compared to many other universities across the country. Prices vary widely, though, depending on whether the institution is public or private. Here are a few examples:
University of Georgia (2019-2020, per semester): $13,725 (in-state)/$23,568 (out-of-state)
Georgia Southern University (2018-2019, per semester): $9,341 (in-state)/$16,082 (out-of-state)
Georgia State University (2018-2019, per semester): $5,429 (in-state)/$14,716 (out-of-state)
Miscellaneous Georgia Cost of Living Facts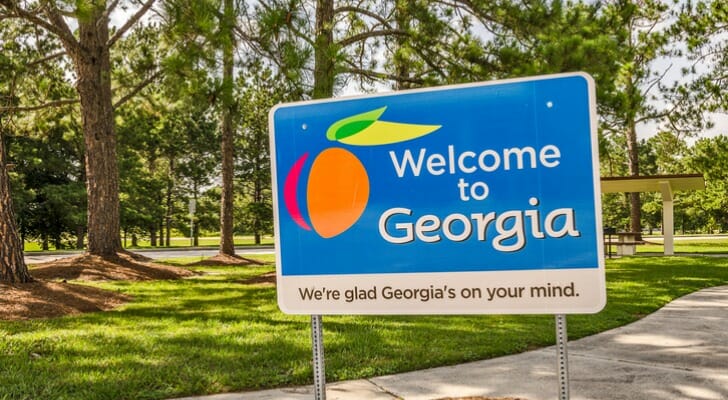 According to Statista.com, the average ticket price to see the Atlanta Falcons play professional football is $104.08. If that's too steep for you, you can catch a Braves baseball game for just $31.71. Basketball fans can see the Hawks for an average price of $36.82. If you prefer history to sports, you can visit the Martin Luther King, Jr. National Historic Site free of charge.
The Bottom Line
If you're considering a move to Georgia then the costs can be a huge benefit, especially if you're wanting to move outside of the Atlanta area, which can be more expensive. Georgia is one of the more affordable states in the country to live in and there are plenty of things to do whether you're single or a family. Before moving it's important to take a hard look at your budget and make sure your finances are in order to cover the new cost of living.
Tips for Moving
Moving to a new area can bring a lot of changes to your financial situation. To manage the change, you might consider working with a financial advisor. Finding the right financial advisor that fits your needs doesn't have to be hard. SmartAsset's free tool matches you with up to three financial advisors who serve your area, and you can interview your advisor matches at no cost to decide which one is right for you. If you're ready to find an advisor who can help you achieve your financial goals, get started now.
When most people pick a bank to deposit their money with, they tend to stick with them for an extended period of time. When you move to a new state, though, you'll likely be forced into joining forces with a different bank. Here are some of your local options in Georgia: South Georgia Banking Company, The Heritage Bank, BankSouth, Northeast Georgia Bank and Southcrest Bank.
Photo credit: © iStock.com/Sean Pavone, © iStock.com/matka_Wariatka, © iStock.com/suesmith2