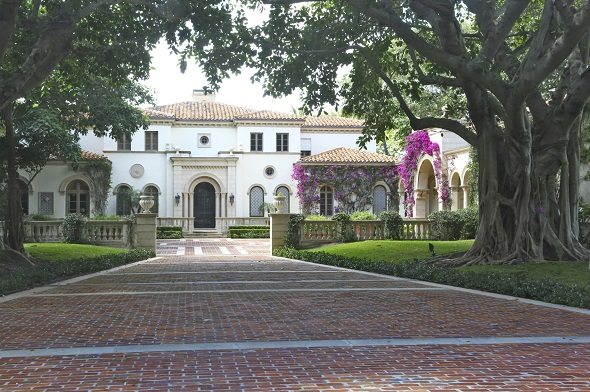 What does your dream house look like? For some, it must include a swimming pool. Others want a 10-car garage to fit their collection of Lamborghinis. Those who prefer the urban lifestyle might opt for a Manhattan penthouse with views of Central Park, while those who love the mountains might be more interested in a Montana ski chalet. In any event, there's one thing almost all dream homes have in common: they're big.
In the market for a mansion? Compare mortgage rates here.
Since most of us will never own a mansion, the best we can do is ogle at those that belong to others. (See: MTV Cribs.) If you do have the budget for a mansion, however, you might want to start your housing search in Utah: the Beehive State is home to all three of the metro areas with the most mansions. If you prefer a locale that is less land-locked, the Connecticut coast might be a good choice. For warmer weather, check out Honolulu and Atlanta.
To find the cities with the most mansions, SmartAsset analyzed Census Bureau survey data on people living in America's largest 100 metro areas. We calculated the percentage of owner-occupied homes that have at least five bedrooms and 15 rooms total.1 The total includes living spaces only, not storage closets, bathrooms, hallways and so on.
Find out now: What is a jumbo loan?
Key Findings
Big homes in Utah. Maybe it's because Utah has the largest average household size of any state, but there sure are a lot of mansions in the state's three largest metro areas. Provo-Orem, Ogden-Clearfield and Salt Lake City all have mansion ratios of more than 1.4%. Only four other U.S. metros broke the 1% mark. (Provo-Orem is way ahead of the pack, at 2.4%.)
5 in 1,000 houses are mansions. Across the 100 metro areas we analyzed, about 0.5% of homes had at least five bedrooms and at least 15 rooms total. That means that (in these cities) only the top half of the top 1% of homeowners live in a mansion.
The Top 10 Metro Areas with the Most Mansions
1. Provo-Orem, Utah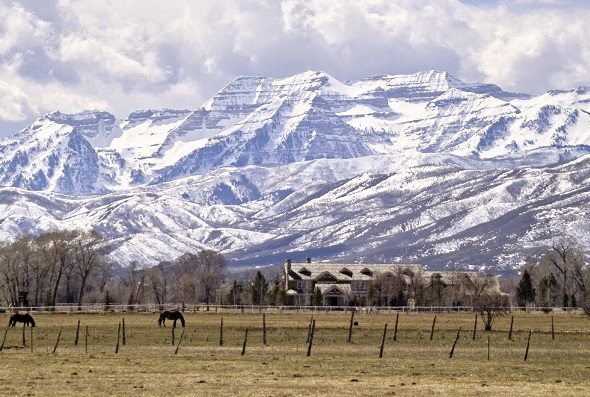 The Provo area has one of the strongest regional economies in the nation, posting major job growth in recent years. Families in Provo are also much larger than those in the rest of the country, with an average household size of 3.62 (the national average is 2.63).
Perhaps that combination of an economic boom and large families has led to the abundance of mansions in the Provo metro. Or maybe people in Provo simply love giant houses.
In either case, our analysis found that more than 2.4% of homes in the Provo metro area have at least five bedrooms and fifteen rooms total. That is easily the highest number in the metro areas we studied. In fact, it is more than double the percentage of mansions in every other major U.S. metro save three.
(Note: the mansion pictured above is east of Mount Timpangogos, opposite Provo. It is therefore not part of the Provo metro area. Nice view though.)
2. Ogden-Clearfield, Utah
Can't find your ideal mansion in Provo? Drive north an hour to the Ogden area, which has a crop of mansions itself. The Shadow Valley area in south Ogden is particularly well-stocked with big houses, many of which have brilliant views from the slopes of the Wasatch Mountains.
Find out now: Can you afford a mansion in Utah?
3. Salt Lake City, Utah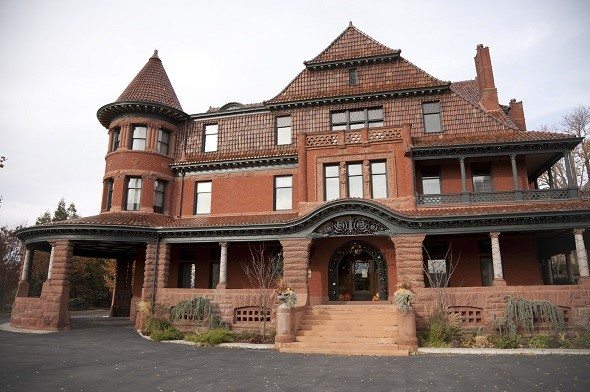 Utah's biggest metro area isn't quite as mansion-filled as the Provo and Ogden metros, but it beats every other major U.S. city. Our analysis found that 1.44% of houses in Salt Lake City have at least five bedrooms and at least fifteen rooms total.
The city of Holladay, located southeast of Salt Lake City, might be a good place to begin any mansion hunt. It has a high concentration of multi-million dollar homes. As of this writing, Zillow lists 14 homes of over 10,000 square feet for sale in Holladay alone.
4. Bridgeport-Stamford-Norwalk, Connecticut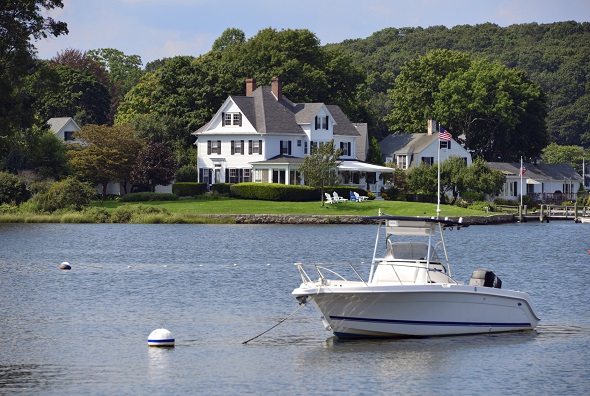 Located on the shores of the Long Island Sound north of New York City, the Bridgeport metro has long been one of the wealthiest areas in the United States. As of 2014, the metro area's median household income was $85,925. That's 60% higher than the national average.
Even $80,000 per year would not be enough to make the mortgage payment on a multi-million dollar mansion, however. Many of the Bridgeport area's mansions cost upwards of $5 million. If you want moorage for your yacht, expect to pay even more.
5. Washington, D.C.
The Washington, D.C. metro area (which includes parts of Virginia and Maryland) is home to some of the nation's most famous mansions. There's the White House of course, which after several centuries of improvements slides in at 53,000 square feet and is worth north of $100 million dollars (ignoring the historical value and the fact that it will never, ever be for sale). There's also George Washington's famous Mount Vernon crib, an 11,000 square foot plantation house on 500 acres of waterfront real estate.
Not in a position to buy the headquarters of the U.S. executive branch or a designated National Historic Landmark? No problem – about 1.1% of D.C. area homes have at least five bedrooms and fifteen rooms total.
If you're looking for a mansion within the district itself, northwest D.C. neighborhoods such as the Palisades and Westmoreland Terrace may be your best bet. Just remember: it's going to cost you.
6. Atlanta, Georgia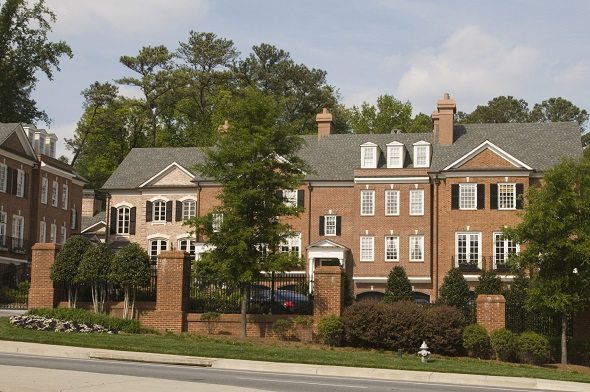 Atlanta's Buckhead district, located in the northern part of the city, may have the highest concentration of mansions of any urban neighborhood in the country. Some zip codes in Buckhead have median household incomes of more than $100,000.
For example in 30327, which stretches from the northern end of Atlanta into Sandy Springs, an Atlanta suburb, the median income is $147,852. As of this writing Zillow lists more than 30 homes of 10,000 square feet or more for sale in that zip code alone.
7. Honolulu, Hawaii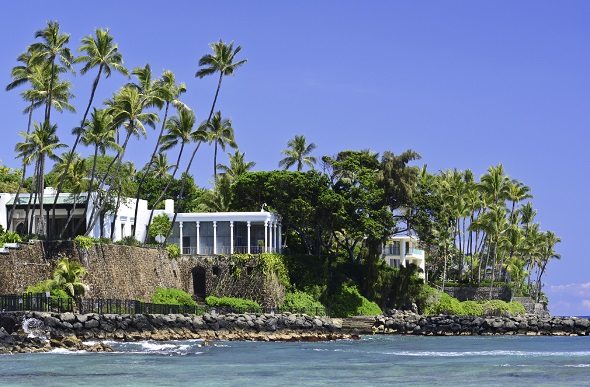 If you'd like your mansion to include easy access to great surfing and perfect weather twelve months a year, the island of Oahu may be the place for you. In the Honolulu metro area (which includes the entire island), about 1 out of every 100 homes has as least five bedrooms and at least fifteen rooms total.
Not all of these are beach front of course, but plenty are, and many more have their own swimming pool. If you get stuck in a mansion without a pool or beach access, you may have to use one of the many nearby public beaches. Poor you.
8. Orlando, Florida
The Orlando metro area is one of the few Florida metros that doesn't touch the sea, but if waterfront property is your thing there are still plenty of options nearby. Mansions line many of the inland lakes surrounding Orlando. The town of Windemere, for example, is practically busting with mansions (such as the Cartmel Castle).
9. Raleigh, North Carolina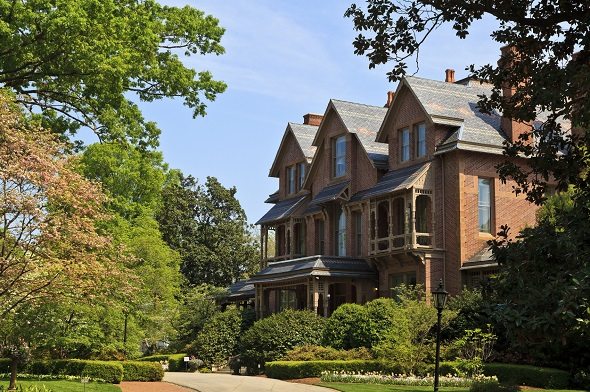 The North Carolina capital city has been growing rapidly in recent years. Between 2013 and 2014 the metro area population increased by 2.3%, placing it among the country's 15 fastest-growing metros. Between 2000 and 2010, the city's population increased by more than 40%.
It appears that, despite all that growth, there's still plenty of space for mansions. Our analysis found that 0.84% of homes in the Raleigh area have at least five bedrooms and 15 rooms total.
10. Oxnard-Thousand Oaks-Ventura, California
The Oxnard-Thousand Oaks-Ventura metro area (which is coterminous with Ventura County) sits along the Pacific Coast between Los Angeles and Santa Barbara. While it doesn't have the cachet of nearby Los Angeles County locales such as Malibu and Hidden Hills, Ventura County isn't lacking for star power.
Westlake Village, for example, is or was home to such icons as Joe Montana, Jamie Foxx and Will Smith. The median home value in Westlake Village (which straddles the Ventura County-Los Angeles County border) is $928,800, according to Zillow.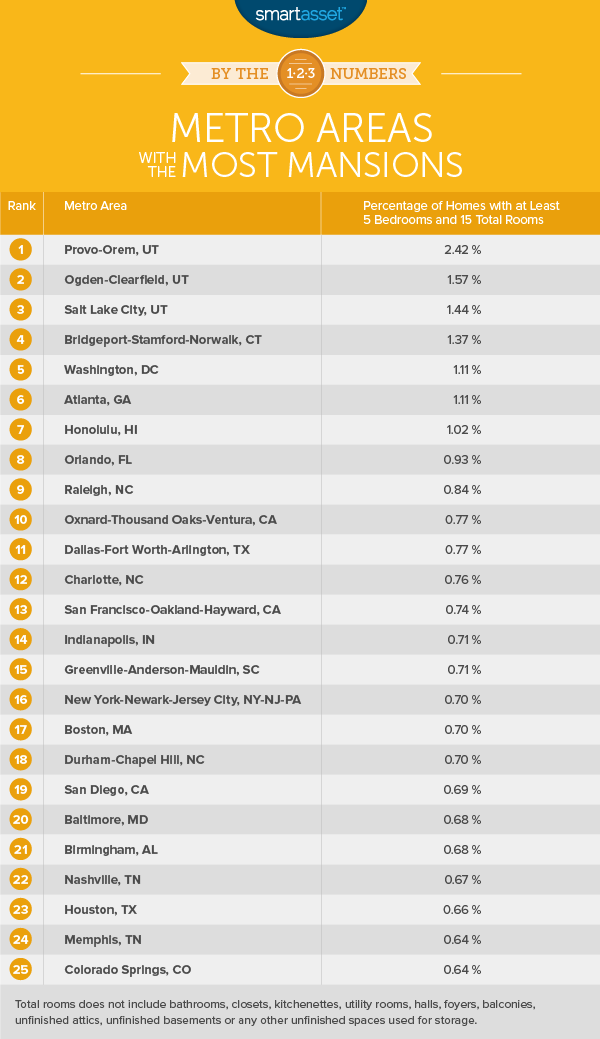 Questions about our study? Contact us at blog@smartasset.com
Photo credits: ©iStock.com/Manakin, ©iStock.com/Justin Horrocks, ©iStock.com/nesneJkraM, ©iStock.com/mtcurado, ©iStock.com/Klaas Linkbeek- van Kranen, ©iStock.com/Robert Cravens, ©iStock.com/JillLand
---
1. Public-use Census survey data is "top-coded" to protect the identity of survey respondents. Homes with a higher number of bedrooms or total rooms than the top-coded amounts (5 and 15 respectively, in many states) are recorded as having 5 or more bedrooms and 15 or more total rooms.