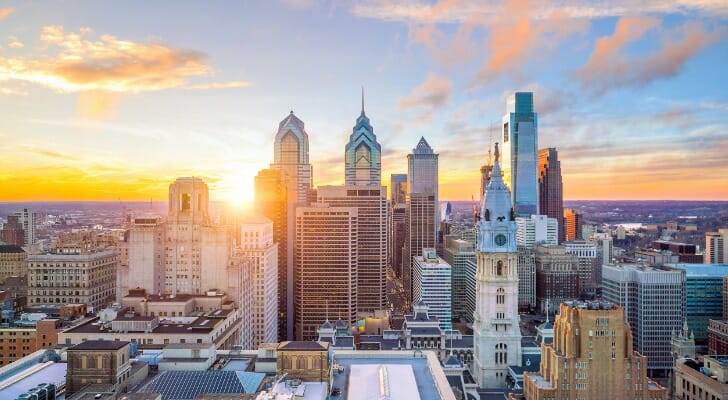 Philadelphia, the City of Brotherly Love, offers both colonial charm and modern attractions. As far as cost of living goes, Philadelphia isn't as expensive as bigger cities like New York or San Francisco. There are also relative bargains to be had in the housing market for both renters and home buyers. You'll also enjoy the low income taxes of the state of Pennsylvania.
Philadelphia Housing Costs
You can still find a single-family home in the Philadelphia metro area for under $300,000. As a matter of fact, according to 2018 data from the National Association of Realtors, the median sale price for such a home in Philly is $224,600. That makes the city's market significantly cheaper than other East Coast cities like New York ($403,900) and Boston ($460,300).
Despite nearly 70% of the Philadelphia housing market consisting of homes worth $238,000 or less (NeighborhoodScout, 2018), Philly boasts solid long-term appreciation rates. More specifically, the market appreciated by 141.16% from 2000 to 2018. That's one of the best rates in Pennsylvania.
Philadelphia Rent
Unlike most major cities, the cost of renting in Philadelphia is fairly affordable. If you're looking for a two bedroom apartment in the City of Brotherly Love, you'll pay a median rate of $1,169, according to Apartment List. That's $6 below the national median, which is $1,175.
Thinking about downsizing to a one bedroom apartment? For anyone looking to do this, the median rent is $968 in Philly. In the end, that's a mere $21 more expensive than the $947 mark for the U.S. as a whole. If you're unsure whether renting or buying is a better financial move for you, try consulting with a financial advisor.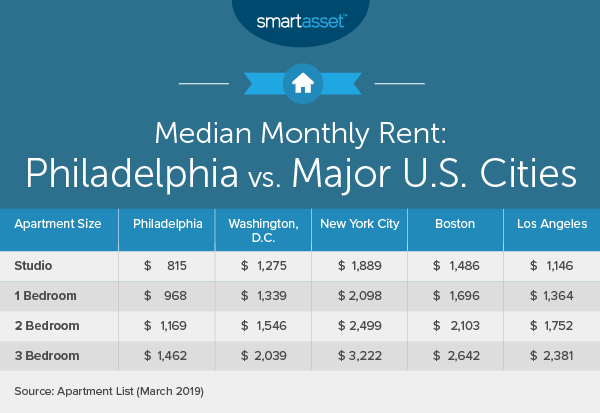 Utilities in Philadelphia
Numbeo.com's May 2019 data places the average monthly utility bill in Philadelphia at $145.61. That's for a 915-square foot apartment, and includes electricity, heating, water and garbage. This is just below the national average, which is $152.11.
Want to add on internet? You can expect to pay around $67.50 a month in Philly. The average monthly internet bill for the U.S. as a whole is $62.52, which is about $5 cheaper than Philadelphia.
Philadelphia Food Prices
According to May 2019 data from Numbeo.com, the minimum recommended amount to spend on food for a day in Philadelphia is $13.70, for a monthly minimum of $424.84. That means you'll spend around $100 more on food in Philly than the $324.43 U.S. average.
If you want to eat out, you can expect to pay $15 for a meal at an inexpensive restaurant in Philadelphia. The average price for a three-course meal for two at a mid-range restaurant jumps up to $60.
Want to sample one of the city's famous Philly cheese steaks? A cheesesteak hoagie from the renowned Dalessandro's will cost you $9. At Geno's Steaks, a cheesesteak goes for $9.25.
Taxes
The average effective property tax rate in Philadelphia County is 0.98%. That's a bargain compared to Allegheny County (home to Pittsburgh) which has an average effective property tax rate of 2.08%.
Proponents of the flat tax system will be glad to hear that Pennsylvania has a flat income tax rate of 3.07%. That's the lowest rate of any of the eight states with a flat income tax. On top of that tax rate, Philadelphia also charges a municipal income tax, known as a "local earned income tax," which is 3.891%.
The statewide sales tax in Pennsylvania is 6%. Philadelphia has an added 2% sales tax, for a total of 8%. That's about on par with New York City, which has a sales tax rate of 8.875%. It's lower than Chicago's 10.25% sales tax, the highest of any city in the country.
Miscellaneous Cost of Living Facts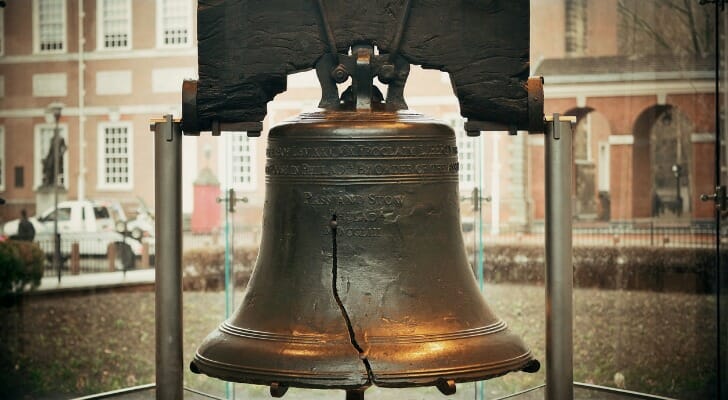 Anyone interested in U.S. history should be able to find plenty of free entertainment in Philadelphia. Whether you're wandering the historic streets lined with colonial homes, visiting Independence Hall or strolling through Reading Terminal Market, there's tons of things to do.
Philadelphia has plenty to offer sports fans. To get a ticket to game, you'll pay the following prices:
Philadelphia Eagles (NFL): $105.69 (Statista.com, 2018)
Philadelphia 76ers (NBA): $38.46 (Statista.com, 2015/2016)
Philadelphia Phillies (MLB): $36.04 (Statista.com, 2018)
Philadelphia Flyers (NHL): $74.65 (Statista.com, 2014/2015)
No tour of the Philadelphia arts scene would be complete without a visit to the Philadelphia Museum of Art (PMA), which isn't just famous for that scene in Rocky. Admission to the museum is $20 for an adult. But on the first Sunday of every month and every Wednesday after 5 p.m., you can pay whatever you want to get in. If you pay admission, you'll get two consecutive days of access to the museum, as well as the Rodin Museum, the Perelman Building and the Cedar Grove historic house.
Another jewel of Philadelphia's art scene is the Barnes Foundation, formerly located outside of the city but now in a convenient location down the road from the PMA. Members get in free, while admission for non-members costs $25. Children 12 and under get in for free.
Tips for When You're Moving
Photo credit: © iStock/f11photo, © iStock/rabbit75_ist