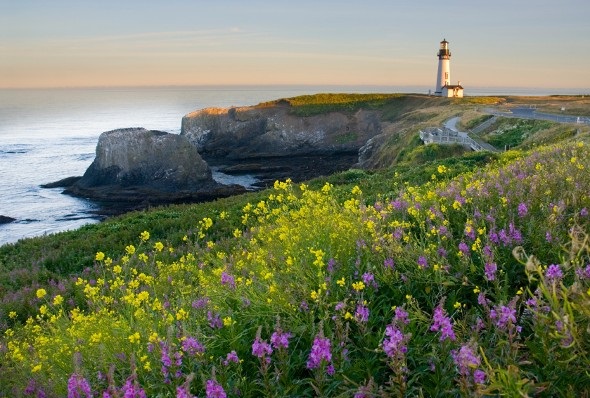 Oregon has plenty to offer anyone that loves nature. The Beaver State is known as a great place to visit, but there are also many benefits to calling it home. Whether you're drawn to the artisanal offerings of Portland, the wine country of the Willamette Valley, the mountains of the Cascades or the Pacific coast, you'll find natural beauty and a laid-back lifestyle here. As far as cost of living goes, Oregon is fairly affordable, though its income taxes are on the higher side.
Housing Costs in Oregon
As a state, Oregon's median home value is $340,027, according to NeighborhoodScout. More than two-thirds of the homes in the state fall between $130,954 and $523,432. On a city to city basis, values of homes can shift. In Portland, the median home value is $464,496, while Medford's is $283,699.
NeighborhoodScout data also shows that, from 2013 to 2018, the Oregon market saw strong appreciation of 8.61% annually. These numbers are down from 2017 to 2018, though, as values have grown by just 6.19% during this time frame.
Rent prices hew very closely to national medians, with one bedrooms coming in at $982 and two bedrooms at $1,205. That's according to Apartment List data from 2019.
Rents in Oregon's biggest city, Portland, come in higher: Here, one bedrooms have an $1,130 median monthly rent, while a two bedroom will cost you $1,334.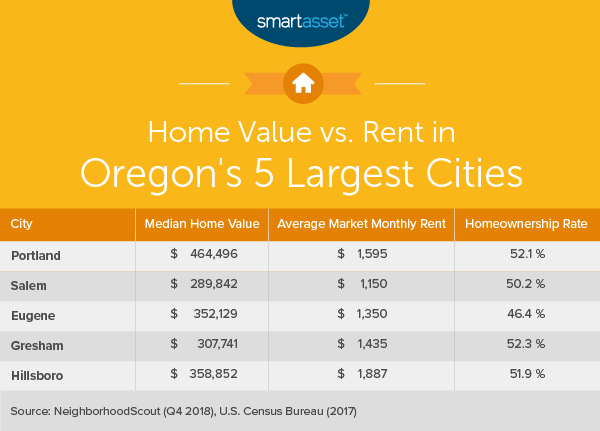 Utilities
According to the U.S. Energy Information Administration (EIA), the average monthly energy bill in Oregon in 2017 was $103.26. That places the state right around the middle of the pack, as its figure is $8.41 less than the national average.
According to Numbeo.com, the average utility bill in Portland, Oregon is $174.97. That's for a hypothetical 915 square-foot apartment and includes electricity, heating, water and garbage. In Eugene, the average monthly utility bill shrinks to $120.96, while Salem sits in the middle at $155.13.
Transportation
If you live in Oregon, some road-tripping to see the state's beautiful scenery should be on the docket. According to GasBuddy (May 2019), the average price of a gallon of gas in Oregon is $3.40., which is the fifth-highest in the U.S. The national average is $2.90.
GasBuddy reports also show that prices can vary a fair amount throughout the state. As of May 2019, a gallon of gas in Salem goes for $3.32, while the price in Medford is $3.51.
The average annual car insurance premium in America is $1,457, according to an April 2019 report by Insure.com. Oregon has the 19th lowest average premium in the country at $1,286.
For public transportation, a 30-day pass on Portland's TriMet system will cost you $100, the same as a month of public transit in Los Angeles. Anyone who's 65 and over, who's on Medicare or who has a disability is eligible for a reduced fare of $28.
Food
According to the MIT Living Wage Calculator, a single adult with no children living in Oregon will spend $3,573 a year on food. The MIT data also indicates that the annual living wage for such an individual is $27,280. From this, we can infer that about 13.1% of Oregon residents' income will pay for sustenance.
Healthcare
Many of the metro areas on the West Coast have high healthcare prices, based on 2016 data from the Health Care Cost Institute. The worst of these are San Francisco and San Jose, which come in at 64% and 82% above the national median, respectively. The Portland metro area has slightly better, but still high prices, as it stands 18% above the U.S. median.
Taxes
Oregon is, simply put, a high-tax state. The state's progressive income tax system has rates ranging from 5% to 9.9%. That top rate of 9.9% is the third highest in the U.S., behind California and Hawaii.
At the same time, Oregon has no sales tax. That goes for state-level sales taxes and local sales taxes, too. Plus, the average effective property tax rate in Oregon ranges from 0.61% to 1.28%.
Miscellaneous Cost of Living Facts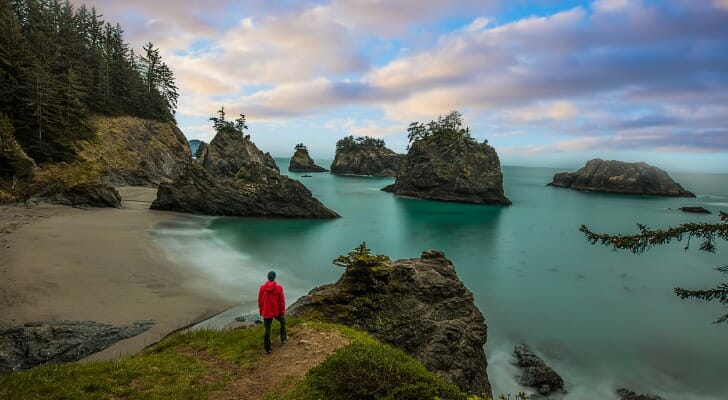 Oregon has plenty of trails and national parks to keep nature-lovers happy. A car pass to Oregon's famed Crater Lake National Park costs $25 in the summer and $15 in the winter. To get into Mount Rainier National Park, it'll run you $30 per car.
Nature not your thing? Go for a free brewery tour at Bend, Oregon's famous Deschutes Brewery. For $20 you can also check out the Portland Art Museum. The museum offers free admission on the first Thursday evening of every month.
Tips for Moving to Another State
Having a financial plan in place when you move to a new state can help you overcome a lot of unforeseen obstacles. Financial advisors are known for handling situations like this, as well as helping you plan for long-term goals like retirement. Finding the right financial advisor that fits your needs doesn't have to be hard. SmartAsset's free tool matches you with financial advisors in your area in 5 minutes. If you're ready to be matched with local advisors that will help you achieve your financial goals, get started now. SmartAsset has also put together a list of the top financial advisor firms in Oregon.
One of the biggest financial decisions you'll have when moving to another state is where you will deposit your money. If you're moving to Oregon, here are a few local banks you can pick from: Pioneer Trust Bank, Heritage Bank, American Plus Bank, Open Bank and Mega Bank.
Photo credit: © iStock.com/PicWorks, © iStock.com/Adam Goldberg Photography