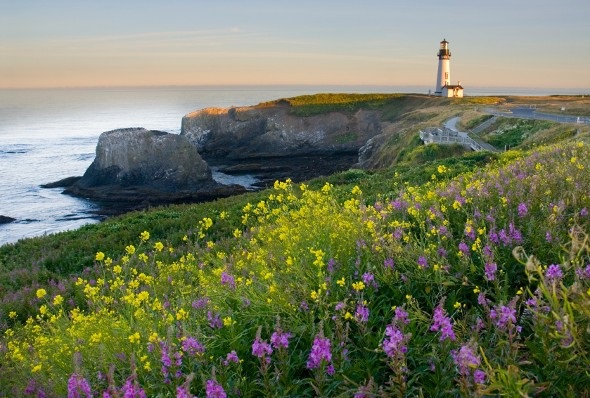 Love nature? You'll love Oregon. The coastal state can be a great place to visit and a great place to live. Whether you're drawn to the artisanal offerings of Portland, Oregon, the wine country of the Willamette Valley, the mountains or the coast, you'll find a laid-back lifestyle. But is Oregon affordable? Read on for our guide to the cost of living in Oregon, from housing and healthcare to transportation and taxes.
Oregon Housing
As of August 2017 the median home value in Oregon was $314,400, according to Zillow. Between 2016 and 2017, Oregon home values increased 9.5%.
There's plenty of home value variation between Oregon cities. The median value in Portland is $414,800. In Eugene, it's $276,200. Looking for a more affordable home? The median home value in Salem, Oregon is $239,800.
Check out the chart below to see how the sale prices for homes in Oregon's largest cities stack up. You can also see current mortgage rates in Oregon here.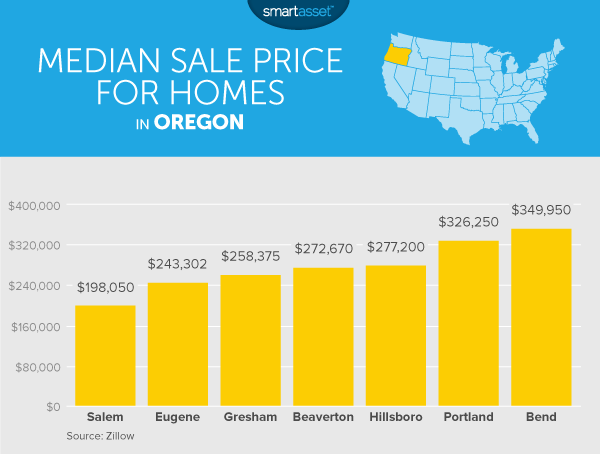 Oregon Rent
Rent in Oregon is on the expensive side. According to myapartmentmap.com, the average rent for an Oregon studio is $1,090, $18 over the U.S. average. One-bedrooms rent for an average of $1,107, $109 over the national average.
Want to rent a two-bedroom apartment in Oregon? You can expect to pay around the average rent of $1,301. That's $80 higher than the U.S. average. Three-bedroom apartments rent for an average of $1,590. That's $59 more expensive than the national average for a three-bedroom place.
The average rent in Oregon is more expensive than in nearby Idaho, Nevada and Montana, but less expensive than in Washington and California.
Utilities
According to the U.S. Energy Information Administration, the average electric bill in Oregon in 2014 was $97.29. That's about 15% below the U.S. average of $114.11.
According to numbeo.com, the average utility bill in Portland, Oregon is $113.42. That's for a 915-square-foot apartment and includes electricity, heating, water and garbage. In Eugene, the average monthly utility bill is $105.53. In Salem, utilities average a much pricier $164.74.
Transportation
If you live in Oregon it's likely you'll want to do some road-tripping to see the state's beautiful scenery. So how much will you pay for gas? According to gasbuddy.com, the average price of a gallon of gas in Oregon is $2.30. That's 14% above the national average and puts Oregon in the club of the states with some of the highest gas prices.
In Eugene a gallon of gas has an average price of $2.29. In Salem gas averages $2.26 per gallon and in Portland you'll pay an average of $2.32. The vast majority of Oregon residents commute to work by car. According to an INRIX study, Portland is the 28th-largest city in the U.S. but has the 13th-worst traffic.
Prefer public transportation? A 30-day pass on Portland's TriMet public transit system will cost you $100, the same as a month of public transit in Los Angeles. Those 65 and over, people on Medicare and people with a disability are eligible for a reduced fare of $28.
A one-month pass on Eugene's public transit will cost you $50, with a reduced fare of $25. A 30-day transit pass in Salem will cost you between $45 and $85, depending on the routes you need to access. Reduced fares cost between $22.50 and $42.50.
Food Prices in Oregon
According to the Bureau of Labor Statistics, "for the year ending in the first half of 2015, food prices [in Oregon] rose 3.6 percent. Prices for food away from home advanced 4.4 percent during the past 12 months, and prices for food at home increased 3.3 percent."
According to the U.S. Department of Commerce's Bureau of Economic Analysis, per capita annual consumption of "food and beverages purchased for off-premises consumption" in Oregon was $3,308 in 2014. That's 19% higher than the U.S. average of $2,780.
Healthcare
According to Castlight Health, the average cost of a preventive primary care visit in Portland, Oregon is $206. Prices range from $102 to $305. A lower-back MRI carries an average price of $1,654 in Portland. Prices for both a primary care visit and a lower back MRI are higher in Portland than they are in Seattle.
What about health insurance premiums? According to research by the Kaiser Family Foundation, the average cost of Marketplace health insurance premiums in Oregon increased 16% between 2015 and 2016. For coverage in 2016, the lowest-cost silver plan in Oregon costs $248, up from $213 in 2015.
Taxes
Real talk: Oregon is a high-tax state. The state's progressive income tax system has rates ranging from 5% to 9.9%. There are four tax brackets and that top rate of 9.9% is the third highest in the U.S., behind California and Hawaii. Check out the chart to see how Oregon's income tax compares to other high-tax states.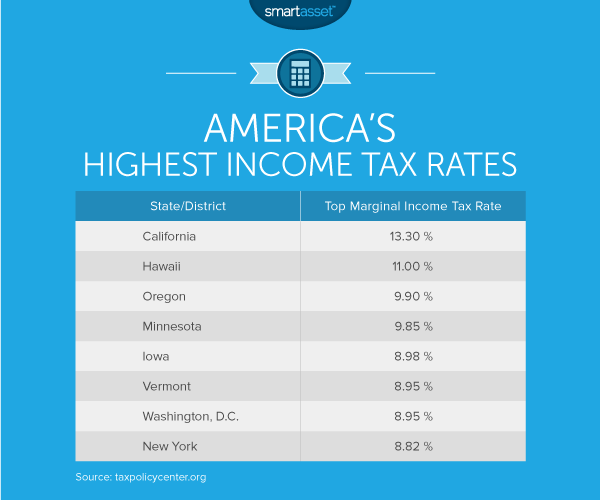 But there's good news for those who don't like paying taxes. Oregon has no sales tax. That goes for state-level sales taxes and local sales taxes, too. Plus, the average effective property tax rate in Oregon is 1.037%, lower than the national average. Property tax rates vary by county and range from 0.62% to 1.22%.
If you would feel more comfortable with professional financial planning advice when dealing with Oregon's high tax landscape, you can take a look at the top financial advisor firms in Oregon.
Extras
Oregon has plenty of trails and national parks to keep nature-lovers happy. Want to visit Oregon's famed Crater Lake National Park? A car pass to enter the park costs just $15, compared to $30 at Grand Canyon National Park. Nature not your thing? Why not go for a free brewery tour at Bend, Oregon's famous Deschutes Brewery? Or, for $19.99 you can check out the Portland Art Museum. Don't want to spend that much? The museum offers free admission on the first Thursday evening of every month.
Next Steps
If you're preparing for a move to the Beaver State, it can be helpful to know how the change will affect your budget, so you can plan accordingly.
If you'll be switching jobs, your paycheck may end up looking quite different than it does now. Try using our paycheck calculator to estimate what your take-home pay will be.
A financial advisor can help you navigate life changes like a cross-country move, or help you meet your financial goals in general. A matching tool like SmartAsset's can help you find a professional to work with to meet your needs. First you answer a series of questions about your situation and your goals. Then the program matches you with up to three advisors who meet your needs. You can then read their profiles to learn more about them, interview them on the phone or in person and choose who to work with in the future. This allows you to find a good fit while doing much of the hard work for you.
Photo credit: © iStock.com/PicWorks