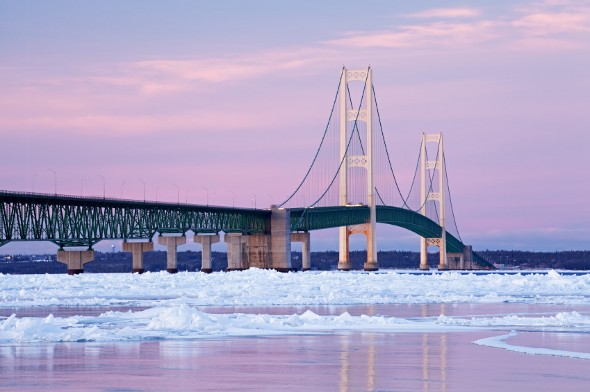 Perhaps you're drawn to the revitalized city of Detroit or the natural beauty of the Upper Peninsula. Regardless of where you want to move, the cost of living in Michigan can differ from city to city. So if a move to Michigan is in the cards, make sure you plan for major costs, like food, housing, taxes, utilities and more.
Housing Costs in Michigan
According to NeighborhoodScout, nearly 70% of Michigan residents own a home, which places it in the upper echelon of the U.S. as far as homeownership rates go. In two of the state's largest cities, though, this trend evaporates. In Detroit, just 47.2% of residents own a home. In Ann Arbor, the rate falls even further to 41.5%.
There are also certain markets throughout Michigan that have extremely varied median home values. While the state's median home value is $161,063, Detroit's is a minuscule $48,188. The median home value in Ann Arbor is almost 10x that at $416,498.
Not ready to make a down payment? You'll have to rent while you save up or until you decide whether you're ready to settle down. The good news is that rent in Michigan is below the U.S. average, whether you go with a studio, a three bedroom apartment or anything in between.
It is extraordinarily cheap to rent in Michigan. Apartment List data from 2019 has the median monthly rent for a two bedroom apartment there at $915. That comes in at $260 less than the $1,175 national mark. Detroit is largely to blame for this disparity, as rent for a two bedroom in the Motor City goes for $890 a month.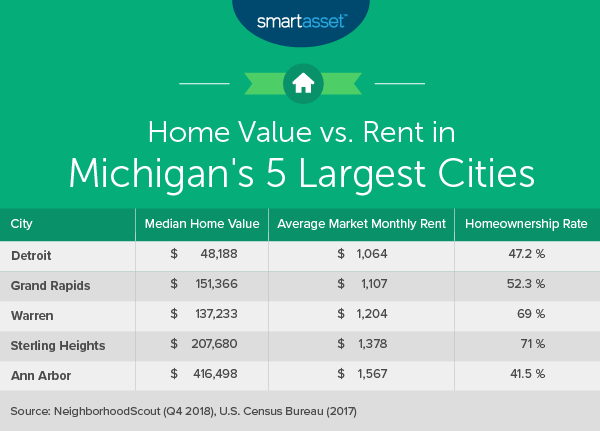 Utilities
A U.S. Energy Information Administration (EIA) report from 2017 puts the average monthly energy bill in Michigan at $97.41. That's $14.26 below the U.S. average of $111.67, which is good for the 11th lowest in the nation.
Food
According to the Living Wage Calculator from MIT, single adults in Michigan spend $3,058 of their $23,490 annual living wage on food. That works out to 13%, which is right around the national average.
Cities within the state differ, though. Numbeo.com data from May 2019 recommends minimum monthly food spending on food of $303.17 in Detroit and $272.72 in Lansing. That's just for basic groceries, though. If you love to eat out, you'll need to adjust your food budget accordingly.
Healthcare
As an overall statement, Michigan's healthcare prices appear to be slightly lower than the rest of the U.S. A 2016 study by the Health Care Cost Institute places the median healthcare price in Kalamazoo at 2% below the national median.
The Agency for Healthcare Research and Quality's 2017 review of the average employee contribution for single coverage healthcare at private companies shows a similar pattern. In fact, Michigan's $1,385 average is $30 less than the national average of $1,415.
Education
The University of Michigan offers a great education for a great price to Michiganders. Undergraduate tuition and fees at University of Michigan, for example, is $7,631 per semester for Michigan residents and $24,675 for non-Michigan residents.
Taxes
Curious about what your tax bill will look like if you live in Michigan? The state has a flat income tax rate of 4.25%. However, cities add their own taxes on top of that rate. This ranges from 5.25% in most of the states to 6.65% in Detroit.
Michiganders pay the ninth-highest property taxes in the country by average effective property tax rate. Michigan's average effective property tax rate is 1.71%.
The state has a base sales tax rate of 6%, with no county or local sales taxes added on. That means sales taxes are the same across the Great Lakes State. Gas taxes in Michigan are high, at 44.12 cents per gallon.
Miscellaneous Cost of Living Facts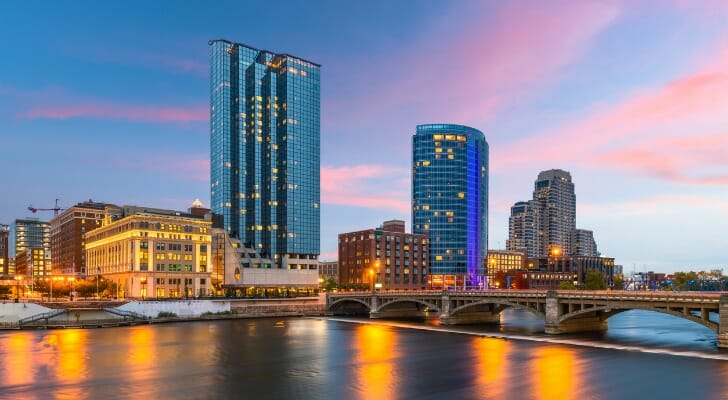 What about the cost of non-necessities in Michigan? There's a range of options for you to pick from.
According to Statista data from 2018, the average ticket price for the Detroit Tigers baseball team is $28.15. If you're more of an art-lover, you can check out the Frederik Meijer Gardens and Sculpture Park, where admission is $14.50 for adults. Or, there's the Detroit Institute of Art, with tickets for $14.
Are you an outdoor enthusiast? You can visit the Grand Island National Recreation Area via ferry for $20 a round trip. If you love history, check out the car-free and history-filled Mackinac Island State Park, no tickets required. Events here do cost money, though.
Next Steps for Your Move to Michigan
Photo credit: ©iStock.com/dpenn, ©iStock.com/Sean Pavone