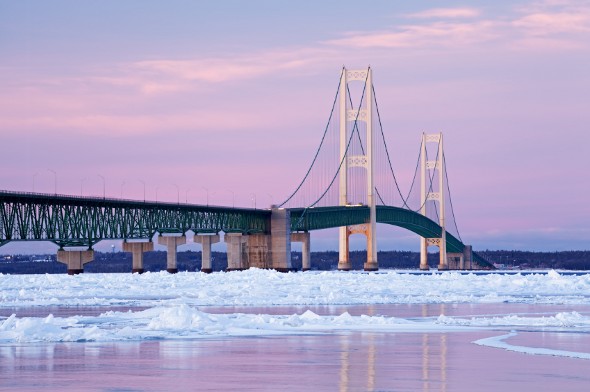 Whether you're drawn to the revitalizing city of Detroit, the natural beauty of the Upper Peninsula or something in between, you're probably wondering how much it costs to live in Michigan. Considering a move to Michigan? Here's what you should know about the cost of living in the Great Lakes State.
Michigan Home Prices
Some Michigan counties are far wealthier than others. That means that the average listing price for homes in Michigan varies widely by county. Don't believe us? Check out the chart below to see how big the spread is between the Michigan county with the lowest average listing price and the Michigan county with the highest average listing price, according to Trulia. The lowest average listing price is in Luce County, and it's just $72,498. The highest average listing price is in Leelanau County at $366,247.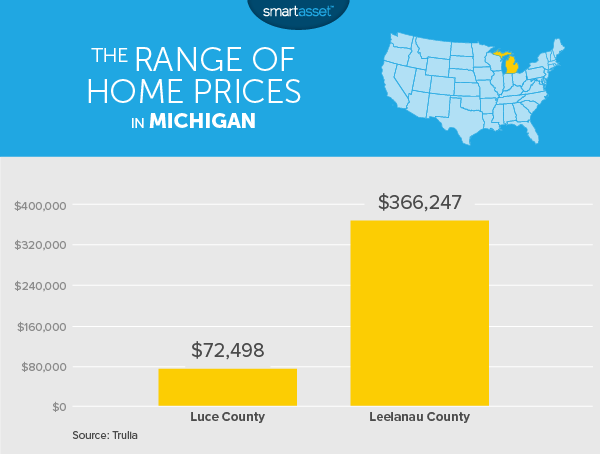 So how do home values stack up statewide? Zillow puts the average home value in Michigan at $121,300.
Find out now: How much house can I afford?
Rent in Michigan
Not ready to make a down payment? You'll have to rent while you save up or until you decide you're ready to settle down. The good news is that rent in Michigan is below the U.S. average, whether you go with a studio, a three-bedroom apartment or anything in between.
According to MyApartmentMap, the average rent for a studio in Michigan is $962, $111 below the U.S. average. A one-bedroom in Michigan rents for an average of $753, $255 under the national average.
Need a bigger place? A two-bedroom in Michigan has an average monthly rent of $972, $267 below average. Three-bedroom apartments are even cheaper relative to the national average. In Michigan, three-bedroom apartments go for an average of $1,197, $349 below average.
Utilities
The U.S. Energy Information Administration puts the average monthly utility bill in Michigan at $94.52. That's 17% below the U.S. average of $114.09.
Food
Compared to the national average (indexed at 100), grocery prices in Michigan come in at 95.5. Numbeo recommends a minimum monthly spend on food of $295.67 in Ann Arbor, $308.38 in Detroit and $410.32 in Grand Rapids. That's just for basic groceries, though. If you love to eat out, you'll need to adjust your food budget accordingly.
Healthcare
For 2016 health insurance coverage, the Michigan Department of Insurance and Financial Services approved a 6.5% increase in the premiums Michiganders pay. They also approved a 1% increase in the amount that small business owners pay. The Kaiser Family Foundation reports that the second-lowest-price Silver plan on the Michigan Marketplace has a monthly premium of $226. That's important because it's the second-lowest price Silver plan in a given marketplace that determines eligibility for premium subsidies.
Education
The University of Michigan offers a great education for a great price to Michiganders. Undergraduate tuition and fees at University of Michigan Ann Arbor's School of Art & Design, for example, is $7,637 for Michigan residents and $23,100 for non-Michigan residents.
Taxes
Curious about what your tax bill will look like if you live in Michigan? The state has a flat income tax rate of 4.25%. However, cities add their own taxes on top of that rate. Check out the chart below to see which cities levy their own income tax rate on top of the flat 4.25%.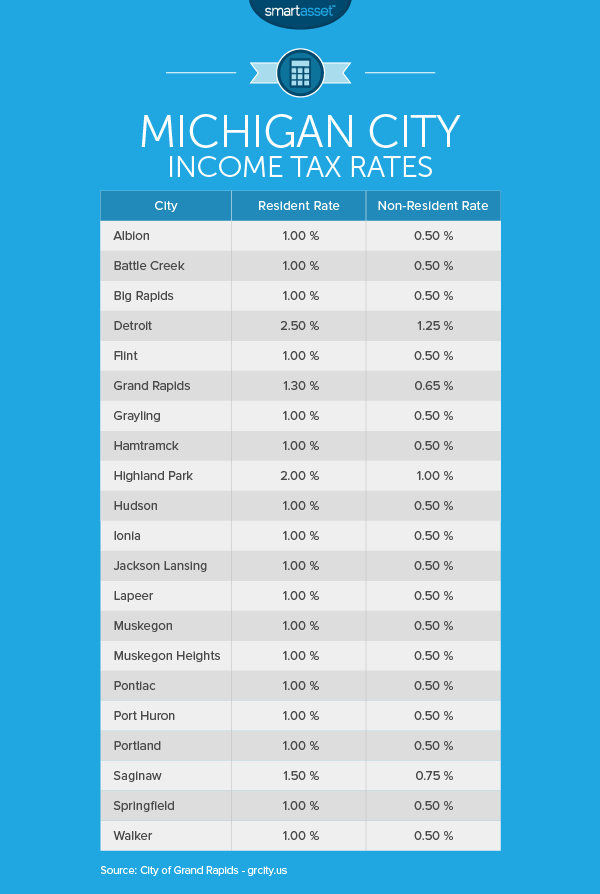 What about property taxes? Michiganders pay the seventh-highest property taxes in the country (by average effective property tax rate). Michigan's average effective property tax rate is 1.83%.
The state has a base sales tax rate of 6%, with no county or local sales taxes added on. That means sales taxes are the same across the Great Lakes State. Gas taxes in Michigan are high, at 30.26 cents per gallon.
Extras
What about the cost of non-necessities in Michigan? There's a range of options. The average ticket price for the Detroit Tigers baseball team is $29. If you're more of an art-lover than a sports fan, you can check out the Frederik Meijer Gardens and Sculpture Park, where admission is $14.50 for adults. Or, there's the Detroit Institute of Art, with tickets for $12.50. Are you an outdoor enthusiast? You can visit the Grand Island National Recreation Area via ferry ($15 round trip). If you love history, check out the car-free and history-filled Mackinac Island State Park, no tickets required.
Next Steps
If you're planning to move to Michigan or you've newly arrived in the state, it can be helpful to know how the change will affect your budget so you can plan accordingly.
If you'll be starting a new job in Michigan, your paycheck may end up looking quite different than it does now. Try using our Michigan paycheck calculator to estimate what your new take-home pay will be.
A financial advisor can help you navigate big life changes like a cross-country move, or just help you to meet your financial goals in general. A matching tool like SmartAsset's can help you find a professional to work with to meet your needs. First you answer a series of questions about your situation and your goals. Then the program matches you with up to three financial advisors who meet your needs. You can then read their profiles to learn more about them, interview them on the phone or in person and choose who to work with in the future. This allows you to find a good fit while doing much of the hard work for you.
Photo credit: ©iStock.com/dpenn