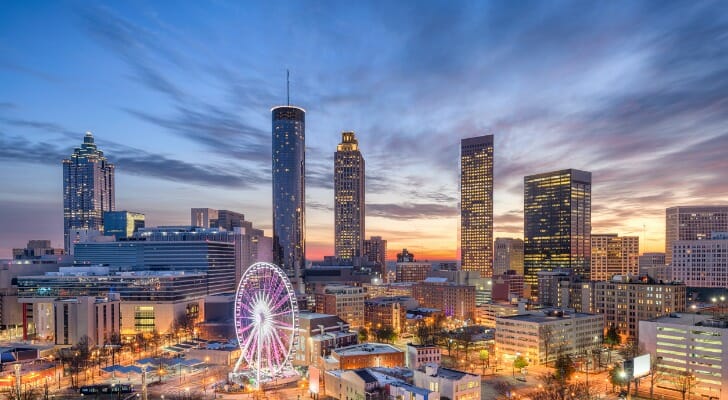 Atlanta combines small-town charm with the hustle and bustle of a big city. The city itself is home to just under half a million people, but the Atlanta Metropolitan Statistical Area (MSA) is home to 5.8 million Americans, and that number keeps growing. Let's look at how the cost of living breaks down in case you're thinking about moving to the area. If you are in the process of moving you may want to consider how mortgage payments factor into your financial picture. If so, you can work with a financial advisor.
Atlanta Home Prices
Like much of the American housing market, the appreciation rates in Atlanta are trending upwards. According to NeighborhoodScout, this cumulative rate has been 124.91% over the past decade. While this might seem like a great rate, it's just above average in comparison to the U.S.
Aside from everything above, the median sales price of a single-family home in the Atlanta metro area is $301,000, according to the National Association of Realtors. That makes home buying in the city a realistic opportunity compared to many other large cities across the country.
Rent Costs in Atlanta
It may be difficult to save up for a down payment if you're planning on renting in Atlanta. The average rent, however, in Atlanta is quite high at $1,861 per month. You can find a one-bedroom for an average price of $1,750 per month, which has only increased by around 1% over the past year. The rent prices can vary by a few hundred dollars per month depending on where you live around town.
Utility Costs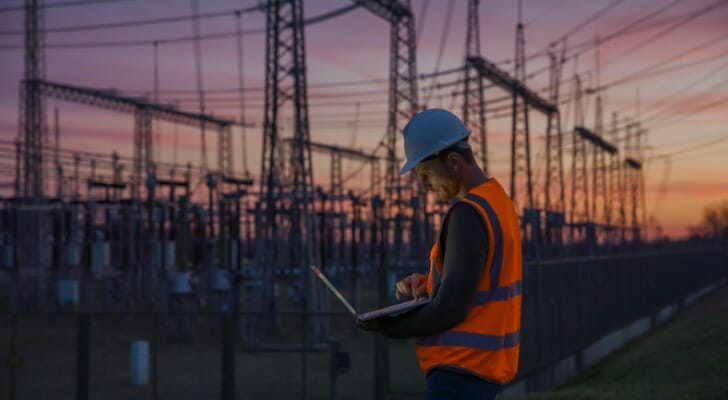 According to an ApartmentList.com report, a basic package of utilities for a 915-square-foot apartment in Atlanta will cost you $188.73 per month. That includes electricity, heating, water and garbage. If you want to add internet, expect to pay around $64 a month, which is only a couple dollars more than the $62.51 U.S. average.
Transportation Costs
A 30-day public transit pass for the Metropolitan Atlanta Rapid Transit Authority (MARTA) will cost you $95. Atlanta is a driving town, though, as long commutes and heavy traffic are a part of life here. EducatedDriver.org data shows that the average daily commute time in Atlanta is 62 minutes, which is near the worst in America.
The average price of a gallon of regular gas in Atlanta during September 2022 is $3.25. This is slightly more expensive than the state average of $3.17, but cheaper than the national average of $3.78.
Taxes in Georgia
Atlanta has a sales tax rate of 8.90% (7.00% for Dekalb and Fulton Counties with a 1.90% additional tax for Atlanta). Georgia holds statewide sales tax holidays twice a year. The first of these is typically around the end of July and is meant to aid parents doing back-to-school shopping. The latter occurs at a different time every year.
The average effective property tax rate in Atlanta's Fulton County is 1.16%. Fulton County residents' median property tax payment is $2,692, the highest in the state.
Residents of the state of Georgia pay a top marginal state income tax rate of 6.00%. This applies to filers with taxable income of $7,000 or more.
Food Costs
According to Numbeo.com, a three-course meal for two in a mid-range restaurant will cost you $50. A meal for one at an inexpensive restaurant has an average price of $15. On a monthly basis, Numbeo estimates that Atlanta residents will need to spend $312.65 for food.
Atlanta has all the tasty treats you'd expect in a Southern city. Popular chains include Waffle House and Chick-Fil-A, but there's a thriving independent restaurant scene too. If you want to sample what the city has to offer, you can attend the annual Atlanta Food and Wine Festival. A one-day pass costs $175, and a three-day pass for the weekend costs $500.
Miscellaneous Cost of Living Facts
To counteract all the Southern delicacies available in Atlanta you may decide a gym membership is worth trying out. If so, expect to pay around$35 a month, according to Numbeo. If you prefer watching sports to exercising, head to Atlanta's Truist Park to see the Atlanta Braves play baseball. You can get a Braves ticket for an average of $61.
It would be a shame to live in Atlanta without exploring the city's rich history. You certainly have a lot of options, and not all of them carry a hefty price tag. A visit to the Martin Luther King, Jr. National Historic Center is completely free. Admission to Atlanta's Jimmy Carter Presidential Library and Museum is free for anyone 16 and under, though adults must pay $12 each. An adult ticket to Atlanta's Center for Civil and Human Rights will cost adults $19.99, whereas tickets for children are $15.99.
You can also buy the Atlanta CityPASS for $86 for adults or $68 per child, which gets you admission to five hallmark attractions in Atlanta. This includes:
Georgia Aquarium
World of Coca-Cola
CNN Studio Tours
Zoo Atlanta or the National Center for Civil and Human Rights
Fernbank Museum of Natural History or the College Football Hall of Fame
For a free outing, you can always head to the BeltLine, an Atlanta project that will grow to comprise 33 miles of multi-use trails converted from an elevated rail track. The BeltLine began as a graduate student's idea in 1999 and opened its first sections in 2005.
The Bottom Line
Any move can be a large change in your life, which is why it's important to weigh the costs of living in your new area before taking the plunge. Atlanta can be a great place to live that is currently enjoyed by millions. Only you will know if the cost of living in Atlanta is something that works for your individual financial situation.
Tips for Moving to Atlanta
Have you decided to start a new life in another city or even another state? A move can have a big impact on your financial situation, especially if you're planning to buy a home. If you'd like some professional help navigating things, SmartAsset's financial advisor matching tool matches you with up to three financial advisors who serve your area, and you can interview your advisor matches at no cost to decide which one is right for you. If you're ready to find an advisor who can help you achieve your financial goals, get started now.
SmartAsset has also reviewed the top financial advisor firms in Atlanta.
Along with possibly partnering with a financial advisor, it would be wise to find a new bank when you make your way to Atlanta. Here are a few local suggestions: Synovus Bank, Citizens Trust Bank, Ameris Bank, Metro City Bank and State Bank and Trust Company.
Photo credit: © iStock.com/Sean Pavone, © iStock.com/wellesenterprises