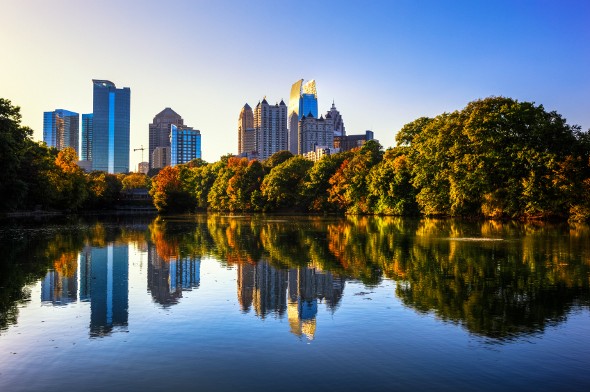 Atlanta combines small-town charm with the hustle and bustle of a big city. The city itself is home to around half a million people, but the Atlanta Metropolitan Statistical Area (MSA) is home to over 5.5 million. It is the ninth-largest metro area in the country. Wondering if Georgia's capital city is right for you? You probably want to know about the cost of living in Atlanta.
Check out our cost of living calculator.
Atlanta Home Prices
According to trulia.com, a one-bedroom home in Atlanta goes for $165,000. A two-bedroom place will cost you around $230,000. Need three bedrooms? You'll pay around $314,000. Four bedrooms will cost you $485,000. That means the average price for all properties is $265,000. That's more than double what it was in 2010, when the average price for all properties was just $130,000.
Find out now: How much house can I afford?
Atlanta Rents
Still not ready for homeownership? While you're saving up for your down payment you'll pay pretty reasonable rent in Atlanta. That could be because the rental vacancy rate for the Atlanta metro area is pretty high. According to the Census Bureau, the Atlanta MSA had a rental vacancy rate of 9.5% for the first quarter of 2015. That's over three times higher than the vacancy rate in the New York MSA. Check out the chart to see average rents in Atlanta.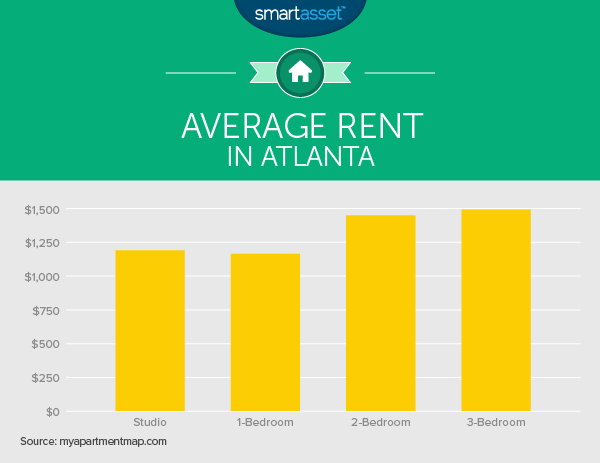 Find out now: Is it better to rent or buy?
Utilities
According to numbeo.com, a basic package of utilities for a 915-square foot apartment in Atlanta will cost you $169.60. That includes electricity, heating, water and garbage. If you want to add internet, expect to pay around the average price of $45.82.
Transportation
A 30-day pass on MARTA, the Metropolitan Atlanta Rapid Transit Authority, will cost you $95. Atlanta is a driving town, though, with long commutes and heavy traffic a part of life, particularly for those in the metro area as opposed to the city center. The good news is that gas is relatively cheap. According to gasbuddy.com, a gallon of gas has an average price of $2.50. That's 5% below the national average.
Taxes
Atlanta has a sales tax rate of 8%. Twice a year the state holds a sales tax holiday. The average effective property tax rate in Atlanta's Fulton County is 1.157%. Fulton County residents' median property tax payment is $2,756. This is the highest in the state. Residents of the state of Georgia pay a top marginal state income tax rate of 6%.
Related Article: The Lowest Taxes in America
Food
Atlanta has all the tasty treats you'd expect in a Southern city. Popular chains include Waffle House and Chick Fil-A, but there's a thriving independent restaurant scene, too. If you want to sample what the city has to offer you can attend the annual Atlanta Food and Wine Festival. A one-day pass will cost you $185. Want a three-day pass? That'll be $575.
According to numbeo.com, a three-course meal for two in a mid-range restaurant will cost you $60. A meal for one at an inexpensive restaurant has an average price of $12. Prefer to cook at home? A pound of chicken breasts will cost you $3.77. A dozen eggs will cost you $2.59. A pound of potatoes? $1.32. Numbeo's recommended minimum amount of money for food for one person in Atlanta is $311.92 per month.
Extras
To counteract all the Southern delicacies available in Atlanta you may decide a gym membership is worth trying out. If so, expect to pay $39 a month. That's a little on the high side compared to other cities of Atlanta's size. Take a look a look at the chart below to see how gym membership prices in the city of Atlanta stack up.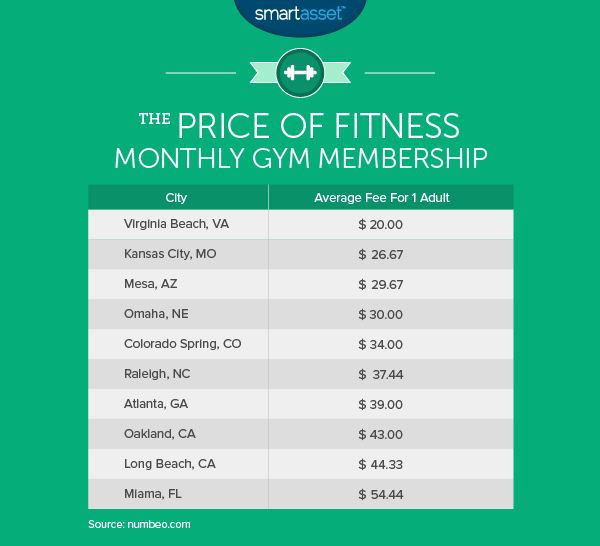 If you prefer watching sports to exercising, head to Atlanta's Turner Field to see the Atlanta Braves play baseball. According to Team Marketing Report, the Braves' average ticket price is $19.14. It's the third lowest in Major League Baseball. The league-wide average is 51% higher, at $28.94.
It would be a shame to live in Atlanta without exploring the city's rich history, right? You certainly have a lot of options and not all of them carry a hefty price tag. A visit to the Martin Luther King, Jr. National Historic Center is completely free. Admission to Atlanta's Jimmy Carter Presidential Library and Museum is free for anyone 16 and under. It costs $8 for adults. An adult ticket to Atlanta's Center for Civil and Human Rights will cost you $15.
You can also buy the Atlanta CityPASS. The $73.25 (plus tax) pass for those 13 and over gets you admission to five Atlanta attractions. They include the Center for Civil and Human Rights or the Atlanta Zoo, the Georgia Aquarium, the World of Coca-Cola, the Inside CNN Studio Tour and the Fernbank Museum of Natural History or the College Football Hall of Fame. The Atlanta CityPASS for children 3-12 costs $59.35 plus tax.
For a totally free outing you can always head to the BeltLine, an Atlanta project that will grow to comprise 33 miles of multi-use trails converted from an elevated rail track. The BeltLine began as a graduate student's idea in 1999 and opened its first sections in 2005. That's right – Atlanta had a "high line" before New York City did.
Photo credit: © iStock.com/MoreISO