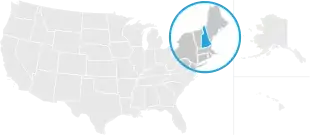 Overview of New Hampshire Mortgages
New Hampshire is known for its White Mountain trails, quaint covered bridges and influential presidential primaries. Historical mortgage rates in New Hampshire tend to be at or below the national average rates. New Hampshire's counties' conforming loan and FHA limits are mostly standard, with a few higher-than-average exceptions.
National Mortgage Rates
Source: Freddie Mac Primary Mortgage Market Survey, SmartAsset Research
Details
Purchase or Refinance
Select Purchase or Refinance
Dismiss
Location
Enter your location
Dismiss
Target Home Value
Enter target home value
Dismiss
Down Payment
Enter down payment
Dismiss
Current Home Value
Enter current home value
Dismiss
Current Mortgage Balance
Current Mortgage Balance
Enter current mortgage balance
Dismiss
Credit Rating
Select Your Credit Rating
Dismiss
Share Your Feedback
How would you rate your experience using SmartAsset's financial advisor matching service so far?
What is the most important reason for that score? (optional)
Please limit your response to 150 characters or less.
Thank you for your answer! Your feedback is very important to us.
Historical Mortgage Rates in New Hampshire
New Hampshire Mortgage Rates Quick Facts
Median Home Value: $345,200 (U.S. Census Bureau)
Loan Funding Rate: 62.68% (CFPB)
Homeownership Rate: 74.0% (St. Louis Fed)
Median Monthly Homeownership Costs: $2,062 (U.S. Census Bureau)
New Hampshire, with its picturesque towns, expansive wilderness and mountain views, is a quintessential New England state. It's also one of the smallest states in the nation, as it's bottom 10 in terms of both size and population.
New Hampshire mortgage rates typically run very close to or below the national average.
A financial advisor in New Hampshire can help you plan for the homebuying process. Financial advisors can also help with investing and financial plans, including tax, retirement and estate planning, to make sure you are preparing for the future.
New Hampshire Historic Mortgage Rates*
| Year | New Hampshire Rate | U.S. Rate |
| --- | --- | --- |
| 2000 | 8.17 | 7.86 |
| 2001 | 7.07 | 6.94 |
| 2002 | 6.60 | 6.44 |
| 2003 | 5.74 | 5.67 |
| 2004 | 5.55 | 5.68 |
| 2005 | 5.75 | 5.85 |
| 2006 | 6.39 | 6.54 |
| 2007 | 6.44 | 6.42 |
| 2008 | 6.05 | 6.06 |
| 2009 | 4.87 | 5.05 |
| 2010 | 4.65 | 4.81 |
| 2011 | 3.96 | 4.56 |
| 2012 | 3.70 | 3.65 |
| 2013 | 3.79 | 3.84 |
| 2014 | 4.01 | 4.13 |
| 2015 | 3.83 | 3.88 |
| 2016 | 3.72 | 3.73 |
| 2017 | 3.97 | 4.03 |
| 2018 | 4.59 | 4.56 |
*The FHFA stopped reporting new data in 2018.
New Hampshire Mortgages Overview
Property values in most of the Granite State are on par with the U.S. average. Of course, some areas of the state (like the cities and towns close to the Massachusetts border) will be more expensive, but overall the state has average prices and home values.
The conforming limit for New Hampshire's 10 counties have a standard conforming loan limit of $726,200, but the FHA limits vary. Rockingham and Strafford have an FHA loan limit in the state of $828,000, while Hillsborough has a limit of $477,250. The other county FHA loan limits are uniform at $472,030.
Conforming and FHA Loan Limits by County
| County | Conforming Limit | FHA Limit |
| --- | --- | --- |
| Belknap | $726,200 | $472,030 |
| Carroll | $726,200 | $472,030 |
| Cheshire | $726,200 | $472,030 |
| Coos | $726,200 | $472,030 |
| Grafton | $726,200 | $472,030 |
| Hillsborough | $726,200 | $477,250 |
| Merrimack | $726,200 | $472,030 |
| Rockingham | $828,000 | $828,000 |
| Strafford | $828,000 | $828,000 |
| Sullivan | $726,200 | $472,030 |
New Hampshire is a "deed of trust" state. This means that when you get a home loan in New Hampshire, you will likely receive a deed of trust in lieu of a mortgage. Lenders who issue mortgages have to go to court to foreclose on the home that the mortgage applies to. If a deed of trust is issued, court can be avoided altogether. Instead lenders can hire a third party to auction the home they are foreclosing and initiate a "power of sale" foreclosure.
There is also a standardized disclosure form that sellers in New Hampshire are required to fill out. This form addresses the physical condition of the home, as well as any defects. Regardless, a quality home inspection is still the best way to feel confident in a property purchase.
30-Year Fixed Mortgage Rates in New Hampshire
If you are looking for a piece of the Granite State to call your own, you're likely in the market for a mortgage. The most common type of home loan is a 30-year fixed-rate mortgage. This home loan can be a good option for buyers who are plan to stay put for a long time. A 30-year fixed-rate mortgage gives you a long time to pay off the loan – 30 years, unless you refinance or make prepayments – and the interest rate remains the same the entire time, which makes it easier to budget.
Other fixed-rate options are 15-year and 40-year terms. With a 15-year fixed-rate mortgage, you will pay off your loan faster and will have a lower interest rate, but monthly payments are higher. A 40-year fixed-rate mortgage is generally a less popular option both because it takes so long to pay off the loan and because you end up paying a lot in interest.
The average New Hampshire rate for a fixed 30-year mortgage is 5.78% (Zillow, Jan. 2023).
New Hampshire Jumbo Loan Rates
New Hampshire county conforming loan limits are uniform at $726,200, except for Rockingham and Stafford, with limits set at $828,000. A conforming loan is one that is at or lower than the conforming loan limit in a particular county. If you take out a loan that exceeds that amount it is what's considered a non-conforming or jumbo loan.
Conforming loans can be re-sold on the secondary mortgage market and are eligible for normal interest rates. Jumbo loans, in contrast, have higher interest rates, which is something to keep in mind if your dream home in New Hampshire requires you to take out a jumbo loan.
The average 30-year fixed jumbo loan rate in New Hampshire is 6.29% (Zillow, Jan. 2023).
New Hampshire ARM Loan Rates
Another home loan option that you will want to be aware of is an adjustable-rate mortgage (ARM). The key distinguishing difference between an ARM and a fixed-rate mortgage is that an ARM usually comes with a lower initial interest rate. That lower rate is offered for a certain period of time between one and 10 years, which is specified in the loan's terms. However, when that period ends, the interest rate can change. While the interest rate can go up or down, it will usually go up. Before deciding if an ARM is the right mortgage option for you, you need to check the loan's terms carefully: the terms will specify the interest rate percentage increase limit per year and overall. That can help you assess whether or not that maximum potential interest rate is one that fits within your budget.
The average rate for a 5/1 ARM in New Hampshire is 5.65% (Zillow, Jan. 2023).
New Hampshire Mortgage Resources
If you need help purchasing a home in the Granite State, there are resources out there to provide financial assistance for homebuyers.
Homebuyers looking for down payment and closing cost assistance can apply with the New Hampshire Housing Finance Authority. You can also find free homebuyer education classes, emergency home repair loans and the Home Start Homebuyer Tax Credit Program for first-time homebuyers.
Available Resources
| Resource | Problem or Issue | Who Qualifies |
| --- | --- | --- |
| New Hampshire Housing Finance Authority | Refinancing, down payment and closing cost assistance, home repair loans and tax credit program. | First-time homebuyers and homeowners who need assistance. |
| USDA Rural Development - Single family loans | Offers payment assistance to increase an applicant's repayment ability. | Applicants must be without decent, safe and sanitary housing; Be unable to obtain a loan from other resources on terms and conditions that can reasonably be expected to meet; Agree to occupy the property as your primary residence; Have the legal capacity to incur a loan obligation; Meet citizenship or eligible noncitizen requirements; Not be suspended or debarred from participation in federal programs. |
Another option that is available in several states is a program from the United States Department of Agriculture Rural Development. The USDA offers programs in rural communities to help residents secure affordable new homes or repair their current homes. It is worth seeing if you qualify for help from the USDA.
New Hampshire Mortgage Taxes
New Hampshire charges transfer taxes on real estate transactions. The transfer tax is $0.75/$100 or 1.50%, which is paid by both the buyer and the seller. There is also a $20 minimum tax on transfers of $4,000 or less.
Homeowners are allowed to deduct the mortgage interest they pay throughout the year from their taxable income when they file federal taxes. In states that allow itemized deductions, homeowners can usually deduct mortgage interest on their state income taxes as well. However, this rule does not apply in New Hampshire because the state does not have an income tax on an individual's W-2 reported wages or a general sales tax.
New Hampshire Mortgage Refinance
New Hampshire homeowners who want to refinance can use the High Loan-to-Value Refinance Option from Fannie Mae. The Home Affordable Refinance Program (HARP) ceased to exist at the end of 2018, so that is no longer an option for homeowners.
The New Hampshire Housing Finance Authority also offers a couple refinance options. The Home Flex refinancing programing is available for government-issued loans and includes low interest rates and no appraisal requirements. Home Preferred refinancing offers a conventional financing option with a low mortgage insurance coverage requirement with limited cash out.
See Mortgage Rates in These Other States