The average home increased in value from $194,500 in 2015 to $205,000 in 2016, according to U.S. Census Bureau data. That is an impressive return of nearly $11,000, or about 5%, for American homeowners. Relative to income that extra $11,000 is equivalent to the average American household receiving a raise of 19% on their annual income. But when it comes to investing in the real estate market, location is everything. Some cities are better bets when it comes to buying an investment property, thanks to more affordable mortgages or lower property taxes.
In order to find the best places to buy an investment property, SmartAsset looked at five factors. Specifically we looked at effective property tax rate, rent-to-home-value ratio, demand for housing, home value appreciation and rent costs. Check out the data and methodology below to see where we got the data and how we put it together.
Key Findings
West is best – If you are looking to make your fortune in the real estate market, head west. Florida and Texas are the only non-western states to rank in the top 25. In fact, only seven states are represented across the top 25 cities.
Invest in California – The top 25 is dominated by Golden State cities. In total nine of the top 25 cities are in California. In general this state has not done a great job of building housing for all the new residents. This has led to growth in home values and rents which is a good sign for people invested in the California housing market.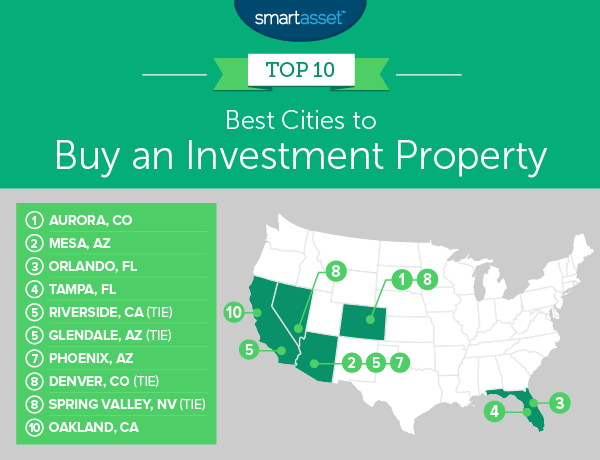 1. Aurora, Colorado
Aurora, Colorado is the best city to buy an investment property. Anyone looking to invest in the real estate market here should have no trouble finding willing renters. According to our data, rent costs have increased by 34% from 2012 – 2016, a sign of strong demand for rental units.
Another sign for optimism in the Aurora real estate market is the rising home values. From 2012-2016, the value of the median home grew by over 43%. What may be driving the increase in prices is the growing population. The number of new people in Aurora outgrew the number of new homes by almost 6% during that same period.
2. Mesa, Arizona
There are three Arizona cities in this top 10, and up first is Mesa. This city has the 10th-lowest effective property tax rate in our study. That keeps the long-term costs of homeownership low in Mesa.
Anyone who invested in the Mesa real estate market in the past few years will have likely already made a profit. The median home here was worth $129,400 in 2012 and $209,000 in 2016. That means the average homeowner would have made a profit of over 61% if they had bought the average home in 2012.
3. Orlando, Florida
Orlando has been booming in recent years. According to Census Bureau data, the population of Orlando grew by 11% from 2012-2016. Over the same time period the number of new homes also grew, but not by enough to meet all the new demand for housing. In total new residents outpaced new homes by nearly three percentage points.
Over that same time period median gross rent grew by under 17% and the median home grew in value by almost 63%.
4. Tampa, Florida
Just southwest of Orlando is Tampa, another great place to invest in real estate. Our data shows that home prices are appreciating quickly in Tampa. From 2012 – 2016, the median home increased in value by nearly 47%.
This is also a good city to invest in the real estate market with a focus on the long term. This city has a lower-than-average effective property tax rate and the average home is only worth about 203 months' worth of the average gross rent.
5. (tie) Riverside, California
Riverside has not done a great job providing housing for all the new residents in the city. According to our data, the number of new residents outpaced new housing stock by nearly five percentage points.
That increase in demand for housing drove prices for homes and rental units up. Average gross rent in this city grew by nearly 19% from 2012 – 2016 and the median home saw its value increase by nearly 55% over the same time period.
5. (tie) Glendale, Arizona
Tied for with Riverside for fifth is Glendale, Arizona. Glendale's low property taxes make the city a great option for someone looking to invest in real estate. According to our data, Glendale has the 24th-lowest effective property tax rate at 0.67%.
But judging by recent trends you won't have to wait too long to see your investment accrue value. In the five years between 2012 and 2016, the median home in Glendale went from being worth $125,000 to being worth $201,000.
7. Phoenix, Arizona
The Phoenix metro area has three representatives in our top 10 and at number seven is Phoenix itself. Large numbers of people are moving to Phoenix. From 2012 to 2016, the population increased from 1.49 million to 1.62 million. Over that time, the number of new homes only grew by about 15,000. That means the population outgrew new housing stock by six percentage points.
The glut of new residents looking for homes to live in is a positive sign for anyone invested in the Phoenix real estate market. From 2012 to 2016, the median home value appreciated by nearly 52%.
8. (tie) Denver, Colorado
Looking to invest in the Denver housing market? You are probably not alone. This city has proven to be a profitable place to own a rental unit. From 2012 to 2016, the average gross rent increased by over 40% while the median home increased by nearly 44%.
The long-term cost of owning a home in Denver is also low. According to our data, the average effective property tax rate in Denver is only 0.47%.
8. (tie) Spring Valley, Nevada
Spring Valley, Nevada comes in tied for eighth. This Las Vegas suburb has seen a stunning population growth which has not been met with new homes. From 2012 to 2016, the number of new residents increased by over 16%, while new homes increased by only 7%.
That has left something of a housing shortage and home values have correspondingly shot up. From 2012 to 2016, the median home value shot up by 54.5%.
10. Oakland, California
The list ends in Oakland. As part of the Bay Area everyone knows this city is becoming expensive. Perhaps driven out by increasing rents in San Francisco, the population of Oakland has outgrown new homes by over 7%. From 2012 – 2016, median home values grew by 63% while the median rental increased in price by 22%.
The only score pulling Oakland down our ranks is the cost of buying a home. A modest investor who tries to pay off their mortgage by renting out the unit will struggle. According to our data, the median home in this city is worth the equivalent of 496 months of rent payments.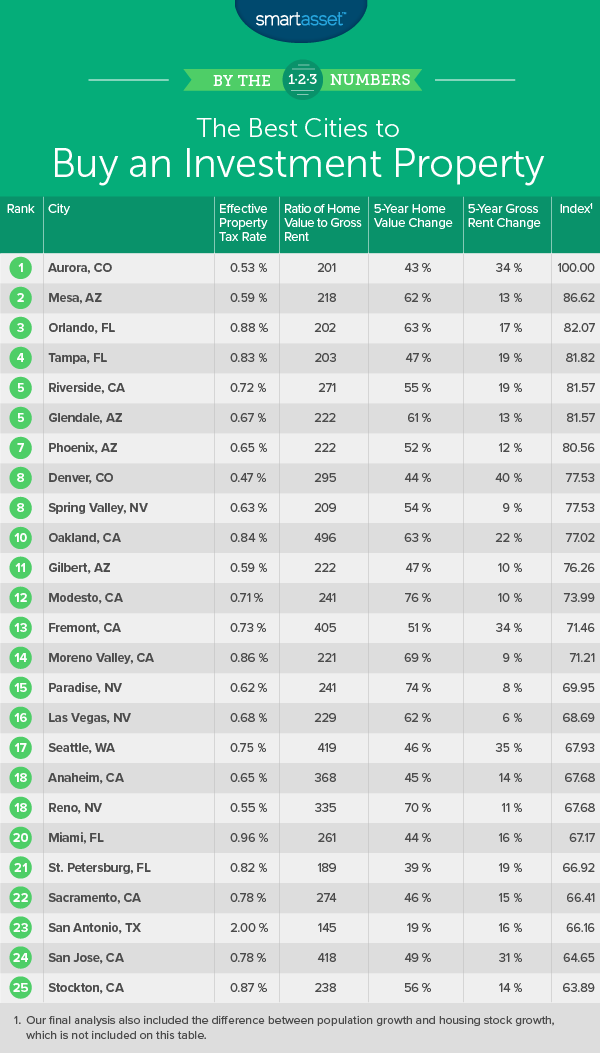 Data and Methodology
In order to rank the best cities to buy an investment property, we looked at data on all cities with a population of at least 200,000. That left us with 117 cities. We compared them across the following five categories:
Average effective property tax rate. This is annual property taxes divided by median home value and is for 2016.
Ratio of rent to median home value. This shows the number of rent payments it would take to pay for the average home and is for 2016.
Housing demand. This is the difference between population and housing stock growth from 2012 to 2016.
5-year home value appreciation. This is the percent change in median home value from 2012 to 2016.
5-year rent cost change. This is the percent change in median gross rent from 2012-2016.
Data for all metrics comes from the Census Bureau's 2016 and 2012 1-year American Community Survey.
Tips for Investing in Real Estate
Don't go overboard – In order to realize the gains of your real estate investment it is important you don't go overboard and buy an investment property you can't afford. If you buy an investment property and can't cover the mortgage, you may be forced to sell and will be out the time and money it took to research and purchase the home. Unless you are an experienced real estate investor it is probably a good idea to start with modest investments on homes you can afford.
Watch out for extras – After estimating your monthly mortgage payment and estimating how much you think you can charge for rent, you may think you are in the clear when it comes to your investment property. However, there are other costs to consider, like property taxes. Depending on where you live property taxes could mean the difference between a good investment and a poor one.
Real estate investment trusts – When you buy a property alone, you take on all the upside of a good investment, but also all the downside. If you want to eliminate some of the headache of investment property management you can invest in a real estate investment trust (REIT). REITs come in a few varieties from equity REITs, mortgage REITs and hybrid REITs. Make sure to research each of them before deciding how to invest your money.
Get a second opinion – Investing in the real estate market can be complicated. Before you start buying homes to rent it may make sense to talk to an expert. A financial advisor can tell you how your investments will impact your retirement plan or your tax bill. If you are not sure where to find a financial advisor check out SmartAsset's financial advisor matching tool. It does all the hard work of finding a local financial expert who fits your needs.
Questions about the study? Contact us at press@smartasset.com
Photo credit: ©iStock.com/SARINYAPINNGAM