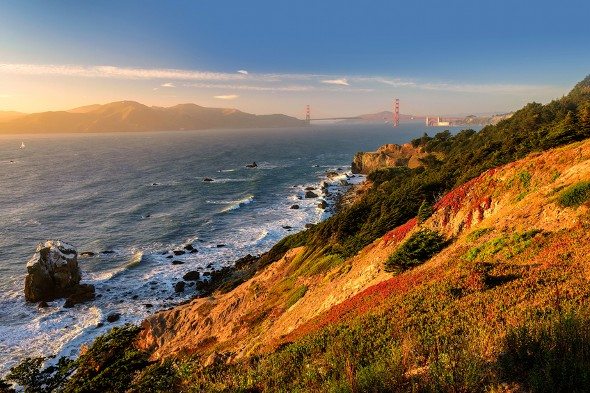 Moving to San Francisco might not be such a bad idea. From its world-class restaurants to its breathtaking views, the city has a lot to offer. At the same time, its known for being an unaffordable place to live. If you're dead set on making the Bay Area your next home (but you're not ready to become a homeowner), here's everything you need to know about renting in San Francisco.
Check out our rent vs. buy calculator.
Average Fair Market Rents in San Francisco
San Francisco has historically been an expensive place to live. Currently, it has the highest rental rates in the country. As of August 2016, the average fair market rent for a studio in San Fran is $2,908, based on data from myapartmentmap.com.
If you want a one-bedroom or three-bedroom apartment, average fair market rents are $3,486 and $6,033, respectively. While that's a lot of money, renting might seem like a better option than buying. Zillow puts the median home sale price in San Francisco at $1,174,250 (as of June 2016) and home values are expected to rise within the next year. If you're not sure whether rent or buy, you can always turn to one of San Francisco's top 10 financial advisor firms to figure out what's best for your financial situation.
The average market rent for two-bedroom apartments has dipped slightly since early 2016. A two-bedroom apartment would cost you $4,845, on average, in August. Back in March, the average fair market rental rate was $5,227.
Looking at places outside of San Francisco may or may not save you money. In Daly City, which is 6.9 miles away from the Golden Gate City, the average two-bedroom rental costs $2,660, as of August 2016. But if you're interested in checking out Belvedere Tiburon (an area known for having some of the wealthiest residents in the state of California), you'll pay $5,000, on average, for an apartment with two bedrooms. Yikes!
Related Article: What is the True Cost of Living in San Francisco?
Rent Control in San Francisco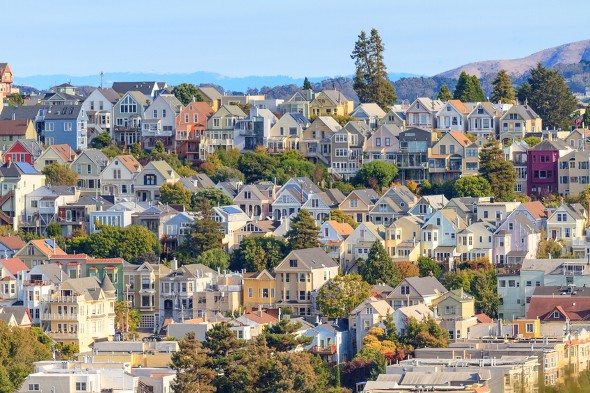 Since rental rates in SF are high, most tenants have rent-controlled apartments. That means that there's a limit to how much rental rates can increase each year. Until February 28, 2017, landlords who own rent-controlled units can only raise annual rental rates by up to 1.6%. This threshold is tied to inflation.
Rent control also protects tenants from getting evicted for questionable reasons. Landlords can only kick people out of their apartments for any of the 16 just causes listed by the San Francisco Rent Board, like regularly bouncing checks or consistently making late rental payments.
Some newly constructed apartment units (rental units built after June 13, 1979) aren't covered by rent control. Condos and single family homes that are rented out typically are only partially protected by rent control rules. But residents who occupy these kinds of housing units cannot be evicted without just cause.
One drawback to the rent control regulations in San Francisco is the fact that landlords can pass the cost of making improvements and repairs (such as installing new kitchen appliances or a new roof) on to their tenants. While they have to petition the rent board before they can pass on these expenses, landlords whose requests are approved can raise rents above the limit for annual allowable rent increases. For example, tenants living in buildings with fewer than six units can see their rents rise by up to 5% per year, at least until they've paid for the entire cost of the improvements that were made.
Getting an Apartment in San Francisco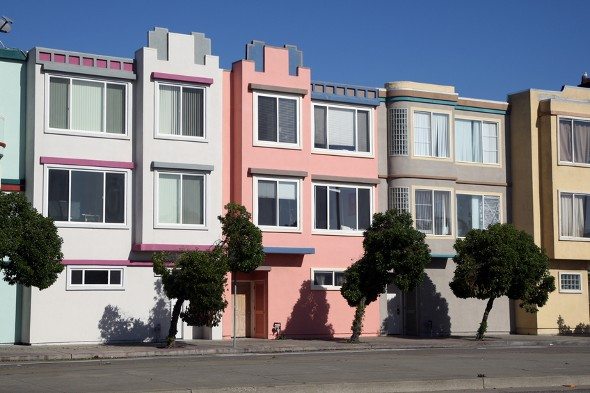 When you're dealing with a competitive rental market, you literally can't afford to play around. As soon as you find an apartment that you like, it's a good idea to apply for it right away. If you wait too long, you could lose it to another renter.
In order to score an apartment in San Francisco, you'll need to be strategic. If you have a roommate (this is recommended since it'll reduce the cost of renting), you can split the work of finding a place between the two of you. Open houses might not even be worth going to since you could find yourself up against hundreds of renters.
Learning as much as you can about the different San Fran neighborhoods can help you avoid areas where rental rates are out of your price range. So can asking brokers for advice. And if your search is taking longer than expected, it might be a good idea to find a temporary place to stay until you can secure an apartment.
Related Article: Renting in Los Angeles
Tips for Renters
Remember, timing is everything. If you're looking for an apartment in the summer, good luck. Rental rates tend to be higher during this season. Hunting for an apartment in the fall or the winter could be a good idea if you don't want to pay as much for rent.
Be proactive. Instead of only looking at apartment listings, it might be a good idea to contact property owners directly. That way you can increase your chances of finding out about an apartment before everyone else does.
Use Craigslist wisely. Craigslist is a great resource for renters. To make the most of the site, it's best to look through multiple sections in case someone listed their apartment under the wrong category. You can also check out PadMapper and let others know that you're looking for housing on social media.
Prepare to sell yourself. Apartment hunting in SF is a lot like job hunting. There will be a lot of people vying for a few openings, so it's a good idea to be ready to explain why you'd be a great tenant. It doesn't hurt to create a document listing details like your job title and your credit score and to dress in an appropriate (and professional) manner.
Create a rental application packet. It's a good idea to gather everything you'll need to fill out a rental application and take it with you whenever you meet with property owners and managers. In your packet, you can include a few recent pay stubs, proof of ID, letters of recommendation, a list of references and a document proving that you're employed. If possible, it might be wise to make multiple packets so you can leave one with a potential landlord if necessary.
Write a cover letter. This is another good thing to include in your rental packet. It'll give landlords more information about who you are and it can help you stand out. Including a picture of yourself (and any roommates who'll be living with you) might also work in your favor.
Prove that your pets won't be a problem. San Francisco is considered a dog-friendly city. So if you're planning to move in with your pet, it's important to mention that to potential landlords. If you want to assure them that your dog (or your cat) won't cause any issues, you can create a list of references who can say that your furry friend is well behaved.
The Takeaway
The San Francisco rental market can be a tough nut to crack. Before you begin hunting for a new spot in the Bay Area, it helps to know what to expect and how to win over potential landlords.
Photo credit: ©iStock.com/lucky-photographer, ©iStock.com/Bertl123, ©iStock.com/Daniel Cardiff