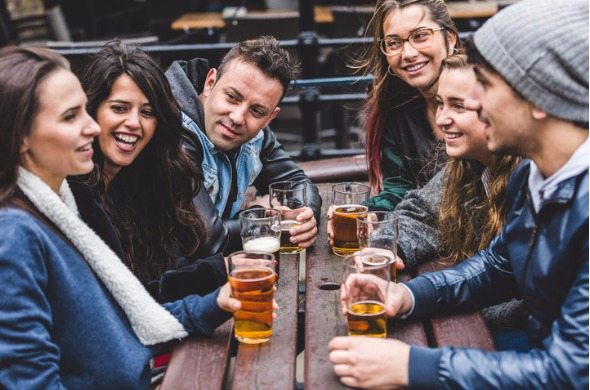 Beer is Americans' favorite alcoholic beverage, according to a Gallup poll of alcohol-consuming Americans. In fact, except for a short-lived period between 2005 and 2006 Americans, on average, have always preferred beer to wine by about 10 percentage points. But for some beer-drinkers, beer is more than just a beverage, it is a way of life. For these, beer lovers, scouting breweries and trying the newest brews is a true passion.
Not all cities offer passionate beer fans the same quantity and access to indulge their beer drinking habit. In order to find the best places for beer drinkers, we looked at data on 300 of the largest cities in the country. We compared the cities using metrics like number of breweries, number of bars, average Yelp rating of breweries and the average price of a pint of beer. Check out our data and methodology below to see where we got our data and how we put it together.
This is SmartAsset's third annual study on the best cities for beer drinkers. Check out the 2016 version here.
Key Findings
No regional dominance – The Northwest is probably the capital beer region in America with three cities in the top 15. But no matter where you live there is probably a decent brewery relatively nearby.
Breweries are appreciated – All over the country breweries are getting rave reviews from their patrons. Only two cities in our top 25 have the average brewery rated below 4 stars, and in both of those cities the average brewery is rated above 3.9.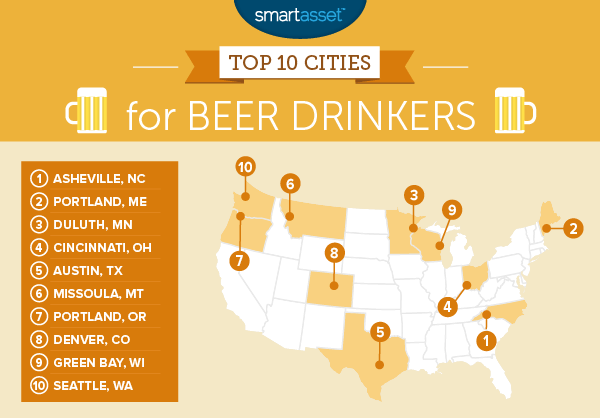 1. Asheville, North Carolina
Asheville is a beer lover's paradise. This city has secured three straight top two finishes in this study and two no. 1 finishes in a row. The biggest draw to Asheville is the city's plentiful breweries. Our data shows that are 25 different breweries or brewpubs, the 13th-most in our study.
But equally important is the fact that Asheville is a city of only about 90,000 people, as a result it has the most breweries per person in the study.
2. Portland, Maine
Portland ranks right behind Asheville in the number of breweries relative to the overall population. The Forest City has 25 breweries per 100,000 residents and 17 overall. According to Yelp data, these breweries are also pretty good. The average brewery in Portland has a 4.3 rating.
If you are a beer lover who prefers bars, Portland has plenty of those, too. This city has just over 29 bars per 100,000 residents.
3. Duluth, Minnesota
Sometimes when it comes to beer quantity is more important than quality. For beer drinkers who follow that philosophy Duluth is probably a good place to stumble into. Duluth has 31 bars per 100,000 residents and 10.4 breweries per 100,000 residents. That means plenty of options for where to get a brew.
Best of all, a night out on the town won't run your savings account dry in Duluth. Our data shows the average pint of draft beer in Duluth costs only $2.
4. Cincinnati, Ohio
Cincinnati is another city which followed up last year's top 10 finish with another one this year. In total Cincinnati has 21 breweries, good enough for 17th-most overall. If you want to mix in some bars during your tour of the breweries, Cincinnati has that covered as well. The city has over 24 bars per 100,000 residents.
It's worth noting that Cincinnati breweries, on average, are not rated as highly as breweries in other cities. The average brewery here has a rating of 4.19, that scores 96th in our study.
5. Austin, Texas
Austin is a fantastic city to grab a nice craft brew. This city has 38 breweries. The oldest brewery in the city, and one of the most well regarded, is Live Oak Brewing Company. It specializes in German-style and Czech-style beers.
With the average brewery around Austin scoring just under 4.3 on Yelp, you can probably find what you are looking for, even if German and Czech style beers are not your pint of beer.
6. Missoula, Montana
Beer lovers and drinkers aren't all cut from the same cloth. Because of this we tried to accommodate a range of beer experiences, from the hipster brewery to the homey pub. The Missoula beer experience is one most enjoyed by those who prefer hanging out at bars.
This city has over 35 bars per 100,000 residents but only seven breweries. However, those breweries are producing tasty beers. The average brewery in Missoula scores a 4.4 with Yelpers in Missoula.
7. Portland, Oregon
If you want a variety of craft beers and you don't care how much they cost, head to the City of Roses. Portland has 76 breweries in the city, which works out to 11.88 per 100,000 residents. It has an equally impressive range of bars to choose from, as well. Overall Portland has 41 bars per 100,000 residents.
With so much variety why has Portland fallen to seventh? Well, the breweries in Portland don't score the highest marks on Yelp. The average brewery here has a Yelp score below 4. One potential explanation might be that with so many breweries to choose from, Portland residents have come to expect a lot from their local brews.
8. Denver, Colorado
More than just Coors is brewed in the Rocky Mountains. Denver is home to 69 breweries, giving it the second-most overall in our study. There are about 9.96 breweries per 100,000 residents. In that metric, Denver ranks 11th.
But if you are getting ready for a night out in Denver, you should know beers can get pricey. Our data suggest a draft beer in the area costs $5 on average. That's the most in the top 10.
9. Green Bay, Wisconsin
Green Bay is a newcomer to this top 10. While there may only be seven breweries in Green Bay, there are enough to make sure no one is going thirsty. Overall there are about 6.6 breweries per 100,000 residents a score comparable to that of Austin or Cincinnati.
Green Bay scores highly because of the large number of bars in the area. The city has over 47 bars per 100,000 residents, fifth-most overall.
10. Seattle, Washington
Our study ends in the Emerald City. Seattle has 56 breweries, good enough for fifth-most in the country and 20th-most relative to population. Like Portland either the breweries here are not as good as they are elsewhere or Seattle beer drinkers are just a little bit pickier than average. The average brewery around Seattle has a rating of 4.14.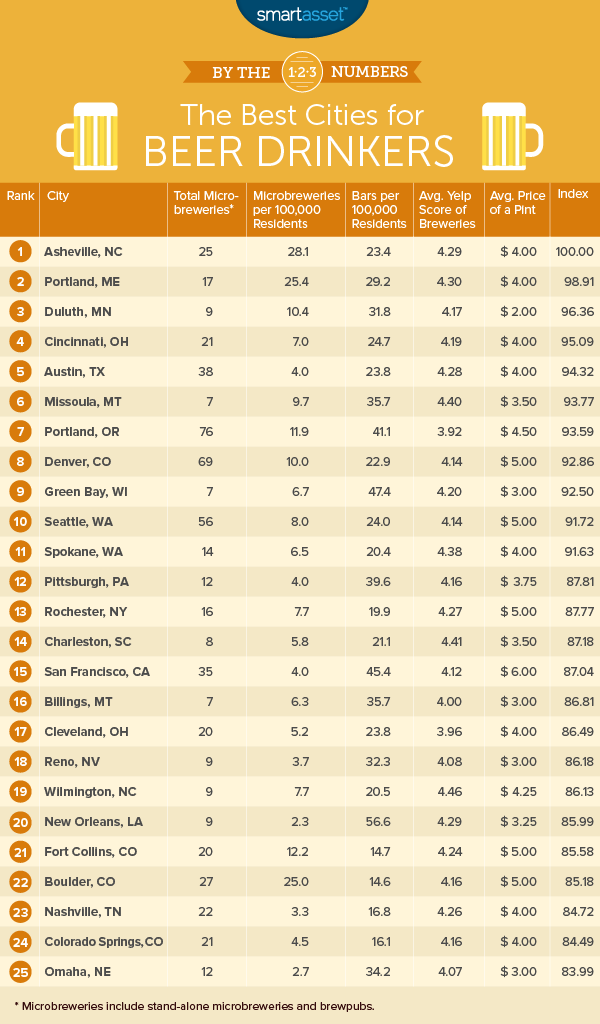 Data and Methodology
In order to find the best cities for beer drinkers, we looked at data on 300 cities. Specifically we looked at the following five metrics:
Total number of microbreweries and brewpubs. Data comes from brewerydb.com.
Number of microbreweries and brewpubs per 100,000 residents. Data on microbreweries and brewpubs comes from brewerydb.com. Data on population comes from the U.S. Census Bureau's 2015 1-Year American Community Survey.
Average Yelp score of breweries. Data comes from Yelp.
Number of bars per 100,000 residents. Data on bars comes from the U.S. Census Bureau's 2015 American Business Patterns Survey. Data on population comes from the U.S. Census Bureau's 2015 1-Year American Community Survey.
Average price for a pint of domestic draught beer. Data comes from Numbeo.com.
First we ranked each city in each metric. We then found each city's average ranking, giving the price of draft beer and average Yelp score a half weight. We double weighted the total number of breweries. Using this average ranking, we created our final score. The city with the best average ranking received a score of 100 and the city with the worst average ranking received a 0.
Tips for Saving on a Night out With Friends
Going out and having a few drinks with your friends can get expensive, especially if you do it regularly. But one way to save is to use the right credit card. Certain rewards credit cards can earn you cash back for spending at restaurants. Of course you should always use credit cards responsibly: don't charge more than you can comfortably afford and pay your bill in full and on time.
You may also want to consider swapping your weekly bar meetup to a BYOB at friend's house from time to time. That will help you keep your budget intact and your savings account topped off (pun intended).
Data analysis for the article was done by Nick Wallace.
Questions about our study? Contact press@smartasset.com.
Photo credit: ©iStock.com/william87