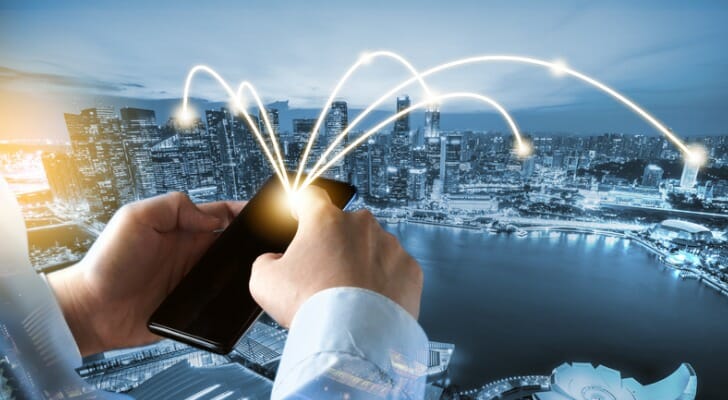 Online trading platform Vanguard offers a full-service securities trading capability but is best known for its huge range of mutual funds. E*TRADE, which arguably ushered in the modern era of online finance, offers a streamlined, easy-to-use day trading app where investors can trade stocks, exchange-traded funds (ETF), futures and options. Each product is aimed at two distinct types of investors. From fees to features and more, here's what you need to know about each one. It is wise to work directly with a financial advisor who can give you more information on the ins and outs of what you should look for in a platform.
E*TRADE vs. Vanguard: Fees
There are usually four types of fees to look out for when choosing a trading platform. You should look out for these when evaluating any investment or trading service:
Trading Fees – Any fixed charge attached to each trade that you make. This can come in the form of a flat fee or what's known as the "spread." This is when your broker charges you based on the difference, if any, between the buying and the selling price of an asset.
Trading Commissions – This is when a broker will charge you a percentage based on the volume or value of each trade.
Inactivity Fees – Any fees that the broker charges you for not trading, such as for keeping money in a brokerage account.
Non-Trading/Other Fees – Any form of fee for trading on this platform not covered above. For example, a brokerage might charge you for making deposits into your brokerage account, taking money out of it or signing up for additional services.
Online trading platforms have gotten increasingly competitive with each other. This means that while they have historically carried fees over from the brokerage model, they have since done away with many of the fees associated with trading. For example, E*TRADE and Vanguard offer free trading for all stocks, mutual funds and exchange-traded funds (ETFs). However, they charge for other services.
For example, Vanguard charges a $1 fee for all options contracts traded under $1,000,000. Then, they have a sliding scale that escalates beyond $1,000,000. E*TRADE charges only $0.65 per contract for options contracts. If someone makes over 30 trades per quarter, E*TRADE's charge per options contract decreases to $0.50 per contract.
Vanguard charges $1 per $1,000 of bonds traded. E*TRADE charges $1 per bond to trade bonds. If an investor makes at least 30 trades per quarter, the fee is reduced to $0.50 per bond traded. Mutual funds purchases on Vanguard are $0. E*TRADE also charges $0 for a series of pre-defined mutual funds and $20 to trade all others.
Vanguard charges $50 on top of a commission to trade American Depositary Receipts, which are shares of non-U.S. companies that can be bought with U.S. dollars; E*TRADE offers this feature by phone only and charges a $25 fee.
E*TRADE vs. Vanguard: Services and Features
Both E*TRADE and Vanguard are full-service brokerages. This means that almost all popular assets, technical indicators and trading data are available on both platforms.
Vanguard offers a wide range of investments, from mutual funds to stocks to CDs. However, its mutual fund offerings are massive and very inexpensive. The average Vanguard no-load mutual fund cost is 83% less than the industry average. Vanguard's Total Stock Market Index Admiral Shares fund, for instance, has an expense ratio, also known as an operating expense ratio, of 0.04%, which means that an investment of $100,000 would only cost $40 a year.
E*TRADE offers users free screeners to find companies that fit a portfolio, real-time streaming market data, interactive charts and stock ticker pages. E*TRADE users also have access to OptionsHouse, a powerful platform for trading options and other securities. In addition to stocks, E*TRADE customers can also trade bonds and options. In addition, E*TRADE provides access to ETFs and mutual funds. While many of these funds charge fees to buy and sell, E*TRADE offers hundreds of commission-free funds.
Both E*TRADE and Vanguard have research reports to help investors make informed decisions. Vanguard provides research from Thomson Reuters, First Call and Standard & Poor's; E*TRADE provides research from S&P Capital IQ, Thomson Reuters and Morningstar.
E*TRADE vs. Vanguard: Online Mobile Experience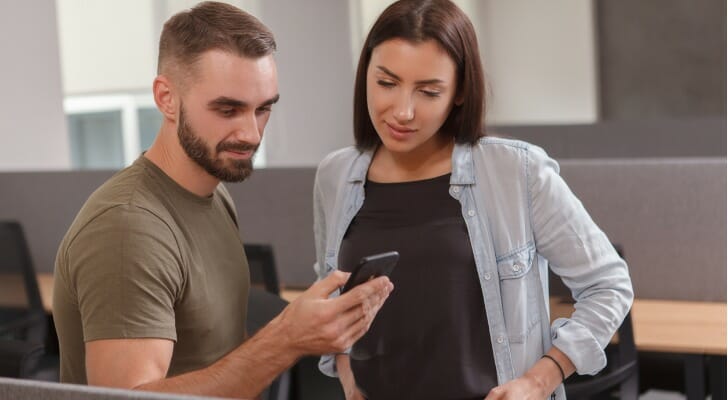 Vanguard's mobile app gives customers access to all their accounts so they can check their balances, investment performance, transaction history, prices, returns and more. Users also be able to buy, sell or exchange investments, as well as deposit checks directly into their accounts using a device's camera. Vanguard mobile app also includes educational features to help users learn more about the market, keep up with financial news and hone investing skills.
E*TRADE's mobile app allows customers to check their balances, investment performance, transaction history, prices, returns and more. They'll also be able to buy, sell or exchange investments and use their device's camera to deposit checks directly into their account.
E*TRADE vs. Vanguard: Who Should Use It?
Vanguard is the best option for investors who are ready to build an investment portfolio and who can regularly contribute at least $500 per month to their investments. In other words, Vanguard is ideal for a long-term, buy-and-hold investor who won't be trading frequently. E*TRADE is best for frequent traders. Its mobile app and the OptionsHouse trading platform are primarily targeted toward active traders. However, it also can be good for beginners who can buy commission-free ETFs and mutual funds.
The Takeaway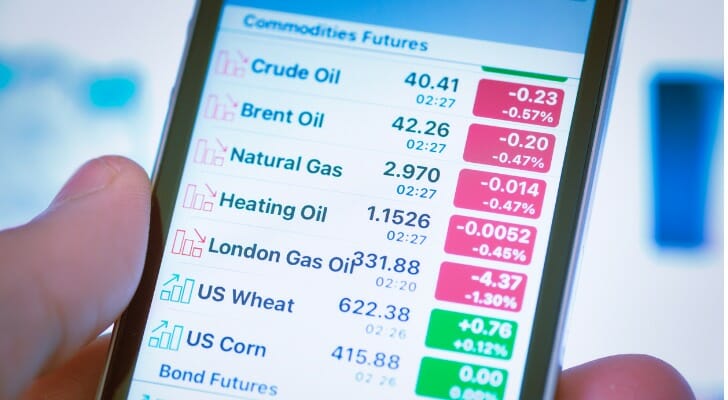 Vanguard is best known for its low-cost stocks and funds. Opening a Vanguard brokerage account works best for those interested in long-term investing, and it's a great place for your retirement savings. E*TRADE sets itself apart by having a robust, user-friendly app and over 200 futures products available. More sophisticated investors will probably prefer the range of options offered by E*TRADE.
Tips for Investing
Regardless of which platform you decide to use, all investing should start with a carefully thought-out financial plan and corresponding investment strategy. You should talk to a financial advisor for expert help in both areas. SmartAsset's matching tool can help you find a financial professional in your area. He or she will be able to walk you through the ins and outs of your finances and put together the right long-term plan for your money. If you're ready, get started now.
Photo credit: ©iStock.com/Blue Planet Studio, ©iStock.com/Ihor Bulyhin, ©iStock.com/avdeev007