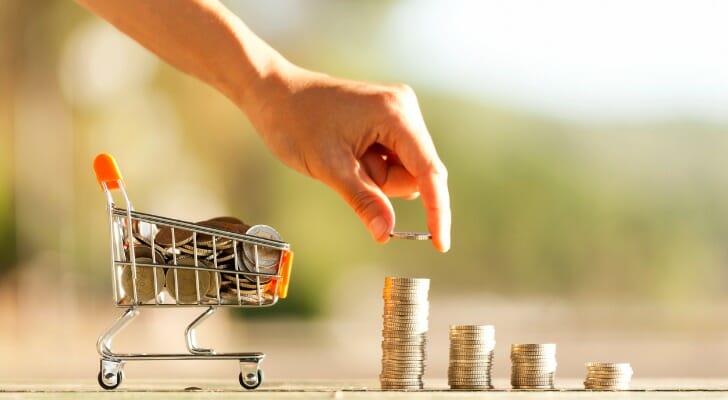 Depending on how you want to invest, $5,000 is plenty to get started with. There are a plethora of options available to you, such as adding that money to your retirement account, opening a brokerage account or working with a financial advisor. However, your decision should hinge on what your financial situation looks like, what your goals are and your age. Below, we break down some of the best options for what you can do if you have $5,000 ready to invest.
Do you have investing questions that a professional could help with? Talk to a local financial advisor today.
Open a Brokerage Account and Start Investing
If you want to jump right into investing, there's no better way to start than with a brokerage account. There are a number of brokerages that don't require minimums, like Charles Schwab, E*TRADE and Merrill Edge. That means $5,000 will be plenty to get your investment portfolio started.
In a typical brokerage account, you can invest in a wide range of securities. These can include individual stocks and bonds, ETFs, mutual funds, options and more. This makes brokerage accounts much more customizable, as retirement accounts often limit your investment options. Here's a breakdown of a few types of investments you can look into.
Stocks
Stocks are generally regarded as the riskiest type of investment. That's because when you invest in a company, you're essentially betting on only it to perform well. However, this risk has the potential to bring strong rewards, as stocks feature some of the best returns on the investment market.
Investing in a company's stock is incredibly easy, and most major brokerages now offer commission-free trades. Beware of investing too heavily in stocks, as a few bad decisions could be costly. Instead, try to diversify your assets across not only market sectors, but also different securities, like the ones below.
ETFs
Exchange-traded funds (ETFs) offer a lot of benefits for investors – they're low risk, are an easy way to diversify a portfolio, and are more liquid, as they can be traded in the same way as a regular stock.
Investing in an ETF also can result in lower fees and, potentially, lower capital gains taxes. First, their fees are lower because they aren't actively managed. And second, your capital gains tax, if any, will be lower when investing in an ETF.
Mutual Funds
A mutual fund company pools money from individual investors and invests it, charging each investor a fee for the convenience of having someone else manage their money. The biggest mutual fund companies are household names. Think Fidelity, Vanguard and Charles Schwab, among others.
There are a vast number of mutual funds. Some hold stocks, others hold bonds, yet others hold a combination of stocks and bonds. Many of these funds focus on securities of companies that are a certain size or a specific region of the world. When picking one, be sure to make sure it matches your risk tolerance and that you're comfortable with its cost.
Index Funds
An index fund is a mutual fund or an ETF that has been programmed to track a market index, like the S&P 500, the Russell 2000 or the Wilshire 5000. These passively managed funds are very low cost, offer a diversity of securities and are tax efficient. Index funds are also attractive because most actively managed funds do not, longer term, beat the market index they have chosen to target. The goal of an index fund is to match, not beat, the designated index, which means these funds offer investors a relatively high degree of safety.
Work With a Financial Advisor or Robo-Advisor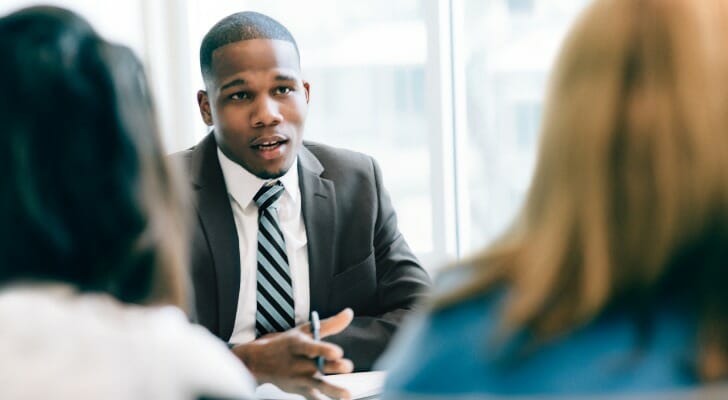 If you're unsure of what to do with your money, putting it in the hands of a financial advisor may be the way to go. These professionals can provide advice for your personal situation, whether it be investing, retirement planning, estate planning or anything else. Of course, you'll pay a fee for these services, but the human touch of a financial advisor could prove to be invaluable.
On the other hand, a robo-advisor digitally manages your portfolio based on a preset algorithm. Robo-advisors usually also offer rebalances and tax-loss harvesting, among other functions. While some robos provide human advisors too, they best as a hands-off investment manager.
Robo-advisors offer simple investment management with very low fees and minimums. However, a human advisor may be preferable if you need to plan for your long-term future.
Add to Your 401(k) Balance
If you've been neglecting your retirement, now's the time to get back on track with a 401(k). You can't drop the $5,000 directly into the account – the funds are taken directly from your paycheck – but you can use the extra padding in your bank account to increase your contribution.
This is an especially smart move if you have an employer match. Be sure you contribute the maximum necessary to take advantage of your employer's match. After all, it's basically free money.
Open an IRA or Roth IRA
If you plan to max out your 401(k) this year – the 2020 limit is $19,500 – then you may consider opening an IRA (if you don't already have one) with your brand-new nest egg. Whether you opt for a Roth IRA or a traditional IRA depends on your income. Remember, in order to be eligible for a Roth IRA, your AGI must be less than $139,000. Traditional IRAs do not have salary limits, though.
It's important to note that the tax benefits of these accounts differ. Your contributions to a traditional IRA are tax-deductible in the year you make them, and you'll pay taxes on withdrawals based on your income at that time. Roth IRA contributions aren't tax-deductible, but you won't pay taxes when you make withdrawals.
So why an IRA? In addition to the tax benefits, an IRA is an excellent way to add a little boost to your retirement income, in addition to any other income streams you might have, like 401(k) savings, a pension or Social Security benefits. Plus, the 2020 contribution limit for IRAs is $6,000, so you'd be able to nearly max it out.
Start a 529 Plan for Your Child
This one only applies if you have children or dependents and you'll be funding their college education. If so, this is likely something that's been on your to-do list for some time. Opening a 529 savings plan with a four-figure amount like $5,000 is an excellent place to start.
A 529 savings plan offers tax-deferred growth of your funds, plus tax-free withdrawals when those funds are used for education-related expenses. It's a solid choice to invest $5,000, especially when you consider that the average cost for one year at a public university is now more than $19,000, and a staggering $40,000 a year for private universities.
Contribute to an HSA
While healthcare savings accounts (HSAs) are only available to those enrolled in high deductible health plans (HDHP), they offer some great short- and long-term advantages. They allow for pre-tax contributions, allow for tax-free growth and unused funds roll over from year to year.
While you can definitely use your HSA to pay for eligible healthcare expenses (and you should) they also offer another, lesser-known benefit: After age 65, you can withdraw funds and use them for non-healthcare expenses, penalty-free. You'll still have to pay taxes, just as with a traditional IRA. But this means that you can essentially use your HSA as both a healthcare savings account and a bonus retirement account. Win-win.
Bottom Line
Just because you may not have a fortune to put to work doesn't mean you can't make a solid start investing with a relatively modest amount. There are many choices to go with, such as 401(k)s, IRAs, ETFs, stocks, 529 plans and HSAs. Which one is best for you depends on your age, risk tolerance, financial goals and more.
Tips for Becoming a Good Investor
Photo credit: ©iStock.com/gece33, ©iStock.com/Nuthawut Somsuk, ©iStock.com/ferrantraite