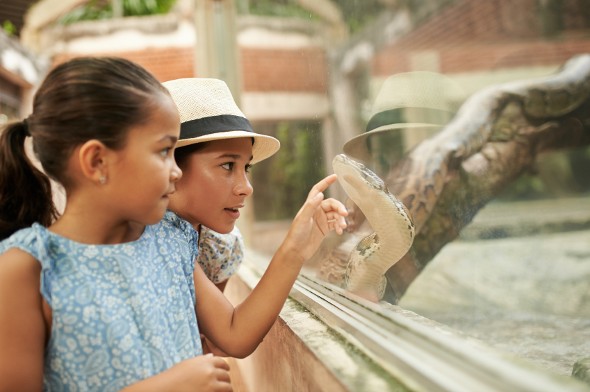 Have you been to the zoo lately? If so, you may have found yourself wondering, "How do zoos make money?" Or maybe you've always been curious about how zoos get their hands on the animals their collections contain. Let's take a closer look at the economics of zoos, how they make money and what the future has in store for the zoo.
Find out now: How much house can I afford?
More than Admission
In some ways, a zoo functions like a botanical garden or a museum, making money from a combination of admission, merchandise, private donors, institutional donors and aid from city and state governments. Let's take the San Diego Zoo, America's most famous zoo, as an example.
A 1-day adult pass to the San Diego Zoo will set you back $50. A child's ticket (ages 3-11) costs $46. That's a lot of money in most American households' budgets, but even those pricey tickets aren't enough to keep the zoo going without other help.
The San Diego Zoo is a not-for-profit organization, which means donors can make tax-deductible contributions to the zoo's budget. The zoo offers a range of giving opportunities, including employer matching, memorial and tribute gifts, exhibition sponsorship and wildlife adoptions (financial, not literal) via the San Diego Zoo Wildlife Conservancy. There's also an annual Zoo Gala fundraiser, with regular tickets for $450 and "preferred seating" tickets for $900.
A Barter Economy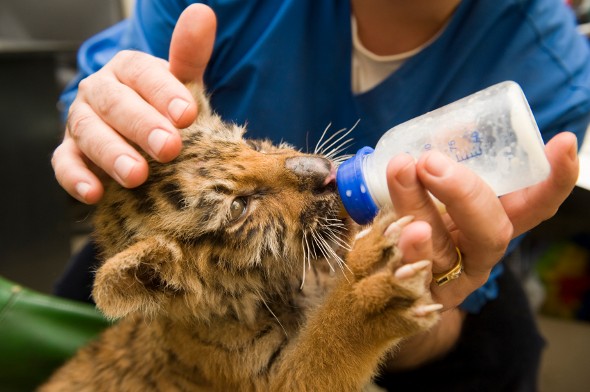 There's one unusual feature of the zoo economy that makes zoos different from other businesses. Zoos don't buy or sell animals, they only trade. It may seem odd to run a business – even a non-profit – with a collection that you can't buy or sell. How do zoos get new animals to enhance their collections or get rid of animals they no longer need or want? No money changes hands.
The taboo around putting a price tag on animals has historical roots. Nineteenth-century zoos relied on explorers to go to foreign lands and get animals. Zoos paid explorers like the famous Carl Hagenbeck to get the kinds of exotic animals that drew crowds. Hagenbeck and his kind would go to brutal lengths to fulfill their commissions. Think: killing the animal's parents and bringing back the baby to fill a zoo.
The animal trade became associated with brutality, racism and colonialism as white explorers would bring back animals – and sometimes people – to put on display in Western zoos. And it wasn't just the people with the official zoo commissions who would trap wild animals. Because zoos were putting a price tag on animals, poachers and smugglers got in on the game.
Finally, in the 1970s, the zoo community decided it was time to take money out of the zoo business. For one thing, this would ensure that zoos weren't participating in the commodification of animals and the trade that led to slaughter and smuggling.
But getting rid of prices for animals had a side benefit, too. After the passage of the 1973 Endangered Species Act, zoos and aquariums were required to file for permits before buying any endangered species. If no money changes hands, however, no permit is required. That makes the whole process faster and easier.
These days, zoos and aquariums barter or donate animals, and the system depends on the mutual good will of these institutions. The Association of Zoos and Aquariums runs the Animal Exchange, an online site that's like a sharing economy platform for animals. A zoo can log on and post the animals it's willing to give up and the animals it's looking to acquire. Sorry – it's not open to the public.
So how do zoos account for the ingress and egress of plants and animals when they're doing their bookkeeping? This paragraph from the 2014 financial statement of the San Diego Zoo explains: "In according with customary practice among zoological organizations, animal and horticultural collections are recorded at the nominal amount of one dollar, as there is no objective basis for establishing value. Additionally, animal and horticultural collections have numerous attributions, including species, age, sex, relationship and value to other animals, endangered status, and breeding potential, whereby it is impracticable to assign value."
Animals that are shared with other zoos are not expensed at all: "In an ongoing commitment to enhance the worldwide reproduction and preservation of animals, SDZ Global [San Diego Zoo] shares animals with other organizations. Consistent with industry practice, SDZ Global does not record any asset or liability for such sharing arrangements."
So what do zoos spend money on if not the animals? Staff salaries, animal maintenance and facilities costs are the obvious expenses, but there are others. For example, in 2014 the San Diego Zoo spent $11,564 on advertising, according to the zoo's financial statement. That same year, fundraising expenses totaled $7,553.
The Panda Factor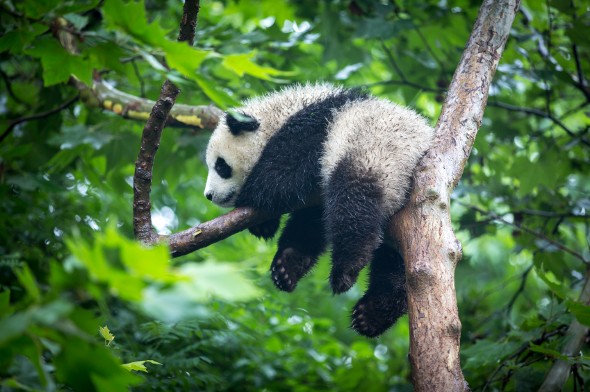 A notable exception to the practice of not paying for animals is the Giant Panda. Because the Chinese government controls the bulk of the world's pandas, zoos and city governments must negotiate with China if they want to add a panda to their zoo's collection. And those pandas don't come cheap. The Chinese government considers the panda to be of high symbolic and cultural value, and doesn't want to part with pandas that won't be well cared for.
So how much does a panda cost these days? Well, if you're running a zoo and the Chinese government agrees to give you a panda at all you'll pay a reported $1 million for a mating pair and $600,000 for a cub. Those are annual costs. If a panda you acquired from China dies on your watch, you'll have to pay China $500,000. The D.C. zoo reportedly spends $2.6 million per year on its panda exhibit. Some zoos have reportedly found that the extra ticket sales pandas generate still aren't enough to cover the added costs.
The Economic Impact of Zoos
As employers and as visitor attractions, zoos have a significant economic effect on the towns and cities they call home. A report by a professor at George Mason University found that in 2013 alone, Association of Zoos and Aquariums (AZA) accredited zoos drew 164,626,321 visitors to U.S. zoos. AZA-member zoos in the States employed 38,078 people.
And that's not all. The money zoos spent on operations and construction had what's called a "multiplier effect" in the wider economy. For every $1 million spent by zoos on operating outlays, 28.4 jobs were supported. 23.4 jobs were supported for every $1 million zoos spent on construction.
The report estimated the total economic output of AZA-accredited zoos and aquariums in 2013 to be $17.2 billion. On top of that, zoos contributed to an estimated $2.4 billion in before/after visit spending by the public and $5.4 billion in personal earnings. Off-site spending by visitors to U.S. zoos supported an estimated 62,126 jobs.
The Future of Zoos
Running a zoo is never easy, but in economic downturns the difficulties multiply. If a museum has certain pieces that are costly to maintain it can put those pieces in storage. Museums can also close entire wings to the public to cut back on maintenance costs. Zoos don't have this luxury because their collection is alive. You can't close the tiger exhibit without doing something with the tigers, and you can't sell the tigers to raise money for the zoo.
Even if a zoo makes the difficult decision to unload some of its animals, it can take months or even years to place animals with other zoos. Cutting back on the animals in a zoo's collection can have negative side effects, too. Admission revenue can drop if the public doesn't want to visit the smaller collection or a zoo loses big attractions. If all this is making you want to donate some money to your favorite zoo, don't forget to write that donation off if you itemize your taxes.
What about when economic times are good? Some conservationists argue that zoos should diversify their collections to represent more of the planet's species and take a more active role in promoting conservation and biodiversity in the face of climate change.
In an interview with National Geographic, zoo historian and zoo park director David Hancocks argued: "If zoos gave serious attention to education we should surely see much greater variety in their collections, to help them better focus on biodiversity; if they were serious about conservation they would give much more attention to local species; and if they truly wanted their visitors to develop better understandings of the natural world they would be showing and interpreting the really small life forms."
Most people think of zoos as places to see big-ticket animals like elephants and tigers, not encyclopedic repositories of the worlds' species. Adding to the tension over what the mission of the zoo of the future should be is that zoo directors are often torn between their desire to promote animal welfare and their desire to increase profits.
Some zoos are remodeling themselves in the image of nature parks and going cage-free. This helps them promote the animals' well-being while attracting visitors who might be put off by seeing the caged animals of a traditional zoo. In the future, visiting the zoo may feel much more like going on a safari. Proposals for future models include mirrored cable cars that allow visitors to pass undetected through animal habitats, and larger, multi-species ecosystems rather than the one-species-per-exhibit model. Stay tuned to see how the zoo evolves.
Update: If you have questions beyond the economics of zoos, SmartAsset can help. So many people reached out to us saying they wanted help with financial planning, that we built a tool to match you with a financial advisor who can meet your needs. First you answer a series of questions about your situation and your goals. Then the program narrows down thousands of advisors to three fiduciaries who meet your needs. You can read their profiles to learn more about them, interview them on the phone or in person and choose who to work with in the future. This allows you to find a good fit while doing much of the hard work for you.
Photo credit: ©iStock.com/DragonImages, ©iStock.com/zilli, ©iStock.com/Onfokus