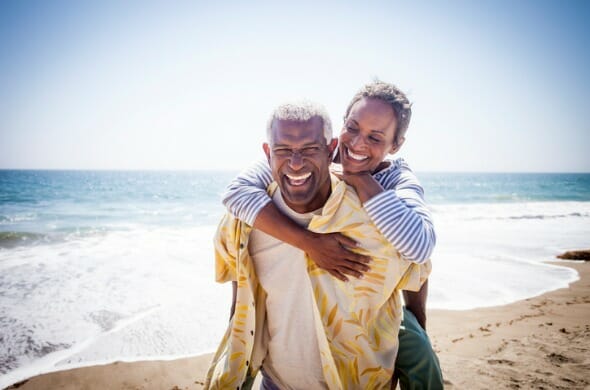 Despite no longer working, retirees are an important part of a local economy. They number in the millions and make up a large amount of consumer demand. As one example of their purchasing power, the Social Security Administration estimates that in 2018 it will pay out approximately $1 trillion in Social Security benefits, 72% of which will go to retirees. With that sort of money on the line where retirees decide to move for their retirement is an important consideration for cities across the country.
For the third straight year SmartAsset has analyzed migration data to find the top places where retirees are moving. We analyzed migration data from the U.S. Census Bureau. Specifically, we compared the number of retirees immigrating into a city and compared it to the number of retirees emigrating from a city. Check out our data and methodology below to see where we got our data and how we put it together.
This is SmartAsset's third annual study on where retirees are moving. Check out the 2017 edition here.
The States Where Retirees Are Moving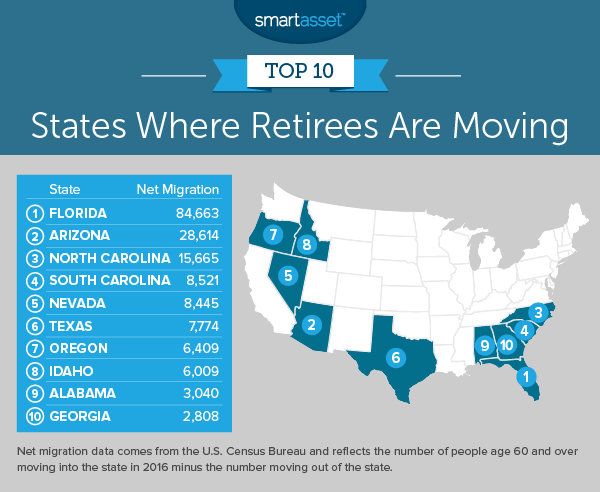 The top four states where retirees are moving remains unchanged from last year's study. Florida, Arizona, North Carolina and South Carolina once again occupy the top four spots. Of these four, Florida is a clear first. In total, 84,600 more retirees moved to Florida than left. Arizona which took second had about 28,600, North Carolina received about 15,600 and South Carolina received a net influx of about 8,500 retirees.
There are a few common threads connecting the states in our top 10. Many have year-round warm weather, are relatively affordable and are generally favorable when it comes to tax-paying season for retirees. Texas, Nevada, Alabama and Georgia fit this mold.
Idaho and Oregon both retained spots in this top 10 despite not having many of the characteristic features of a retirement-friendly state. Idaho is a relatively affordable state which may be enticing retirees to relocate to the Gem State. The median home in Idaho costs only $839 per month.
On the other hand, Oregon is a relatively expensive state to live in. The Census Bureau estimates the median home costs over $1,102 per month. Combine that with below-average temperatures and only being a moderately tax-friendly state, it may be surprising that Oregon is so popular among retirees.
The Cities Where Retirees Are Moving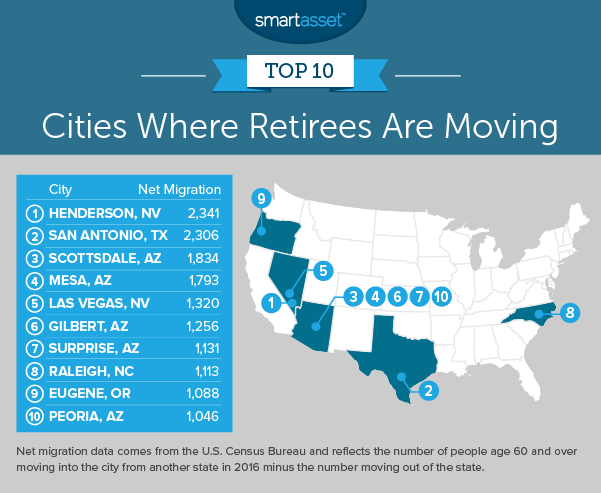 1. Henderson, Nevada
Henderson, Nevada takes the top spot this year. This city is a newcomer to the top 10. In total, Henderson saw net immigration of 2,341 seniors with 3,191 immigrating and 850 emigrating.
Nevada is one of the friendliest states for retirees which may partially explain why Henderson was such an attractive destination. Nevada is considered a friendly retirement state because it has no income tax.
2. San Antonio, Texas
San Antonio is another newcomer to this top 10. In total this city received an influx of 3,142 seniors, putting it right behind Henderson as a top destination for retirees. After tallying up all the coming and going seniors, San Antonio was left with a net increase of 2,306 seniors.
Texas has no state income tax and does not tax any kind of retirement income. But San Antonio is more than just a place to avoid paying taxes. The city has year-round nice weather, even in December the average low is only 44 degrees.
3. Scottsdale, Arizona
Scottsdale is a return to familiar territory for this study. Last year, this city saw a net influx of 773 seniors placing it in the top 25. This year more seniors chose Scottsdale as a place to spend their retirement. In total, this city received 1,834 more seniors than it lost, with 2,879 coming and 1,045 leaving.
Living in Scottsdale is slightly more expensive than it is in other Arizona cities. The median house costs over $1,300 per month.
4. Mesa, Arizona
Last year, Mesa ranked first with a net influx of retirees of over 3,400. This year the city was slightly less popular as it received only a net increase of just under 1,800 retirees. One reason why Mesa ranked a bit lower than last year was the large number of emigrating seniors. According to our data, just under 2,300 retirees emigrated from the city, the second-most in our top 10.
Mesa is a solid option for retirees favoring the Phoenix metro area. The median home in the city costs less than $1,000.
5. Las Vegas, Nevada
Last year, North Las Vegas represented Nevada in our top 10. This year, Las Vegas takes up the mantle. In total 4,387 retirees decided to make Las Vegas their home, while nearly 3,100 decided to move to greener pastures. That left the city with a net influx of 1,320 seniors.
Other than the endless distractions and things to do in Las Vegas, the state of Nevada is also one of the best states to retire in from a tax perspective. The state does not tax any retirement income and has relatively low property taxes.
6. Gilbert, Arizona
In the southeastern portion of the Phoenix metro area is Gilbert, Arizona, the third city within the Phoenix metro area to rank in this top 10.
Gilbert is probably a better place to retire for the slightly wealthier retiree. According to data from the Census Bureau, the average home in Gilbert costs over $1,400 per month and is worth over $300,000. That means for retirees looking to buy the average home in Gilbert, Arizona they will need $60,000 upfront for a down payment.
7. Surprise, Arizona
Is it any surprise that Arizona has five cities in this top 10? The state has some of the best weather in the country, assuming you like heat, and does not tax Social Security income. The fourth Arizona city in our top 10 is Surprise.
After accounting for retirees coming and going, Surprise ended up with a net gain of 1,131 retirees. Only 18 more than Raleigh ranked one spot below.
8. Raleigh, North Carolina
Around 2,015 seniors made new homes in Raleigh while 902 retirees decided to try their luck in another town. The state of North Carolina is only moderately friendly to retirees when it comes to taxes. But the city does boast pretty good weather year round. Even in January in the dead of winter, you can expect lows of only 30 degrees and highs of 50 degrees in Raleigh.
9. Eugene, Oregon
Eugene, Oregon takes ninth. Only 221 seniors decided Eugene was not the place for them, a testament to the city's retirement friendliness. In total this city saw a net influx of retirees of just under 1,100. One downside is that the median home in Eugene is worth $267,000, about $60,000 more than the national average.
10. Peoria, Arizona
Peoria, Arizona is the 10th-most popular landing spot for retirees with a net influx of 1,046 retirees. According to data from the Census Bureau, 1,384 seniors came to Peoria and 338 emigrated. Peoria is in the northern portion of the Phoenix metro area and there is not much separating Peoria from other cities in the area.
The city comes in middle of the pack for the area's housing costs. Census Bureau data shows that the median home costs just under $1,200 per month. This is more than Mesa but less that Scottsdale and Gilbert.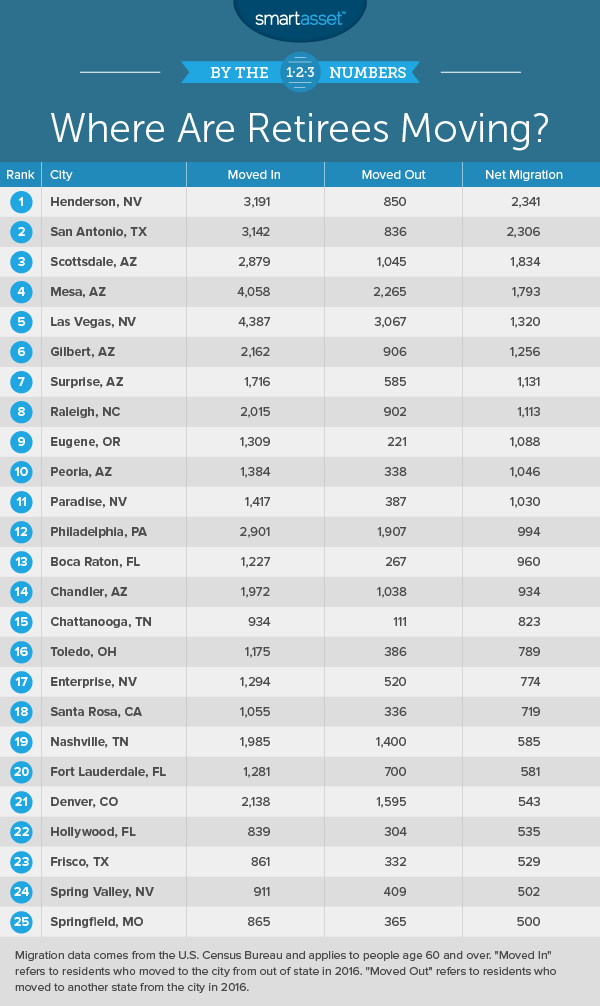 Data and Methodology
In order to rank the cities and states where retirees are moving, SmartAsset analyzed migration data from the U.S. Census Bureau. We compared the number of people ages 60 and over who emigrated from a city or state and compared it to the number who immigrated to the city or state. The cities and states with the highest positive net migration were the places we ranked the highest. In total, we looked at data for 217 cities and all fifty states.
Data comes from the 2016 1-Year American Community Survey.
Tips for Saving for Retirement
Take advantage of 401(k) employer matching – Many employers offer employer matching based on 401(k) contributions. Through a 401(k) matching program your employer will match your 401(k) contributions up to a certain percent of your gross salary. Lets say the employer will match 100% of your contributions up to 2% of your gross salary. That means if you contribute 2% of your gross salary to your 401(k) your company will match that, functionally doubling your savings rate.
Get a financial advisor – Not every retirement situation is the same. So while there are some rules of thumb to retirement, like save early and abide by a retirement budget, that apply to everyone, there are some rules that don't. For people who want to maximize their retirement income, consider getting in touch with a financial advisor. SmartAdvisor can help match you with a financial advisor in your area who is a fiduciary.
Questions about our study? Contact us at press@smartasset.com.
Photo credit: ©iStock.com/adamkaz