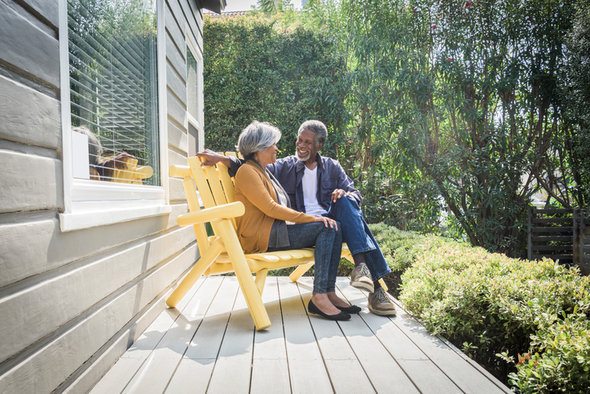 Each year millions of Americans put away their work clothes for the final time and call it a career. But many of these retirees don't just retire and stay put. Many venture off to the warmer climes of Arizona or Florida to take advantage of year-round heat and relatively low costs of living. These retirees bring with them hard earned, and carefully saved, retirement income. This makes retirees an important part of any local economy in which they arrive.
Thinking about retirement? Check our retirement calculator to see how much you should be saving.
Data & Methodology
In order to determine where retirees are moving to, SmartAsset analyzed migration data from the U.S. Census Bureau. Specifically, we compared the number of people ages 60 and over who emigrated from a city or state and compared it to who immigrated. The places with the highest positive net immigration were the places where retirees are moving to the most. Overall we analyzed data on 218 different cities and all 50 states.
This is SmartAsset's second annual study on where retirees are moving. Check out the 2016 edition here.
The States Where Retirees Are Moving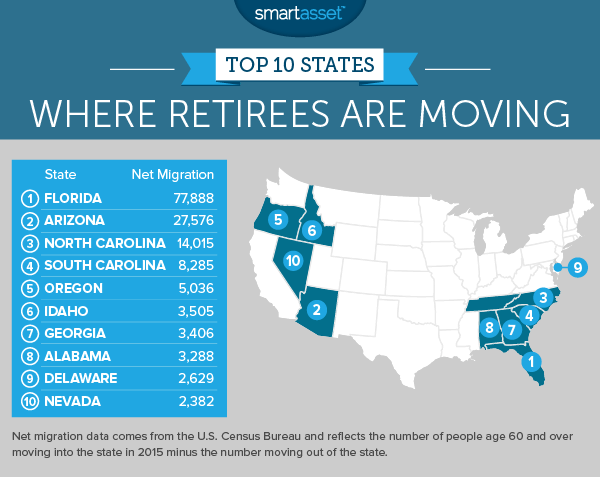 Florida leads the away once again as the premier destination for retirees. With a net gain of just under 78,000 retirees, Florida outranked second-place Arizona by almost 50,000 retirees. Florida's total population is much larger than Arizona's so perhaps that isn't too surprising. Overall the top four states where retirees are moving share quite a bit in common. Florida, Arizona, North Carolina and South Carolina are relatively warm, sunny and generally affordable.
A tax-friendly environment is a common trend our top 10 states. Neither South Carolina nor North Carolina tax social security income. Florida does not tax withdrawals from retirement accounts, Georgia provides a $65,000 tax deduction on all types of income for those over the age of 64 and 10th-ranked Nevada is a very friendly retirement tax state. Alabama and Delaware, which ranked eighth and ninth, respectively, are also tax-friendly states for retirees.
The other two states in our top 10, Oregon and Idaho, are a little harder to explain as they lack both the warm weather and the tax friendliness of the other states. In fact, Idaho went from being a state retirees were mostly leaving last year, to one of the most popular destinations this year. Perhaps in Idaho's case affordability is the key. We found that to retire in Idaho Falls, for example, you only need to save up around $400,000.
As for Oregon maybe golf partially explains it. We recently found that Portland, Oregon is the best city for people who love to golf. And if there is one group who love to golf, it's retirees.
The Cities Where Retirees Are Moving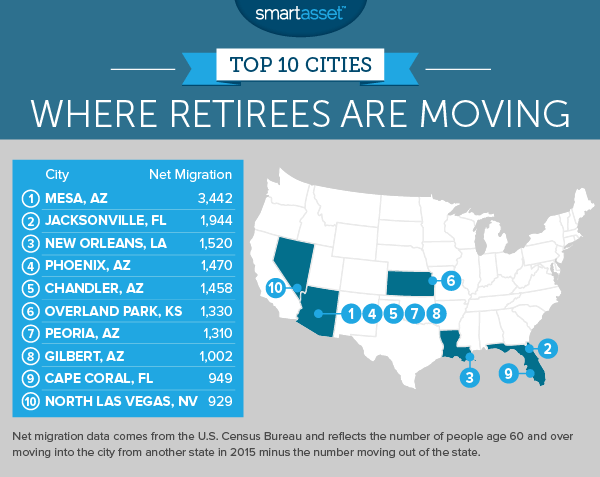 1. Mesa, Arizona
Mesa is a city in the Phoenix metropolitan area. Last year, Mesa led all cities with a net gain of 2,565 seniors. In this year's study Mesa also ranked first with just over 3,400 more seniors immigrating to Mesa than emigrating. Mesa is attractive to seniors because of its weather. The sun is almost always out and even in the dead of winter, it never gets that cold. The average low in December, for example, is only 40 degrees.
2. Jacksonville, Florida
Jacksonville is the largest city in Florida and saw a large influx of retirees moving into the city. Overall 1,817 emigrated while 3,761 immigrated, leaving the city for a net gain of 1,944.
One major reason why retirees love Jacksonville, and Florida in general, is how tax-friendly it is. In past studies we found that Jacksonville is the third-lowest taxed city in the country. It is also a good option for retirees who still want to live in the big city but keep costs low. We estimate that the average Jacksonville retiree would need about $62,470 in annual retirement income to live comfortably. That figure is much lower than other big cities.
3. New Orleans, Louisiana
New Orleans is something of a surprise inclusion in this year's top 10 since it did not even crack the top 25 in last year's study. But it's not too hard to see the appeal. New Orleans is a warm city on the coast with plenty of cultural activities to enjoy. Another factor attracting retirees may be the famous food scene in New Orleans. Overall the Big Easy saw an increase of 1,520 retirees coming into the area.
4. Phoenix, Arizona
Phoenix is the second of five Arizona cities in the Phoenix metropolitan statistical area to crack our top 10. The Valley of the Sun, as far as big cities go, is relatively affordable, especially when it comes to paying for housing. According to data from the Census Bureau, the median monthly housing cost is only $993.
Phoenix actually saw some of the most churn when it came to retirees coming and going. Just over 4,100 retirees left the city while over 5,600 arrived. For both those metrics Phoenix ranked first in the top 10. In fact only Chicago and New York had more retirees emigrate than Phoenix.
5. Chandler, Arizona
Retirees are coming to Chandler in droves. Census Bureau data shows that 1,718 retirees immigrated to Chandler while only 260 emigrated. One reason they may be coming is the golf. Chandler is one of the best cities in the country for golf, thanks to its hot, sunny weather and abundant golf courses. Of course, the low cost of living and tax benefits Arizona provides probably doesn't hurt.
6. Overland Park, Kansas
Overland Park saw a net increase of 1,330 retirees. Kansas as a state only saw a net increase of 1,357, meaning that for retirees Overland Park was the star destination. Overland Park is a great bargain for retirees. Housing is relatively affordable, costing only $123.50 per square foot, according to Zillow data. In fact, according to our projections Overland Park is one of the most undervalued cities in America.
7. Peoria, Arizona
Peoria is a large suburb to the north of Phoenix. This city saw an increase of 1,310 retirees, with 1,839 arriving and 529 leaving. Peoria has seen stunning population growth in the recent past. In 1980 the population was only 12,171, while in 2016 it was 164,172.
For seniors who love baseball Peoria may be a good spot to settle. The Peoria sports complex is the spring training home of both the San Diego Padres and the Seattle Mariners.
8. Gilbert, Arizona
Gilbert is the final Arizona city to crack our top 10. Like Chandler this city is great for golfers. According to Census Bureau data, there are around 150 golf courses in the area. Retirees can also appreciate how safe Gilbert is. FBI data shows there are only 1,320 property crimes per 100,000 residents.
For the retirees looking to escape the cold, especially those coming from the Northeast, Gilbert is a great option. There are only 16 rainy days per year and the average daily high temperature is 87.
9. Cape Coral, Florida
Waterfront Wonderland is once again a popular destination for retirees. Last year Cape Coral ranked second while this year it ranked ninth. In total Cape Coral gained 949 retirees, with 1,926 immigrating and 977 emigrating.
Cape Coral was also the second-biggest beneficiary of Florida's growth in retirees. What is interesting is that while a large chunk of Arizona retirees went to the Phoenix metro area, retirees coming to Florida tended to be more dispersed. Overall Florida had the largest gain in retirees but had only two cities crack our top 10.
10. North Las Vegas, Nevada
North Las Vegas is a newcomer to our top 10. One appeal for retirees living in North Las Vegas is how tax-friendly Nevada is for retirees. Social Security income and withdrawals from retirement accounts are not taxed. And if you plan on earning during retirement, the marginal state tax rate in Nevada is 0. Unfortunately, if you are a retiree in North Las Vegas who wins it big on the slot machine there will be some taxes to pay. The city also has great weather thanks to being in a desert.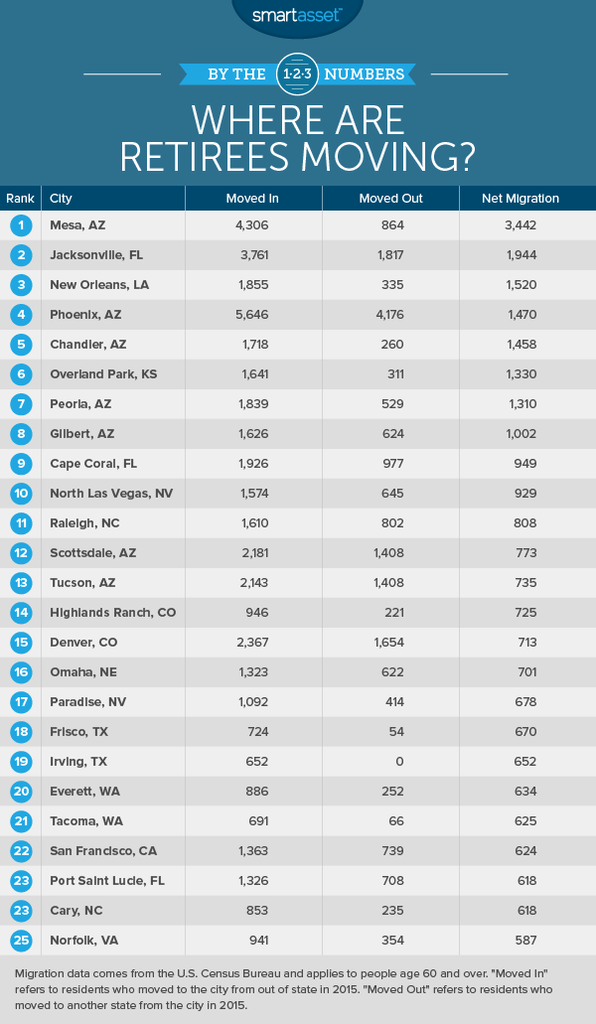 The data analysis for this study was completed by Nick Wallace.
Questions about the study? Contact us at press@smartasset.com
Update: So many people reached out to us looking for tax and long-term financial planning help, we started our own matching service to help you find a financial advisor. A matching tool like SmartAsset's SmartAdvisor can help you find a person to work with to meet your needs. First you answer a series of questions about your situation and your goals. Then the program narrows down thousands of advisors to three fiduciaries who meet your needs. You can read their profiles to learn more about them, interview them on the phone or in person and choose who to work with in the future. This allows you to find a good fit while we do most of the hard work for you.
Photo credit: ©iStock.com/Johnny Greig