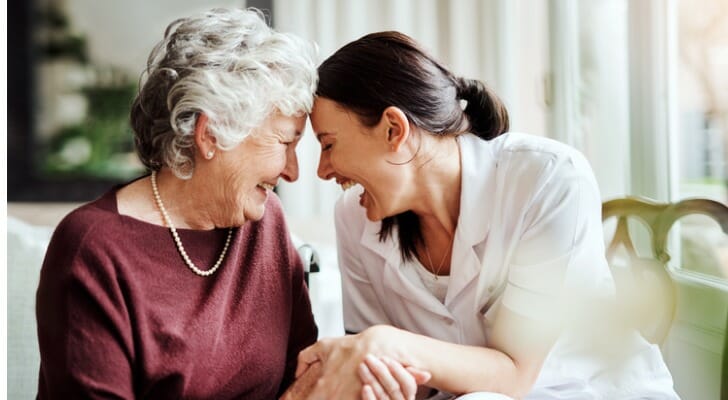 Though probably the most well-known, nursing homes are just one of many types of long-term care facilities available to seniors. Facilities vary by level of services. Assisted living residences and adult foster care homes are at the low end of needed assistance while nursing homes and skilled nursing facilities are at the high end. Facilities also vary in environment and cost. Read on to learn about each type of long-term care facility and how they're different from each other. And for help figuring out how you're going to pay for eldercare, use SmartAsset's financial advisor matching tool.
Skilled Nursing Facility
As its name suggests, a skilled nursing facility (SNF) provides medical care by trained professionals, including physical, speech and other therapists as well as nurses. This care is available 24 hours a day. Staff members also help residents, who are often bed-bound, with daily activities such as getting dressed, eating and bathing.
Potential residents must be deemed eligible to enter a SNF, and to be eligible, one must have a hospital-related medical condition. Commonly, this type of facility will care for people after a major health event, like a stroke, or an operation when they no longer need acute care. Though it is a kind of long-term care facility, a SNF is usually used for a limited time. (Medicare Part A covers all or part of the first 100 days, and the resident entirely foots the bill thereafter.)
This may explain why about 30% of people stay at SNFs for fewer than 100 days, according to Senior Living.org. Another reason people don't stay long: SNFs tend to be the most expensive type of long-term care facility. This is, of course, because of the skilled medical services and breadth of care involved. According to SeniorLiving.org, the annual cost for a SNF in 2017 depended on the geographic location and ranged from $51,096 to $281,412 for a semi-private room and between $60,288 and $281,412 for a private room. The average annual cost was $85,776 for a semi-private room and $97,452 for a private room.
Nursing Homes
Nursing homes are probably what first come to mind when you think of long-term care facilities. Unlike SNFs, they are meant for actual long-term residency. Another point of differentiation is that they provide custodial care (assistance with daily living and low-level nursing) rather than intensive medical services and therapies.
That said, people who live in nursing homes tend to need 24-hour supervision due to physical or mental limitations. In other words, most residents can't live independently.
People sometimes use the terms "skilled-nursing facilities" and "nursing homes" interchangeably. However, the Centers for Disease Control and Prevention (CDC) classifies them as two separate entities under the umbrella of long-term care facilities. As noted earlier, Medicare may cover expenses at the former, but it does not cover the bill for nursing homes.
Fortunately, costs tend to be lower for nursing homes compared to SNFs. That doesn't mean they're inexpensive, though. A Genworth Cost of Care Survey showed that a nursing home can cost anywhere from $89,297 to $100,375 per year.
Assisted Living Facilities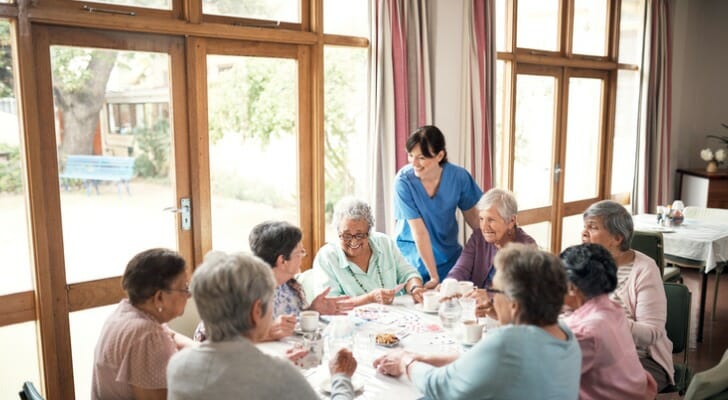 Assisted living facilities (ALFs) are a step down from nursing homes in terms of hands-on care. They are regulated at the state level, so definitions vary across the country. But generally, ALFs are group environments designed to give residents a home-like atmosphere that promotes independence. Services may include:
One to three meals a day
Medication monitoring
Housekeeping and laundry
Social and recreational activities
Limited medical care
The cost of ALFs depends on factors like the size of the apartment or room, services rendered and geographic location. As residents' ability to take care of themselves declines, the level of care – and costs – go up, until the level of care needed is beyond the ALF's capability and the resident will need to move to a nursing home. According to a recent Genworth survey, the national median cost of assisted living is around $4,000 a month or $48,000 a year.
Medicare and Medicaid do not pay for the cost of residency (room and board), but they may cover some costs of care, depending on the state. Similarly, Supplemental Security Income (SSI) or Optional State Supplements (OSS) may cover part of assisted living expenses, depending on the state.
Continuing Care Retirement Communities
Continuing Care Retirement Communities (CCRCs) are tiered-based long-term care facilities. The idea is for seniors to age in place. So typically, residents are active and independent when they first move in, and gradually move up in level of care – and to other sections of the complex or campus where the needed level of care is provided.
In other words, CCRCs are all-in-one senior living communities that are ALFs, nursing homes and SNFs in one place. Some of the best retirement communities offer in-door gyms, ballrooms and game halls for their active and mostly self-sufficient residents.
Compared to the other kinds of long-term care facilities, CCRCs are relatively new – and they tend to cater to wealthy seniors. (The CCRC's on-site medical center must be Medicare-certified for Medicare to cover skilled nursing care.) Typically, CCRCs charge entrance fees that range from $10,000 to $500,000, and maintenance fees that can be upwards of $2,000 monthly.
Adult Foster Care
Again, adult foster care can mean different things in different states. Generally, though, it is used for homes that are smaller than ALFs and in less populous areas (in other words, rural locales).
The services, though, are similar to those at ALFs:
Meal preparation and assistance with eating
Cleaning tasks, including laundry
Bathing and personal grooming
Dressing
Walking and climbing stairs
Shopping and running errands
Travelling to and from appointments
Managing medications
Residents don't receive 24-hour supervision. Instead, they have 24-hour access to assistance, which means the staff may or may not be awake. In contrast, at an ALF, residents have 24-hour access to staff who are awake.
According to Genworth, the monthly costs of adult foster care range from about $1,500 to $3,500. That translates to $18,00 to $42,000 per year.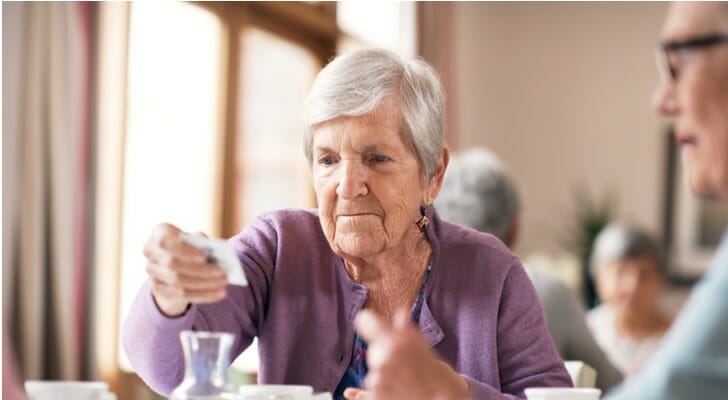 Tips on Paying for Long-Term Care Facilities
Make sure your investment portfolio is properly diversified. If you're close to moving into a long-term care facilities, you may want to be more into fixed income securities – or even cash (i.e., a high-yield savings account or certificate of deposit). If you're a ways away, though, you have enough time to take on more risk. If you're new to this, you can use our asset allocation calculator. It gives you a glimpse of what a proper portfolio may look like based on your risk tolerance.
Hire a qualified financial advisor. These professionals can help you manage money and investments properly in order to fund a long-term care facility that meets your needs or those of a loved one. To narrow down your search for the right financial advisor, we created our financial advisor matching tool. After you answer a few questions about your needs and financial goals, it links you with up to three advisors in your area.
Photo credit: ©iStock.com/Cecilie_Arcurs, ©iStock.com/shapecharge, ©iStock.com/shapecharge