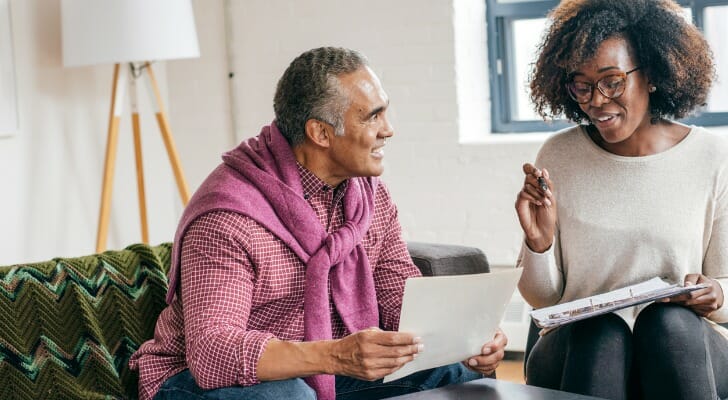 Nursing home cost may work their way into your retirement plan. You may have to help pay nursing care expenses for an aging parent, for example. Or long-term care may be necessary for your spouse or yourself as you grow older. Understanding nursing home costs and how they may vary can help you prepare for the expense.
What's the National Median Cost of a Nursing Home?
The median cost represents the middle ground between the high and low ends of nursing care expenses. Here's how the national median cost of nursing care compares, according to Genworth's 2018 Cost of Care Study:
Median cost per month for a semi-private room: $7,441
Median cost per month for a private room: $8,365
Annual median cost for a semi-private room: $89,297
Annual median cost for a private room: $100,375
The average nursing home stay lasts 835 days, according to the National Care Planning Council. Based on those numbers, nursing home costs could easily run between $204,000 and $230,000.
Those figures are based on current costs and they're what someone entering a nursing home today might expect to pay. Genworth projects that by 2048, the median annual nursing home costs for a semi-private room will top $216,000, while a private room will cost more than $243,000 per year.
Nursing home care is for people who need a high level of care around the clock. Nursing home costs can cover:
Room and board.
Personal care expenses.
Medications.
24/7 skilled nursing care.
Rehabilitation and therapy
Supervision.
Recreational activities.
It's important to keep in mind that nursing home care isn't always a permanent situation. While some elderly residents are permanent, others may stay in a nursing home temporarily while recovering from a surgery or serious illness.
Nursing Home Costs By State
Nursing home costs can vary greatly, based on where you live. The least expensive state for care is Oklahoma. Residents there pay a median of $55,663 yearly for a semi-private room and $66, 510 annually for a private room.
The most expensive state, by comparison, is Alaska. A semi-private room in a nursing home costs a median $351,495 per year, while a private room has a median price tag of $330,873.
The size of a state's population can affect nursing home care costs. Similarly, where senior populations are grouped, the availability of nursing care facilities, facility ownership, and cost of living factor in as well. The overall health of the elder population in a particular area can also affect nursing home costs.
For example, if a group of seniors in a particular area considered high risk for certain health conditions based on their genetic history, their nursing home costs may be higher.
Nursing Care Cost Trends
Nursing home costs continue increasing year over year. As of 2018, the median cost of semi-private rooms in a nursing facility has a 3% five-year growth rate, while the median cost of private rooms grew 4% over five years. Costs for home health aides, adult daycare, and assisted living facilities grew at a similar pace. Since 2004, the median annual cost of care for a private room climbed nearly $35,000.
Here's how median annual costs compare for other senior care options:
Homemaker services: $48,048
Home health aide: $50,336
Adult day health care: $18,720
Assisted living facility: $48,000
Adult daycare is the least expensive option, but it also involves the lowest level of care. The main difference between homemaker services, home health aides, and assisted living facilities is location. The level of care services provided across all three is comparable. But with homemaker services or a home health aide, seniors receive care at home.
Those costs also vary by state. The most expensive states for assisted living facilities are the District of Columbia, Alaska and New Jersey. The least expensive are Missouri, Arkansas and Georgia. Seniors pay the most for home health aides in Hawaii, Minnesota and Washington, while the hourly cost for those services is lowest in Louisiana, Alabama and Mississippi.
Do Medicaid and Medicare Cover Nursing Care?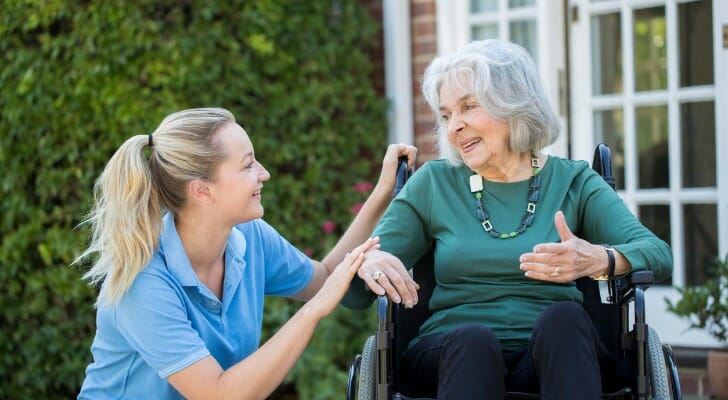 In short, yes and no. Seniors can apply for Medicaid to help pay for the cost of long-term care. But, they must be financially eligible to receive aid. That can mean spending down savings or selling off property and other assets to fall within the financial guidelines.
Medicare, on the other hand, doesn't pay anything toward long-term care. You can tap into Medicare benefits to pay for a short-term stay in a nursing facility of up to 100 days if you need rehab or physical therapy after an injury or illness. You can also use Medicare benefits to pay for up to 35 hours per week of home health services but they don't carry over to a permanent nursing home facility stay.
Assistance for veterans is available outside of Medicaid or Medicare. If you receive care through the Veterans Administration ,you could be eligible to get financial help for assisted living, residential, or home health care. That includes physical therapy and 24/7 skilled nursing care in your home, at an adult day care, or in a nursing home.
Planning for Nursing Care Expenses
If you think that you, your spouse, or parent will need nursing care at some point, there are a few things you can do to plan financially. The first is to consider whether purchasing long-term care insurance makes sense.
Long-term care insurance is designed to pay benefits to help with managing nursing home costs. Investing in a policy could be a good option if you'd prefer not to spend down assets to become Medicaid-eligible. But long-term care insurance can be costly. If you don't need care, for example, then you've paid money for a benefit you can't use.
An alternative is to consider a hybrid policy that incorporates both life insurance and long-term care insurance. The advantage there is that if you need benefits for long-term care, you'll have access to them. And if you don't, then you can leave behind a death benefit to your beneficiaries when you pass away.
A third option is to add saving for nursing home costs into your financial plan. You can do this inside or outside of a tax-advantaged savings account, such as a Health Savings Account. These accounts are linked to high deductible health plans and allow you to save money for future health care expenses on a tax-deferred basis. Withdrawals are tax-free when used for qualified medical expenses, including long-term care insurance premiums or long-term care out of pocket costs.
When budgeting for how much to save, look at the projected estimates for the cost of care when you think you'll need it. If you're 30 right now, then you may not face nursing home costs for another 50 years. Therefore, you'll want to factor inflation into your calculations for saving to account for rising health care prices.
The Bottom Line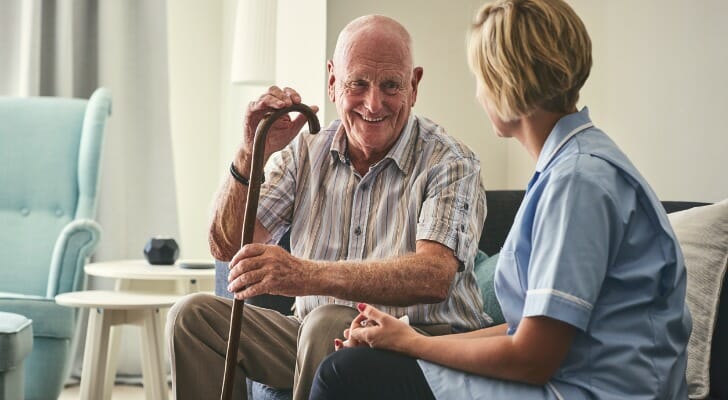 Nursing home costs can be expensive and more so in some states than others. Researching the median costs on a national basis, then looking at the costs of care in your state can give you perspective on what you might pay for nursing care as you age.
Taking steps now to plan. That could mean purchasing long-term care insurance or creating a separate savings cushion. Either can help keep the costs from burdening your financial future.
Retirement Tips
Consider talking to your financial advisor about the implications of saving and paying for nursing home costs. Finding the right financial advisor that fits your needs doesn't have to be hard. SmartAsset's free tool matches you with financial advisors in your area in 5 minutes. If you're ready to be matched with local advisors that will help you achieve your financial goals, get started now.
If you're considering long-term care insurance or a hybrid life insurance/long-term care policy, shop around with different insurers to compare premiums and coverage amounts. SmartAsset's life insurance guide can tell you how much you'll need and provide quotes. Like other types of life insurance, long-term care insurance is typically more affordable the younger and healthier you are when you buy it.
Photo credit: ©iStock.com/kate_sept2004, ©iStock.com/Daisy-Daisy, ©iStock.com/Dean Mitchell