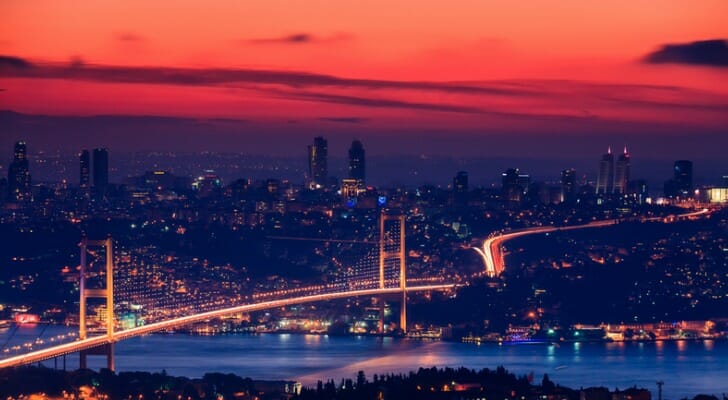 Turkey is filled to the brim with beautiful architecture, art and a melange of cultures that reaches back thousands of years. It's home to artifacts from communities like the Hittites, Ancient Greeks, early Christians and Mongols, which fill this nation of some 82 million, with a rich sense of history. Lying as it does at a crossroads of Europe and Asia, visitors can see a unique blend of Western and Eastern influences. Its Mediterranean and Black Sea beaches are renowned for their beauty. Istanbul's Grand Bazaar extends across 58 covered streets hosting some 1,200 shops. If you're considering retiring in Turkey, here's an overview of some basic information you'll need. A financial advisor can offer valuable guidance as you consider retiring abroad.
Cost of Living and Housing
It's much less expensive to live in Turkey than it is to live in the U.S. Without accounting for rent, Turkey's cost of living is 53.56% lower than in the U.S. on average, according to Numbeo, a cost-of-living database.
U.S. rent prices are 556.13% higher when stacked against those in Turkey, on average. To rent a one-bedroom apartment in a city center will run you around $215.26 in Turkey, whereas a comparable setup in the U.S. would run about $1,340.16. If you wanted to pursue purchasing an apartment in Turkey, you would find that the price per square foot in a city center is averaged out to $83.07. In comparison, the same square footage in a similar city location in the U.S. would cost about $328.96.
To further illustrate the contrast, we can compare Istanbul, Turkey's most populated city, to the U.S.'s New York City. To maintain the same standard of life, you would need around $8,203.10 in New York, which contrasts starkly to the approximately $1,960.45 necessary in Istanbul, assuming you rent in both.
So, if you're looking for a country to retire in with both affordable renting prices and lower property costs to make the most out of your savings, Turkey may be a solid option.
Retire in Turkey – Visas and Residence Permit
Turkey doesn't have a visa specifically for retirement, so you have to apply for a residence permit instead. This requirement applies to anyone who intends to remain in the country more than three months. You'll first have to apply for a short-term residence permit, and you must do so within a month of your arrival in Turkey. There is an online application you fill out at the Turkish Ministry of Interior's website. Once you finish, it will prompt you to make an appointment with the nearest DGMM office to continue the process and pay the fee your visa requires.
A short-term residence permit is issued on a two-year basis. After you've lived in Turkey uninterrupted for eight years under your short-term visa, you can apply for a long-term residence permit. These extend indefinitely.
No matter what residence permit you are applying for, you will likely need to show proof that you possess adequate assets. This can shift whether or not you have dependents, but a single person is generally required to have the equivalent to a month's worth of Turkish minimum wage. As of early 2021, that would be around $400.
Retire in Turkey – Healthcare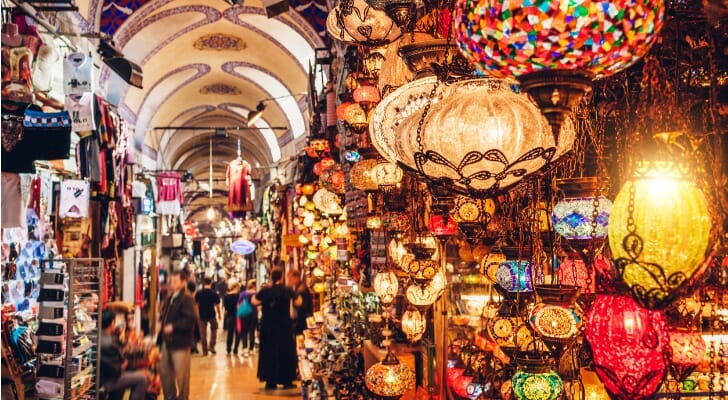 The World Health Organization ranking of national healthcare systems puts Turkey's at 70th out of 191. The central government body responsible for healthcare and related policies is the Ministry of Health (MoH). There is also a private sector and university-based care; however, the MoH is the main body responsible for providing healthcare. You can expect the quality of healthcare in Turkey to vary between regions. Although it's cheaper than some of its European neighbors, access is limited in more rural areas. You're more likely to have high-quality care in major urban locations like Istanbul – as well as the ability to communicate with your healthcare providers in English. This increase in quality is why most expats choose to go to private medical facilities over public ones.
All residents under 65 must have either public or private health insurance. Expats who have resided in Turkey for over a year under their residence permit can apply to have public health insurance through the state-run Sosyal Güvenlik Kurumu (SGK). Expats usually choose to supplement this with private insurance (or just choose private) to cover additional fees at private facilities.
As Turkey has grown as a country and political entity, it has experienced a great deal of reform around its healthcare system. It likely will continue to experience further changes in the future.
Retire in Turkey – Taxes
Like many countries, residents and non-residents are subject to different taxes in Turkey. Residents pay taxes on their worldwide income, whereas non-residents only have to pay taxes on Turkish-sourced income. The country uses a progressive tax scale, ranging from 15% to 35%, depending on your income bracket.
Turkey does possess a tax treaty with the U.S., which can provide some relief. You will only have to pay into one country's Social Security program as a result, which in Turkey is a 14% flat tax for employees. Otherwise, there are also tax exemptions that may allow you to pay less on your U.S. income taxes. One example is the foreign earned income exclusion, which lets you exclude the first (approximately) $100,000 for foreign earned income if you can prove your Turkish residency.
Retire in Turkey – Safety
Each expat's experience is unique. Some may travel through Turkey and find they encounter little to no issues on a security level. That's not to say you shouldn't be cautious. The U.S. Department of State's travel advisory warns travelers either visiting or moving through Turkey to be wary of both terrorism and arbitrary detentions. The advisory heavily suggests that you avoid the Sirnak and Hakkari provinces, which are in the southeastern part of the country, as well as any area within six miles of the Syrian border to avoid terrorist activity. The State Department's most recent report on human rights practices in Turkey bears a close reading, especially sections 1 and 6.
Although you should speak with locals and enjoy the culture, you should also be wary of your surroundings and keep an eye on political developments. It is also advised that you don't engage with political topics online either since that can still be a red flag.
The Takeaway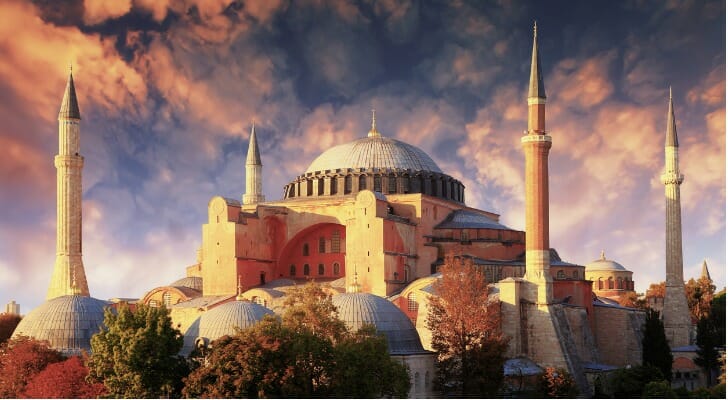 Turkey is still in the process of significant political change, making settling down difficult for the average retiree. That, along with terrorism concerns, may encourage you to look at other countries instead. However, Turkey has a strong sense of identity with a warm populace who wants to share their cultural. That sense of belonging, along with the country's beautiful features and its low living costs, may make the challenges worth it to you.
Tips on Retiring
Finding the right financial advisor who can help address your needs doesn't have to be hard. SmartAsset's free tool matches you up with local financial advisors in as little as five minutes. If you're ready to be meet with advisors in your area that will help you achieve your financial goals, get started now.
Planning your retirement comes with its challenges, especially if you intend to move abroad. While Turkey may have low living costs, there still may be other financial burdens you have to address. To get an idea of what to expect, stop by our retirement calculator.
Photo credit: ©iStock.com/hadynyah, ©iStock.com/Nikada, ©iStock.com/TEZCAN