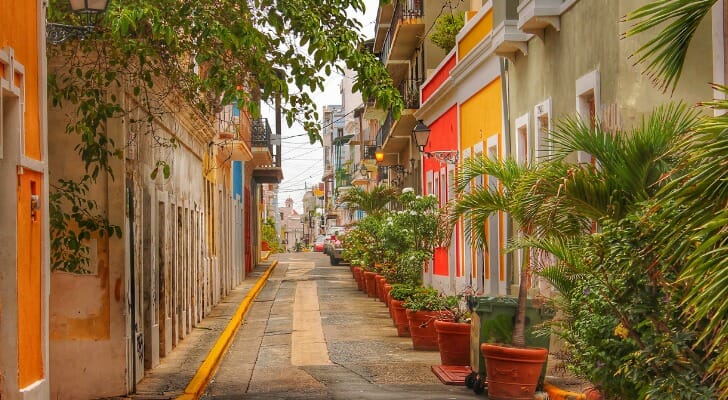 Puerto Rico is famous for its tropical climate and sunny beaches, which make it a particularly attractive vacation destination. But the island also boasts a number of financial perks for retirees looking for a place to settle down. Retiring here is an especially attainable dream for U.S. residents, as they won't have to go through the hassle of getting a visa. While it's smart to consult a financial advisor on your retirement plans, we'll walk through the basics of retiring in Puerto Rico.
Cost of Retiring in Puerto Rico
Numbeo.com, a database that calculates and compares various economic factors, reports that it costs 5.7% less to live in Puerto Rico than it does in the rest of the U.S. (July 2019). The cost to rent here is a far more significant 54.42% lower than in the rest of the U.S. So while the overall cost of living is relatively similar to what you'd find in the U.S., you'll likely save a significant amount on housing and have more money to spend elsewhere.
Total monthly expenses should typically be a total of four times your monthly rent, so you can expect to retire comfortably in Puerto Rico on about $2,000 per month. Even the more expensive parts of the island are still less expensive than most major U.S. cities. Frugal spenders should be able to live well while enjoying everything that makes Puerto Rico a desirable country to reside in.
Housing in Puerto Rico
In Puerto Rico, the rent for a one bedroom apartment in a city center costs about $580 per month. The same apartment outside of the city will run you closer to $420 a month. If you're looking to buy an apartment, the price per square foot is $122.07 in a city center and just $93.57 per square foot outside the city. In the U.S., an apartment goes for $238.95 per square foot in the city center and $173.52 outside the city center.
Housing is one of the cheapest parts of retiring in Puerto Rico. The island is a U.S. territory, so it is well developed. However, it's still important to do sufficient research when considering places to live, as some areas lack the infrastructure that you might be used to in America. You'll also want to be wary of how susceptible your residence is to hurricanes and tropical storms.
Healthcare in Puerto Rico
Since Puerto Rico is part of the U.S., your Medicare card works just as well as it would anywhere in the U.S. Private insurance is also a solid option for retirees. It's typically far less expensive than in the U.S. and carries lower co-pays and you'll still have access to the same care you would stateside. Healthcare infrastructure is widespread in Puerto Rico, as there are over 90 hospitals on the island and plenty of clinics and pharmacies. That said, doctor's offices and hospitals outside major cities tend to be more run down, with fewer doctors on staff and less equipment. You'll want to look in and around major cities, particularly San Juan, for the best healthcare.
Taxes in Puerto Rico
Retiring in Puerto Rico becomes an even more attractive option when you consider the generous tax policy known as the Individual Investors Act. Under this act, residents of Puerto Rico are exempt from paying island or federal income taxes on dividends, interest and capital gains. Residents are also exempt from paying U.S. federal tax on any income that comes from within Puerto Rico. Any employment income generated within Puerto Rico will only be subject to island tax. In order to be considered a resident and for these benefits to kick in, you'll need to spend at least 183 days a year on the island.
At 11.5%, Puerto Rico has a particularly high sales tax. This is definitely worth considering if you want to retire here. For retirees, a significant chunk of monthly spending will likely be subject to this high sales tax.
Drawbacks of Retiring in Puerto Rico
Hurricanes are a main concern for anyone considering retiring in Puerto Rico, and the island was devastated by Hurricane Maria in 2017. Although you can take steps to protect your home or rental property, catastrophic storms will inevitably come around. So if you decide to retire in Puerto Rico, make sure you're prepared for this risk. You should also be prepared to pay more in home or renters insurance due to the chances of a devastating storm.
Puerto Rico is popular for tourists and retirees alike, but it's not without its downsides. The island is home to mosquitoes, scorpions, sand fleas, mongooses and other critters that can bite and spread disease.
Sanitation standards in Puerto Rico aren't as rigorous as what you'd typically find in the U.S., especially after Hurricane Maria. Swimming in or drinking dirty water could lead to contracting a parasitic infection known as schistosomiasis. Unless you live in a major area like San Juan, it's best not to drink the tap water.
The Puerto Rican economy is also not particularly healthy, and many are still suffering in the aftermath of Hurrican Maria. Even though the island is still considered a safe place to retire, violent crime rates have risen in the past few years.
Bottom Line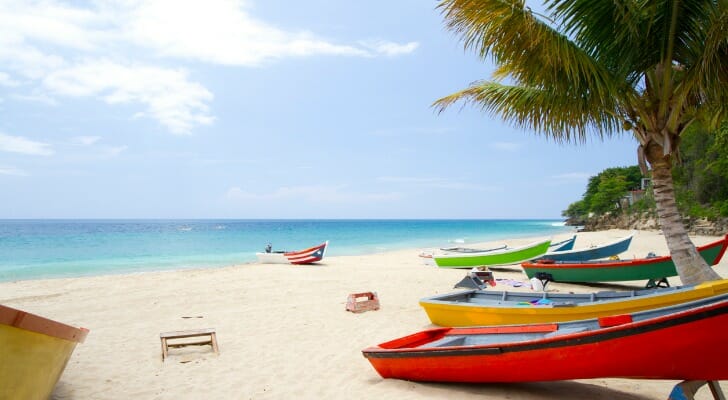 It's easy to see why so many Americans choose to make the move and retire in Puerto Rico. The cheap cost of living combined with beautiful landscapes and a tropical climate are a dream come true for many. You'll also have easy access to affordable healthcare and generous tax incentives.
That said, there are valid safety and sanitation concerns about the island. It may be a good idea to hold out on moving to Puerto Rico until the economy improves.
Tips for Helping You Save for Retirement
Puerto Rico is a relatively inexpensive place to retire, and your Social Security benefits may be enough to cover most of your expenses, depending on your benefit amount and cost of living. Use our Social Security calculator to see just how much of your expenses will be covered by Social Security.
Before you decide to retire in Puerto Rico, it might be a good idea to talk to a financial advisor. Finding the right financial advisor that fits your needs doesn't have to be hard. SmartAsset's free tool matches you with financial advisors in your area in 5 minutes. If you're ready to be matched with local advisors that will help you achieve your financial goals, get started now.
Photo credit: ©iStock.com/Dan Barone, ©iStock.com/dbvirago, ©iStock.com/AvailableLight