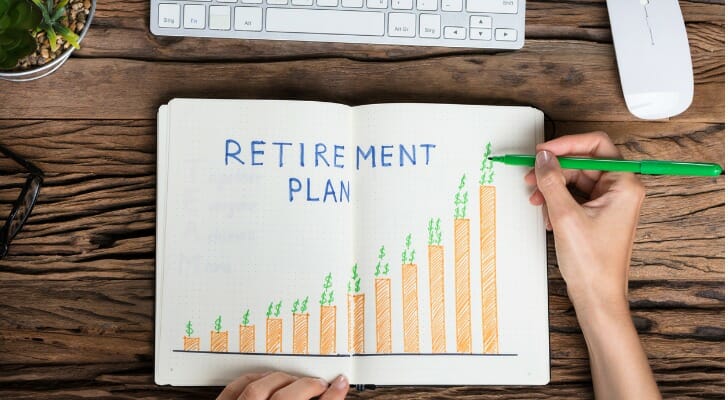 One of the easiest ways to save for retirement is to contribute to your 401(k). Set up through your employer, a 401(k) allows you to set aside a certain amount of each paycheck before taxes. Sometimes, your employer can also contribute to your 401(k) through an employer match program. This program can really help boost your retirement savings. Plus, there's not too much extra work on your part to snag this perk.
How Does 401(k) Match Work?
There are a few ways your employer could contribute to your 401(k) plan through employer match. It's important to note first that employer match doesn't always mean your employer will contribute the exact amount you contribute. Your employer typically contributes up to a certain amount. This amount can be expressed as a dollar amount, a percentage of your salary or a percentage of your own contribution. So no matter an employer's match promise, your contributions could be capped at 6% of your salary, for example.
One way your employer could contribute to your 401(k) is simply by matching 100% of your contribution. If we stick to the original example above, your employer match will max out at 6%. So if you, for example, contribute 5% of your salary to your 401(k), your employer can contribute the same amount as well. In this instance, you might want to contribute at least 6% to take full advantage of your employer's match program. However, only increase your contribution if you're safely able to do so without hurting your current financial situation.
Of course, not all employers will match your contribution dollar for dollar. Some may "match," say, 25% of your contribution. If you contribute that same 5% of your salary, your employer will only be contributing 1.25% of your salary to your 401(k).
Check out the table below for to see what your 401(k) match contributions could look like based on a $40,000 salary.
Employer Match with a $40,000 Salary (Example)
Employer Match Plan
Employer Match Maximum
Your Contribution
Employer Match Contribution
Contribution Needed to Meet Employer Match Maximum
100%
6% of Salary ($2,400)
$1,200
$1,200
$2,400
50%
6% of Salary ($2,400)
$1,200
$600
$4,800
25%
6% of Salary ($2,400)
$1,200
$300
$9,600
Do I Qualify for 401(k) Employer Match?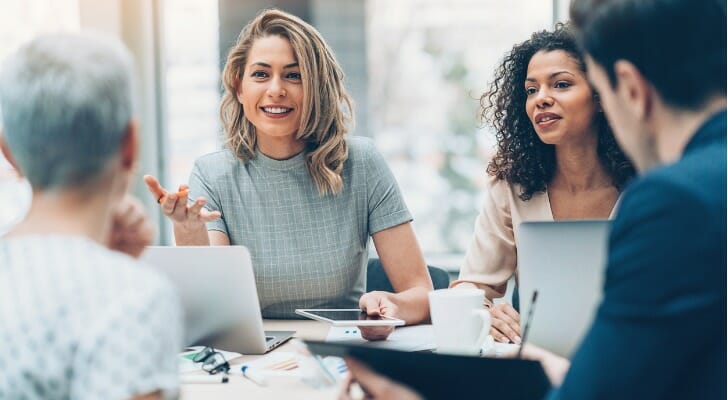 Your eligibility for employer 401(k) matching depends entirely on your employer. Not all employers offer a match program. About 46% of companies who do offer a match program start doing so with your first paycheck. Other companies who offer a match, about 29%, wait until you've worked there for a certain amount of time, like a year.
It's important not to assume your employer has automatically enrolled you for contribution matches. Be sure to ask when your matches will take effect. If you're unsure whether your employer offers a match program at all, don't be afraid to ask your boss or human resources representative about the company policy. Be sure to ask about the guaranteed match amount and what the match limits are.
401(k) Matching Average and Contribution Limits
Companies average contribution matches at around 3% of an individual employee's pay.
Regardless of your employer's match, however, you should still be contributing at least a small part of your pay to your 401(k). That will ensure you do have funds to live off of once you hit retirement. Typically, you'll want to save between 10% and 20% of your gross salary toward retirement. The total amount can be split between your 401(k) and other retirement accounts you may have, or you might keep all of that in your 401(k). Be sure to keep yourself on track throughout the work years, checking whether you're meeting your age group's average 401(k) contribution numbers or not.
Also always keep in mind that the IRS does put limits on how much you can contribute to your 401(k) each year. For 2018, you're allowed to contribute a maximum of $18,500. If you're 50 or older, you can contribute an additional $6,000 a year for a total of $24,500. However, your employer's match does not count toward that 401(k) limit. The combination of contributions from all sources can reach up to $55,000 for 2018.
Bottom Line
Employer 401(k) matching is essentially free money that you can easily benefit from. There's typically no extra hoops you need to jump through to qualify. Be sure to check with your company to see whether it offers a match. Also see whether you need to enroll manually and how much the match equals. The real trick to your employer match is working to ensure you're taking full advantage of the maximum it can contribute.
Tips on Saving for Retirement
If it sounds entirely too complicated to figure out how to maximize your 401(k) employer match or your contribution limits, a financial advisor can help you out. He or she will be able to look, not just at your paychecks, but also at your entire financial picture, to help you create the best 401(k) plan. Our advisor matching tool can easily connect you to qualified advisors in your area to help you find the right advisor.
To branch out a bit more in your retirement savings, you can open an IRA. An IRA, or individual retirement account, isn't sponsored by your employer. You have to open and fund it entirely yourself. Of course, you can get an advisor to manage your accounts for you, as well.
Photo credit: ©iStock.com/AndreyPopov, ©iStock.com/pixelfit, ©iStock.com/M_a_y_a