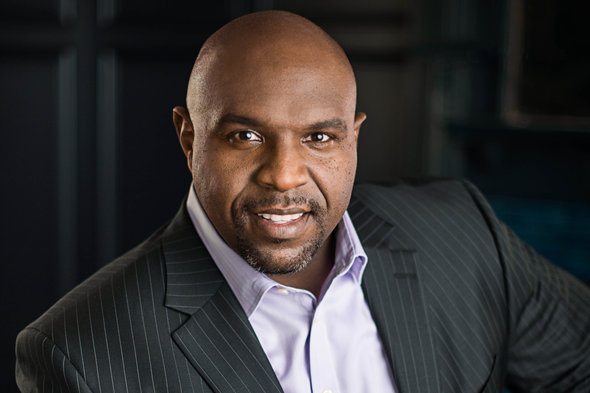 Chris Hogan is an engaging speaker who's passionate about retirement savings. After years of studying under Dave Ramsey, he published his own book and started his own blog. Now he's working to become one of the leading voices on saving for retirement. His advice is simple and most people could learn a thing or two from him. So what exactly does he have to say about retirement?
We can help you find the right financial advisor for your needs.
Chris Hogan's Financial Focus and Philosophy
Chris Hogan's focus is retirement. He got his start working under Dave Ramsey and uses the same seven-step system to financial freedom that Ramsey does. In Ramsey's system, saving for retirement is the fourth thing you should focus on. Hogan simply expands on how to do that.
People generally think of retirement as an age they reach toward the end of their lives. Hogan believes that retirement is a financial number and not an age. He argues that people should think of retirement as a financial number or a target to reach. Hogan even has a name for that number: retire inspired quotient (R:IQ). Your R:IQ tells you how much you need to have saved in order to have financial security in retirement. And your R:IQ is determined by your specific goals. Whether you want to retire at 65 or 45, your R:IQ tells you what savings figure you should be aiming for.
You can calculate your R:IQ by answering five questions on Chris Hogan's website. (You will also need to sign up for Chris Hogan's newsletter.) These questions ask about your income, how much you already have saved for retirement, the number of years in which you'd like to retire, what you plan to do in your retirement (e.g. travel or relax) and how much money you think that you'll need each month in retirement.
Top Financial Advice From Chris Hogan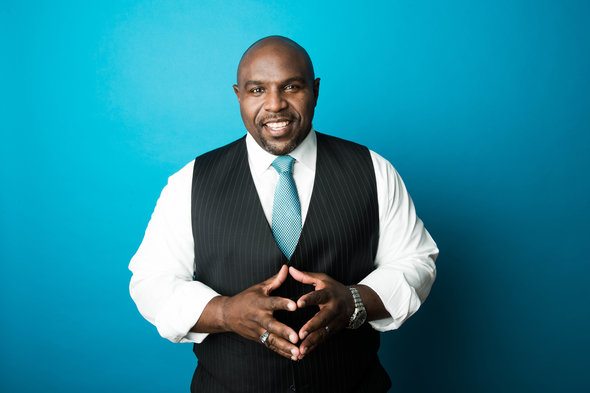 It may sound counter-intuitive but Chris Hogan (like Dave Ramsey) believes that not everyone is ready to start thinking about retirement. Hogan believes there are other financial goals that one should consider first, like starting an emergency fund and getting out of debt.
Once you've done that and you're ready to start saving for retirement, your goal should be to put 15% of your income toward retirement, according to Hogan. Even if your employer automatically puts money into a retirement account for you (as with a pension) Hogan still advises you to put 15% of your net income toward retirement.
Many employers offer retirement accounts like a 401(k) or 403(b). Hogan urges people to take advantage of those accounts. If your employer doesn't offer one of those accounts, you can open your own individual retirement account or IRA. Even contributing a small amount each month can add up over a few decades, thanks to compound interest. By the time you reach your 40s, you should be trying to max out your retirement accounts. And once you put money in, don't touch it! Though there are some exceptions, you typically have to pay fees and penalties for withdrawing money early from your retirement accounts.
Hogan also recommends having a specific plan for retirement. Sounds easy, right? Well, it actually has multiple parts. The first part is to understand what you want to do in retirement. Many people don't save enough for retirement but they still have a list of things they want to do once they retire. Some people want to travel or do mission work or spend time volunteering. Chris Hogan agrees that those things are great, but you can't do any of them if you don't have money. Sit down and think about exactly what you want to do in your golden years. This will give you a dream to shoot for.
Next calculate your R:IQ. This is a number that will tell you exactly how much you need to save in order to have your dream retirement. Now you know what you want to do in retirement and you know how much you need to save in order to get there. That leaves the actual work of saving.
Hogan also likes to remind people that you should discuss retirement plans with your significant other. If you're married, sit down with your spouse and make sure that you both understand each other's dreams. Targets are easier to reach when everyone is pushing in the same direction.
A big part of saving is budgeting (and as J. Money will tell you, budgeting is quite sexy). A budget helps you understand what you spend your money on. In his book, "Retire Inspired," Hogan recommends giving each dollar a name. You should know that this dollar went to rent and that dollar went to eating out or concerts or savings. Hogan says if something is important to you, then you can spend money on it, but you should make sure to prioritize your purchases and spend intentionally. Your needs should come before your wants. You don't want to look at your monthly expenses and see that you spent 50% of your income eating out, even though you don't like eating out.
A Brief Bio of Chris Hogan
After a college career as an all-American football player, Chris Hogan began his financial career as a bill collector. This gave him his first glimpse of how much people were struggling financially. Many people were living paycheck to paycheck and many were constantly borrowing money just to bridge the gap between their income and their expenses. After several years, he moved into banking. He worked with clients to help manage their money and businesses. Again he saw peoples' financial difficulties first-hand.
It was in this time that he became a big fan of Dave Ramsey. Hogan and his wife wanted to take control of their own finances, so they started reading and listening to Dave Ramsey's advice. Hogan was inspired by Ramsey's mission to help others with their finances. Through some luck and some nudging from his wife, Hogan met Dave Ramsey at a silent auction. They hit it off and Hogan got a job working for Ramsey.
Hogan worked with Ramsey for over a decade before he published a book called "Retire Inspired: It's Not an Age, It's a Financial Number," in 2016. Hogan then started a podcast a few months later. Both his book and podcast have been successful in helping people understand what they need to do in order to have financial security in retirement.
Where You Can Find Chris Hogan
Chris Hogan maintains the ChrisHogan360 website where there is information about his book, podcast or upcoming live events. You can also calculate your R:IQ through the website. Check out Chris Hogan on Twitter, and find helpful videos through his YouTube channel.
Current Projects
In June 2016, Hogan started his Retire Inspired Podcast. A new episode airs every two weeks and you can listen through Chris Hogan's website or you can subscribe for it wherever you normally get your podcasts. In each episode of his podcast, Hogan focuses on a different issue related to retirement or saving in general. Much like "The Dave Ramsey Show," Hogan likes to talk with listeners to help them through their personal finance challenges. Each episode also includes a takeaway with three pieces of actionable advice.
Takeaway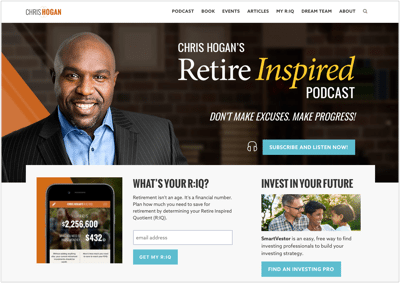 If you're struggling to save for retirement, you may want to check out what Chris Hogan has to say. He has years of experience both on his own and as a member of Dave Ramsey's team. He's an energetic motivational speaker who doesn't mince words. Hogan also uses personal stories to help drive home his points. His book in particular is filled with powerful stories. People who are just starting to think about retirement could especially benefit from Hogan's advice. While his advice isn't necessarily new or groundbreaking (e.g. a lot of people recommend budgeting), he offers sound advice and great motivation for reaching your goals.
Tips to Help You Save for Retirement
Photos of Chris Hogan are courtesy of Ramsey Solutions. The last image is from ChrisHogan360.com