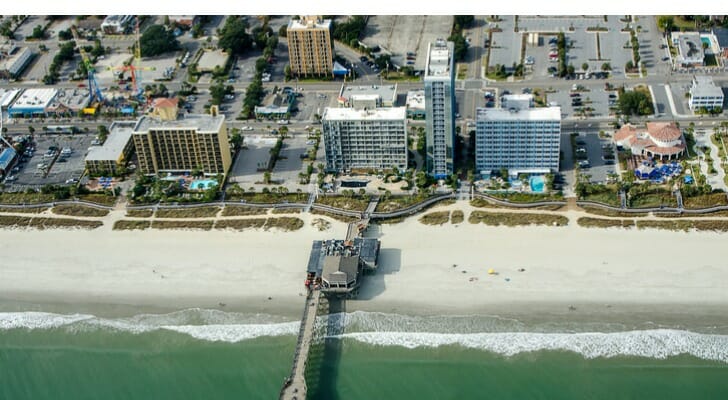 The best places to retire in South Carolina have plenty to offer from pristine lakes and mountains to historic sites that date back to the Revolutionary War. So it's no wonder so many nature lovers, outdoors enthusiasts and history buffs come to spend their golden years here. And it also has some of the lowest property taxes in the nation. Despite these advantages, retirement planning can still be a challenge and the cost of living in South Carolina can vary sharply depending on where you lay your nest egg. So if you'd like some professional guidance, you can use our financial advisor matching platform. This free tool connects you with up to three local financial advisors who can help.
How We Determined the Best Places to Retire
We dove into the hard data behind what matters most to retirees. Affordability, access to healthcare and tax burden fell among the factors we examined. We also explored the recreational activities and attractions available in order to make sure you have fun in retirement. The result was a list of the top 10 best places to retire in South Carolina. So read on to see why these gems made the cut.
1. Seneca
If you want to spend your golden years in a small town surrounded by lakes and mountains, Seneca may be right for you. And you'll be in good company with your peers: seniors make up a healthy 20.6% of the population. And if you retire there, you'd have plenty of opportunities to stay healthy and active. Common recreational activities include kayaking and hiking. You can also take a break and go boating at the Lake Keowee Marina. Other attractions include the World of Energy museum at the Oconee Nuclear Station and the African-American-themed Bertha Lee Strickland Cultural Museum. And to keep your mind active, you can check out the Escape Zones, where you and a group of people are given cryptic clues in order to escape a locked room.
In addition, you'd also have access to about 5.74 medical facilities per 1,000 people. But considering the rising cost of healthcare, you might want to save for future medical expenses as early and as aggressively as possible. You can do so through a health savings account (HSA). These allow you to save for qualified medical expenses while enjoying unique tax breaks.
2. Murrells Inlet
If you're looking to retire in a quiet maritime community, Murrells Inlet may appeal to you. Resting just a few miles from Myrtle Beach, this small town with a population of about 8,000 has plenty of golf courses and opportunities for recreational activities. You can also bask in the sun at one of its many beaches. Some even consider Murrells Inlet the seafood capital of the world. In fact, seniors make up about 32% of the population. And it surrounds around 7.25 medical facilities per 1,000 people. However, its tax burden is rather high at 17.0%. To protect your retirement savings from taxes, you may want to open a Roth IRA or roll over your savings into one. You can take qualified withdrawals from these accounts tax free.
3. Myrtle Beach
Recognized as a top retiree destination in the United States, Myrtle Beach offers plenty of attractions and activities. These include more than 100 golf courses, a variety of shopping and restaurant destinations, and a theater that frequently hosts big names. Of course, you also get to enjoy the Grand Strand, one of the longest sections of beach on the planet. You'd also have access to plenty of retiree communities and several medical facilities. But keep in mind Myrtle Beach also attracts plenty of tourists, so it may not be the best place for people looking for a quiet retirement. And Spring Break can get pretty wild — not a problem if you want to keep the party going well into your golden years.
4. Hilton Head Island
For the past few years, people have been flocking to retire at Hilton Head Island in larger numbers. In fact, 33.4% of seniors make up its population today. That makes it the area with the biggest concentration of fellow retirees on our list. And it's no surprise why. The relaxing, maritime atmosphere of Hilton Head Island surrounds attractions like the historic Harbour Town Lighthouse, the Pinckney Island National Wildlife Refuge and the Harbour Town Golf Links.
5. Greenville
If you want to retire in a small town with a lively downtown area, Greenville may be right for you. In fact, it has won the Great American Main Street awards from the National Trust for Historic Preservation multiple times. And if you plan to continue your education well into your retirement, you're in luck. Greenville is home to several colleges, including Furman University. The town also serves as a beacon for the arts, where events and festivals are frequent. It's also one of the places on our list with the easiest access to medical facilities.
6. Camden
History buffs may want to consider Camden, South Carolina. Founded by the Quakers in 1751, this historic place still stands as America's oldest inland town. Camden and surrounding areas later served as the sites of several Revolutionary and Civil War battles. In fact, you can visit the historic Camden Revolutionary War museum. You'd also have access to several parks and recreational centers.
7. West Columbia
If you plan to continue your education, you should definitely consider West Columbia. You can find a University of South Carolina main campus nearby. And the school offers free tuition to students who are at least 60 years old and get accepted to the college. But West Columbia offers even more reasons to call it home during your retirement. You may want to open a 529 college savings plan on your name to begin saving for your education here. In fact, West Columbia has been making several lists of best places to retire in South Carolina for the past few years. It has been recognized for its vibrant city life blended with a hit of good-old Southern Hospitality. Columbia also surrounds the most recreational centers out of all entries that made our list of best places to retire in South Carolina.
8. Anderson
Anderson offers the most medical facilities among our list of best places to retire in South Carolina. And seniors make up a healthy 33% of its population. If you retire there, you have plenty of retiree resources to access, including the Anderson County Senior Citizens Program. You also have plenty of activities to engage in throughout the small town of Anderson. Common attractions include the historic Denver Downs Farm, the Anderson County Museum dedicated to South Carolina's heritage and Sadlers Creek State Park. Your grandchildren may also enjoy the Carolina Wren Park with its colorful fountains and nightly light shows.
9. Georgetown
History buffs may be happy to retire in Georgetown, North America's first settlement. And according to our research, it offers several recreational centers and retiree communities. You can visit popular sites like the Rice Museum dedicated to the area's history of rice cultivation, and the South Carolina Maritime Museum. Festivities include the annual Wooden Boat Show and performances by the Swamp Fox players at the Strand Cinema.
10. Spartanburg
Last but not least, we bring you Spartanburg. This quiet, small town offers plenty to do and a whole lot of history to explore. You can enjoy several parks including one your grandchildren would love: the Hollywild Animal Park. And the Chapman Cultural Center brings you art, theater and history all in one. It also provides easy access to healthcare. It's also one of the places on our list with the most medical facilities per 1,000 people.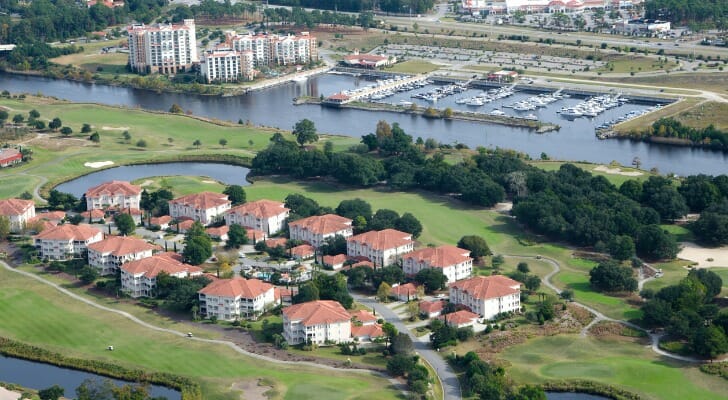 Retirement Tips
Not to familiar with South Carolina, but intrigued by its attractions? We have you covered with our report on the 15 things to know before moving to South Carolina.
No matter how much you're saving for retirement, just make sure you're doing it. If you can't access a workplace plan like a 401(k), you can always invest in an
If you've never worked with a financial advisor before, our retirement experts devised a checklist of the 5 questions to ask when choosing a financial advisor.
Regardless of where you are in life, make sure you're saving aggressively in a tax advantaged retirement plan. If you can't access a workplace plan like a 401(k), you can always invest in an, you can always open an individual retirement account (IRA). These can complement your overall retirement income well especially if you have a pension. In fact, the South Carolina retirement system is quite unique.
Even though there is no South Carolina Estate Tax, there is a chance you might get hit with the federal estate tax.
Retirement planning is a major piece to anyone's financial puzzle, but you don't have to go in it alone. If you'd like some help, you can use our SmartAsset financial advisor matching tool. It links you with up to three financial advisors in your area. You can review their credentials and even set up interviews before deciding to work with one.
If you still want to retire in a place that's known for the great outdoors and rich history but South Carolina doesn't quite cut it, check out our reports on similar areas. You may like the best places to retire in Tennessee or the best places to retire in Virginia You may also enjoy the best places to retire in Oregon and the best places to retire in Colorado.
Photo credit: ©iStock.com/Craig McCausland, ©iStock.com/carrry, ©iStock.com/Michael Warren