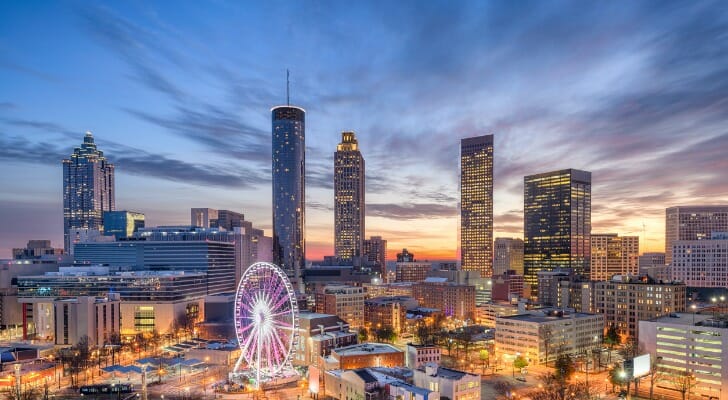 If retirement in Florida seems a little too overwhelming for you, consider a retirement in Georgia instead. As Florida's northern neighbor, Georgia offers easy access to the popular beaches and attractions that draw so many other retirees while maintaining enough distance. Plus, Georgia contains a number of its own cities that will set you up for a retirement that's just peachy. You can find the top 10 of those cities, all within close proximity to Atlanta, below.
How We Determined the Best Places to Retire
We found the best places to retire in Georgia by weighing a few factors. For starters, we looked at the tax burden of each city. This can help you determine whether retiring in a certain city could be too expensive for you or not. It's important to note that the top three cities on this list pose a tax burden of 18.0%, while the other cities have a tax burden of 17.1%. We then looked at the number of medical centers per 1,000 residents, since easy access to healthcare is a vital part of retirement.
To check for an enjoyable retirement, we looked at the number of recreation centers per 1,000 residents. We did the same for retirement communities, so you can have the opportunity to share your retirement with like-minded contemporaries. All cities below, except the top city of Cumming, posted numbers below one retirement community per 1,000 residents. Finally, we checked the percentage of seniors in each city's population.
1. Cumming
Not only is Cumming, Georgia the top city for retirees in the state, but it's also the second-best city for retirees in the entire country. It posts great numbers across the board, including the highest percentage of seniors as part of the population in this top 10 at 18.3%. This means you'll have plenty of fellow retirees to hang out with around Cumming. The city also offers 8.59 recreation centers per 1,000 residents, the highest number on this list. Plus, you'll have other fun activities to choose from like antique car shows, Fridays at the Fairgrounds food truck events and recreation time at Lake Sidney Lanier.
You'll find excellent access to medical centers in Cumming, with just about 33 centers per 1,000 residents. It's difficult to anticipate just how high your medical expenses will be in retirement, so it helps to start saving for retirement as soon as possible. That helps ensure you'll have enough funds in retirement to live comfortably and cover emergency costs. Also, be mindful of the tax burden you could see in retirement. Cumming has a tax burden of 18.0%. Cumming is also on our list of the best places to retire on the East Coast.
2. Decatur
In second place comes Decatur. This city in the Atlanta metropolitan area offers seniors a vibrant retirement with a booming art, festival and food scene. You can enjoy arts festivals, wine and beer festivals, book festivals, a lantern parade and much more. Decatur also maintains about 2.77 recreation centers per 1,000 residents, offering some space for further activities. The city does have a slightly small percentage of senior residents living there, so you won't land yourself in a huge retirement community.
Decatur does provide a solid number of medical centers, with 13.98 locations per 1,000 residents. This offers some better peace of mind in the event of medical emergency.
3. Stone Mountain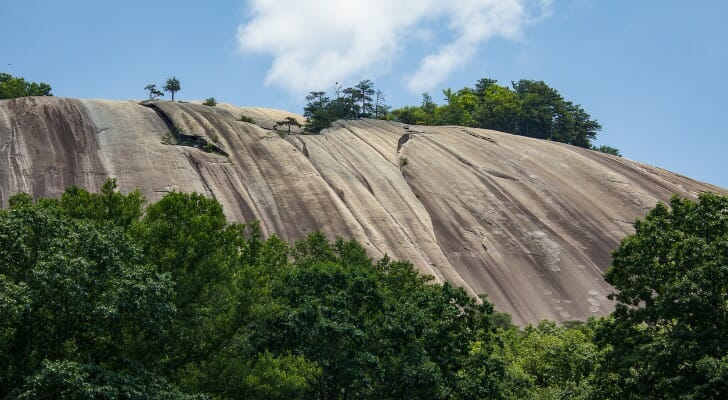 Named for the nearby landmark, the town of Stone Mountain offers a great opportunity for active seniors to explore Stone Mountain Park. The park holds a number of attractions, campgrounds and events. The town also offers an arts center and theater company.
You'll have access to 8.85 medical centers per 1,000 residents. This isn't the highest concentration of medical centers you'll find on this list. But luckily, you will also have access to Atlanta centers just 16 miles away.
4. Austell
If you don't mind living among younger people in retirement, consider Austell. The town has the lowest percentage of seniors (8.2%) in the population out of this whole top 10. There are also not many recreation centers accessible in the town, which has the second-lowest number on this list.
Austell does offer decent access to medical centers, with 12.15 centers per 1,000 residents. Austell is also close to Atlanta for additional healthcare access.
5. Snellville
The small community of Snellville has a ton to offer its senior residents, who make up 15.1% of the town's population. For starters, the Snellville Senior Center opens its doors to all adults 55 and older to participate in fitness classes, card groups, computer classes, day trips and much more. In total, the town has about 1.04 recreation centers per 1,000 residents. Snellville residents can also take advantage of the town's Community Garden and enjoy various events on the Towne Green, the town center.
Snellville residents have access to 7.86 medical centers per 1,000 residents.
6. Fayetteville
Settling down in Fayetteville will ensure you have fellow retirees with whom to enjoy your golden years. With seniors making up 17.4% of the population, Fayetteville has the second-largest percentage of seniors, after Cumming. Residents have access to about 1.70 recreation centers per 1,000 residents. Fayetteville also offers a number of fun activities like outdoor movie screenings and a Main Street Market. The city website also offers a New Residents Guide to help new residents find all the information and phone numbers they'll need.
Fayetteville does have a slightly limited offering of medical centers, with 7.58 available per 1,000 residents.
7. Marietta
Marietta offers Georgia retirees the third-highest concentration of medical centers per 1,000 residents compared to the rest of the cities on this list. Perhaps you won't need their services, however, if you take advantage of Marietta's recreation centers and parks. Included here are Laurel Park's 25 acres and the butterfly garden at Monarch Park.
With seniors making up 11.6% of the population here, you won't have a ton of other retirees to share in your experiences. Still, with the city's extensive historic district, numerous museums and free events, you can have an enjoyable retirement here.
8. Lawrenceville
Another city with a historic district, Lawrenceville offers retirees a nice lifestyle in their golden years. Not only does it boast a historic courthouse, but you can also take a walking tour of the historic downtown area courtesy of Lawrenceville Ghost Tours. For more to do, the city offers about 1.71 recreation centers per 1,000 residents. In this top 10, Lawrenceville does have the lowest number of retirement communities available.
9. Buford
Buford is notable for having the lowest number of medical centers per 1,000 residents (5.44) on this list. The nearest hospital is located in Cumming, our No. 1 city, 9 miles away. If you stay healthy by frequenting any of the city's recreation centers, of which there are 2.94 per 1,000 residents, then hopefully you won't need to frequent any medical centers nearby. The city does have a smaller senior population at only 10.5%.
10. Lilburn
Our list ends in Lilburn, a small city with big attractions, including the impressive BAPS Hindu temple. A developed suburb of Atlanta, Lilburn also offers the Camp Creek Greenway, a historic Old Town and about 1.86 recreation centers per 1,000 residents. You can enjoy various events, including the Lilburn Daze Arts and Crafts Festival, hosted and organized by the Lilburn Woman's Club, and the annual Christmas Parade.
Should you choose to retire here, you'll join 11.9% of the population who are seniors. Like Buford, there's a low concentration of medical centers in Lilburn proper. Still, the city of Atlanta is just 19 miles away.
Retirement Tips
If you're having trouble deciding where to retire or how to manage your retirement savings, a financial advisor could help you out. A financial advisor can look at your finances comprehensively and indicate where you could cut some spending to put more money toward your retirement. Finding the right advisor is as easy as taking our short quiz to match with an advisor.
When saving for retirement, you'll want to optimize each account as best as you can. This includes double-checking whether your employer could better match your 401(k) contribution. It also includes checking whether you're depositing the maximum you can into your IRAs. Just be wary of IRA contribution limits so you don't get penalized for overdoing it.
Photo credit: ©iStock.com/Sean Pavone, ©iStock.com/HealerTeresa, ©iStock.com/SeanPavonePhoto