Virginia is for lovers, as the saying goes. Whether you're a history buff or a nature enthusiast you should find lots to love in Virginia. The standard of living in Virginia is high, with a cost of living to match. The state even boasts some of the top financial advisor firms in the country. Let's take a closer look at Virginia's home prices, tax rates and more.
Check out our cost of living calculator.
Virginia Home Prices
Thinking of making a down payment on a house in Virginia? You should know that Virginia is home to some very pricey counties and cities. According to trulia.com, the median sales price for a home in Falls Church is $765,000. The second-most-expensive homes are in Alexandria, which has a median sales price of $582,750.
There are some more affordable counties in Virginia. Smyth County has a median sales price of just $70,025. In general, though, home values (and prices) in Virginia are higher than the national average. Check out the chart below to see how Virginia compares to the U.S. as a whole.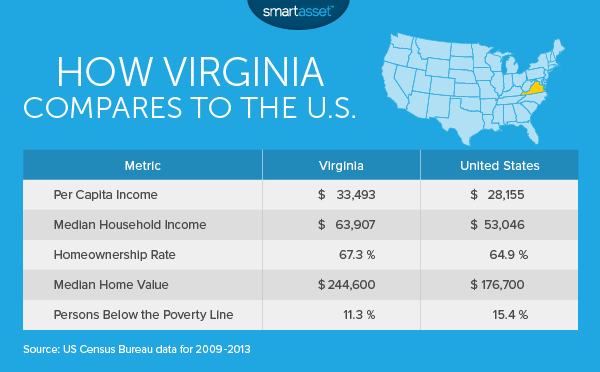 Find out now: How much house can I afford?
Rent in Virginia
Virginia home prices are above average and rents are, too. If you're still deciding whether to rent or buy, you may not be able to save up for a down payment by renting, given the high rents in the state.
According to myapartmentmap.com, the average rent for a studio apartment in Virginia is $1,272, $200 higher than the U.S. average. A one-bedroom apartment in Virginia has an average rent of $1,152. That's $154 above the national average.
Need a bigger place? Two-bedroom apartments in Virginia go for an average rent of $1,306. That's still higher than the U.S. average, but only by $86. Three-bedroom places in Virginia rent for an average of $1,644. That's $113 above average.
Where to Buy: Price-to-Rent-Ratio in 76 U.S. Cities
Virginia Food Prices
Here's some bad news about the cost of living in Virginia: the state has some of the country's most expensive groceries. A 2014 study looked at the price of a basic basket of goods in each of the 50 states. Researchers looked at the total price of a kilogram of chicken breasts, a kilogram of apples, a kilogram of potatoes and a liter of milk. The average price for these goods across the 50 states was $14.99. Virginia was the priciest state, with a total price of $27.48 for that basket of goods.
What about food prices in Virginia's capital? According to numbeo.com, the recommended minimum monthly spend on food per person in Richmond is $298.66. That's 9.5% below the U.S. recommended minimum ($330.08). If you're planning to eat out or buy non-staple foods, however, you should expect to spend more than $298.66 per month.
Transportation
Gas prices in Virginia are below the national average. According to gasbuddy.com, the average price of a gallon of gas in Virginia is $1.809. The national average is nearly 11% higher, at $2.003. The average price of a gallon of gas in Richmond, VA is even lower, at $1.764.
Commute times in Virginia are only slightly longer than the national average. The U.S. Census Bureau puts the average time to work in Virginia at 27.7 minutes. That's just over the national average of 25.5 minutes.
Is public transportation more your speed? An unlimited-ride 30-day pass from the Greater Richmond Transit Company will cost you $60. The Senior/Disabled/Medicare/Minor rate is $35.
If you live in Northern Virginia and need to take the Metrobus to connect with the D.C. Metro, you can buy a 7-day regional bus pass for $17.50.
Healthcare
According to Castlight Health, the average price of a preventive primary care visit in Richmond, VA is $141. That's up 4% from 2014. The average price in Norfolk, VA is $149, down 1% from 2014.
Health insurance premiums in Virginia seem to be on the rise. According to the Kaiser Family Foundation, premiums for the second-lowest-cost Silver plans on the Health Insurance Marketplace in Richmond, Virginia rose 10.8% between 2015 and 2016.
Taxes
Virginia has a progressive income tax system. Rates range from 2% to a top rate of 5.75%. That top marginal tax rate (for the wealthiest Virginians) is the 27th-highest state income tax rate in the nation.
What about property taxes on those valuable Virginia homes? Property tax rates in Virginia are below the national average. Rates vary by county (and in some cases by city) and range from 0.41% to 1.52%.
Virginia is a retirement tax-friendly state. Social Security benefits are not subject to Virginia's income tax. Sales tax rates in Virginia range from 5.3% to 6% depending on the county.
Check out our federal income tax calculator.
Extras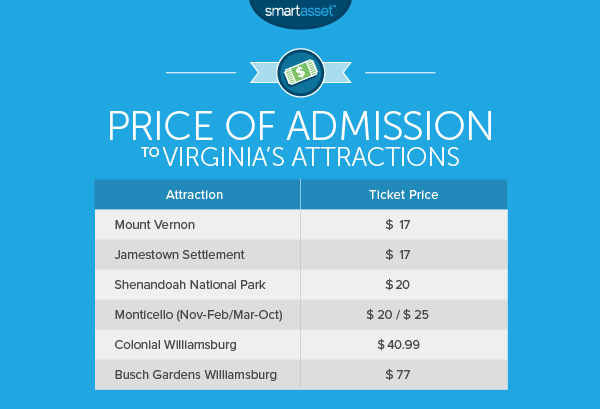 Virginia is filled with attractions that make great day trips or weekend excursions for residents and tourists alike. As you can see in the chart above, prices for Virginia's most popular destinations range from the affordable to the splurge-y.
Admission to Mount Vernon or the Jamestown Settlement will cost you just $17. If you want to check out Busch Gardens Williamsburg, though, a ticket will cost you a hefty $77. Shenandoah National Park, Monticello and Colonial Williamsburg fall between the two extremes in terms of price.
Next Steps
If you're thinking about moving to Virginia, it can be helpful to know how the change will affect your budget so you can plan accordingly.
If you'll be starting a new job, your paycheck may end up looking quite different than it does now. Try using our Virginia paycheck calculator to estimate what your new take-home pay will be.
A financial advisor can help you navigate big life changes like a cross-country move, or just help you to meet your financial goals in general. A matching tool like SmartAsset's can help you find a professional to work with to meet your needs. First you answer a series of questions about your situation and your goals. Then the program matches you with up to three advisors who meet your needs. You can then read their profiles to learn more about them, interview them on the phone or in person and choose who to work with in the future. This allows you to find a good fit while doing much of the hard work for you.
Photo credit: © iStock.com/LarryKnupp