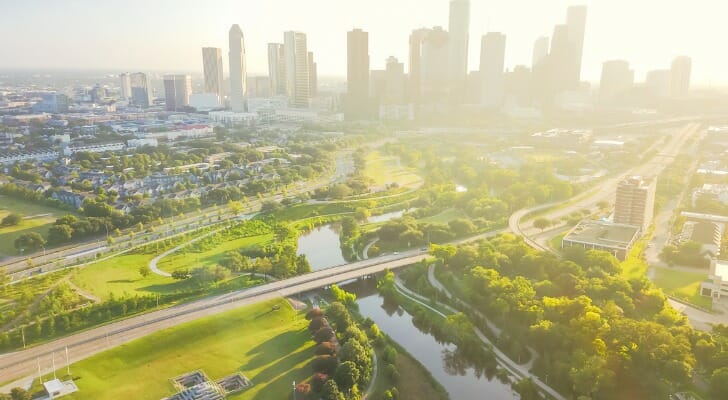 Houston is home to 2.1 million people, according to the U.S. Census Bureau. That makes it the most populous city in Texas and fourth in the nation. This sprawling metropolis is named after Sam Houston, president of the former Republic of Texas. But before you wholeheartedly consider a move to Houston, it would be wise to have a general understanding of the city's overall cost of living. This can help immensely with your long-term financial planning.
Home Prices
NeighborhoodScout found the homeownership rate in Houston is just 43.3%, meaning more than half of the population are renters. This is well below the Texas average of 60.7%. Houston home prices are on the rise too, as data shows a 123.94% appreciation rate from 2000 to 2018, which is one of the better rates across the country.
Although homes in Houston are generally more valuable than the rest of Texas, there are some housing markets in the Lone Star State that beat it out, according to the National Association of Realtors (2018). As a matter of fact, Austin has a $310,400 median price and Dallas has a $254,900 median price compared to Houston's $237,900 mark. If you're curious how much a mortgage may run you in Houston, take a look at our Texas mortgage calculator.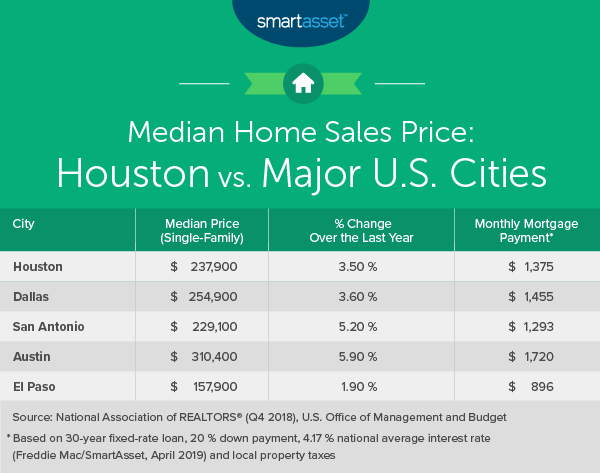 Rent
If you're unsure if buying a house is within your financial means, you'll likely be renting. Apartment List's March 2019 report illustrates a Houston rental market that's cheaper than the U.S. median. For a studio apartment in the city, you'll pay a median of $735, which is nearly $100 less expensive than the national median.
For a two bedroom apartment, the difference is even more pronounced. In Houston, the median for such an apartment is $1,019, whereas the U.S. median is $1,175. Should you need help figuring out what you can spend on an apartment, think about working with a financial advisor.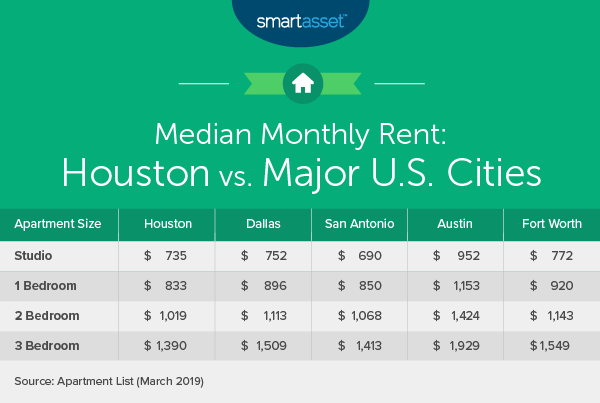 Utilities
Once you've moved into your new place, utility bills will become a major part of your monthly budget. According to Numbeo.com (May 2019), a basic utilities package for a 915-square foot apartment in Houston will cost you $133.47 a month. That includes electricity, heating, water and garbage, at a price that's $18.58 below the national average ($152.05). By adding internet to your monthly bill, you can expect to pay an extra $60.13.
Food
Houston's restaurant landscape is ever so slightly pricier than the national average. In fact, according to a May 2019 report from Numbeo.com, a meal at an inexpensive restaurant and a meal for two at a mid-range restaurant in Houston will run $15 and $65, respectively. For reference, the U.S. averages are $14 and $50.
Prefer to cook your own food? According to MIT's Living Wage Calculator, a single adult with no children in Harris County has typical annual food expenses of $2,994. For a married couple with two kids, that estimate jumps to $8,822.
Transportation
A 30-day unlimited pass on Houston's METRO public transportation system will cost you $90. It's a driving city, though, with an average commute time that nearly passes the hour mark, according to EducatedDriver.org.
Houston is also one of the few US cities where "slugging" is common. What's that, you ask? It's informal ride-sharing among strangers. On any given weekday at Houston's park-and-ride hubs, strangers will line up and accept rides from other strangers.
Drivers benefit handsomely from this system, as they get to use the High-Occupancy Vehicle (HOV) lane and beat traffic. On the flip side, passengers get a free ride, so everybody wins. Slugging has been going on in Houston for over 20 years.
Taxes
Houston residents pay a sales tax of 8.25% when you combine state, county and city rates. That's pretty steep, but there's a silver lining. Texas has no state income tax and neither does Harris County, where Houston is. Of course, you'll still have your federal income taxes withheld from each paycheck, but you won't owe state or local income taxes come April.
The average effective property tax rate for Harris County, Texas, is 2.12%. While it's common to have higher property taxes in places that don't charge an income tax, Houston residents pay a property tax that's almost double the national average. It incorporates the county tax, the Houston city rate and the Houston School District rate.
Miscellaneous Cost of Living Facts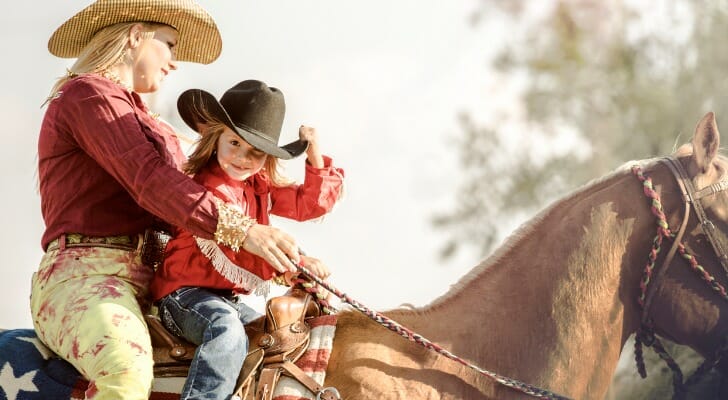 Houston has a lot to offer when it comes to cultural attractions. The Houston CityPASS serves as a ticket to five Houston attractions, saving you 47% compared to the combined price of admission to each of the five sites. The CityPASS gets you into:
Houston Space Center
Downtown Aquarium
Houston Museum of Natural Science
Houston Zoo or Houston Museum of Fine Arts
Kemah Boardwalk or Children's Museum of Houston
Prefer sports games to museums? You're in luck. Houston has teams in Major League Baseball (Astros), Major League Soccer (Dynamo), the National Basketball Association (Rockets) and the National Football League (Texans). Here are the average ticket prices to see each of these teams:
Houston Astros: $40.25 (2018, Statista.com)
Houston Rockets: $$67.24 (2015/16, Statista.com)
Houston Texans: $107.67 (2018, Statista.com)
Houston Dynamo: $18-$206 (2017, WCPO Cincinnati)
What about the city's most famous attraction, the Houston Livestock Show and Rodeo?The cheapest RodeoHouston tickets go for $20, but prices go as high as $125 if you want to be in the front row.
Tips for a Move to Houston
Photo credit: © iStock.com/TrongNguyen, © iStock.com/diane39