When you think Dallas, do you think Cowboys? Oil money? The soapy TV show that ran for 14 seasons? Whatever your strongest association with Dallas happens to be, we're guessing you're not exactly clear on the cost of living in Dallas. It's not New York City-level expensive, but is it a bargain? Read on for our guide to the cost of living in Dallas.
Check out our cost of living calculator.
Dallas Home Prices
If you're considering a move to Dallas, you're probably wondering how high Dallas home prices are. Even if you don't have enough saved up for a down payment now, homeownership could be something you shoot for down the road. If you want to talk to a financial expert about that prospect, there are fortunately many options in Dallas. Check out the top 10 Dallas financial advisor firms here.
According to trulia.com, the average price for a one-bedroom home in Dallas is $217,034. Two bedrooms will cost you around the average price of $358,001. Need three bedrooms? Expect to pay around $444,967. A four-bedroom place carries an average price of $798,106. The average for all properties is $605,244.
Dallas Rent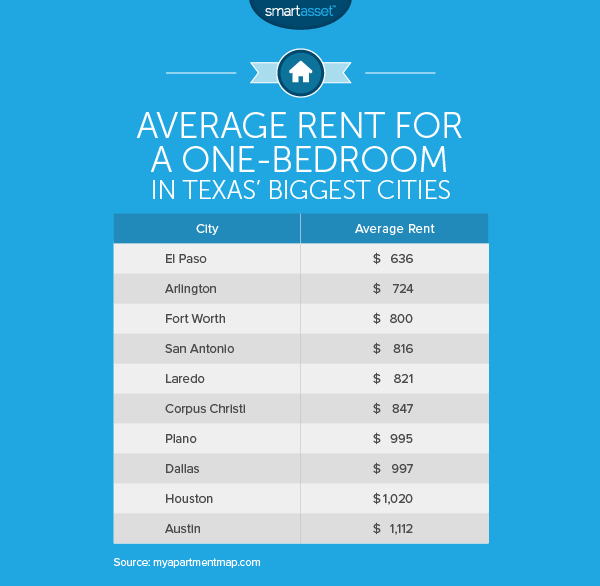 If you're still on the fence about the rent-or-buy decision, here's what you should know about Dallas rents. According to myapartmentmap.com, a studio apartment in Dallas carries an average price of $992. A one-bedroom apartment has an average rent of $997. A two-bedroom apartment has an average rent of $1,433, and three-bedroom apartments cost around $1,824. Check out the chart to see how rent for a one-bedroom apartment in Dallas compares to other Texas cities.
Find out now: How much house can I afford?
Utilities
According to numbeo.com, the average utility bill in Dallas for a 915 square-foot apartment is $139.29. That's for a basic package of electricity, heating, water and garbage, at a cost that's about 10% lower than the national average. If you want to add internet (and who doesn't?) you can expect to pay around the monthly Dallas average of $45.36. That's 6.5% cheaper than the national average.
Food Costs in Dallas
What about food? Numbeo.com's recommended minimum amount of money for food per person in Dallas is $10.31 per day, or $319.69 per month. That assumes that you're buying the bare minimum and only shopping at the grocery store. If you want a meal out, expect to pay around $11.50 for a meal at an inexpensive restaurant. A three-course meal for two at a mid-range restaurant in Dallas carries an average price of $44.
Transportation
Dallas is definitely a driving town. However, there is the Dallas Area Rapid Transit (DART) for those who are car-free, whether by choice or necessity. Monthly DART passes are $80 for local service and $160 for regional service. A 7-day pass is $25 for local service and $50 for regional. Day passes are $5 for local service and $10 for regional service.
Those with a car will likely have an easier time navigating the Dallas sprawl. According to gasbuddy.com, at the time of this writing the average price of a gallon of gas in Dallas is $2.10. To put it in perspective, the Texas average is $2.06 and the national average is $2.32.
To register a vehicle with the DMV in Dallas, you'll pay the state registration fee of $50.75 plus the Dallas surcharge of $10.
Taxes
The average effective property tax rate in Dallas County is 2.186%. So, if you owned a home with an assessed value of $217,034 (the average price of a one-bedroom, if you'll recall), you'd owe $4,744 in property taxes. For an in-depth look at what your property tax bill would look like in Dallas based on home value, check out our free property tax calculator.
The good news is that you won't owe any state or local income taxes if you move to Dallas. You will, however pay a sales tax rate of 8.25%. That's a combination of the state sales tax rate of 6.25% and the Dallas city rate of 2%.
Check out our income tax calculator.
Sports
Sports fans have plenty of options in Dallas. The average price of a ticket to see the Dallas Cowboys play football in 2015 is $304.72 for home games, according to TicketIQ. The Cowboys' AT&T Stadium is home to many season ticket holders, which means there's a hot secondary market for tickets when season ticket-holders resell them. Prices on the secondary market can get even steeper, particularly later in the season.
If the NFL isn't your thing, you can check out the Dallas Mavericks. The average ticket price to see the Mavericks play basketball in 2015 is $52, according to Forbes. That's not exactly a cheap date, but it's a lot less expensive than a trip to see the Cowboys.
Related Article: The Highest Paid Player in the NFL is…a Kicker?
Arts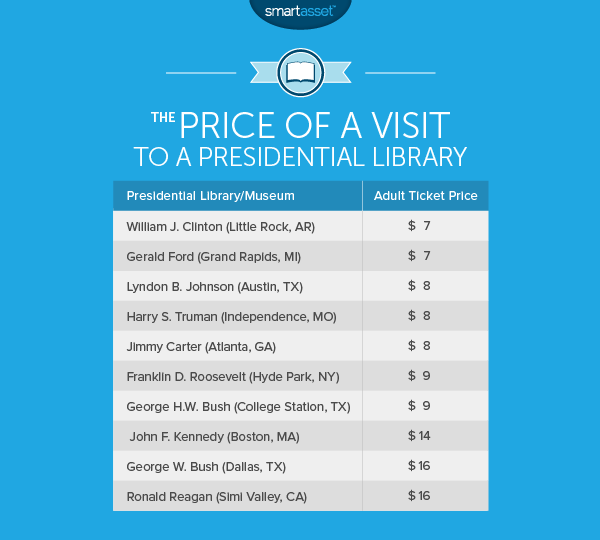 If you're feeling artsy, Dallas has plenty to offer. General admission to the Dallas Museum of Art is always free. If you want to see a special exhibition you'll pay $16. Tickets to the Nasher Sculpture Center are $10, or free for children under 12. General admission to the Perot Museum of Nature and Science is $19. Admission to the Dallas Arboretum is $15.
Want to see the George W. Bush Presidential Library and Museum? You'll pay $16. Check out the chart to compare the costs of a visit to different presidential libraries.
Next Steps
If you're thinking about moving to Dallas, it can be helpful to know how the change will affect your budget so you can plan accordingly.
If you'll be starting a new job, your paycheck may end up looking quite different than it does now. Try using our Texas paycheck calculator to estimate what your new take-home pay will be.
A financial advisor can help you navigate big life changes like a cross-country move, or just help you to meet your financial goals in general. SmartAsset's matching tool can help you find a professional to work with to meet your needs. First you answer a series of questions about your situation and your goals. Then the program matches you with up to three advisors who meet your needs. You can then read their profiles to learn more about them, interview them on the phone or in person and choose who to work with in the future. This allows you to find a good fit while doing much of the hard work for you.
Photo credit: ©iStock.com/Davel5957