When you think of Dallas, perhaps you think of Dallas Cowboys football, or maybe you're reminded of the soap opera that shares its name, which ran for 14 seasons. If you're thinking of moving to Dallas, you should know the details on its cost of living, which encompasses everything from housing prices to utility bills. As moving to a new city and buying a home can have a big impact on your finances, you might consider working with a financial advisor to guide you.
Dallas Home Prices
If you're considering a move to Dallas, it's a good idea to get acquainted with home prices in the area. Even if you don't have enough saved up for a down payment now, homeownership could be something you shoot for down the road. If you want to build a plan to reach that point, try talking with a financial advisor.
According to NeighborhoodScout, no more than 42% of Dallas residents own a home. Possibly as a result of this, more than three-quarters of the city's homes are valued at $379,000 or less. Even still, the Dallas housing market has seen a total appreciation rate of 113.86% from 2000 to 2018.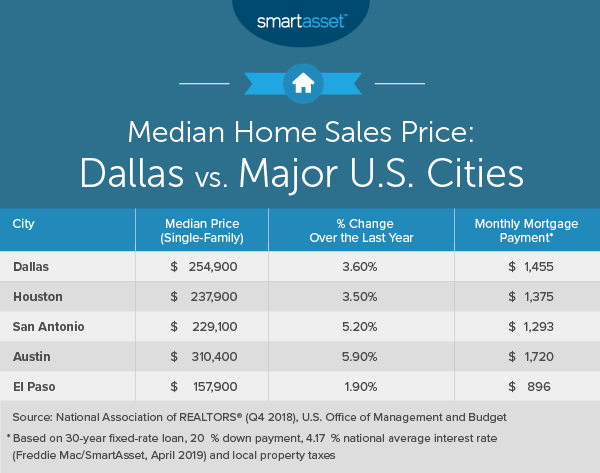 Dallas Rent
On the fence when it comes to renting or buying? According to Apartment List's March 2019 report, a studio apartment in Dallas carries a median rent of $752, which is $75 less than the national median ($827). One bedroom apartments carry an $896 median rent, while two bedrooms sit at a $1,113 median rent. These numbers are $51 and $62 below the U.S. median, respectively.
If you compare Dallas rents to Texas as a state, you'll find it's slightly more expensive. Here are the median rents for Texas:
Studio: $731 ($21 less than Dallas median rent)
One bedroom: $844 ($52 less than Dallas median rent)
Two bedroom: $1,049 ($64 less than Dallas median rent)
Three bedroom: $1,416 ($93 less than Dallas median rent)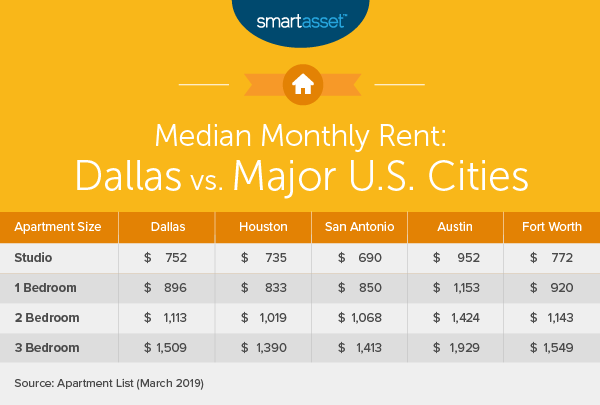 Utilities
According to Numbeo.com (May 2019), the average utility bill in Dallas for a 915 square-foot apartment is $139.55. That's for a basic package of electricity, heating, water and garbage. As a reference, this estimation comes in at about $13 less than the national average ($152.14).
Food
For a major city, food in Dallas is surprisingly affordable. Numbeo.com's recommended minimum amount of money for food per person in Dallas is $9.34 a day, or $289.61 a month. That assumes that you're buying the bare minimum and only shopping at the grocery store, though.
If you want a meal out, expect to pay around $13 for a meal at an inexpensive restaurant. A three-course meal for two at a mid-range restaurant in Dallas carries an average price of about $50.
MIT's living wage calculator further illustrates what you might spend annually on food in Dallas County, where Dallas is located. For a single adult with no children, their living wage would be $24,356. Of that, about $2,994, or 12.3%, goes to food.
Transportation
Many Dallas residents drive to get around rather than take public transit. However, the city offers the Dallas Area Rapid Transit (DART) for those who are car-free. Monthly DART passes are $96 for local service and $192 for regional service. Day passes are $6 for local and $12 for regional.
According to May 2019 data from GasBuddy, the average price of a gallon of gas in Dallas is $2.55. Although this is similar to the $2.54 average price for Texas, it's much cheaper than the U.S. average of $2.87.
Taxes
The average effective property tax rate in Dallas County is 2.06%, which is one of the highest rates in the state. For an in-depth look at what your property tax bill would look like in Dallas based on home value, check out our free property tax calculator for Texas.
The good news is that you won't owe any state or local income taxes if you move to Dallas. You will, however pay a sales tax rate of 8.25%. That's a combination of the state sales tax rate of 6.25% and the Dallas county/city rate of 2%.
Sports
There are few cities across the U.S. that have as many sports fans as Dallas. To catch a Cowboys game, the average ticket price is $112.05 for the 2018 season, according to Statista.com. The Cowboys' AT&T Stadium is home to many season ticket holders, which means there's a hot secondary market for tickets when season ticket-holders resell them. Prices on the secondary market can get even steeper, particularly later in the season.
If the NFL isn't your thing, you can check out the Dallas Mavericks. The average ticket price to see the Mavericks play basketball in 2015/2016 was $49.76, according to Statista.com. That's not exactly a cheap date, but it's a lot less expensive than a trip to see the Cowboys.
Arts
If you're feeling artsy, Dallas has plenty to offer. General admission to the Dallas Museum of Art is always free. If you want to see a special exhibition you'll pay $20-$25. Tickets to the Nasher Sculpture Center are $10, or free for children under 12. General admission to the Perot Museum of Nature and Science is typically $20-$30. Admission to the Dallas Arboretum is $10-$15.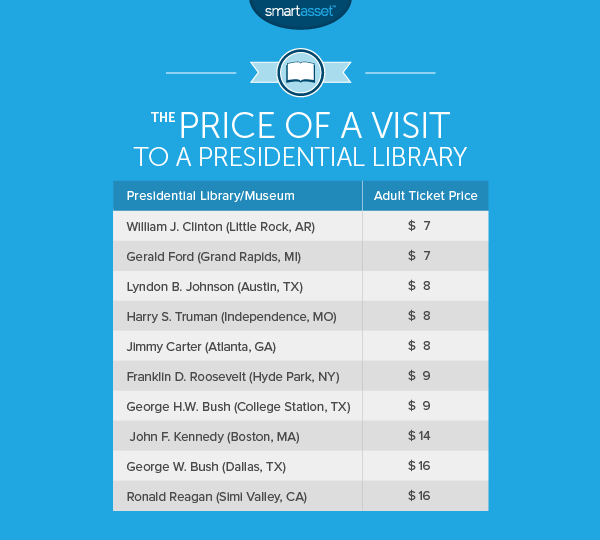 Next Steps for a Move to Dallas
Photo credit: ©iStock.com/f11photo